7 Reasons To Have Your Destination Wedding In The French Alps
If you're reading this post, you're probably in the same position we were in two years ago.

You know you want your wedding to be unique, somewhere with beautiful scenery and a bit of local culture, with your closest friends and family…but how do you choose a destination?

We know the feeling. As wedding photographers, we've travelled the world shooting weddings but we still struggled to decide where to get married.

After shooting a string of weddings in the French Alps, we realised it was the perfect place for us and today we're going to tell you why.

With help from a few local suppliers, we'll show you why this could be the ideal location for your destination wedding.
Reason 1. Venues with Jaw-dropping Views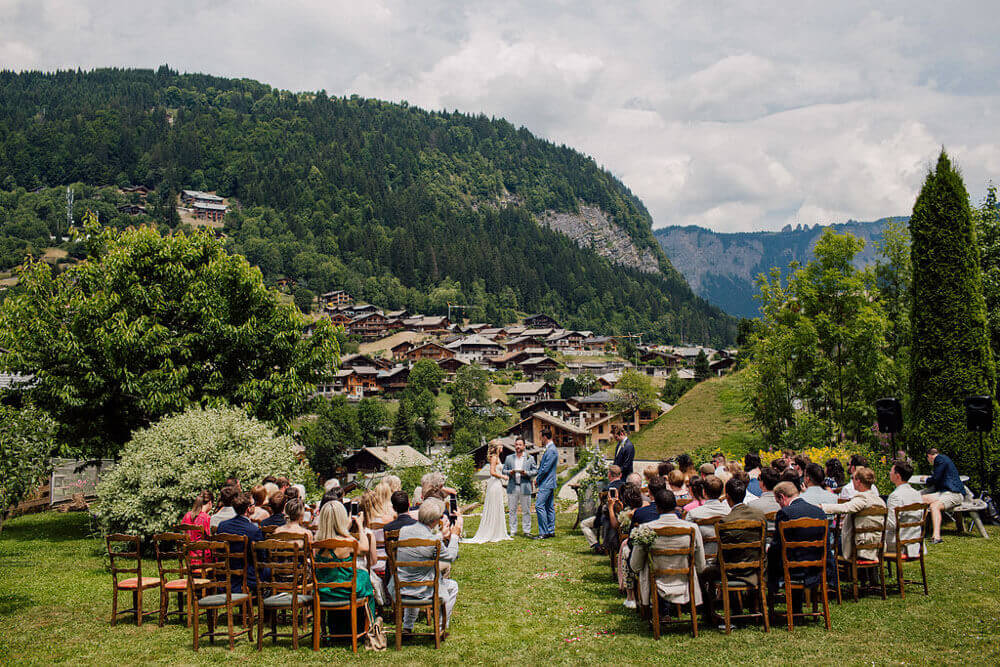 We asked Faye at Wilder Weddings (Alpine wedding planner) why she thinks the French Alps are a great wedding destination:
As you can imagine, in the Alps, you'll be spoilt for choice when it comes to breathtaking ceremony locations – whether you want to say your vows in front of a waterfall, in a forest, a stunning alpine lake or on top of a mountain.

The venues on offer in the Haute Savoie allow couples to create something unforgettable, not just for them but for their guests who are often astonished by the lush scenery, wowed by the local cuisine and wooed by the culture.

There is something about hosting an Alpine wedding, the magic of the mountains, the romance of the panoramic views, the defined seasons that offer up vibrant colour and life in every season. Summer or winter, alpine weddings are extraordinary experiences for all involved.

Faye – Wilder Weddings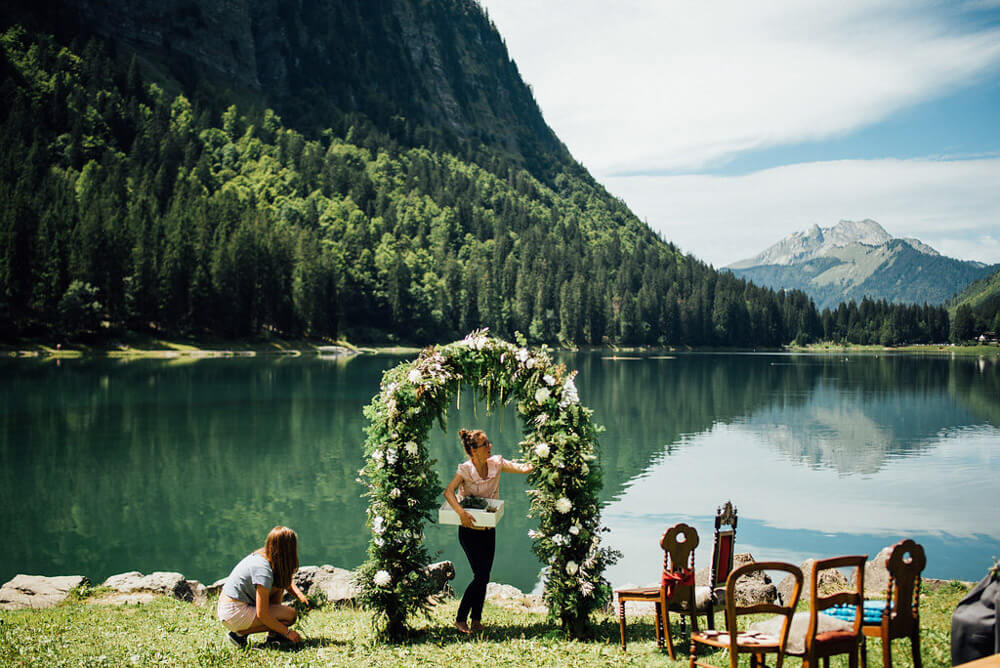 Faye tells us that spring and summer are also growing in popularity. Usually it's a bit quieter, so you feel like you have the mountains all to yourself, "which can be very unique and special".

There is always an option to have a traditional church-based ceremony if you prefer one, but why not having an outdoor ceremony, on the terrace of a restaurant in the mountains, the garden of a hotel, by the lake, or even on a ski slope! Whatever option you choose, it's possible to reach many stunning locations via the chairlifts or by road.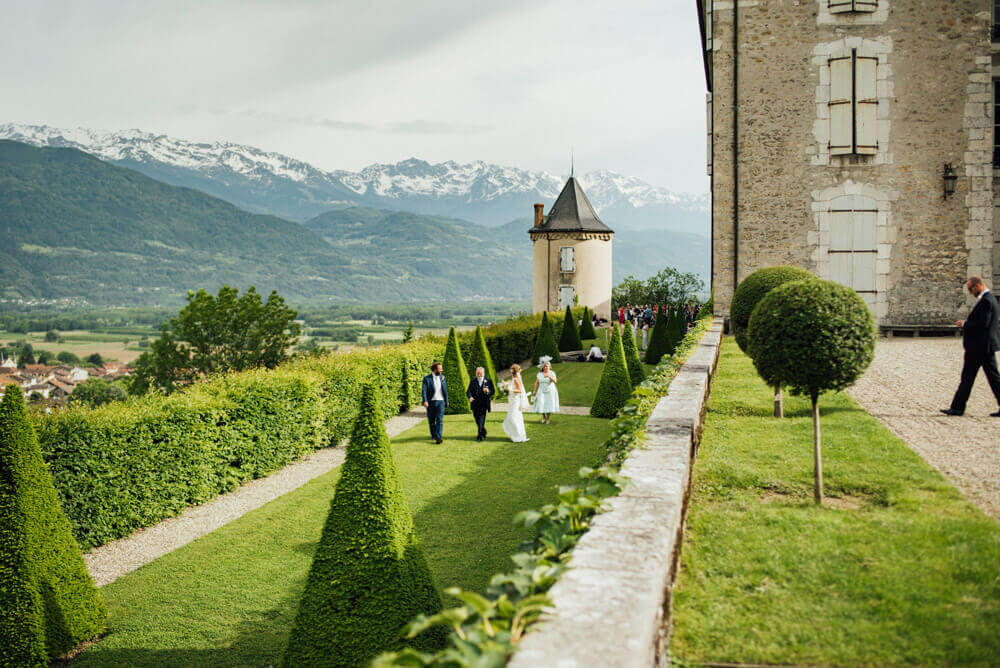 Reason 2. Unforgettable Activities, All Year Round
Winter in the Alps is famous for skiing and snowboarding, but there's a lot more to it than that. If you're not up for learning to ski, there are plenty of gentle walks to choose from or snowshoeing treks for the more adventurous.

There's even more to do in summer, from relaxing by the lake to adrenaline sports such as mountain biking. Families are spoilt for choice with activities like pony and horse-trekking, rafting and stand-up paddleboarding on the lake.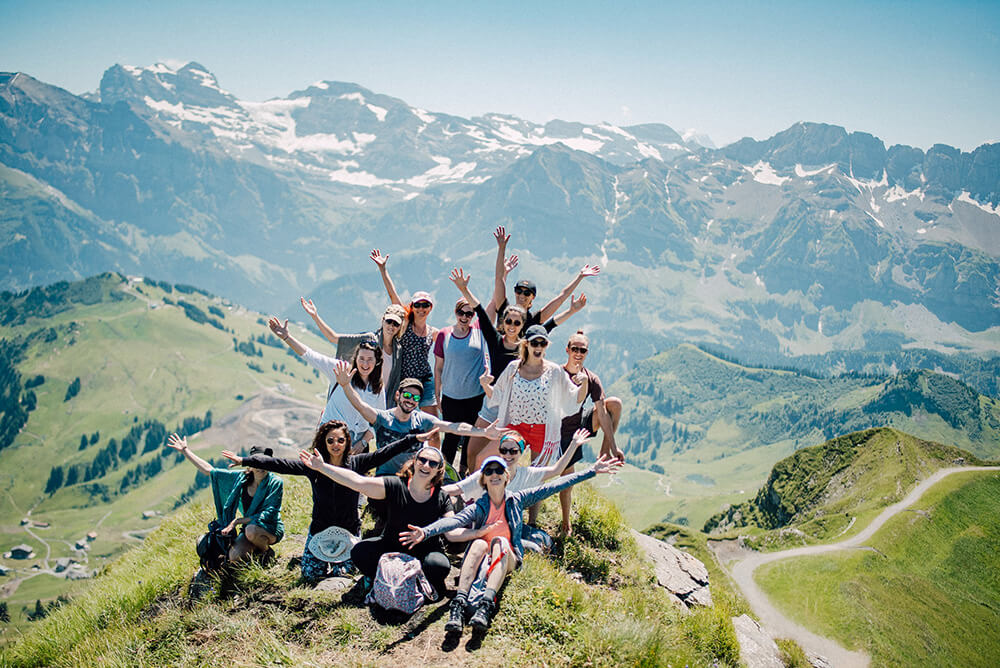 Less active members of the wedding party, such as grandparents and small children, can easily jump on a chairlift to enjoy the views and some lunch in a mountain restaurant before returning via the lifts.

We asked Sara from the Morzine Avoriaz Tourist Office what makes weddings here so special:
Instead of having that rushed day – trying to speak to everybody, to take photos, to manage an event all in the space of a few hours – you can take a few days to catch up with everybody properly, to have a drink with family, then go out for a meal with your friends"

Sara – Morzine Avoriaz Tourist Office
What's more, your guests will already be in 'holiday-mode', feeling relaxed, un-rushed and ready to have a good time. For us, this really sums up what's great about destination weddings.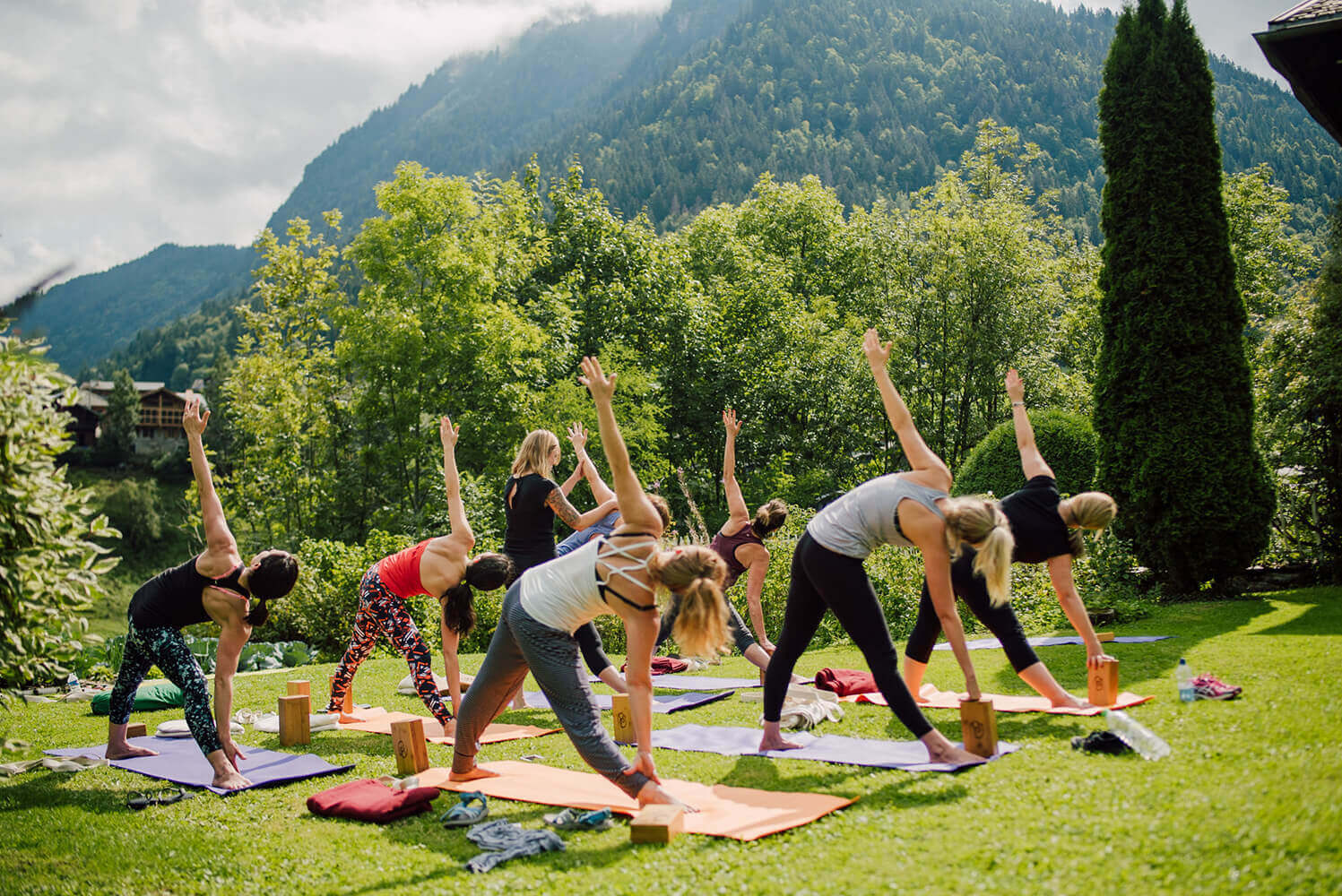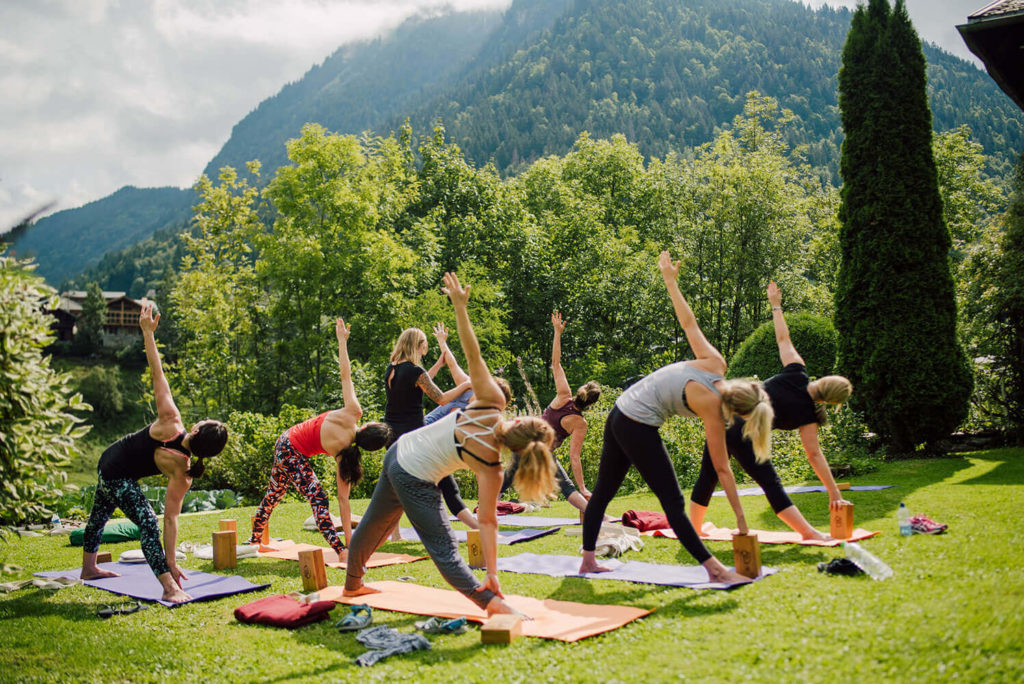 Reason 3. Delicious French Cuisine
Delphine of La Dez'Alp, a catering company in Morzine, told us food plays a big role in French weddings:
During weddings here in France we eat a lot. First we have starters, then a fish dish, followed by the main course of beef, then a short break with a bit of ice cream served with alcohol, then of course, cheese!
After that it's dessert time and the pièce montée [traditional wedding cake]. Weddings in France begin with lots of canapés, lots of wine, champagne, we eat, drink, eat, dance, eat, drink…We have a great party!"

Delphine – La Dez'Alp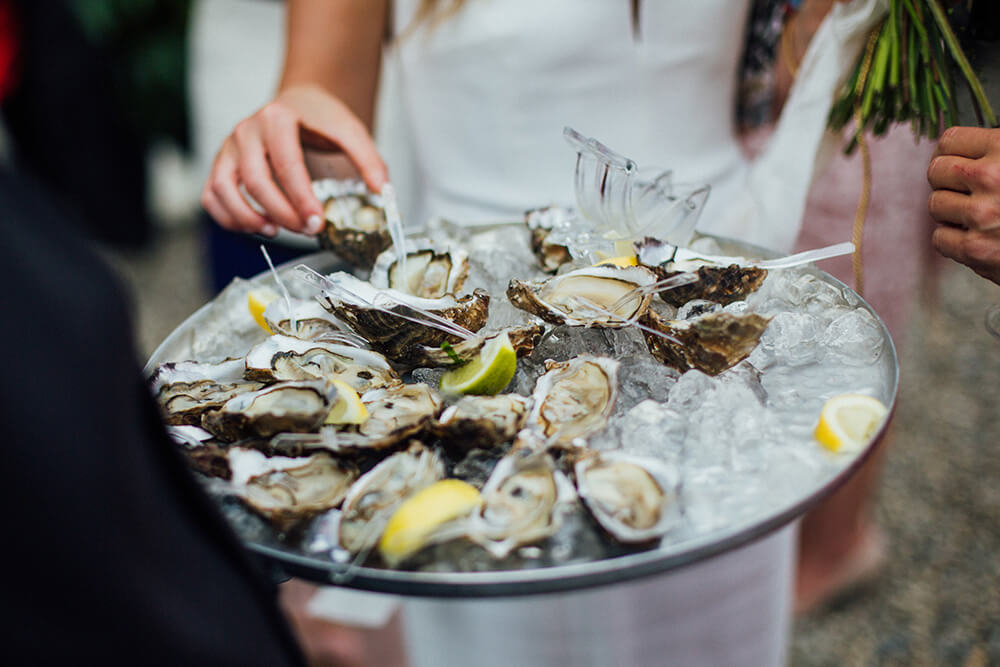 Cheese lovers will be heaven, as it plays a major role in the cuisine in this region of France. Well-known winter favourites such as tartiflette, raclette and fondue are all popular at weddings here and make great sharing dishes.

And don't forget the wine! La Dez'Alp recommend pairing your cheese dish with a local Savoyard speciality such as Marin, a white wine grown near Lake Leman, or a red such as Mondeuse.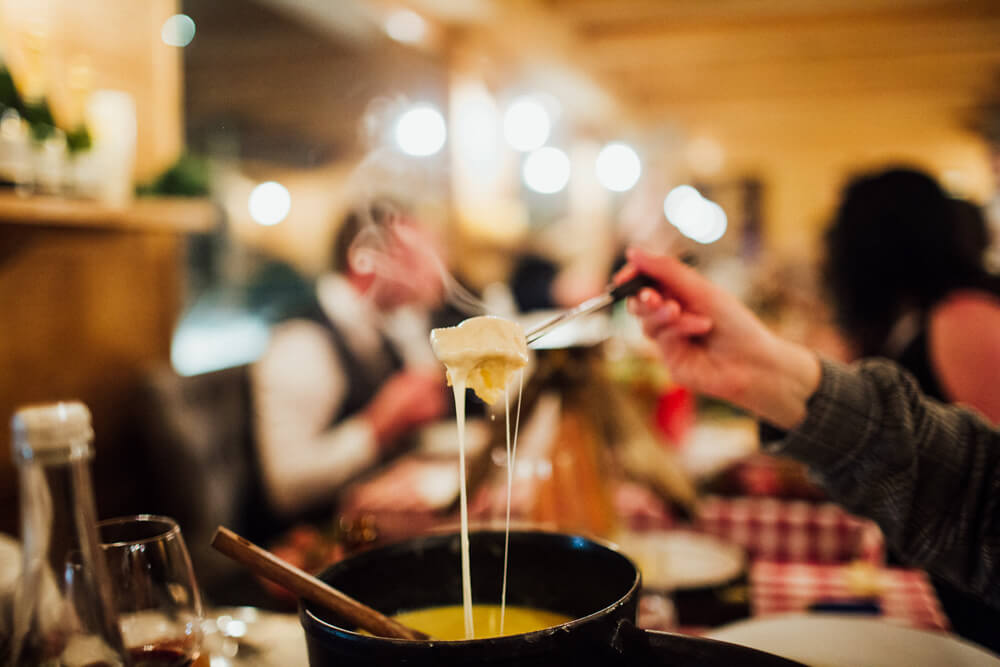 Reason 4. Easy to Access From Anywhere
Geneva Airport is the main travel hub for the Alps, with flights coming in from all over the world. Many famous resorts, including Morzine, Megeve and Chamonix, are within two hours drive from Geneva.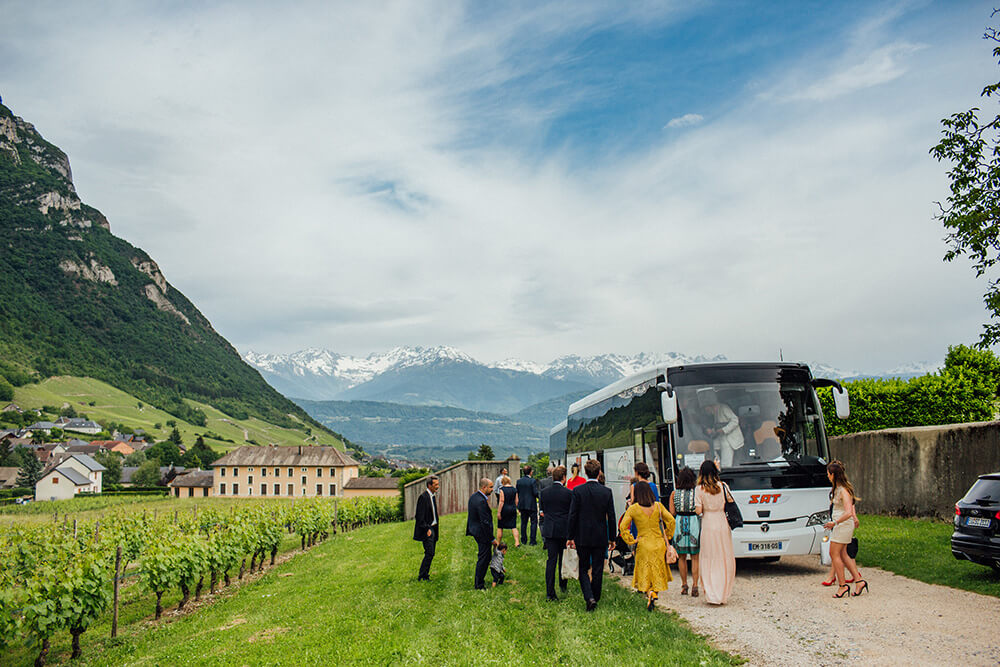 Skiidy Gonzalez is a Morzine-based airport transfer company who offer door-to-door transport, 24/7, in both winter and summer.

They provide private shuttles for smaller wedding parties, plus coaches and minibuses – even helicopters! – to transport larger groups to their destination.

Justin, Skiidy's Manager, got married here and agrees that having guests in 'holiday-mode' helped to make it a fantastic day:
We managed to incorporate our wedding with people being on holiday, which made for a great atmosphere"

Justin – Skiidy Gonzalez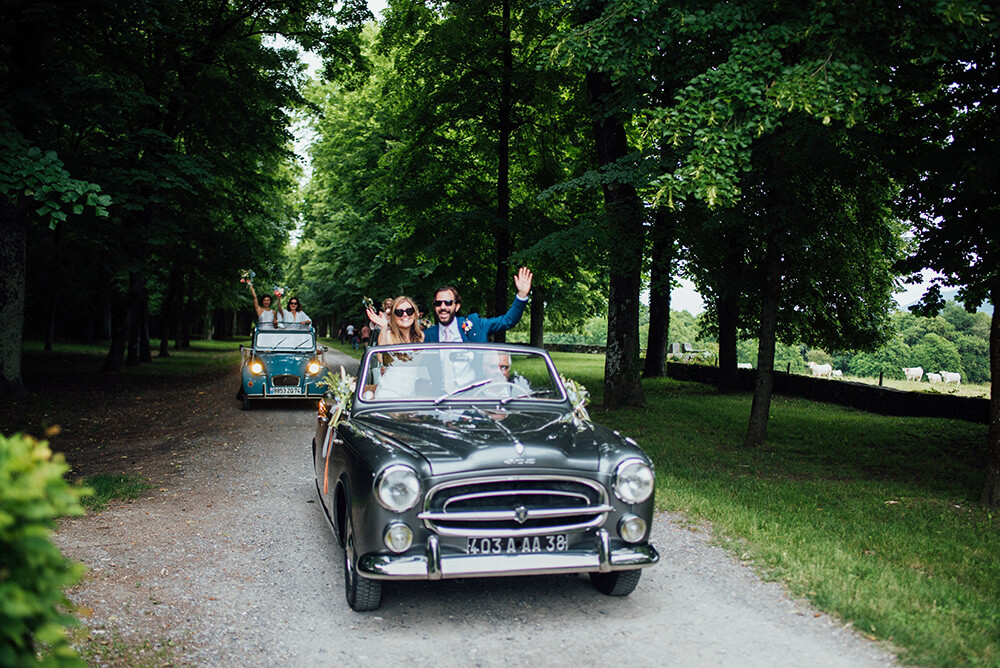 Reason 5. Cosy, Romantic Chalets
Staying in a private chalet is popular among holiday makers because it makes you feel instantly at home compared to staying in a hotel or apartment.

We spoke to Sam and Jon, owners of chalet company More Mountain, about what makes the chalet experience so special:
It's all about being together, and a chalet provides you with a very personal, very intimate experience as a group of friends or family"

Sam – More Mountain
You have the space of a very large house, the freedom to use the house as you want to, but also you have ensuite bedrooms, hot tubs, spa facilities – all those things that you'd expect in a luxury hotel"

Jon – More Mountain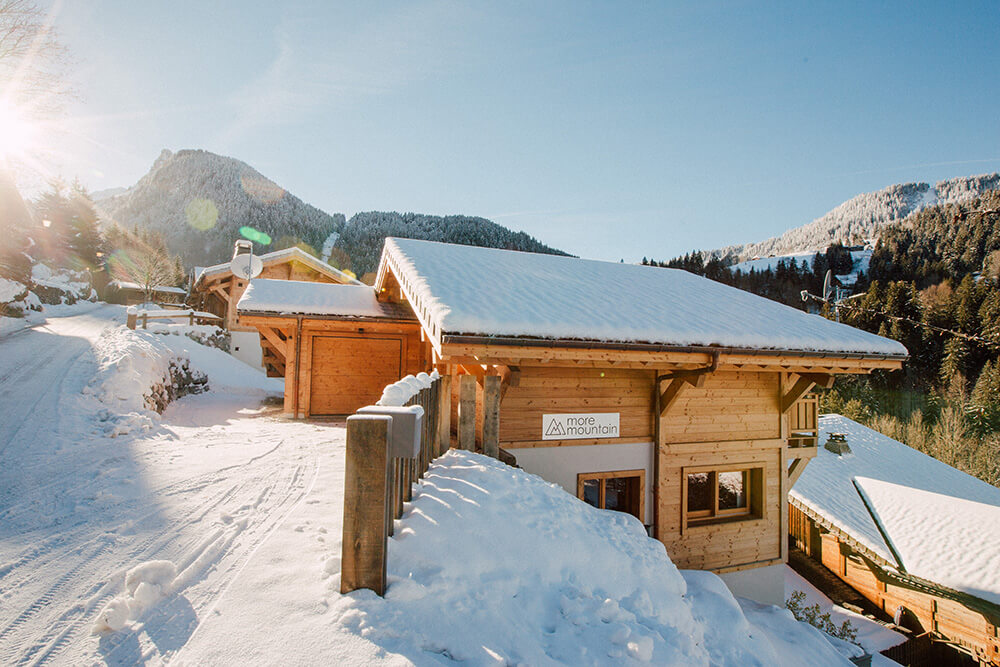 Private chalets also provide peace and privacy for brides and bridesmaids to get ready before the wedding ceremony.

Furry friends are welcome at More Mountain chalets too:
We know how important it is to have your furry friend with you when you get married"

Sam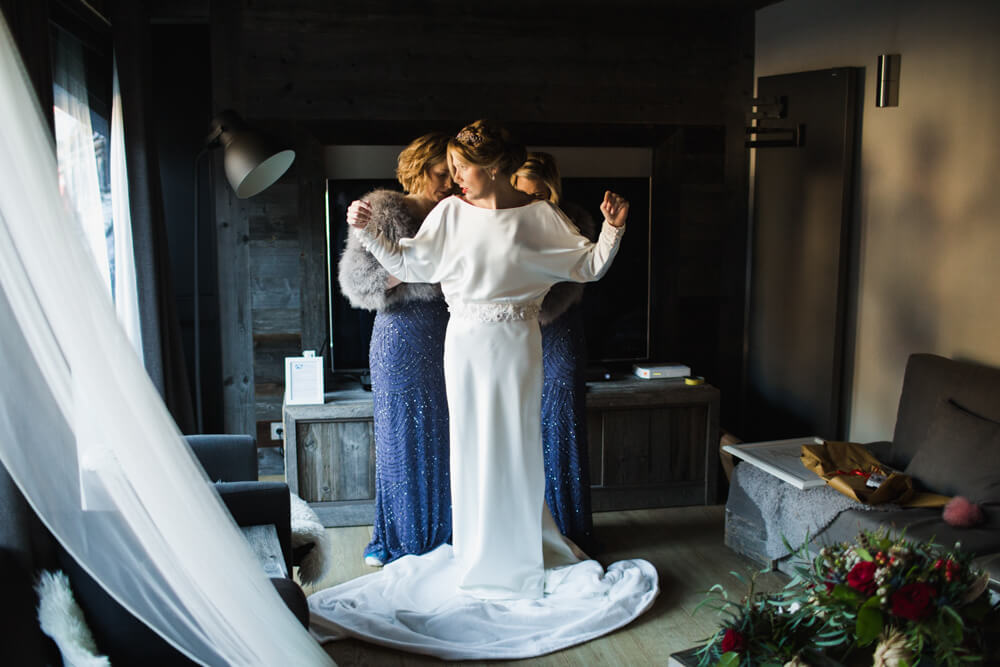 Like Justin, the couple also got married here and Sam tell us they received great feedback from guests:
A lot of people said it was probably one of the best weddings they'd ever been to because it was such a different experience. It's a very earthy experience, beyond their expectations"

Sam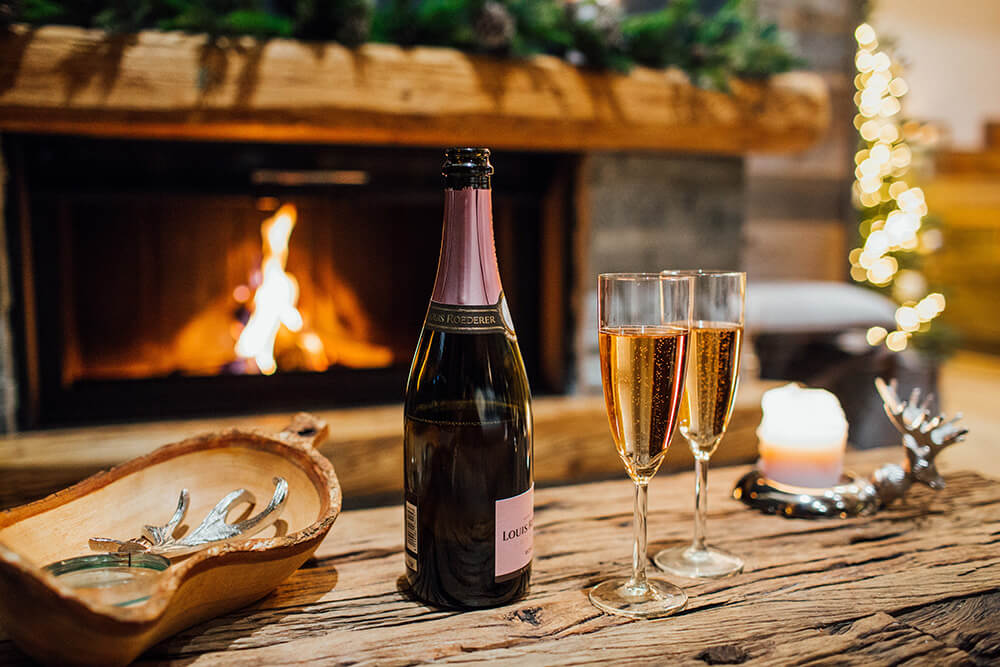 Reason 6. Something For Every Budget
You don't need us to tell you that planning a wedding can be stressful and expensive.

How do you decide how many people to invite? Should you let guests bring a 'plus one'…?

It's no surprise then that destination weddings have become so popular. They're a great way to spend quality time with the people that really matter to you.

If you want to keep it low-key, an intimate dinner in a restaurant up the mountain with your closest friends and family can still be memorable, but without costing a fortune.

But if you do have the budget to spend, go wild! Work with a wedding planner to create your dream wedding and pick a showstopper venue for an unforgettable day.
Reason 7. Relax, We Speak English Too!

The French Alps are an international destination for skiing, mountain biking and hiking, so most of the suppliers you'll come across here speak a good level of English.

Our English may not always be perfect, but we're still happy to communicate with you so don't worry if your French is a little rusty!
If you're looking for somewhere that's unique and off-the-beaten track, with awe-inspiring scenery but that's not too difficult to organise, then we think you'll agree that this is a great option for your destination wedding.

Watch the video to hear more from our local suppliers and take inspiration from some of the weddings we've filmed here in the French Alps.
FEATURED SUPPLIERS