5 Surprising Facts About Us – Polly & Reuben from Eight Bells
On your special day, it's important to feel 100% confident and comfortable with everyone present, including your wedding photographers.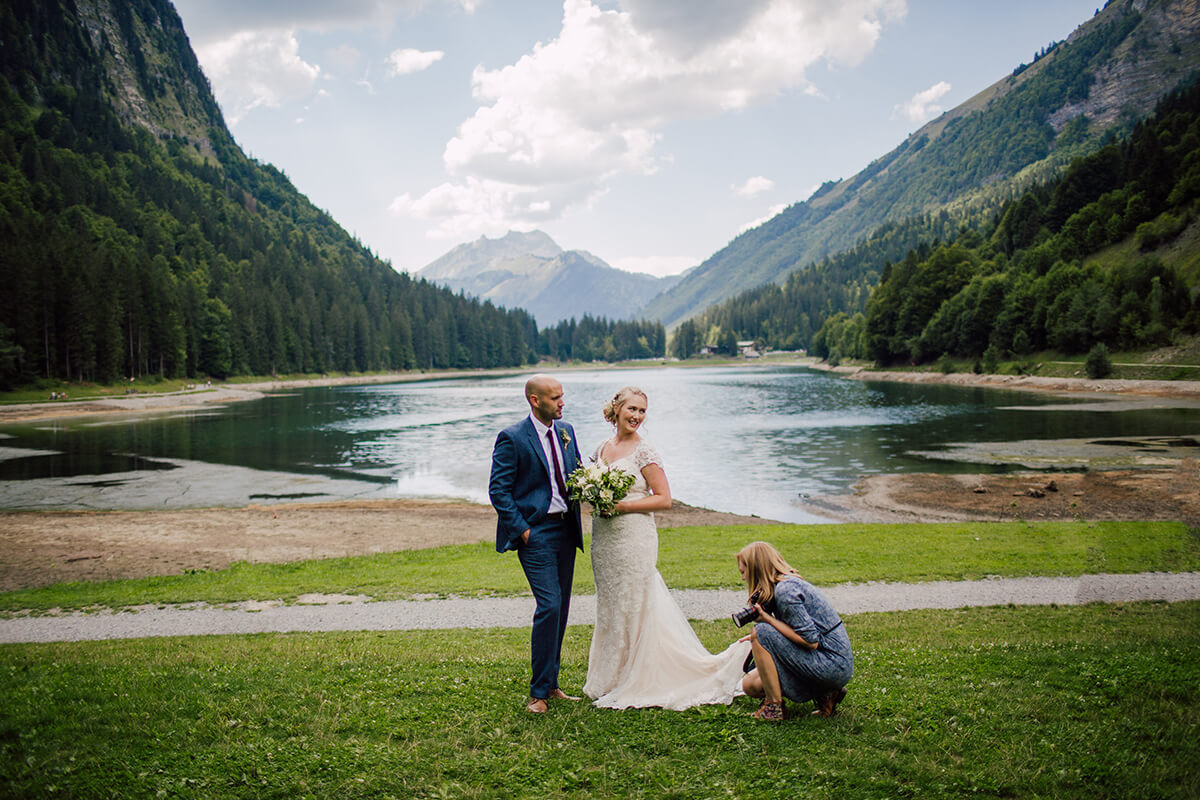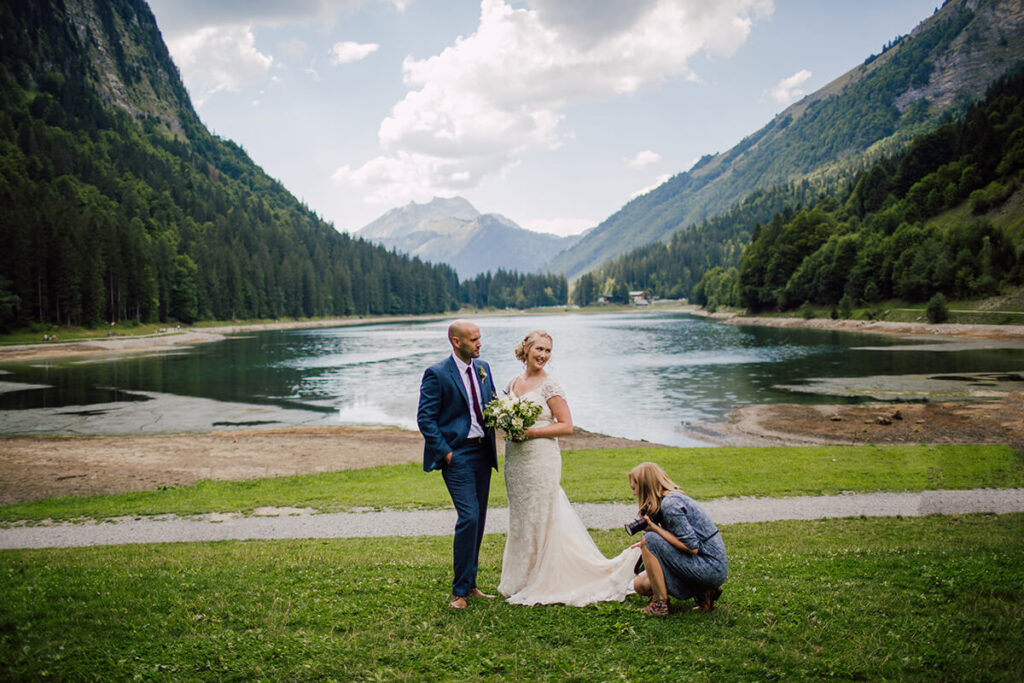 As your wedding photographers, the same thing goes for us, as we're here to capture one of the most important moments of your life! That's why from our very first meeting (via Skype or face-to-face), it's important for us to get an idea of who you are and what makes your love story so unique.
To save you from feeling awkward around two strangers you just found online, and to give you an idea of who we are, let's dive straight into some facts about us:
1. We photographed a wedding and found 'The One'
We both started working in photography and videography separately in Tel Aviv, Israel, in 2012: Reuben in extreme sports photography and Polly in commercial videography. However, wedding photography was what truly connected us when we first met while capturing a wedding in 2015! We've even got a random photo, taken on the day we first met: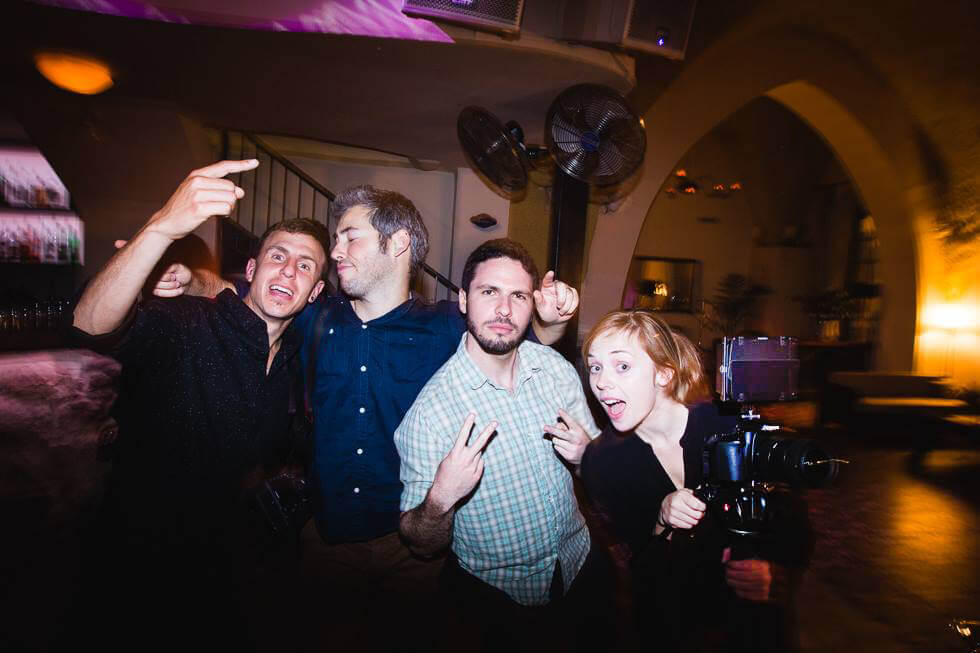 That day, Reuben was taking photos and Polly was filming a wedding video. Reuben was a gentleman; offering Polly a glass of water, a business card and a lift back home. Polly was a true lady who took the water and the card, but preferred to take a taxi at the end of the night. We met again filming another wedding two months later and became a couple soon after filming a third wedding together.
2. We are a one-stop-shop
We soon started filming weddings together and offering a 'full package'. That's how the Eight Bells Wedding Photography & Videography dream team was born in 2015 🙂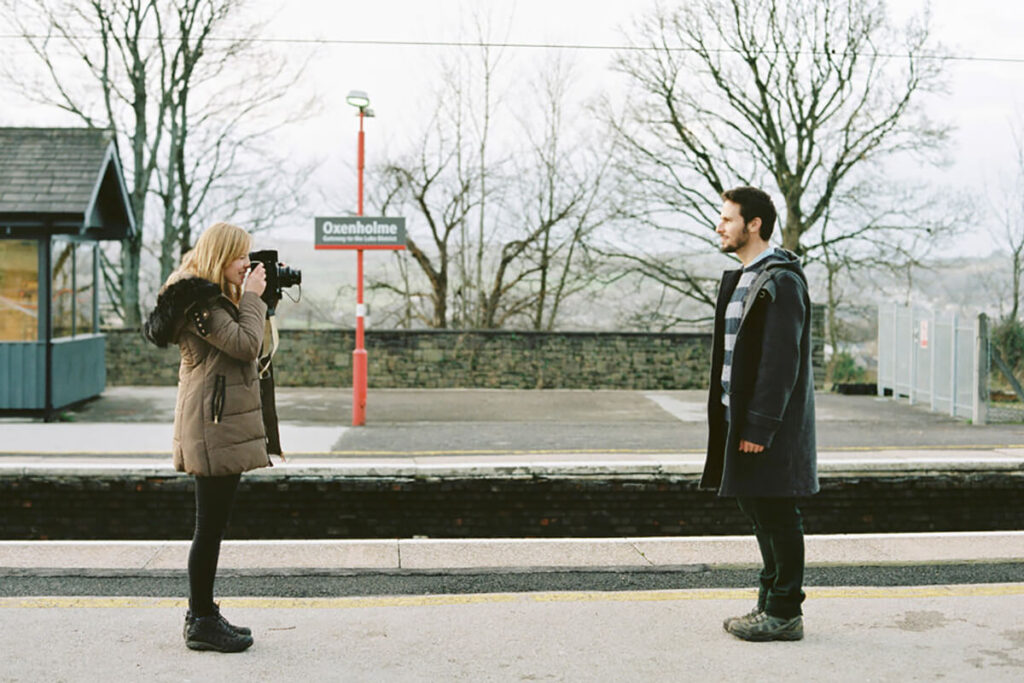 Since we're both experienced with taking photos and video, we help each other throughout a wedding day – this makes it less stressful and more fun for us. It also allows us to cover both the bride's and the groom's preparations, or allow the couple to relax into the couple's photoshoot knowing that someone is taking photos of guests enjoying cocktail hour.
Of course we also work together to edit the photos and video footage afterwards, and offer a 10% discount when our services are booked together.
3. Reuben popped the question at rainy Lake Montriond
Reuben had been spending summers in Morzine in the French Alps since he fell in love with the place in 2011. He got to know the local people, became known as "the photographer", and was booked to photograph his three first Morzine summer and winter weddings in 2016.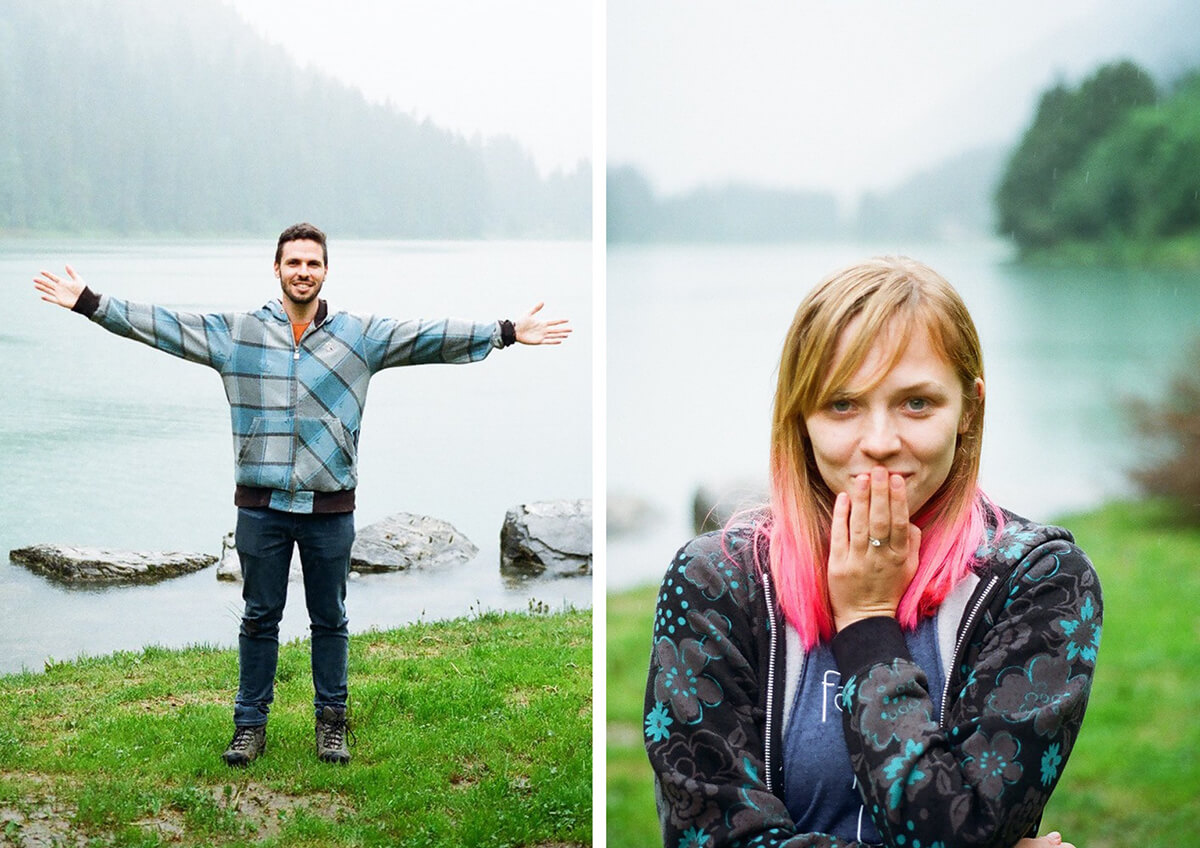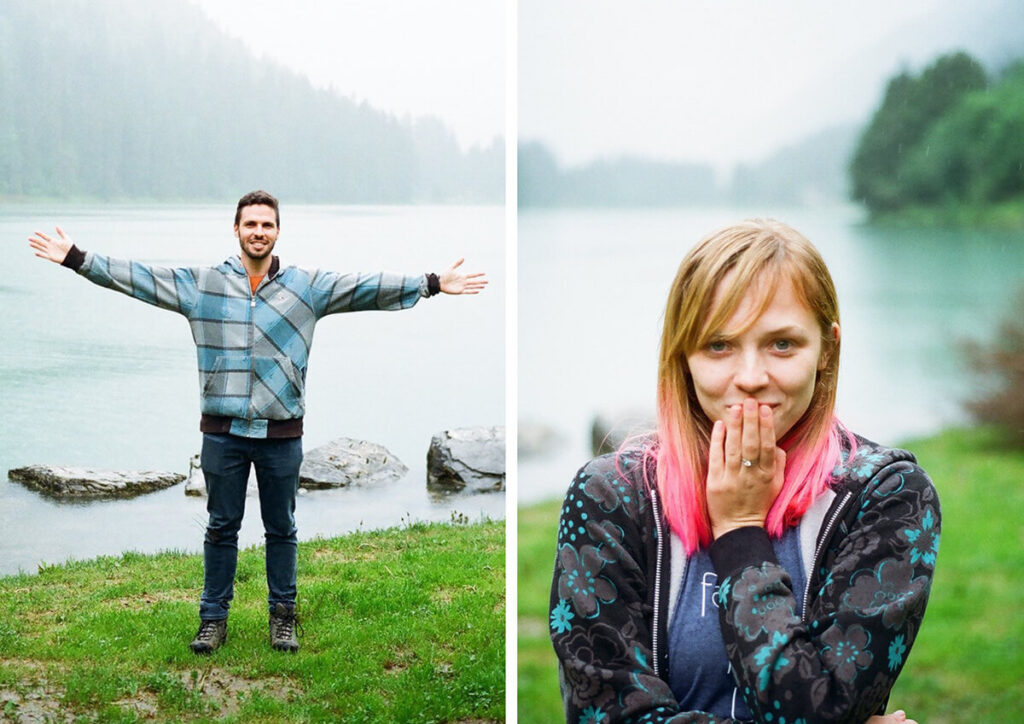 Reuben couldn't wait to introduce the beautiful mountains to his girlfriend Polly, and that June he invited her to come and assist him at a wedding in The Farmhouse in Morzine. Obviously, Polly fell in love with the French Alps too, but the highlight of that week was when Reuben proposed with an engagement ring on the shore of beautiful Lac de Montriond, on a magical rainy afternoon. Guess what Polly said.
4. There was a thunderstorm during our wedding at The Farmhouse, Morzine
After shooting more than two hundred weddings, we knew exactly what we wanted when it came to choosing the venue for our own: an outdoor summer wedding in nature, somewhere warm but not too hot, with a location that's easy to get to for our fifty guests from Israel, the USA, Russia and Europe.
The decision was made and we celebrated our wedding at The Farmhouse, Morzine, in July 2017. We had been lucky enough to shoot a couple of weddings there beforehand, so we knew how special the venue is, with its unique atmosphere, accommodation, delicious food and super friendly staff members who take care of everything!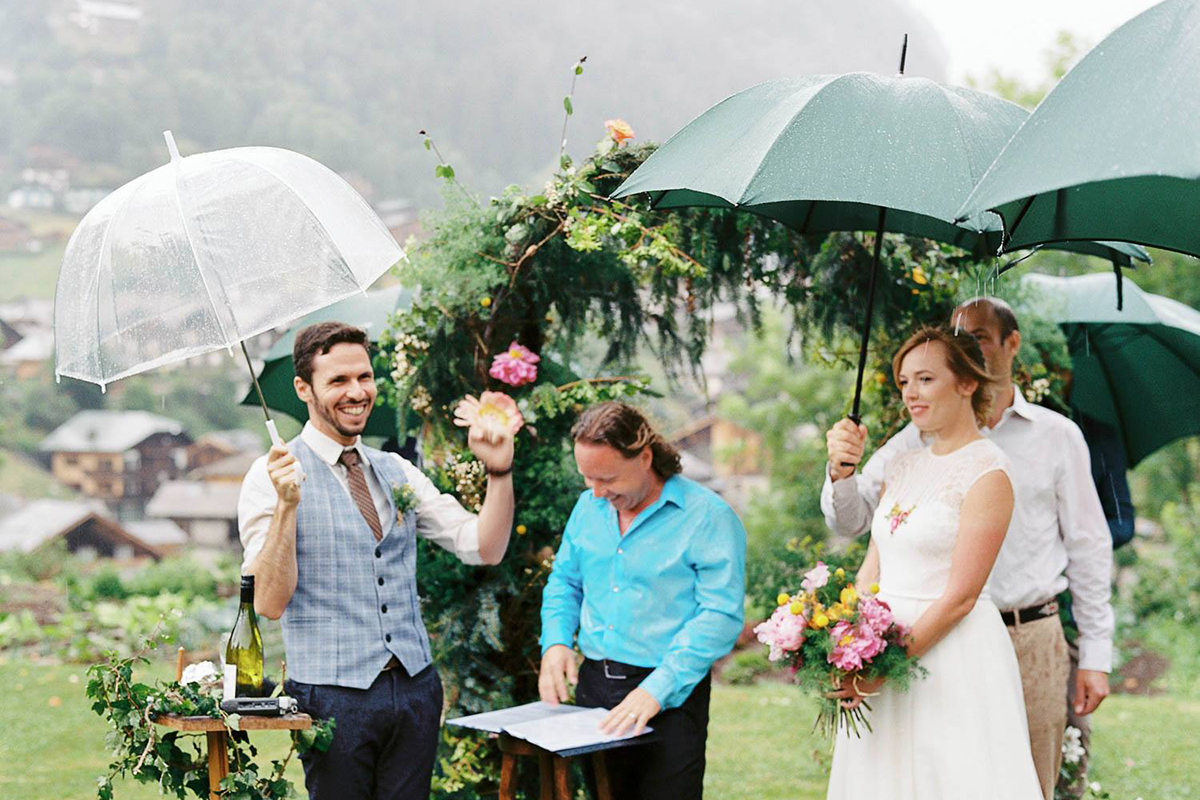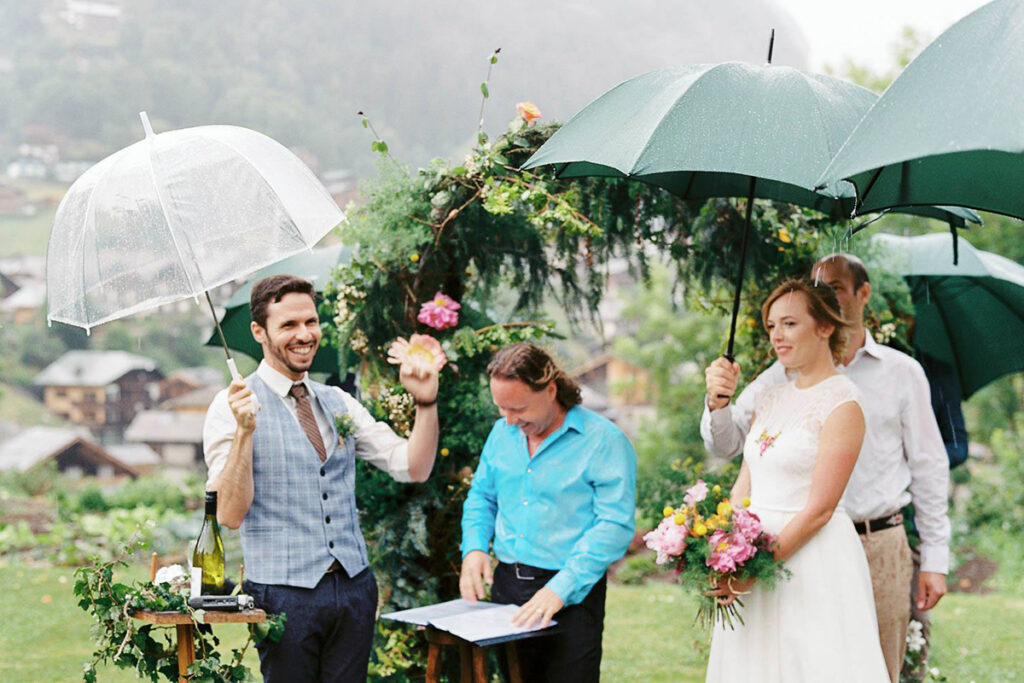 As soon as we started walking down the aisle that had been set up in the garden, the skies darkened and a storm rolled in. It was just like in the movies: heavy rain, thunder and lightning strikes. The Farmhouse quickly gave everyone umbrellas and we continued the ceremony under heavy rain, but as Reuben started reading the vows, the rain stopped and the sun came out.
It was the amazing wedding weekend of our dreams, for us and all of our guests, who enjoyed the delicious local French food, swimming at Lake Montriond and simply relaxing in the stunning mountain scenery.
PS: We had our official Jewish ceremony beforehand, in Israel, with only thirty guests: family members who couldn't make it to the main wedding in French Alps. It was a very different, from Israeli point of view, small and super relaxed event, with intimate family atmosphere, which everyone loved!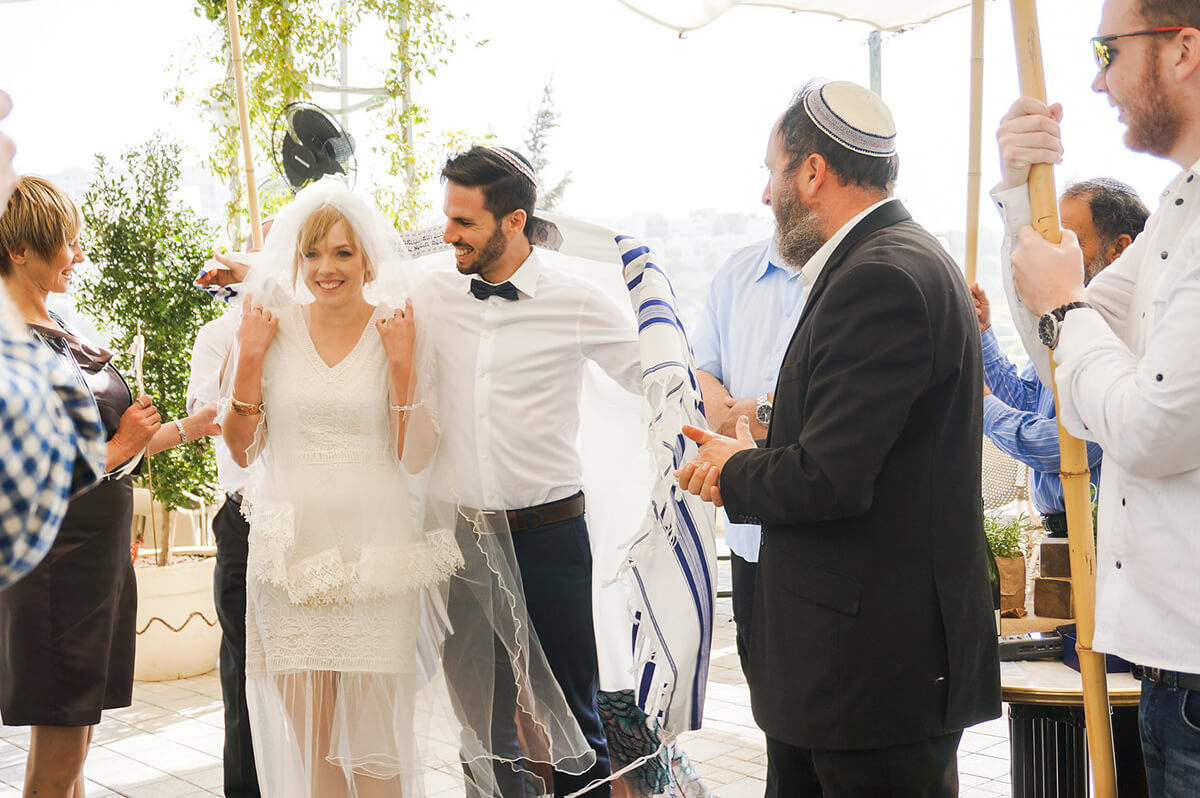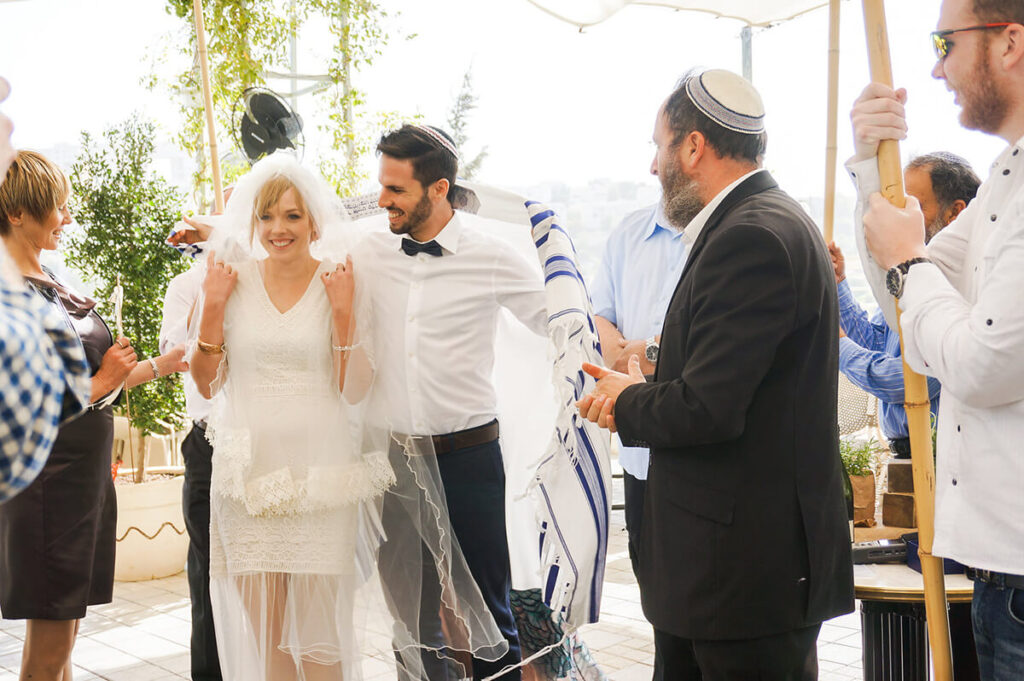 5. We moved to the French Alps to get away from city life
Since we had already spent quite a lot of time discovering this part of the French Alps, photographing beautiful weddings and getting to know the people who live here year-round, we knew this unique place was the one for us.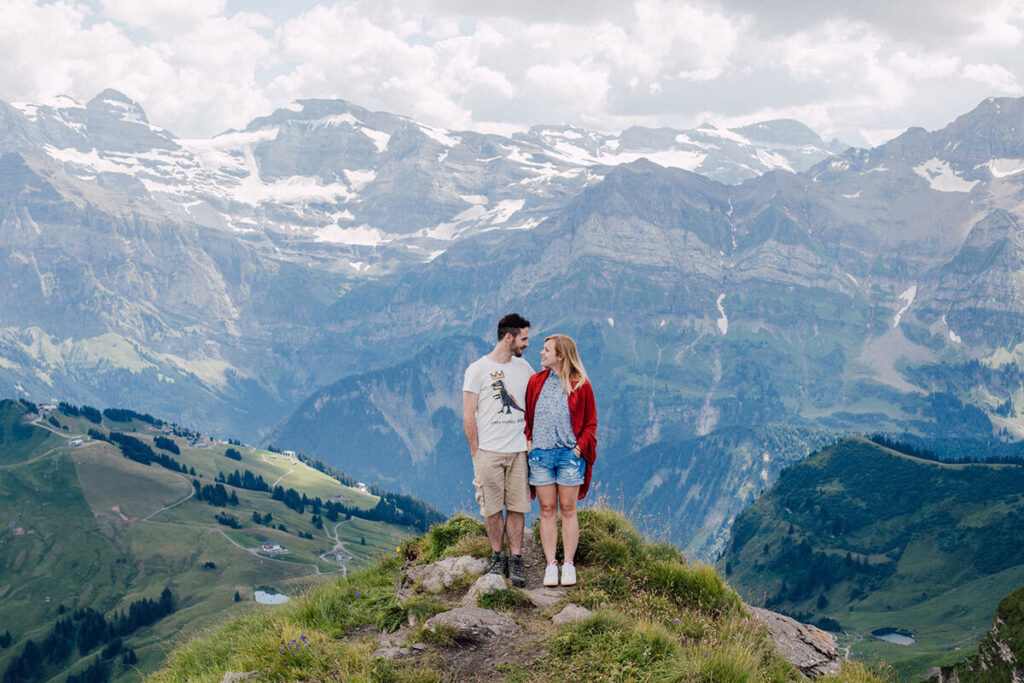 After moving from a city life in Tel Aviv to the mountains in 2016, we soon discovered how life-changing this move was. Despite all the challenges it has put in our path, it's still the place where we manage to find our work-life balance.
Whether you live locally or are travelling from afar, the French Alps offer a unique and off-the-beaten track setting for a dream mountain wedding that's not too difficult to organise!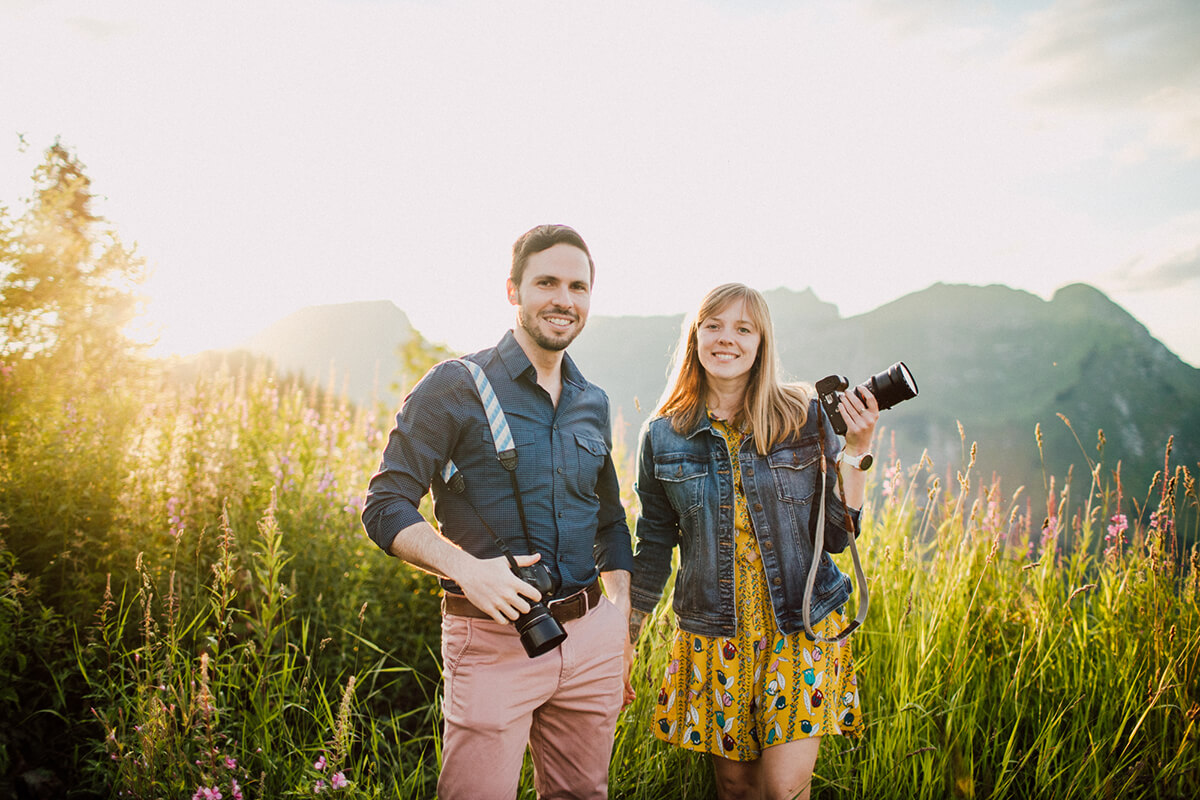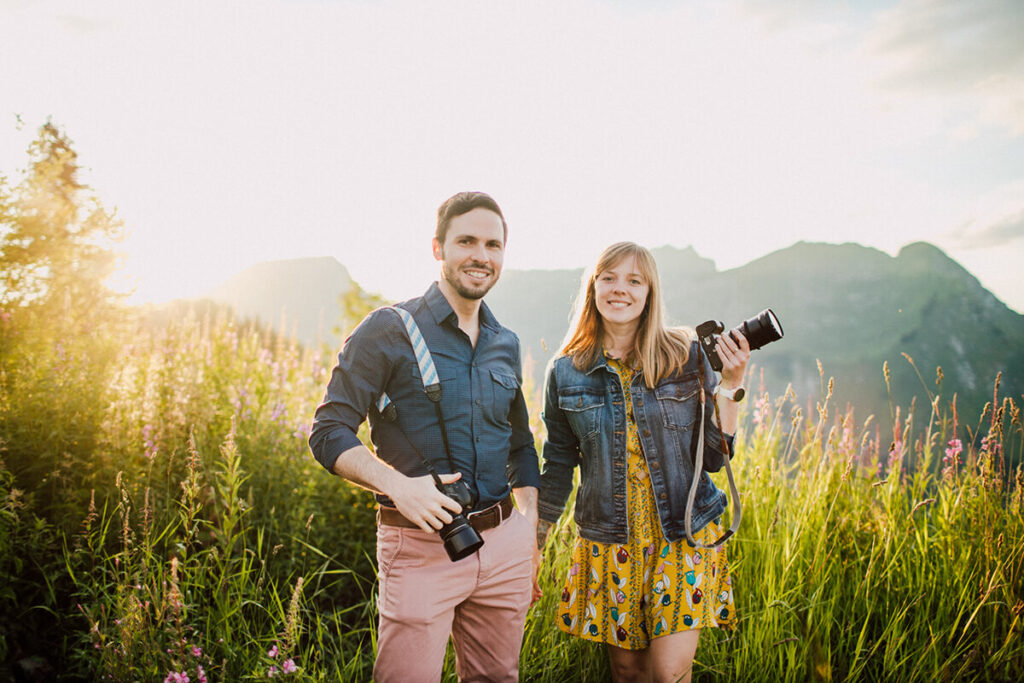 We hope you now have a clearer picture of who we are: Polly and Reuben of Eight Bells Wedding Photography. We can't wait to meet you and capture the beautiful moments of your unforgettable wedding in the French Alps.
FEATURED SUPPLIERS