Macaron Tower – French Twist on the Traditional Wedding Cake
Macarons have to be one of the most iconic forms of patisserie.

Made from a soft biscuit shell with a ganache or jam filling, macarons not only look amazing but taste it too.

With their neat circular design and array of colours and flavours, it's no surprise that these sweet delights have become a huge hit on social media and at weddings, parties and other celebrations.

If you've been looking for wedding day inspiration on Pinterest or Instagram, you may have already come across macaron towers.

They're the ideal thing to serve as a snack after the evening meal, when your guests are already full but might still fancy a little sweet treat! They also look beautiful in pictures and can tie in nicely with your wedding decorations.

In the name of research (and sugar-cravings!), we decided to visit an artisan macaron boutique to find out what all the fuss is about.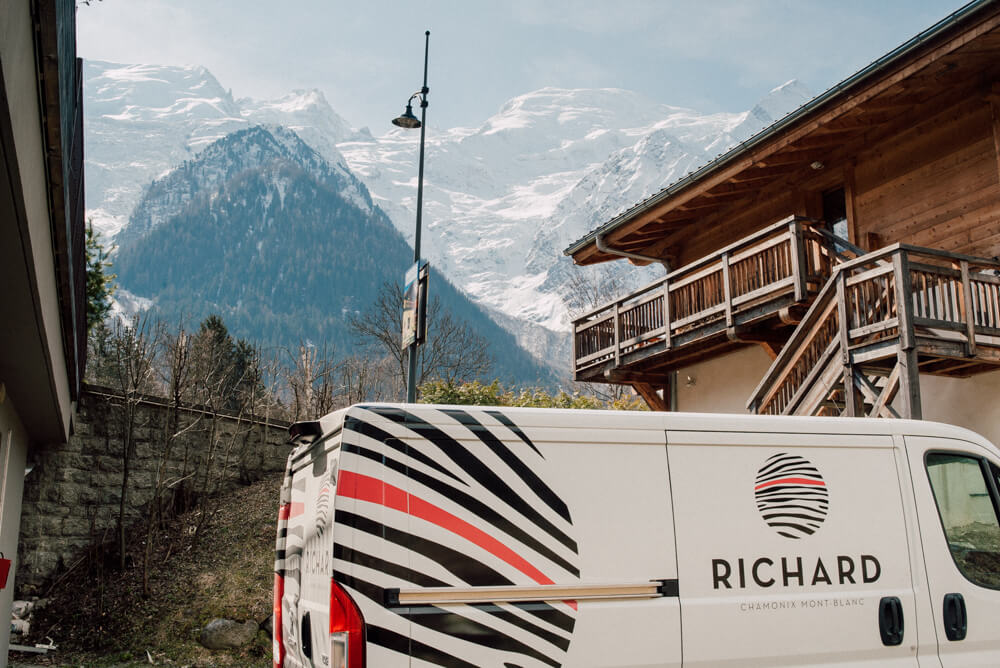 In Search of Macaron Towers in Chamonix
Chamonix is a ski resort in the French Alps, close to the Swiss and Italian borders. We've visited Chamonix on a number of occasions recently, to meet wedding ring designer Garagosi and wedding planners Haute Wedding.

The beauty of this place never fails to take our breath away, with snow-capped Mont Blanc looming over the picturesque town.

But on this visit we found ourselves distracted; not by the mountain scenery, but by the colourful and mouth-watering window displays of 'Patisserie Richard' and 'Cote Macaron'.


We had the pleasure of meeting Sylvie Richard, owner of the two boutiques, and her team.

Located in the heart of Chamonix, Patisserie Richard offers classic French sweet and savoury snacks, while Cote Macaron is a patisserie specialising in macarons with a cosy cafe, or 'tea shop', serving hot and cold beverages.

The macarons on display in the windows of the two boutiques are works of art, in a wide range of colours and designs. This is another reason why macarons are so popular at weddings, because they can be customised to fit your overall theme.

The boutiques offer over 15 different flavours of macaron, with 'classics' such as vanilla, salted caramel and chocolate alongside ever-changing creations that reflect the seasons and customer demand.

Sylvie tells us that macarons have been popular in France for over 15 years – well before they took over Instagram.

Her favourite macaron flavour, which is also their 'signature' flavour, is the Chamonix: "It's filled with dark chocolate ganache and also hazelnut praliné in the middle. It's delicious, I love it!"

And the best way to enjoy a macaron? "It's a perfect snack for anytime of day with a cup of tea."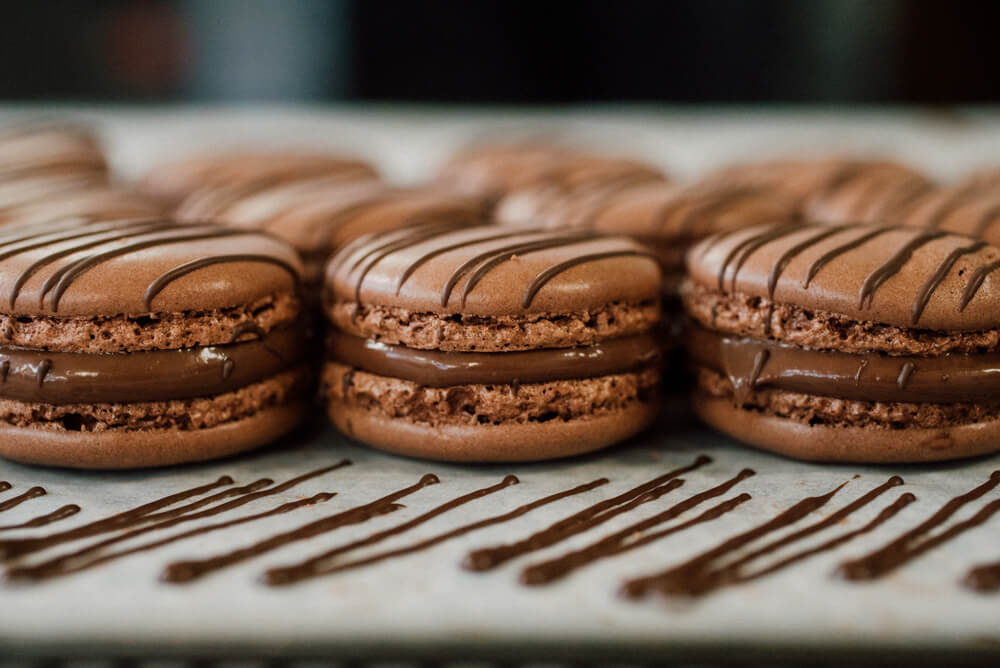 Handmade With Love
The macarons served in Sylvie's boutiques are all handmade, "made with lots of love, a smile, and with fresh and high quality products."

We couldn't resist visiting the workshop where the macarons are made, in the nearby town of Bossons.

The macarons are made entirely 'sur place' (on-site), from baking the biscuit shells to hand-mixing the ganache filling.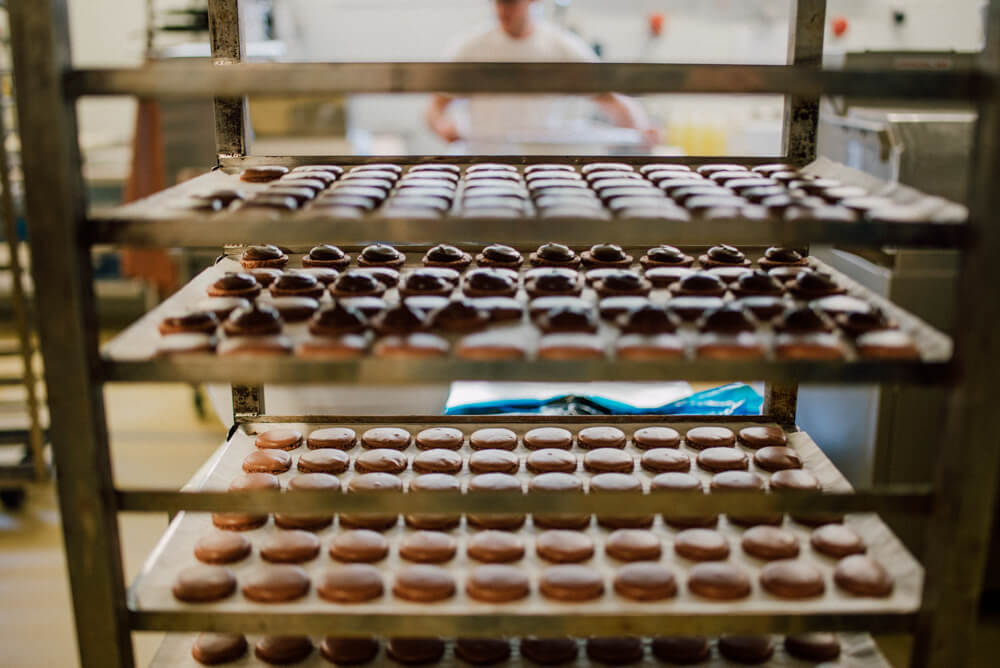 The Macaron Tower: A Modern Twist on a Traditional Wedding Cake
In one of our early blogs we introduced you to the Piece Montée, a French twist on the traditional wedding cake that usually takes the form of a tower of profiteroles (the croquembouche).

Thanks to their symmetrical design and vibrant colours, macarons make gorgeous wedding centerpieces. Sylvie's team make a lot of macaron towers, not only for weddings but for baptisms and anniversaries.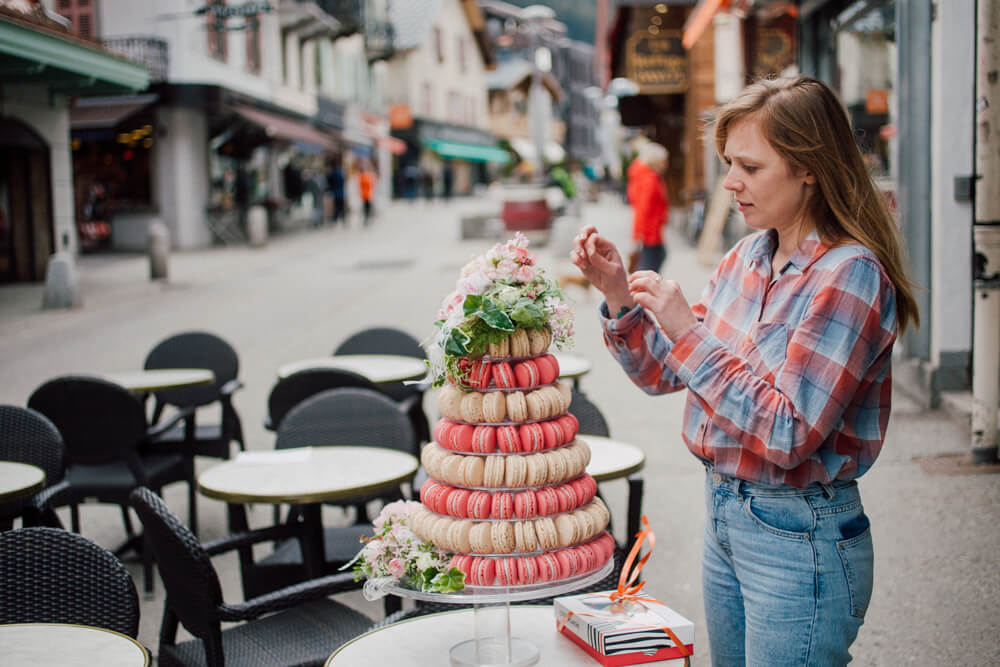 We asked Alicia, who works in Patisserie Richard, how they make a macaron tower:

"In order to make a macaron tower, we first need to know how many macarons we need per person. Let's say this pyramid will include 120-130 macarons. We choose a colour, or you can choose a colour for each level, which makes it very colourful. We can just use pastel colours, or we can create a gradient with white, rose and deep rose colours." – Alicia

The team will also consult with the wedding florist so that they can match the colour of the macarons to the overall wedding theme.

Alicia shows us an example – which you can see in our video of the interview – using vanilla and strawberry-flavoured macarons and decorated with flowers. It's both romantic and striking, and looks delicious.

While we don't think macaron towers will replace traditional wedding cakes any time soon, they will make a beautiful and unusual addition to your wedding!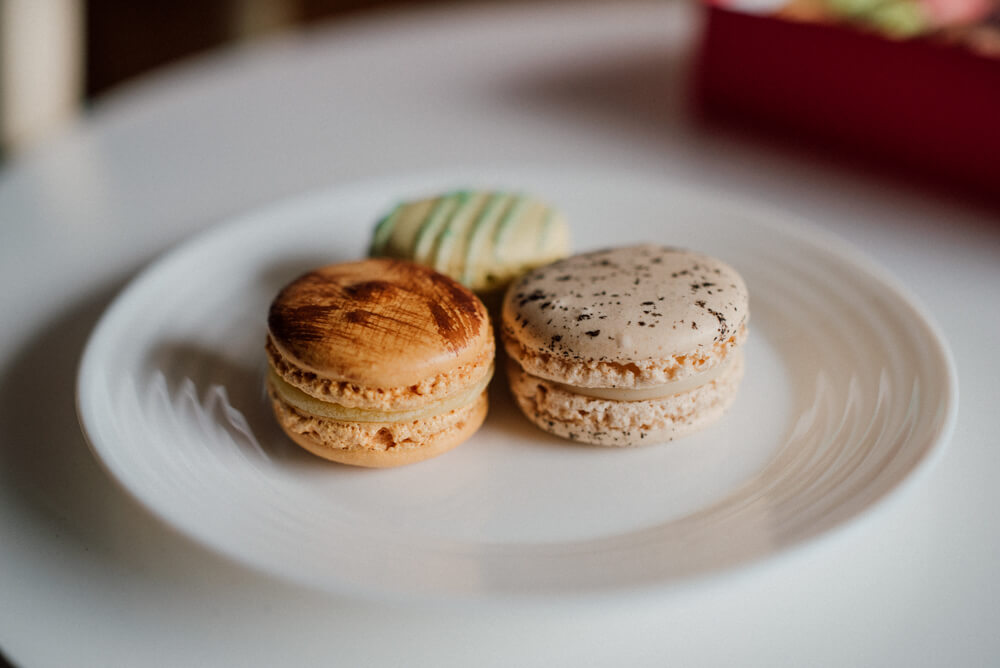 If your mouth isn't watering enough by now, watch the video of our trip to Patisserie Richard in Chamonix to see how macarons are made and get inspiration for your wedding cake.
FEATURED SUPPLIERS