Winter Wedding in Chamonix – Les Granges d'en Haut
Why did you decide to get married in Chamonix?
We live not too far away, are in love with the mountains and snow-sports, and Chamonix town is one of our favourite spots. In addition, Chamonix is used to English-speakers and since we were bringing together mostly non-French speaking guests, it was a logical choice.
How did you find the venue and why did you choose it?
Our Chamonix-based wedding planners, Mont Blanc Mariages, suggested Les Granges d'en Haut in Les Houches as a venue.

We liked it because:
– It is quiet and beautiful.
– The many chalets in the complex make it easy to accommodate a large number of people.
– A beautiful hall and terrace is available to rent for the food and party.
– There is a spa on site as well as saunas in the chalets.
– One of the Les Houches ski lifts is not far from the chalet complex.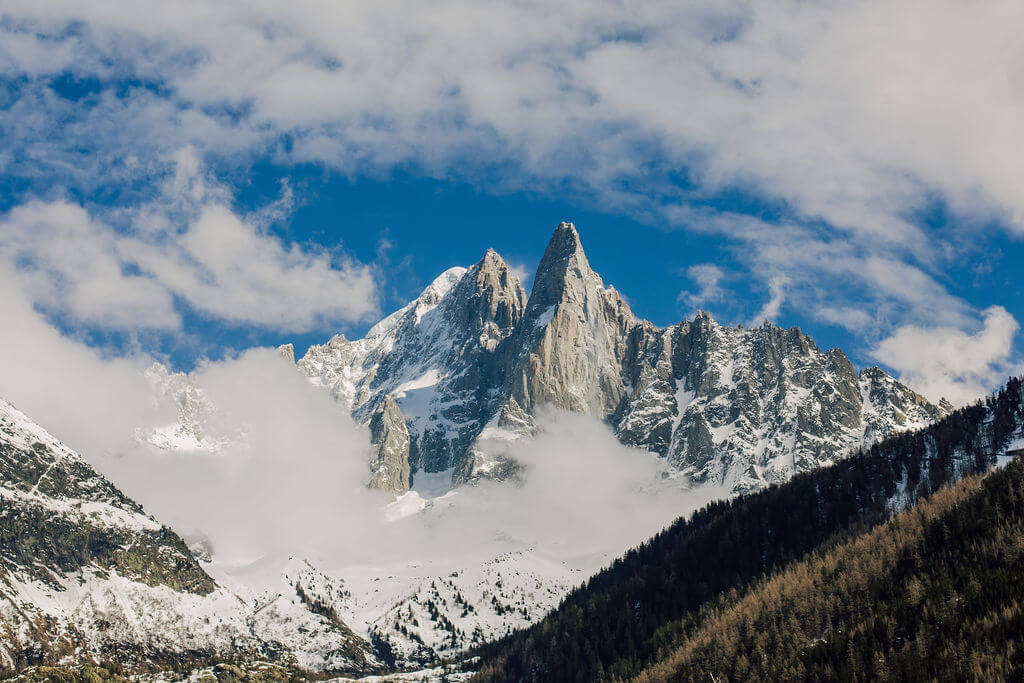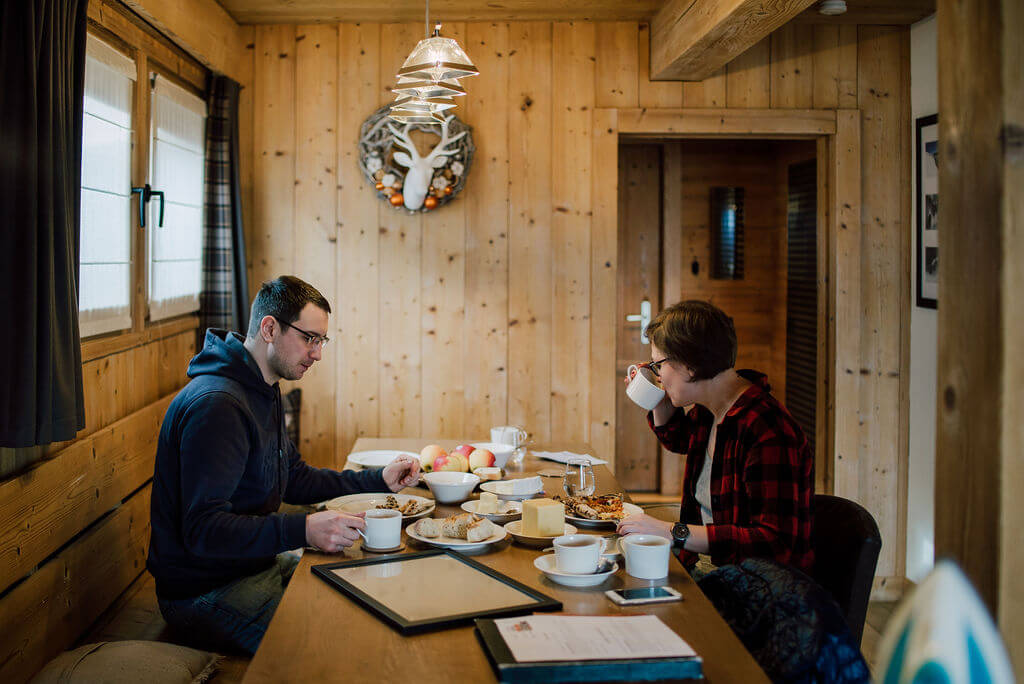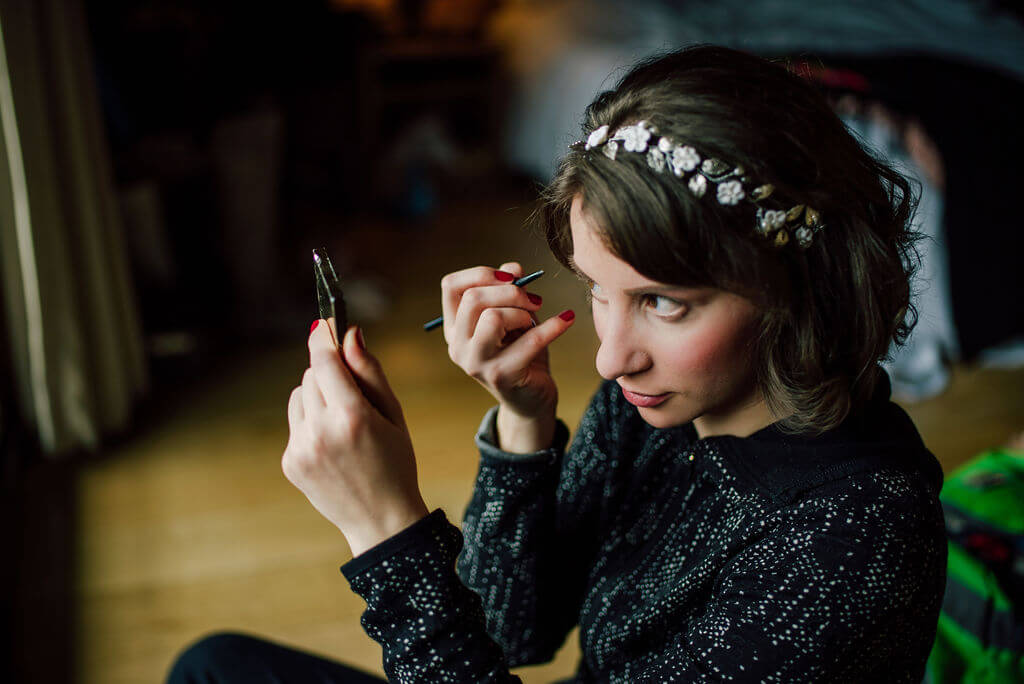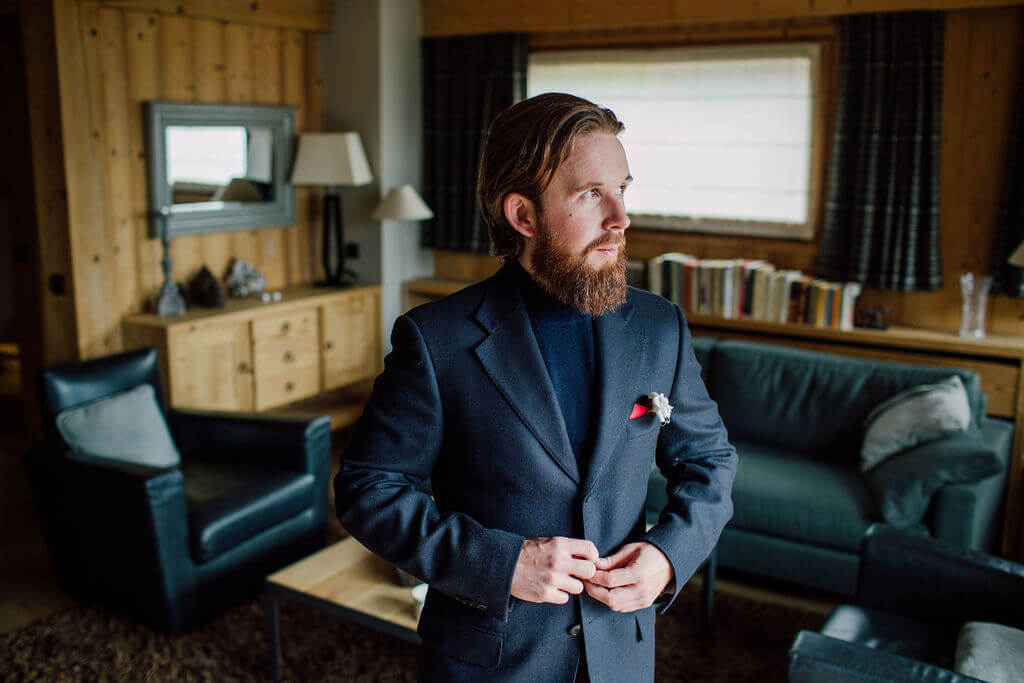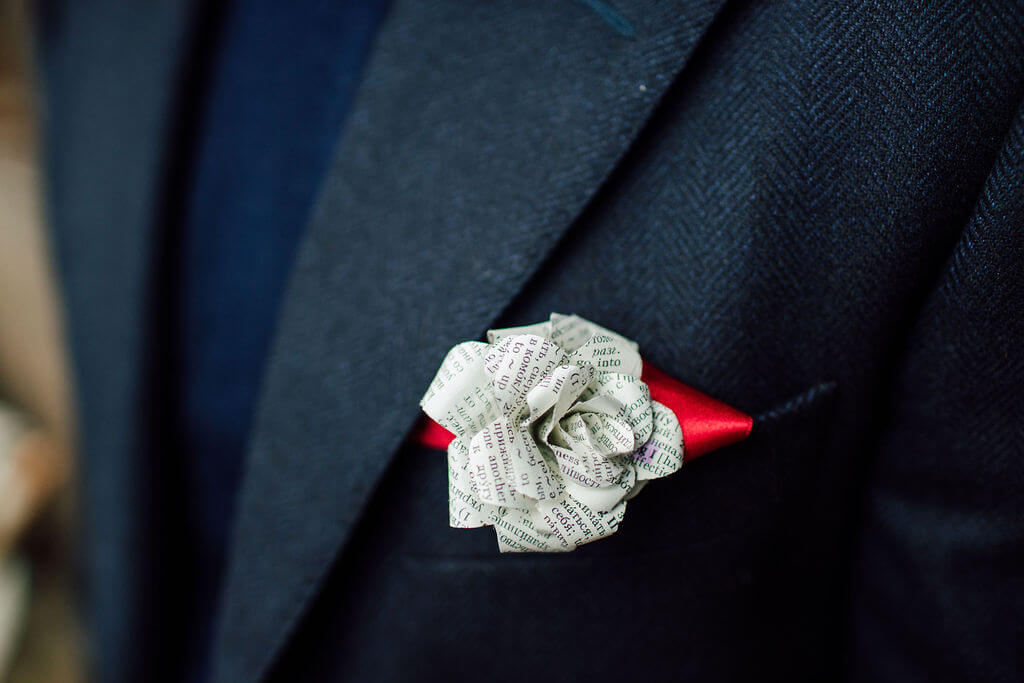 Please tell us about your wedding dress and accessories
The clothes choices (and many other choices too) were inspired by our low-waste wedding concept as it was important to us not to buy new items, especially if they were going to be used just on one occasion.
The dress for the church ceremony was rented from La Garde-Robe, a Geneva-based clothes rental business specialised in evening wear.
The bride's evening outfit was a custom-design, casual, upcycled dress made from used denim by the inimitable St-Petersburg (Russia)-based Jeans Revision.
The evening dress remains in the bride's wardrobe and will be used in day-to-day life as well. Accessories were all either already owned by the bride or else borrowed from friends.
What inspired the choice of fashion and accessories for the groom?
The clothes choices (and many other choices too) were inspired by our low-waste wedding concept as it was important to us not to buy new items, especially if they were going to be used just on one occasion.
The groom's jacket and trousers for the ceremony were purchased from luxury second-hand store Uptown Downtown, in Geneva, as well as the long outdoor coat.
Everything else worn at the ceremony was already in the groom's wardrobe. The groom wore an existing outfit for the evening part.
What type of ceremony did you have and what were the special features of the service?
We chose a simple and cozy service at the Protestant Temple in Chamonix. Through a number of pre-wedding visits with the priest at the church, we both got to know the parish and helped to shape the service and the choice of readings, which reflected our own values and ideas.
Since the setting was already so beautiful and we wanted to organise a low-waste wedding, we opted not to decorate the church and, for example, to substitute rice throwing with the tossing of bird seed.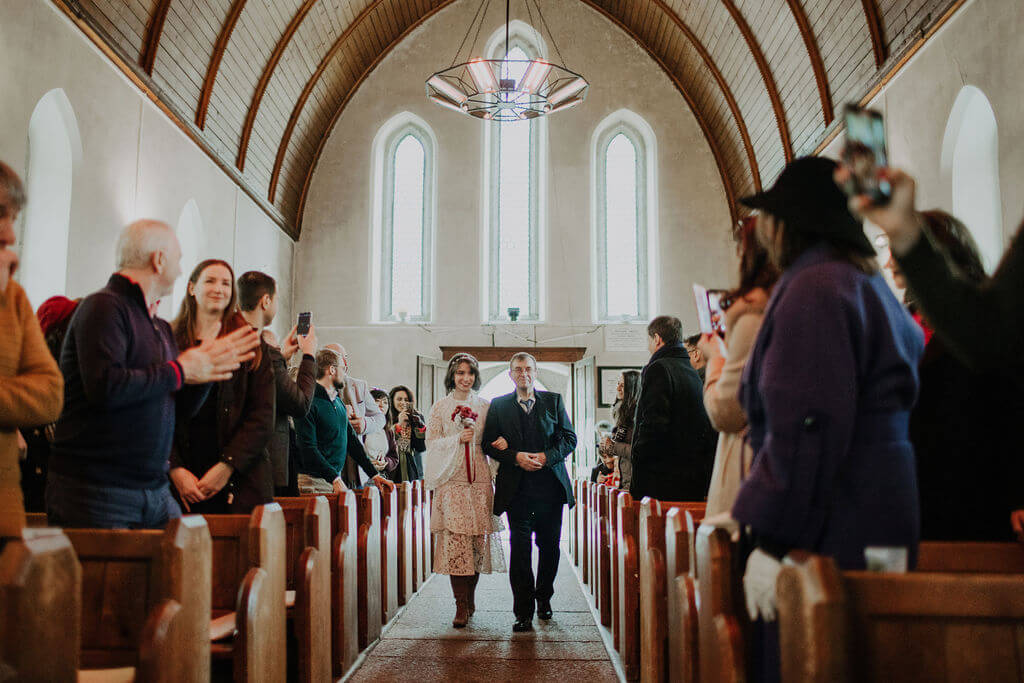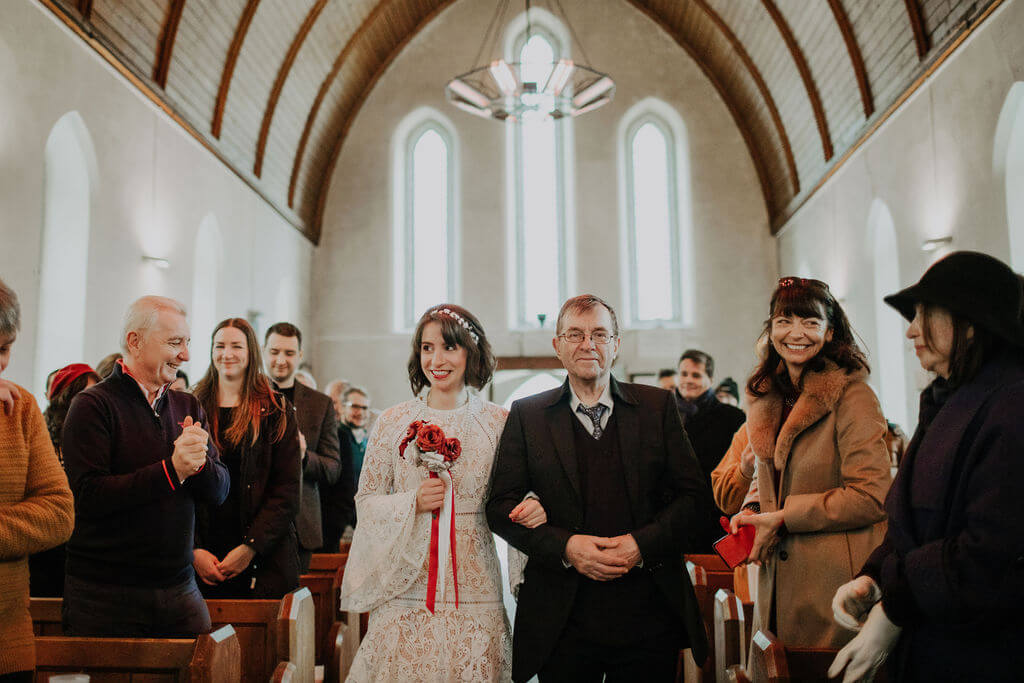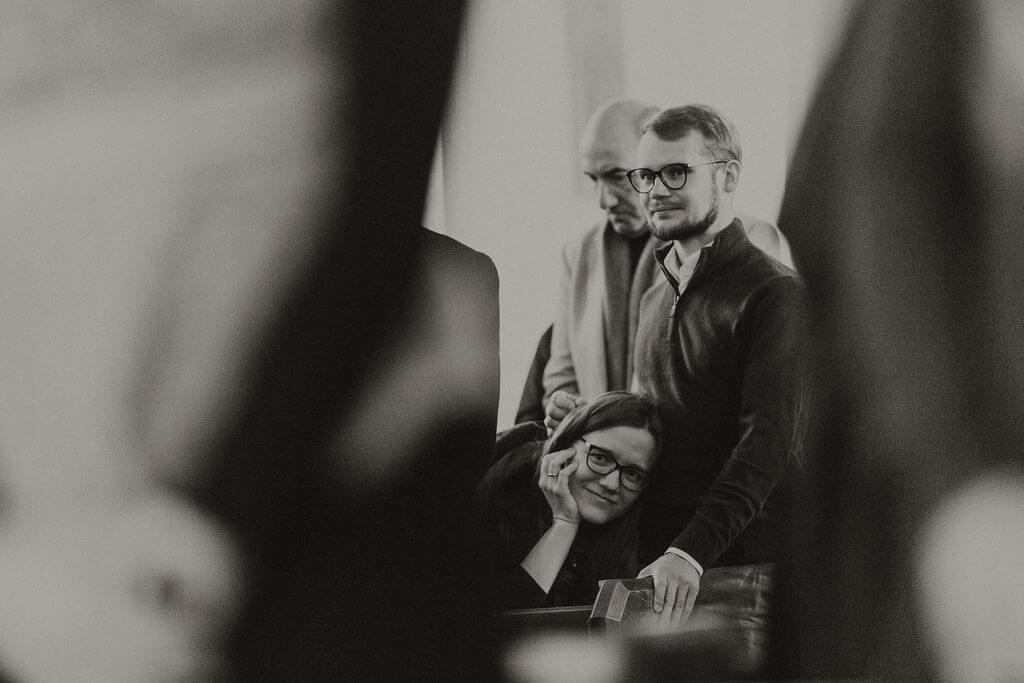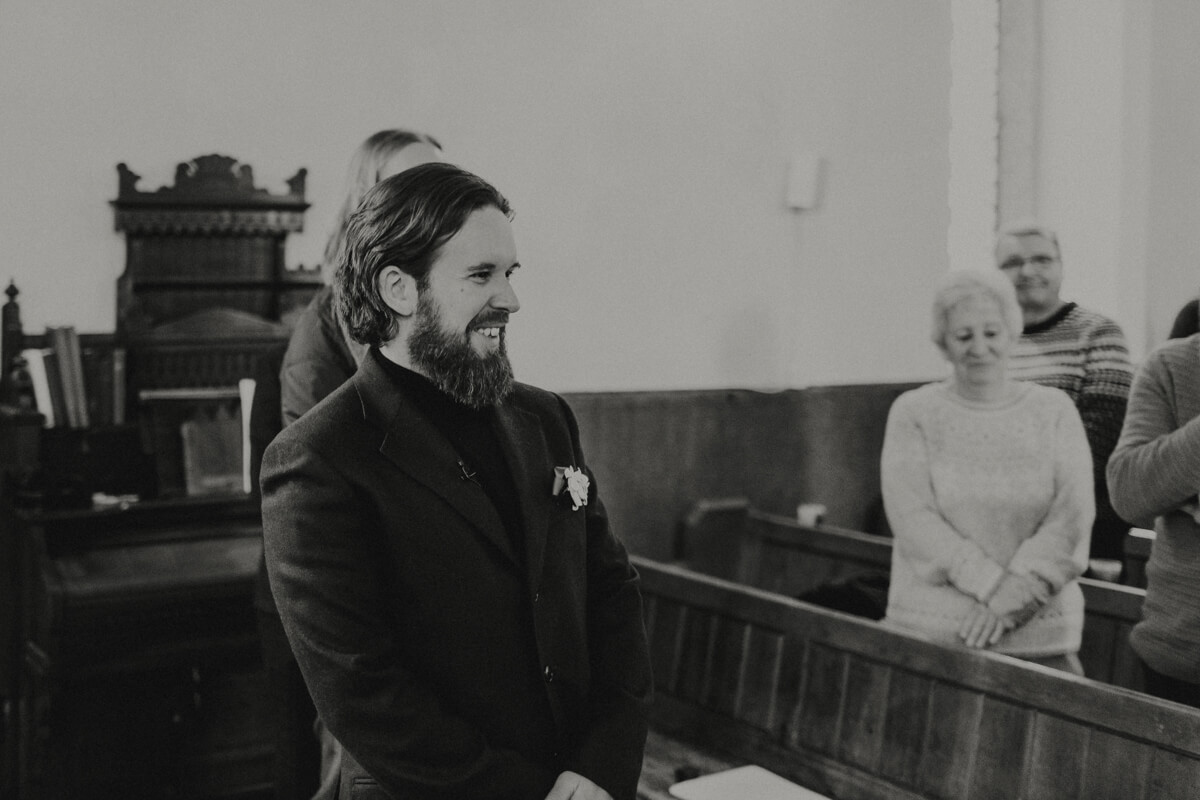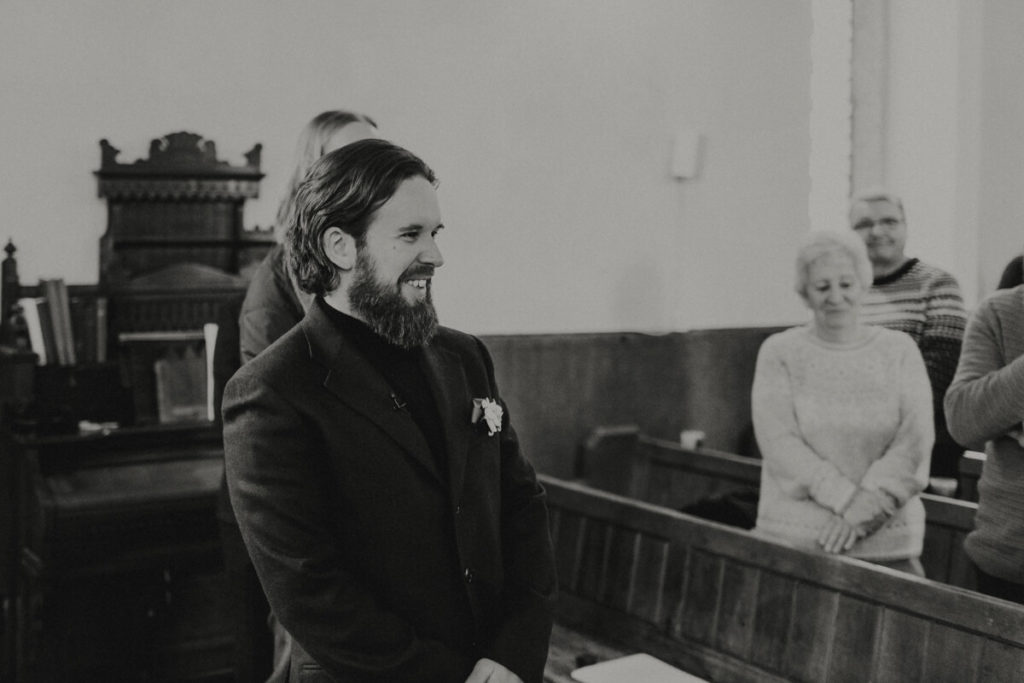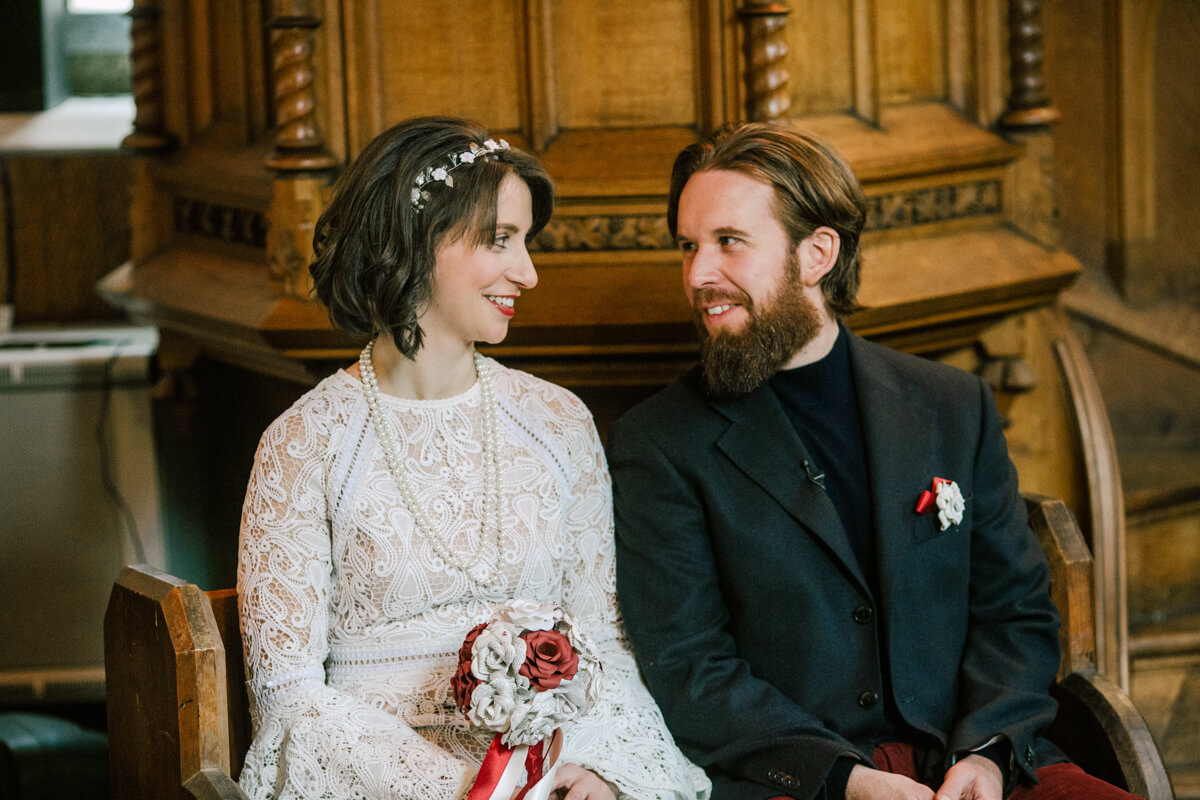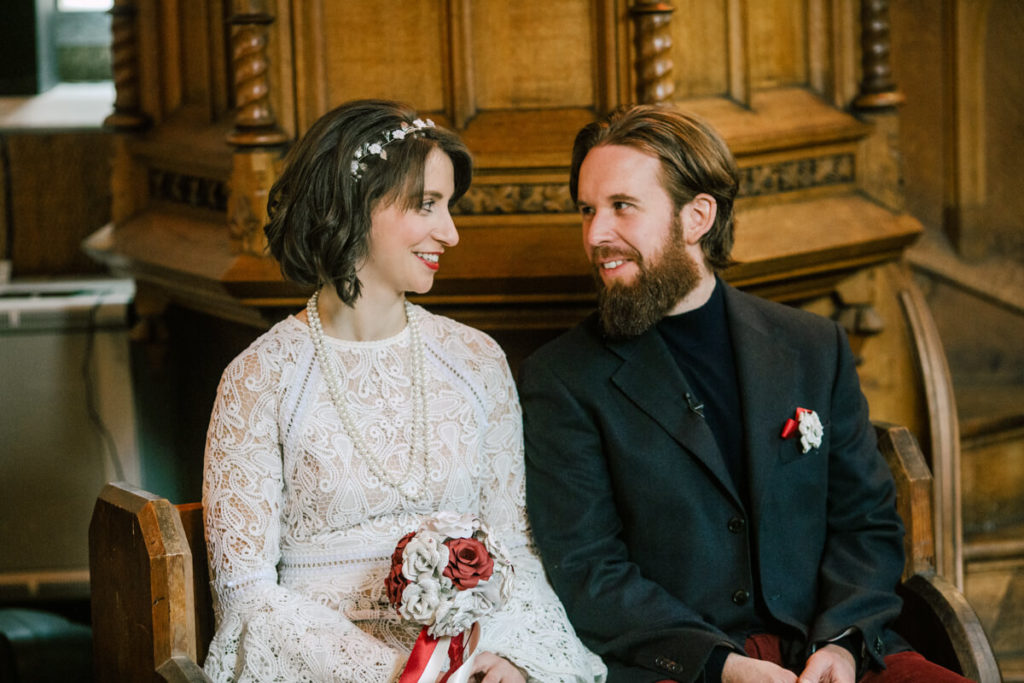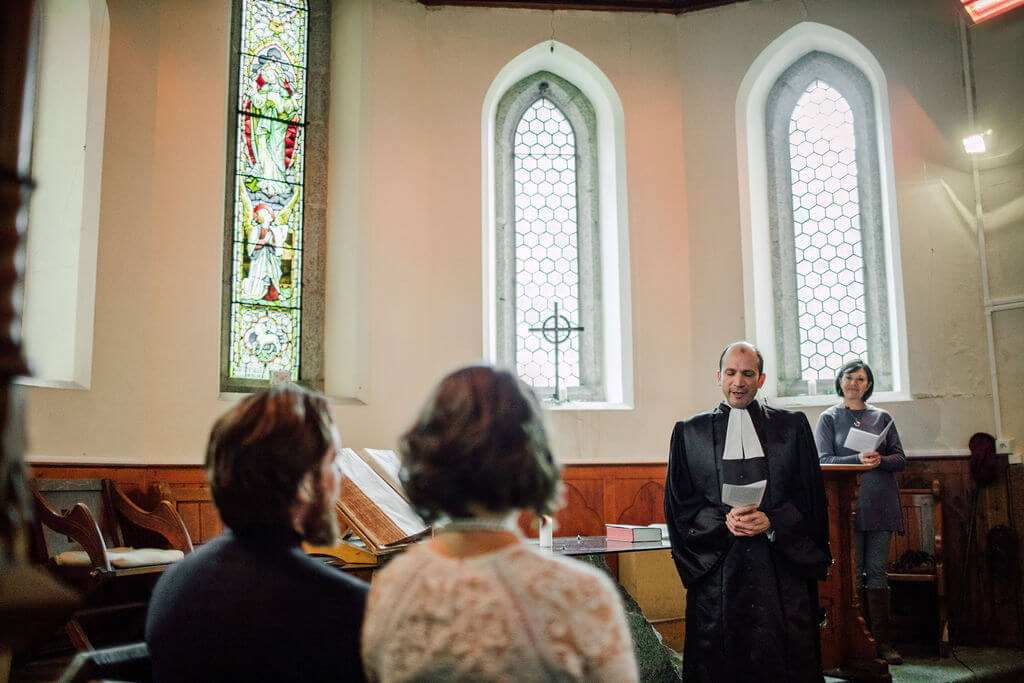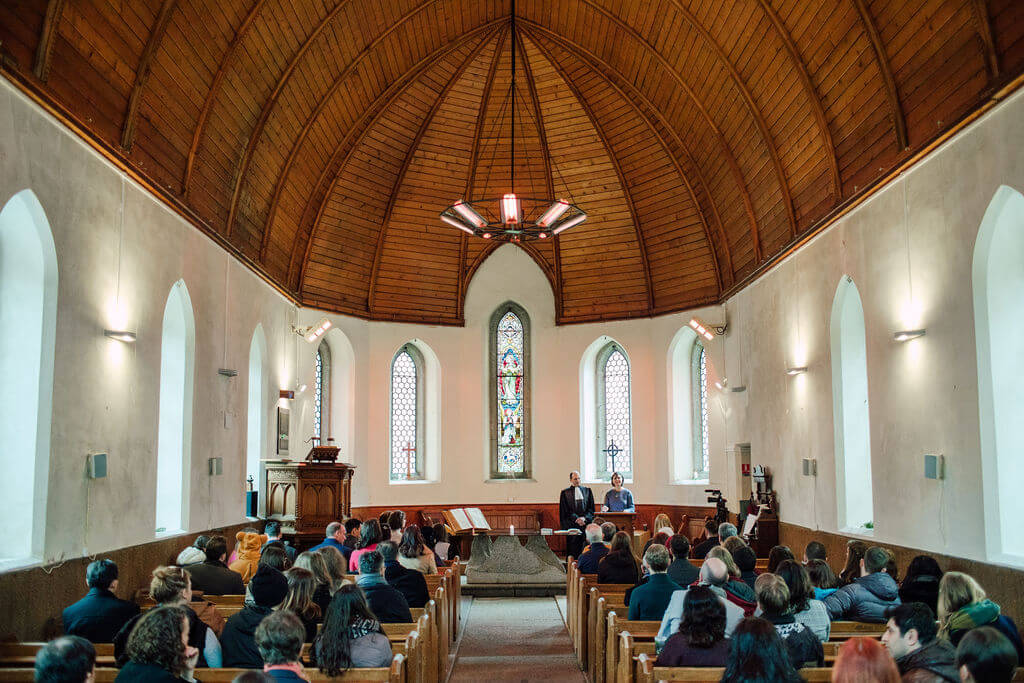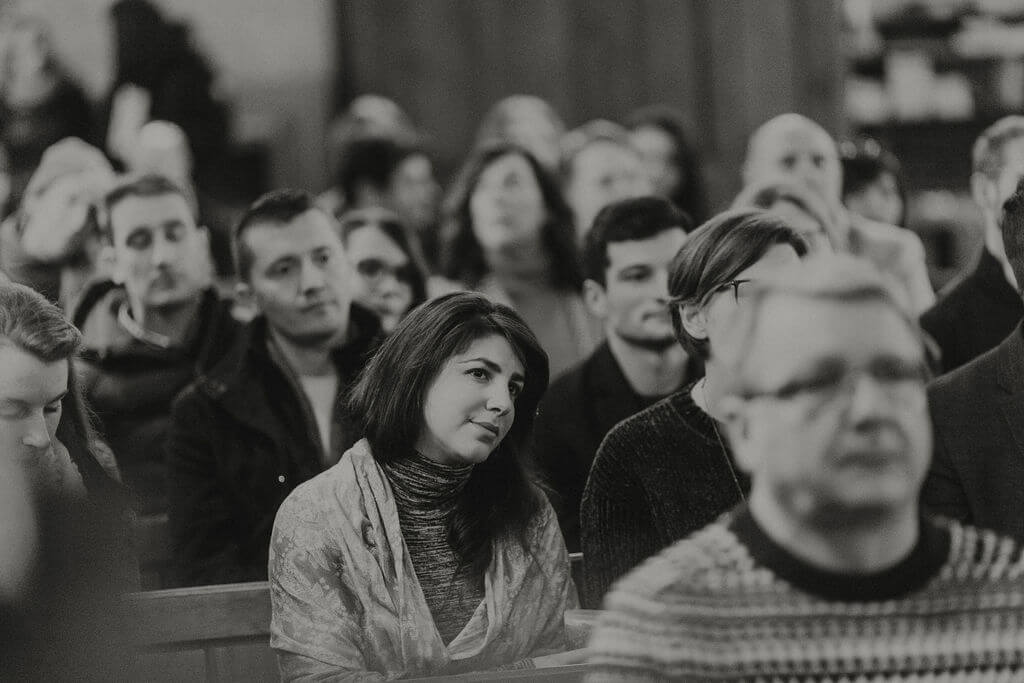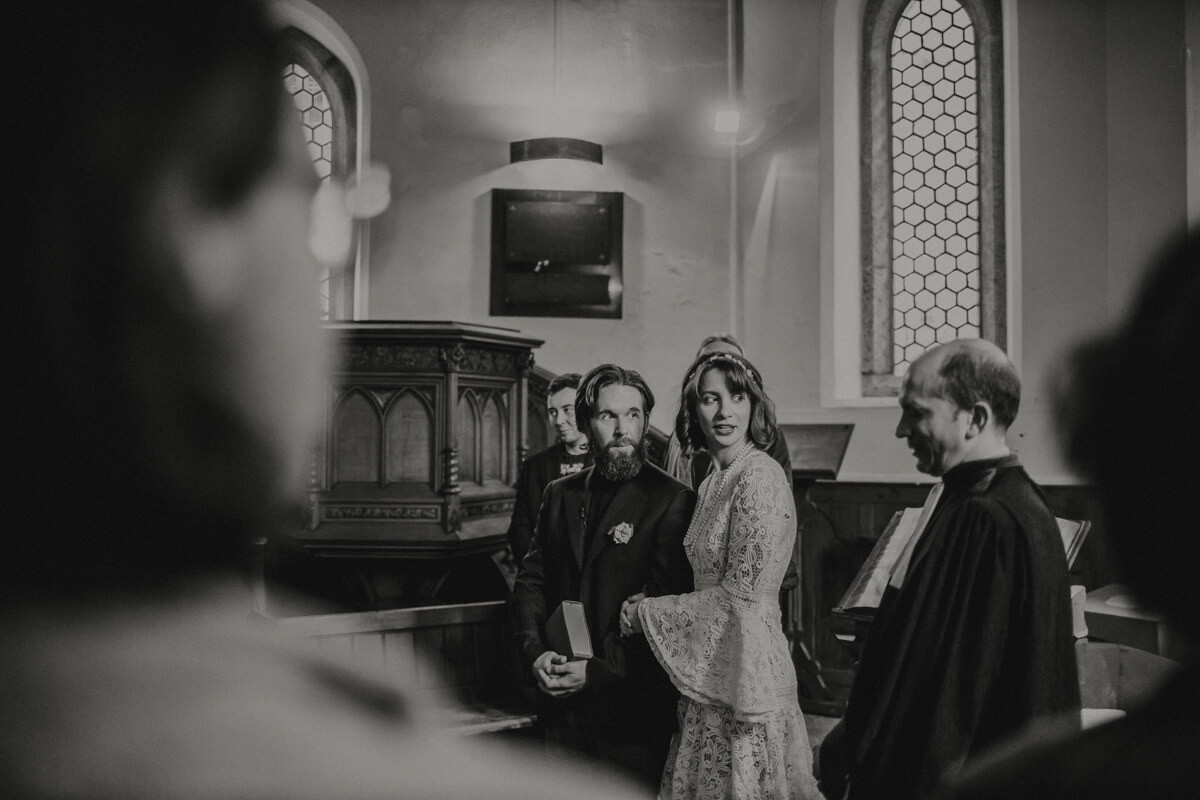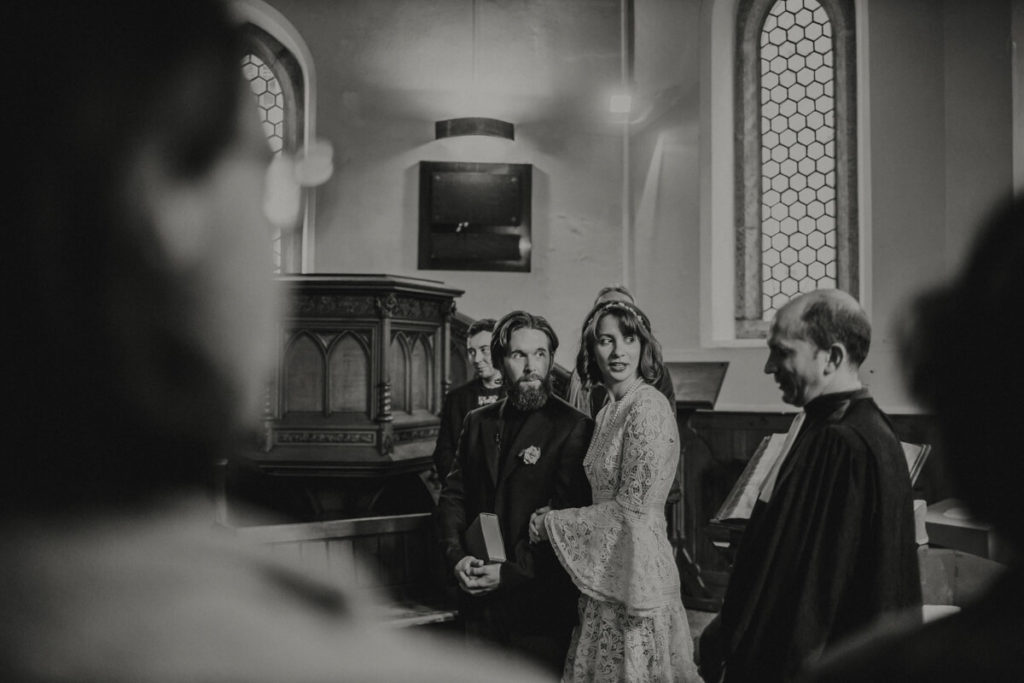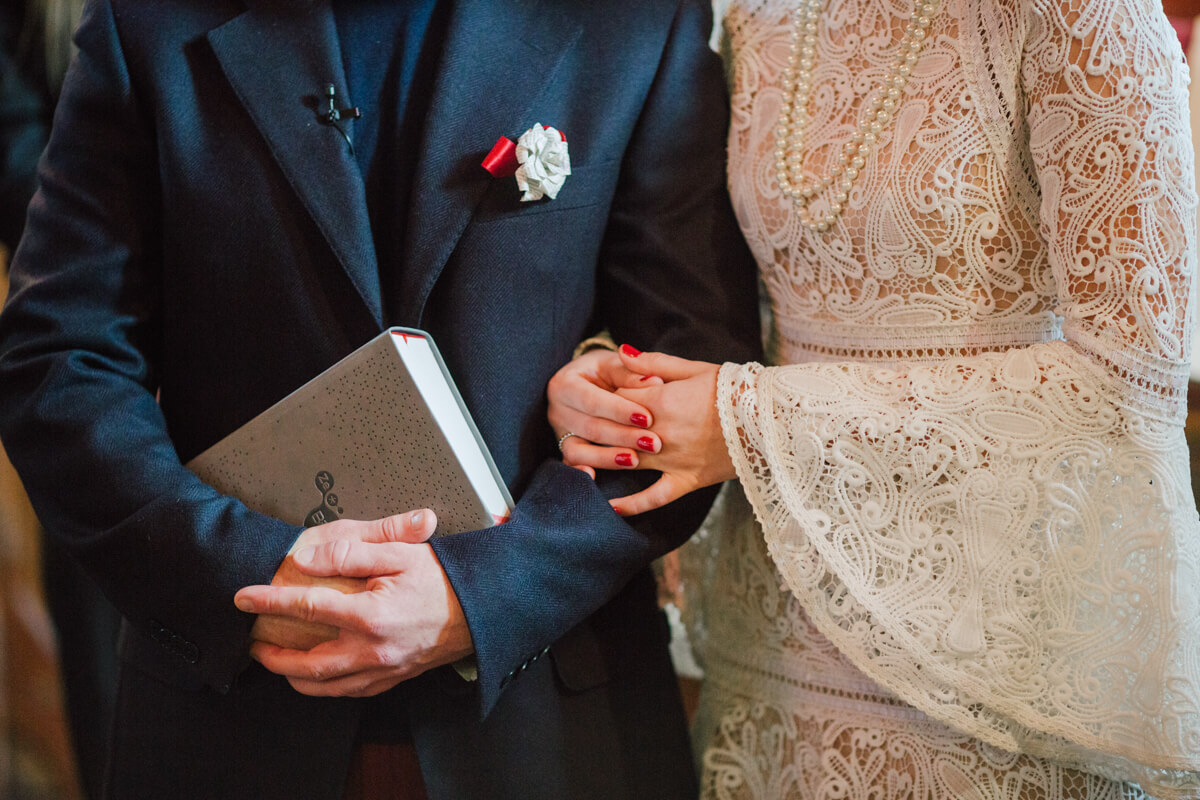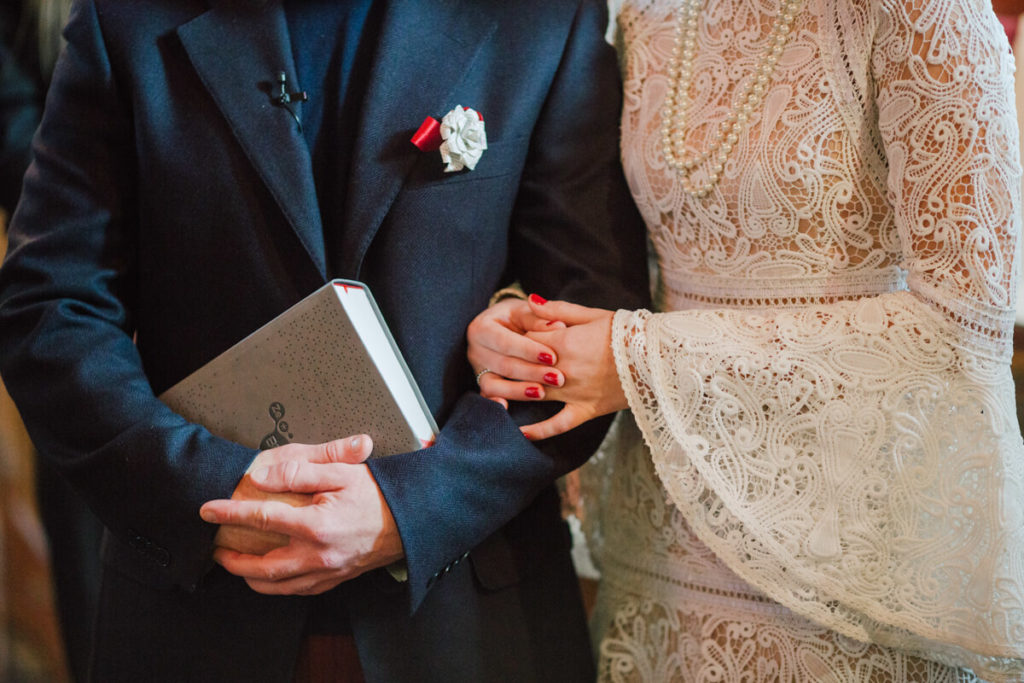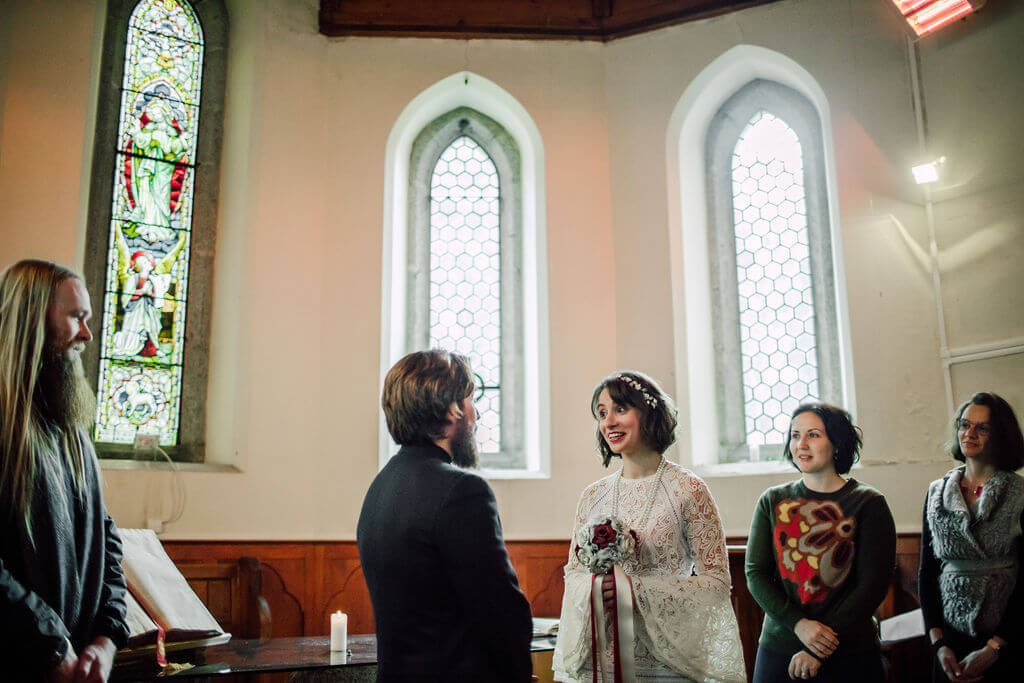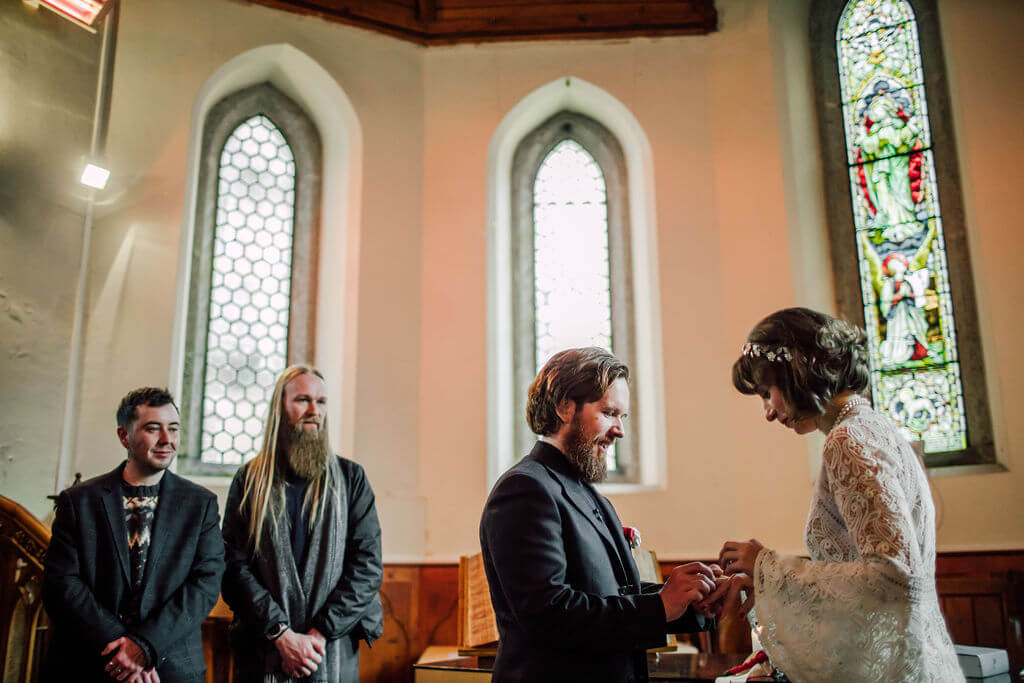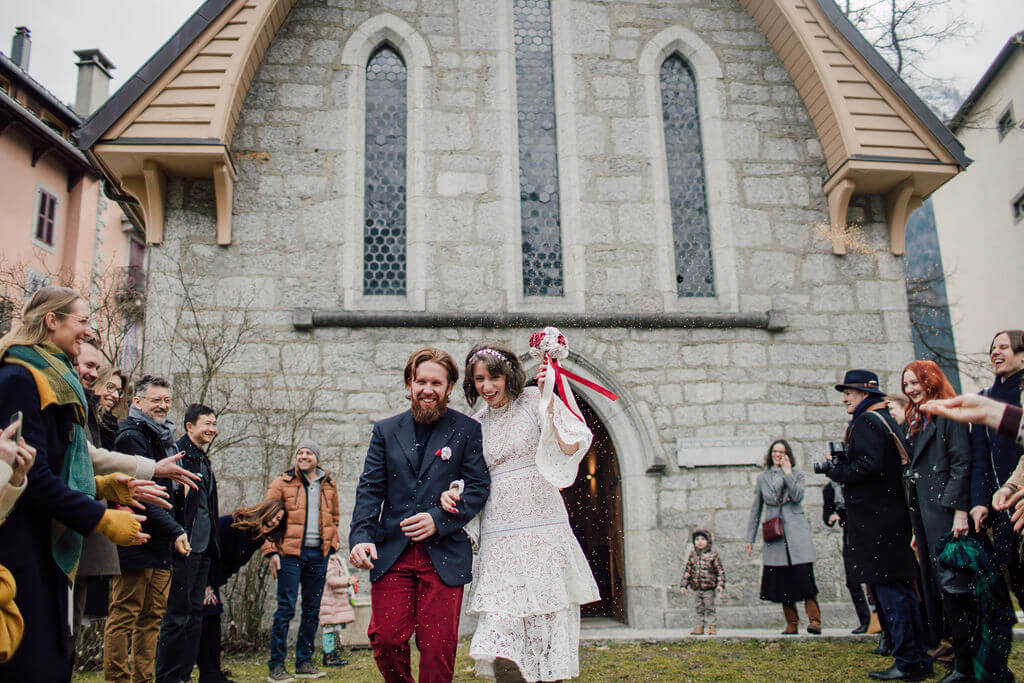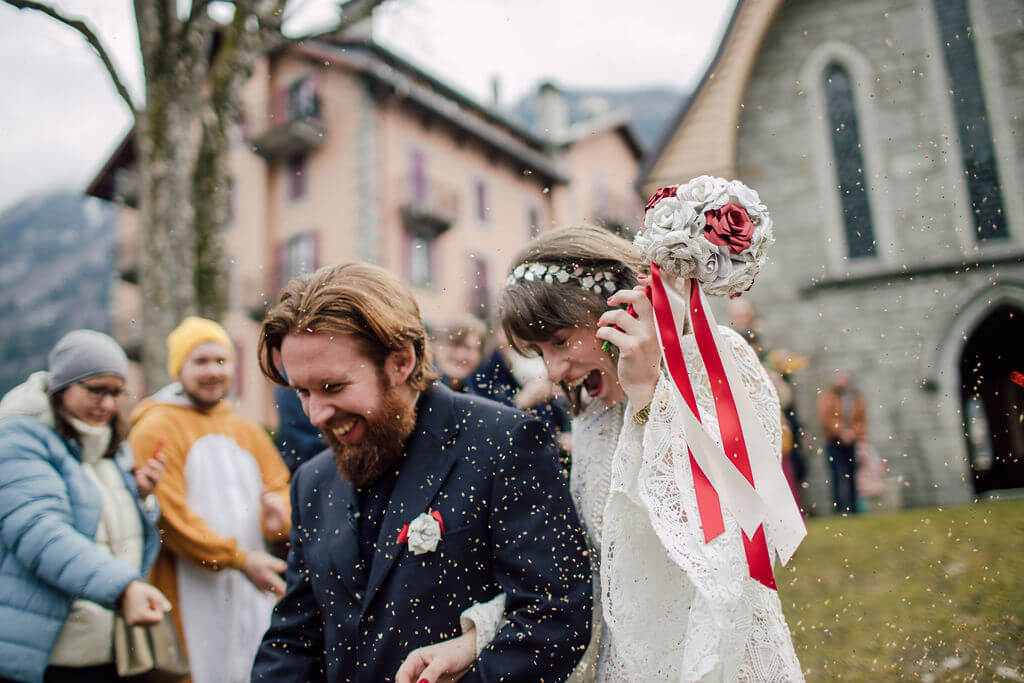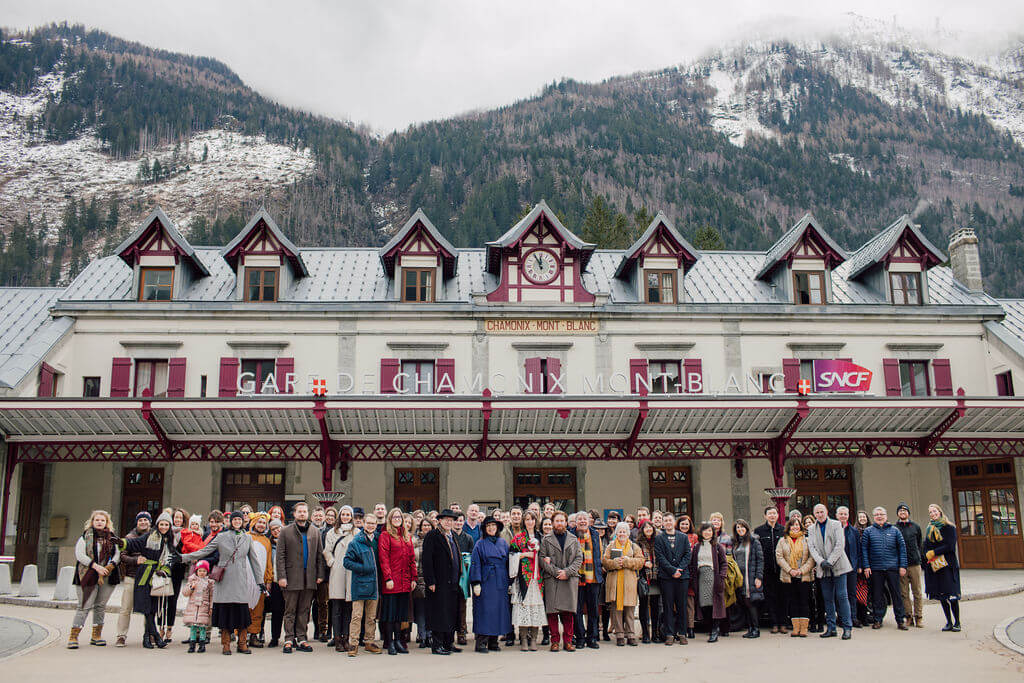 Was there a theme for the wedding party fashion?
We wanted to make sure our friends and family stayed warm in the church and throughout the day as our wedding took place in the mountains in March, meaning there was no guarantee of above-zero temperatures. At the same time, we wanted the photos to look colourful and for everyone to be comfortable and relaxed on what would be a long day. Therefore we invented our own theme and called it après ski chic: comfortable but stylish outfits with colourful wooly sweaters.

The bridesmaids and groomsmen were just asked to follow the general dress code as we didn't want to impose any particular outfit on them.

We encouraged everyone to avoid buying clothes specially for the wedding and, if necessary, to consider second-hand purchases or rental.
What were your thoughts behind the flowers – bouquet, button holes, centrepieces etc?
Both bouquet and boutonnière were made from the pages of an English-Russian dictionary found in a waste paper container. The bride's bouquet and the bouquet caught by one of the guests also contained red paper roses. They were used as decorations at the wedding of the same colleague who donated some of her other used decorative pieces. This meant that we were able to both upcycle and reuse.

As centrepieces, we used the same type of handmade, upcycled paper flowers, branches recovered from a fallen pine tree, and potato sack material borrowed from a colleague to create a unique, natural look.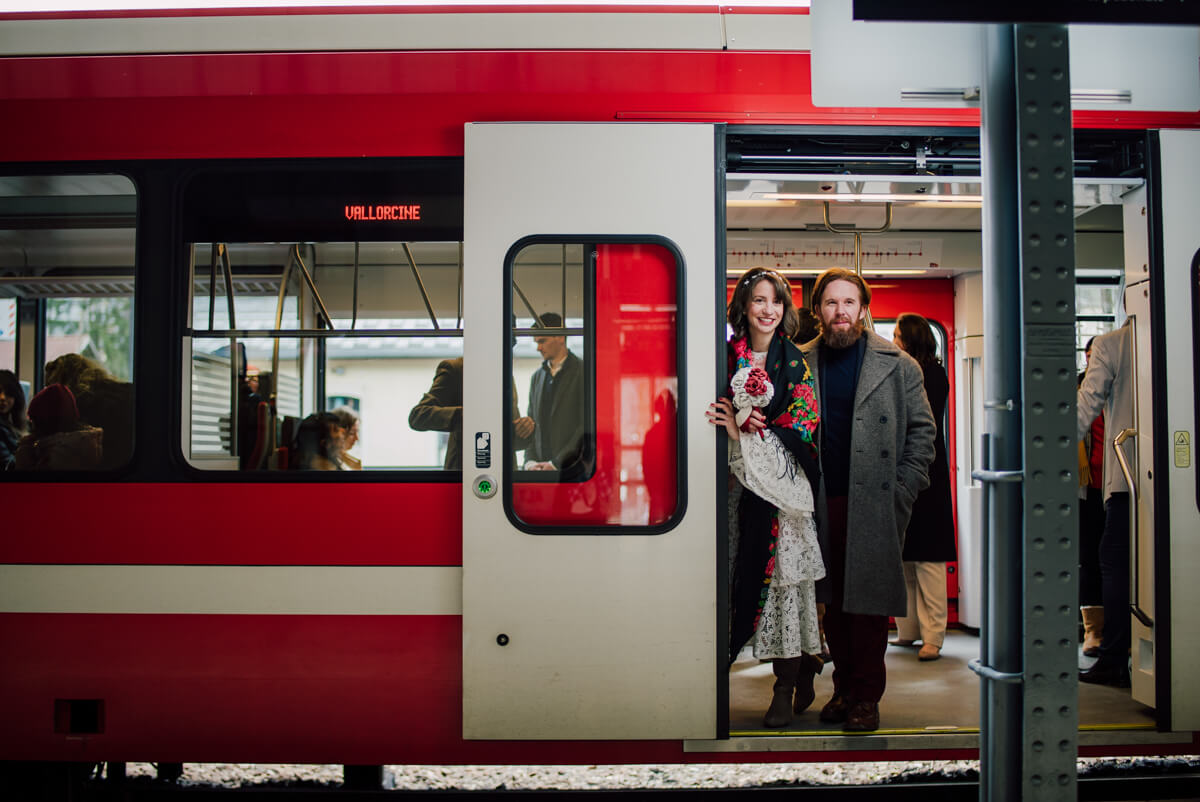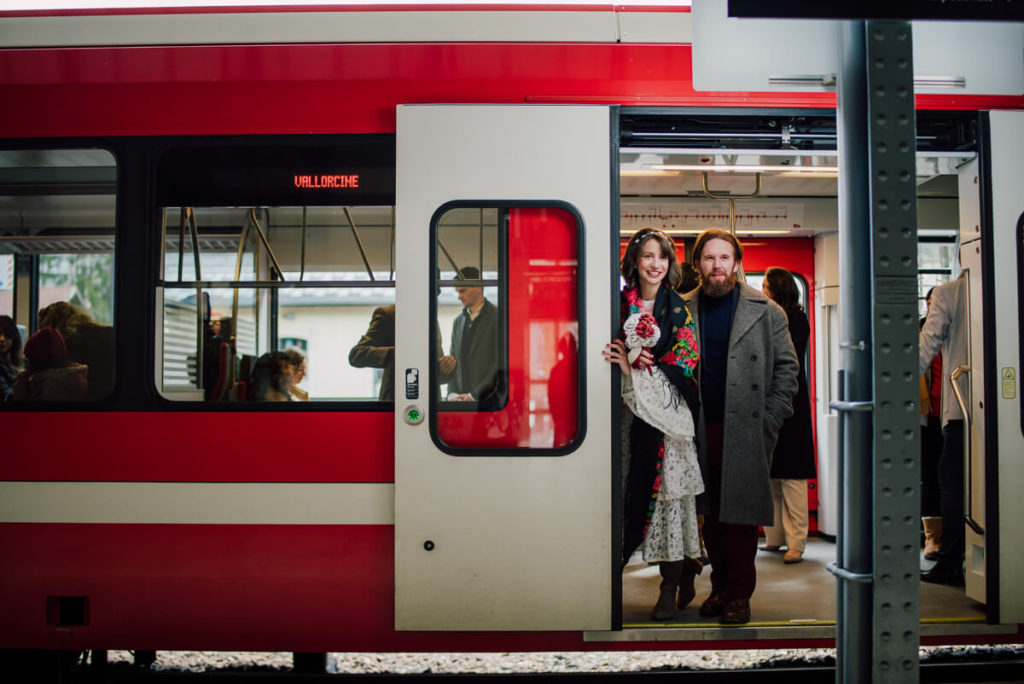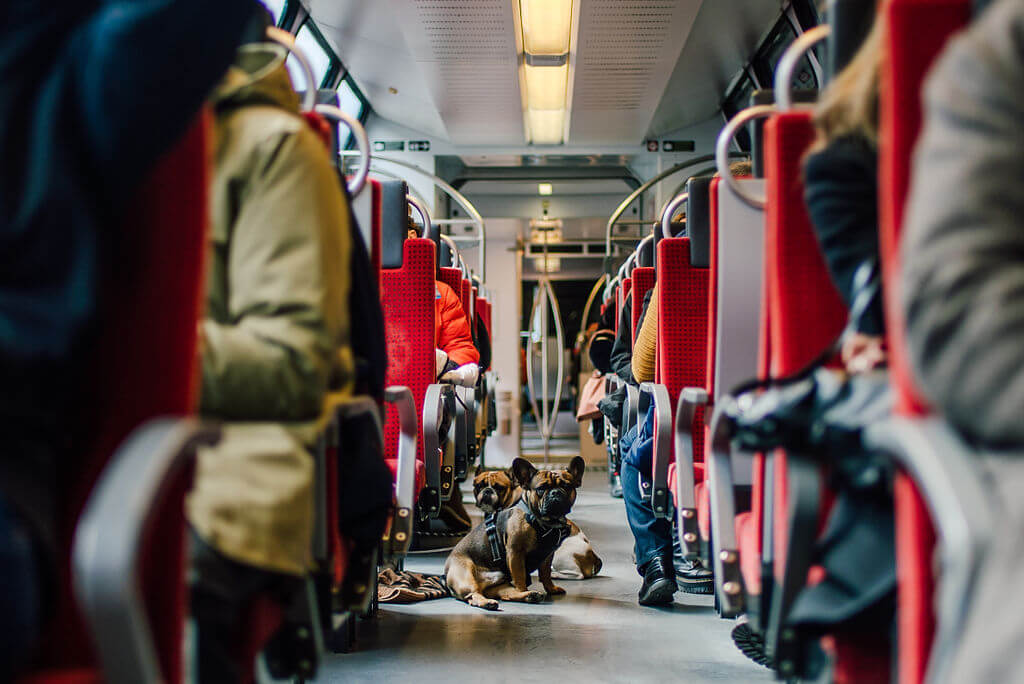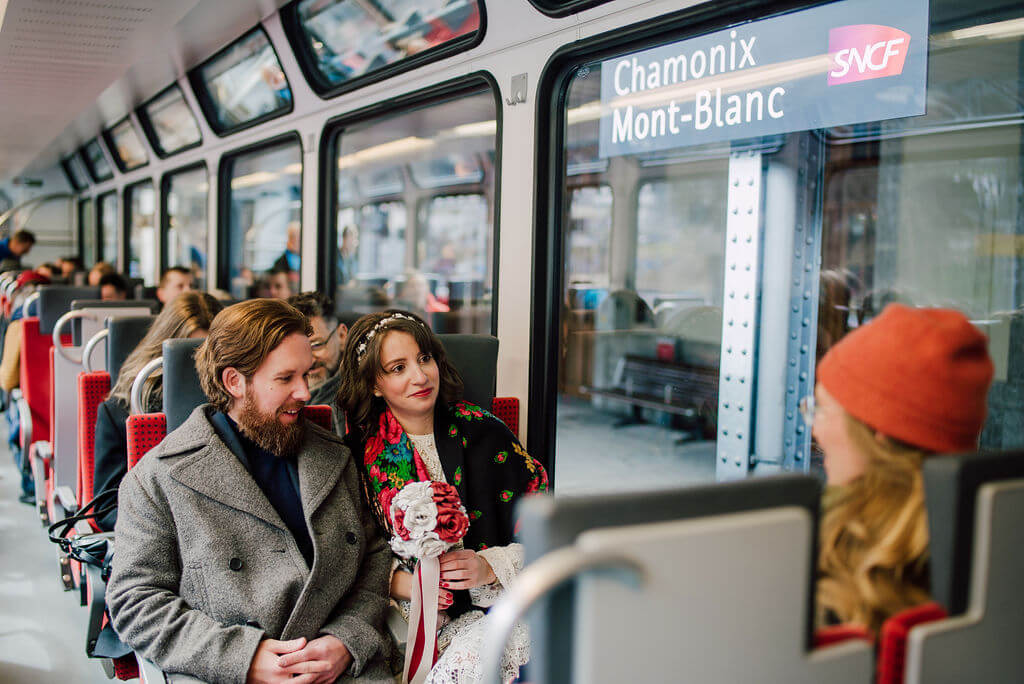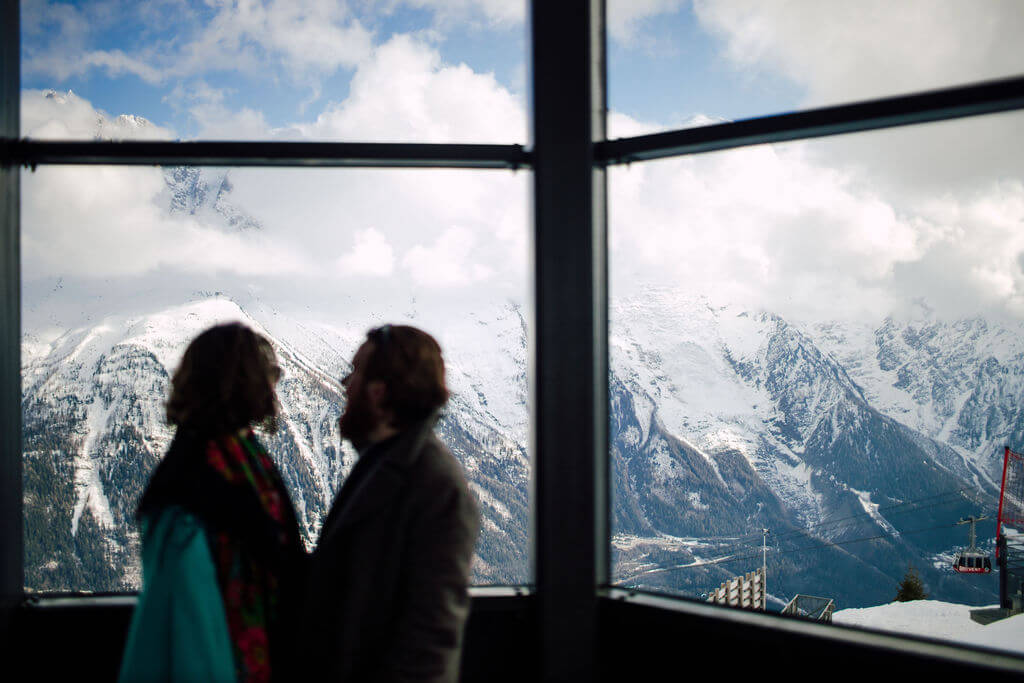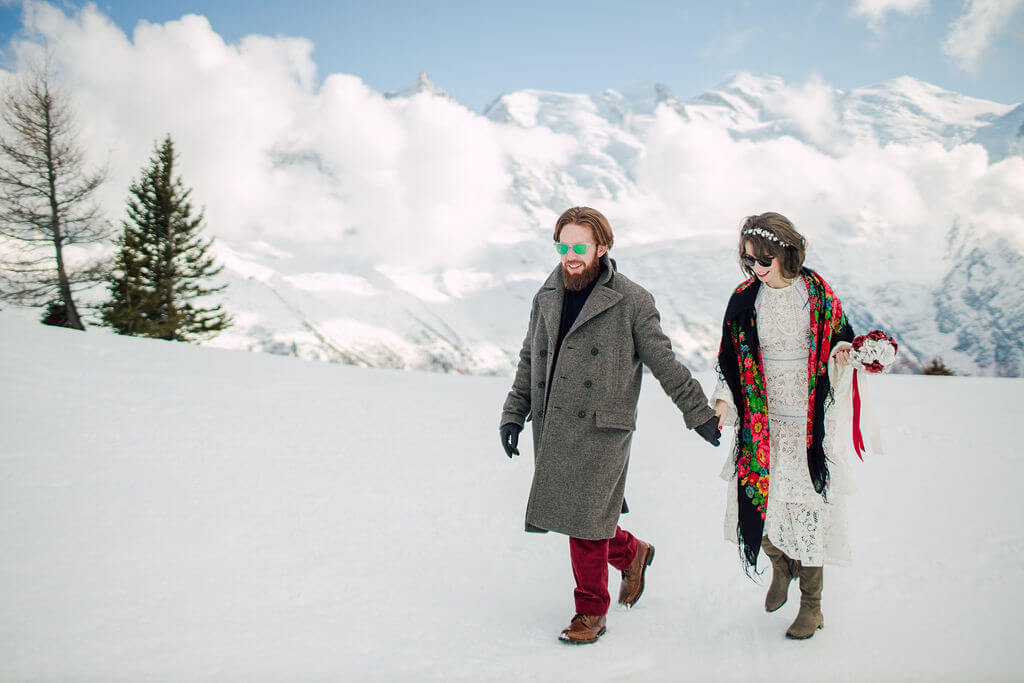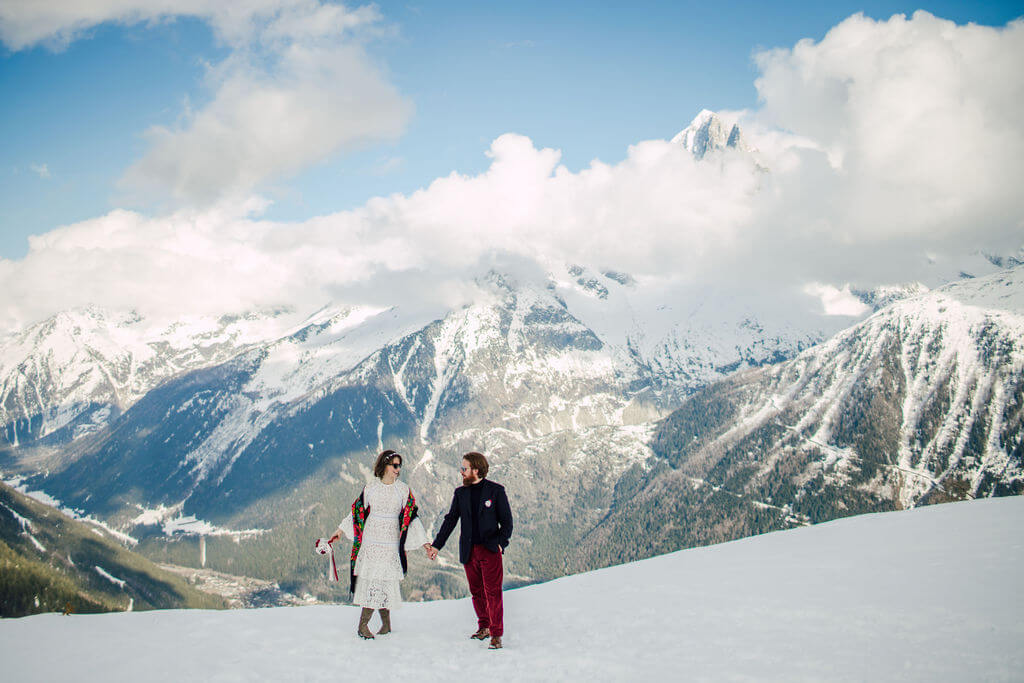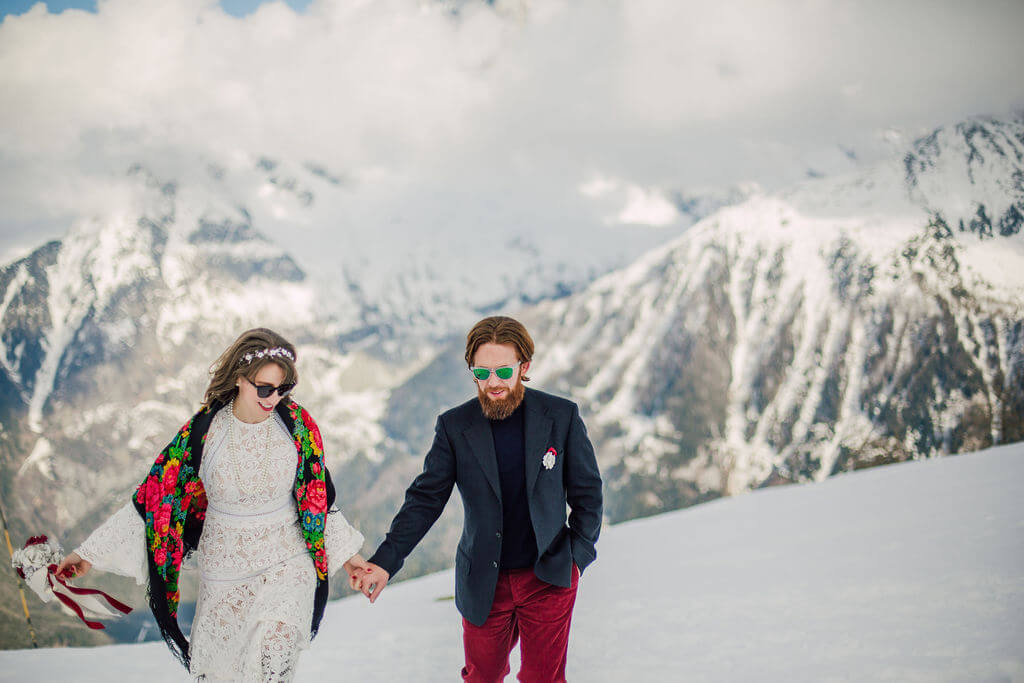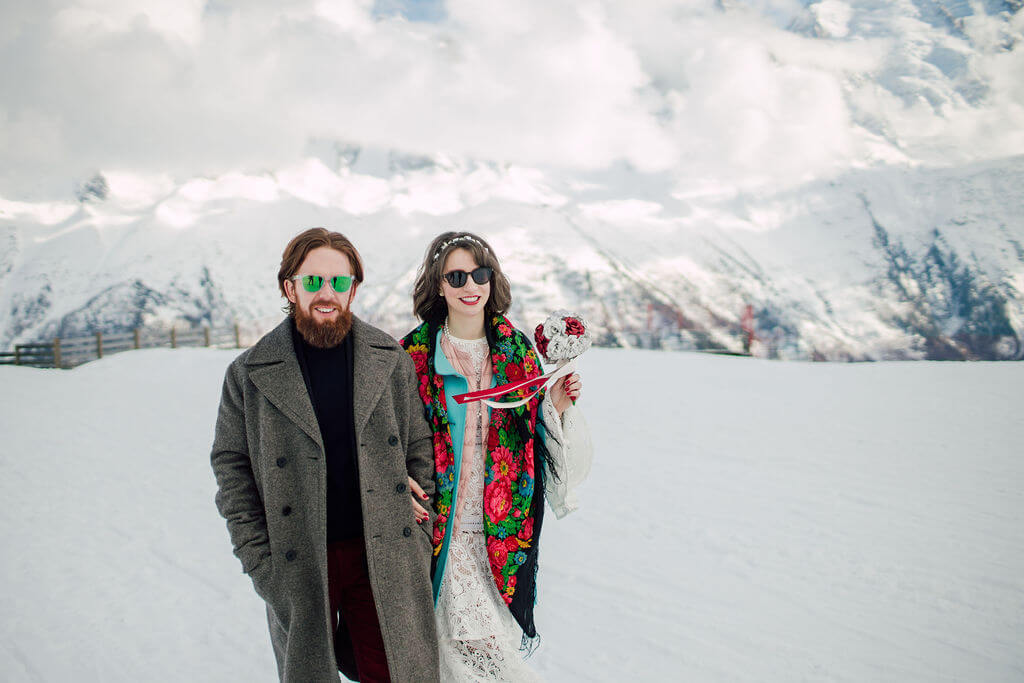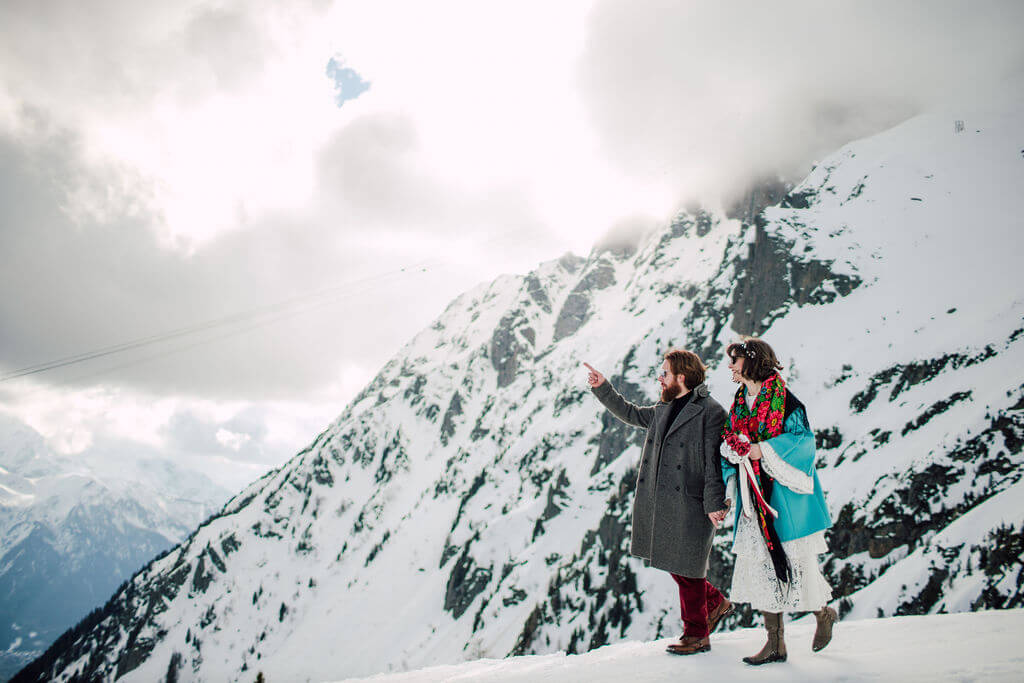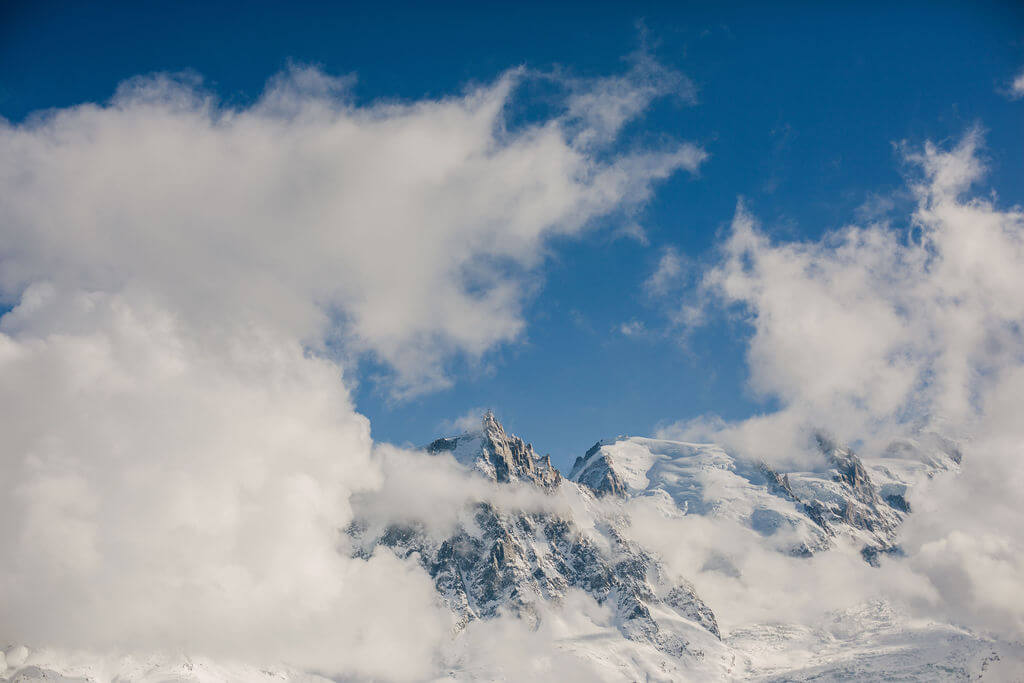 Describe any decor, stationery and DIY elements.
Our wedding contained a large amount of DIY elements since we wanted it to be, as far as practical, in line with the low-waste and sustainability principles we live by. Some of the elements included:

– A handmade boutonniere and bouquet constructed from paper taken from a Russian-English dictionary found by the bride at work in a waste paper box.
– Paper flower decorations reused from a friend's wedding.
– Pine tree branches taken from a fallen tree formed a part of the table decorations at dinner.
– Used wine bottles and mason jars filled with fairy lights gave a magical extra touch to the lighting.
– Old photos of the bride and groom were hung on clothes pegs in a corner of the party venue.
– A welcome sign was made using a thrown-out picture frame we found on the street. The artwork was drawn by the bride's future sister-in-law.
– Custom artwork was commissioned from a local artist and used both at the wedding celebration as well as in the electronic invitation and in other communications to guests.
– The wedding favours were sunflower seeds harvested from a sunflower grown in the bride and groom's garden. The original sunflower was grown from a seed given to us as a wedding favour at the wedding of friends.
– Zero-waste cloth bags fulfilled a dual role as both presents and place name cards. The names were handwritten using vanishing ink, and could be erased with the pass of an iron.
– We repurposed an old ski to play a game much-loved by skiing enthusiasts: you have to drink a shot in one, without dropping the shot glass affixed to the ski, and without spilling a single drop. Four people play, with one at each end of the ski "steering" the movement of the ski with a single hand. The two people in the centre should not touch the ski at all. The shot glasses were secured by way of magnets stuck to the ski and the glasses themselves, so as to ruin neither ski nor glasses.
Describe the food (canapés, cake, main menu etc).
Our menu was vegetarian, seasonal, and locally-sourced. We also made sure to offer alternatives for vegans and those with food allergies.

Russia-themed canapes:
– One with a mushroom and nut pate on toast.
– One with rye bread and gherkin (i.e. a vodka chaser).
– One with a pancake and beetroot.

Starter:
Butternut squash soup with crunchy granola.

Main:
Asian plate with tofu and mushroom stuffed into pastry with sesame seeds, teriyaki sauce, noodles with coconut, and seasonal veggies including plenty of greens.

Cake:
The bride's mum produced and imported one of the main food elements: the wedding cake. It was a multi-tiered chocolate and cream masterpiece and she even went to the trouble of making a vegan option for our vegan guests.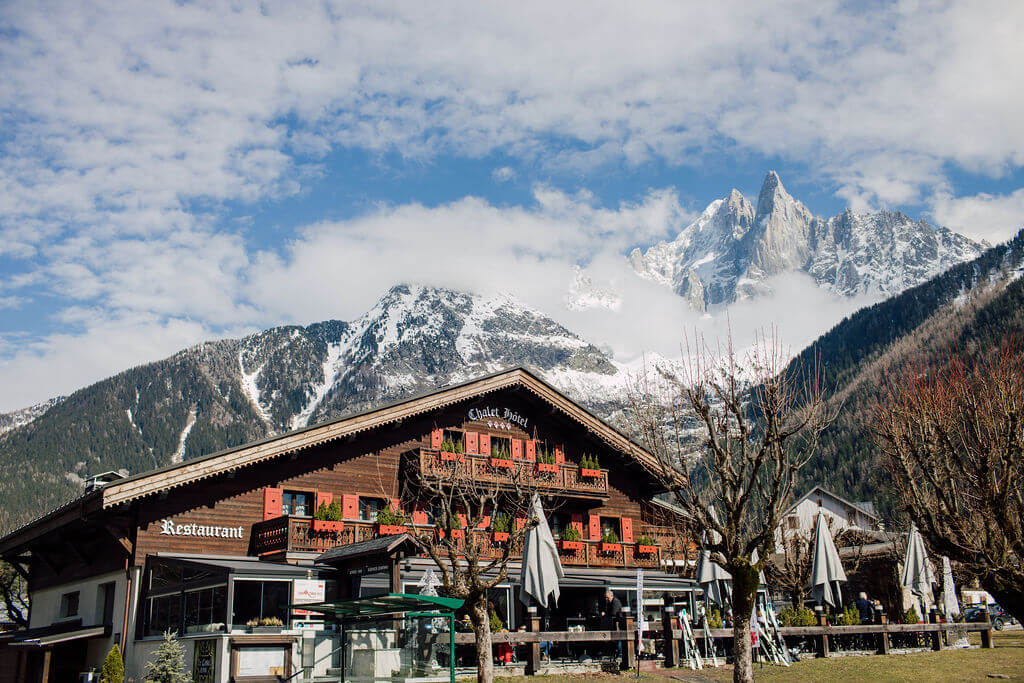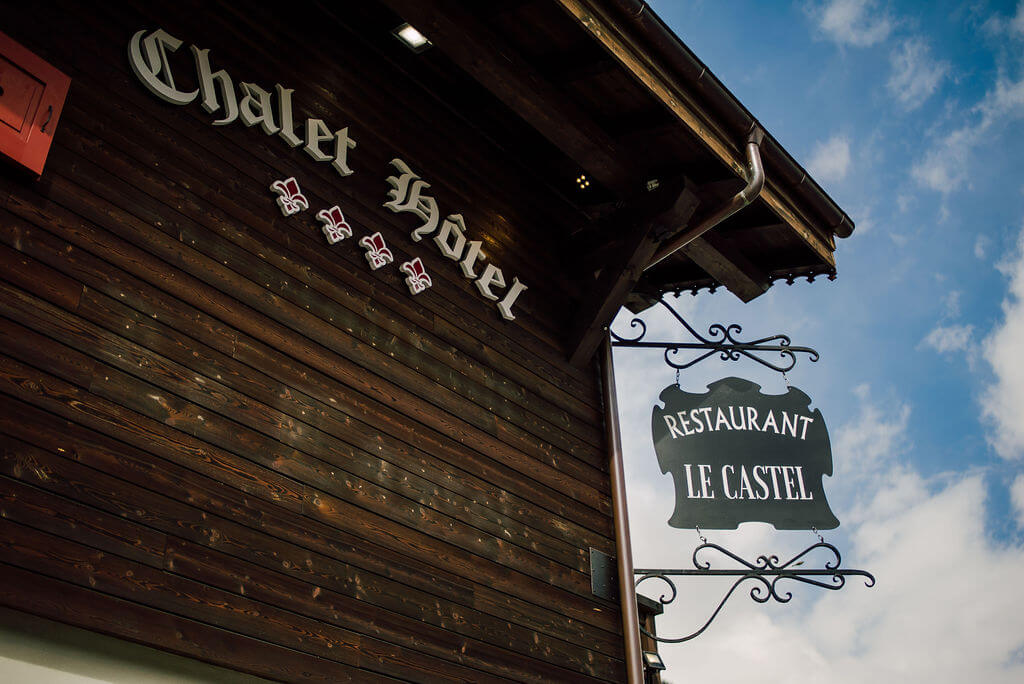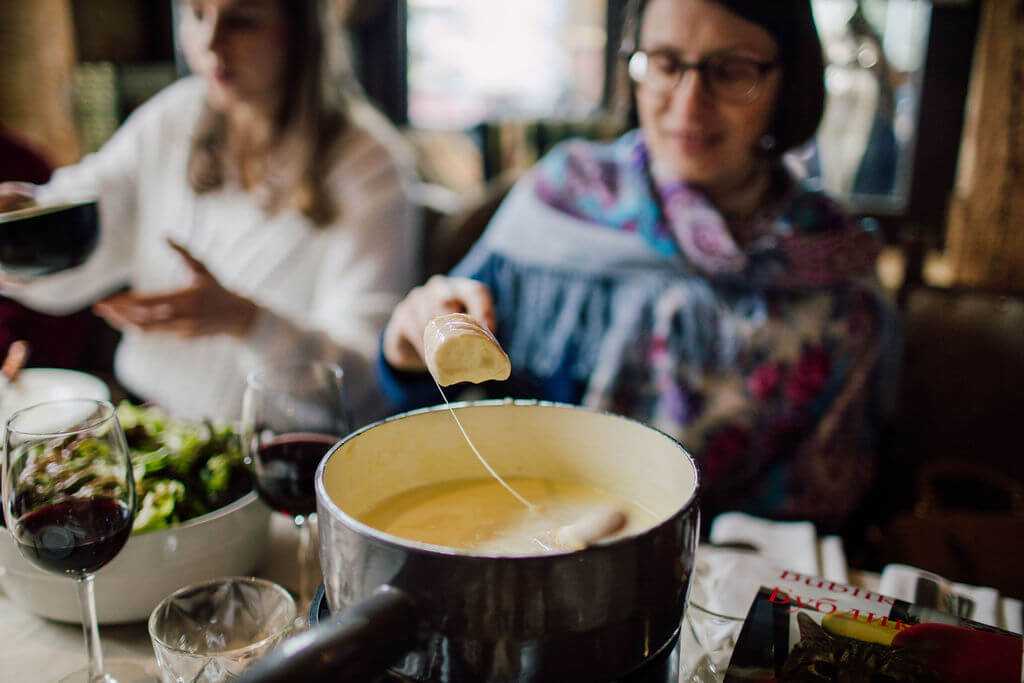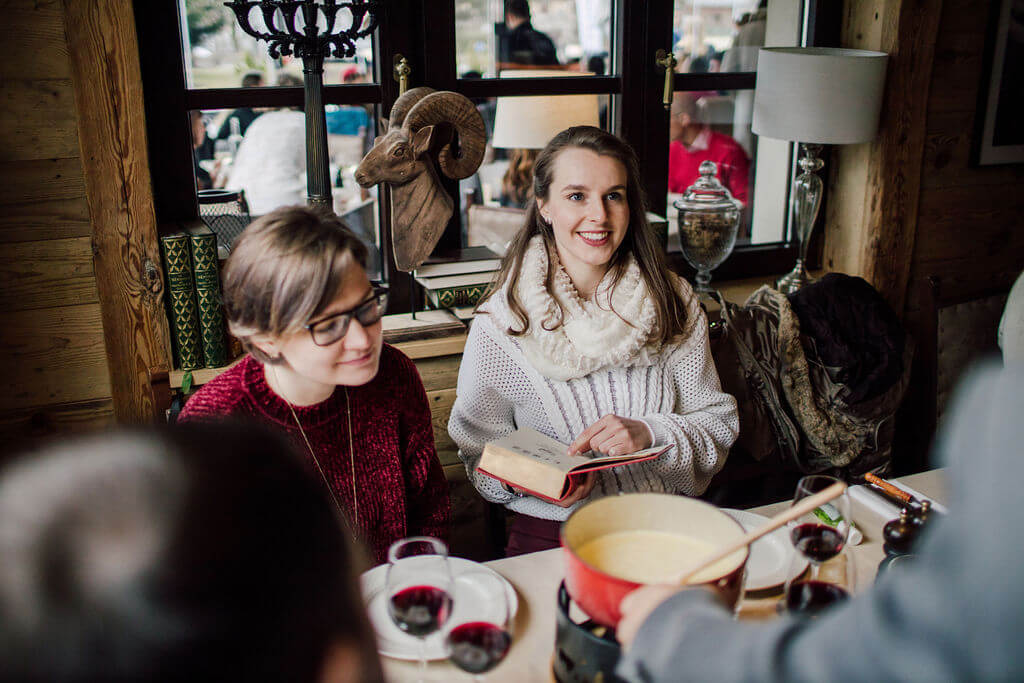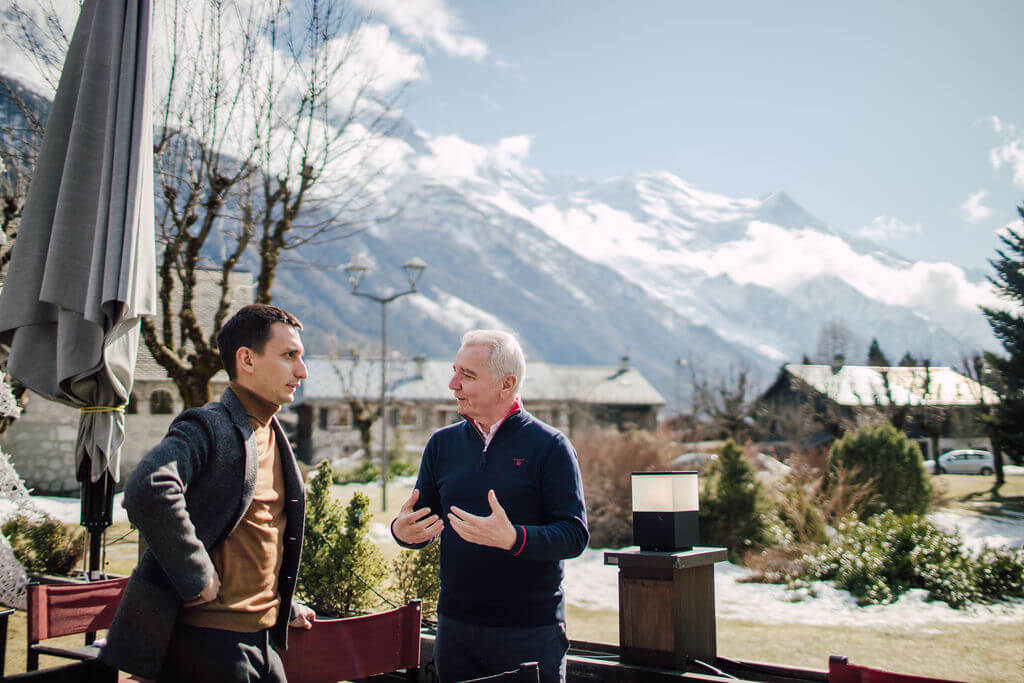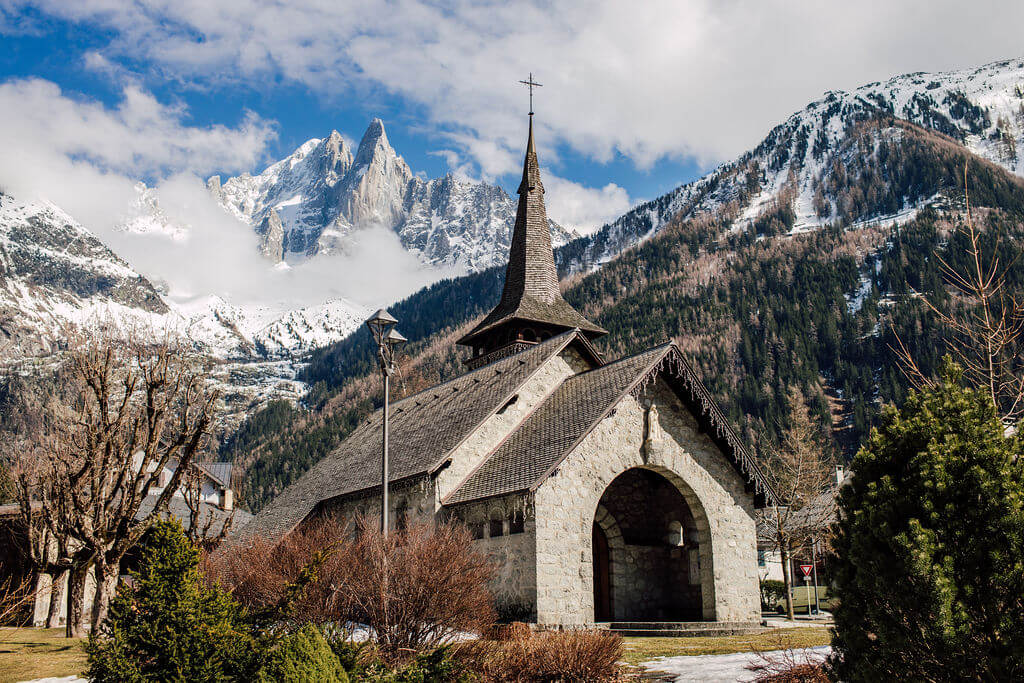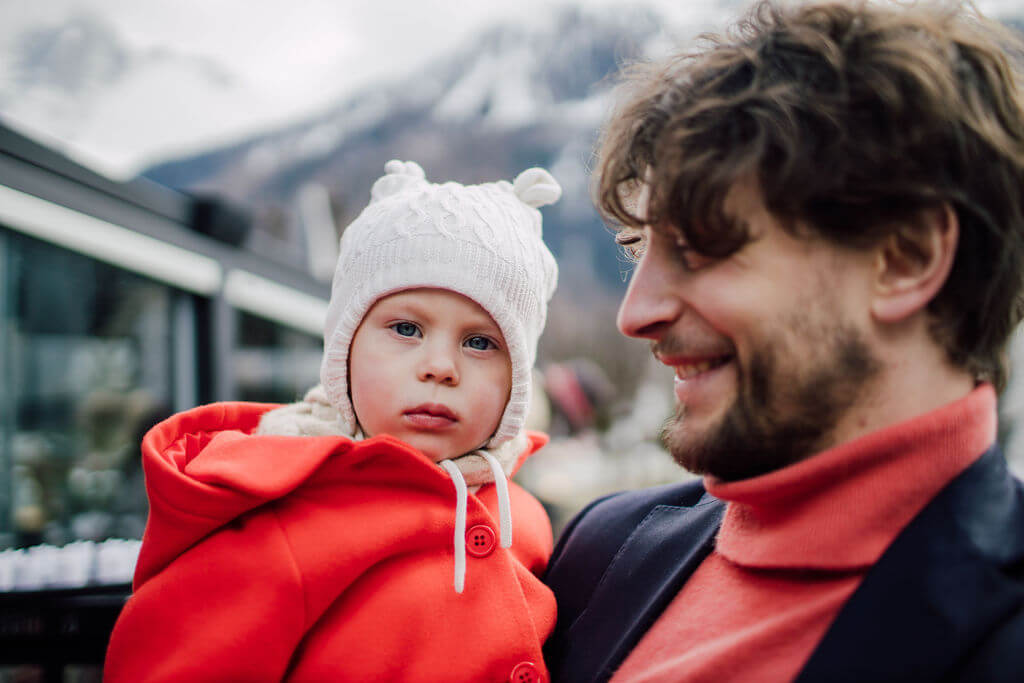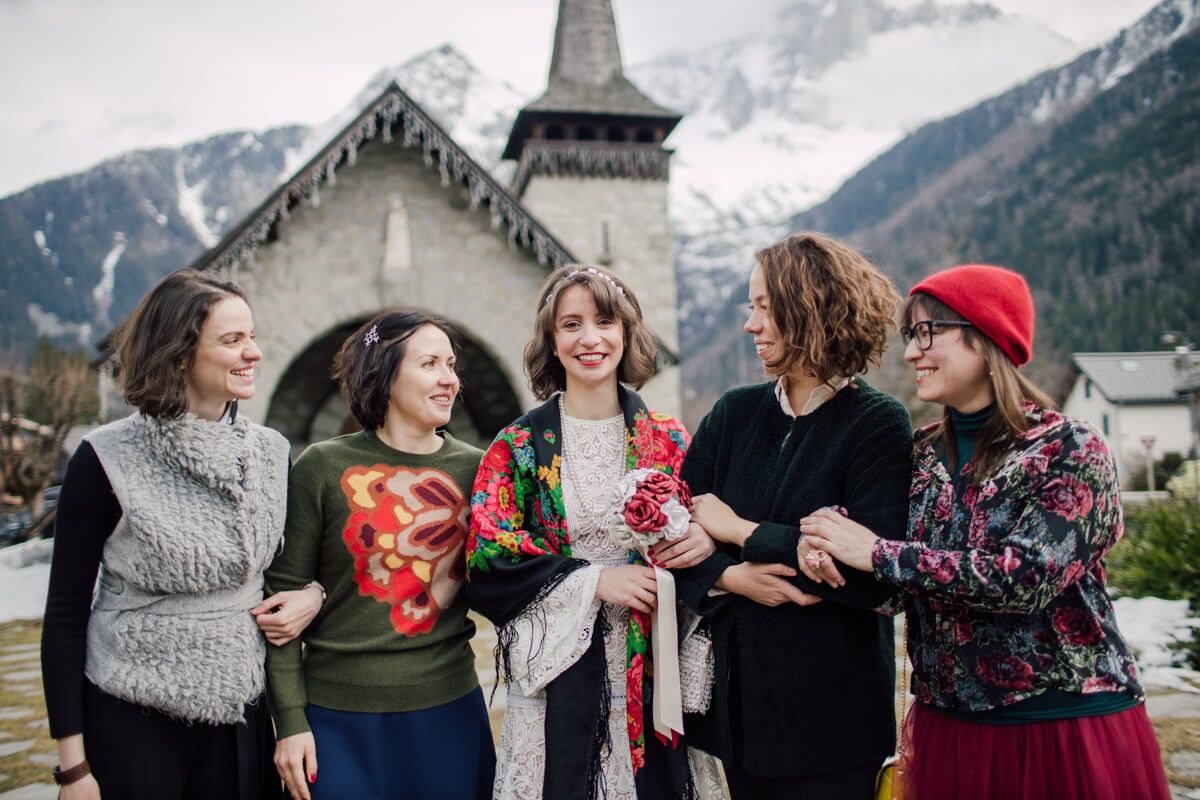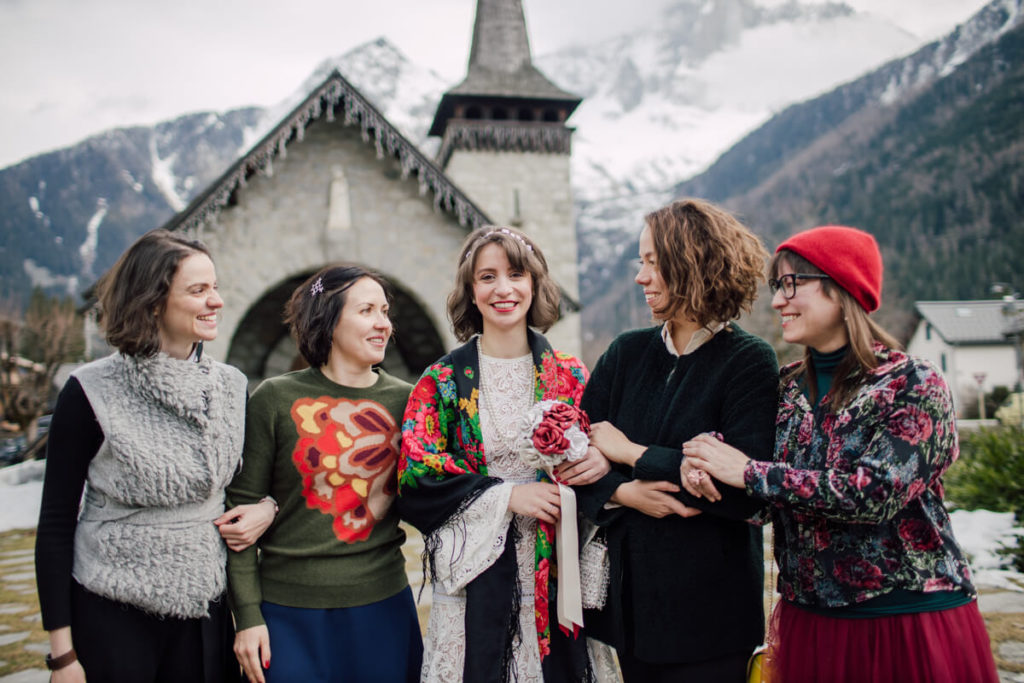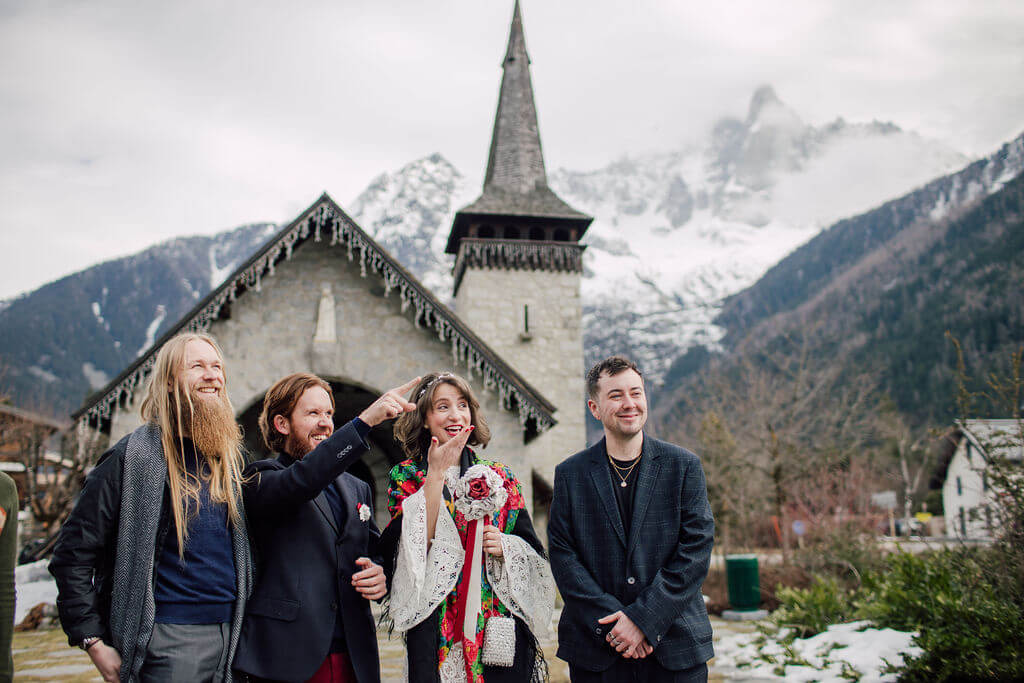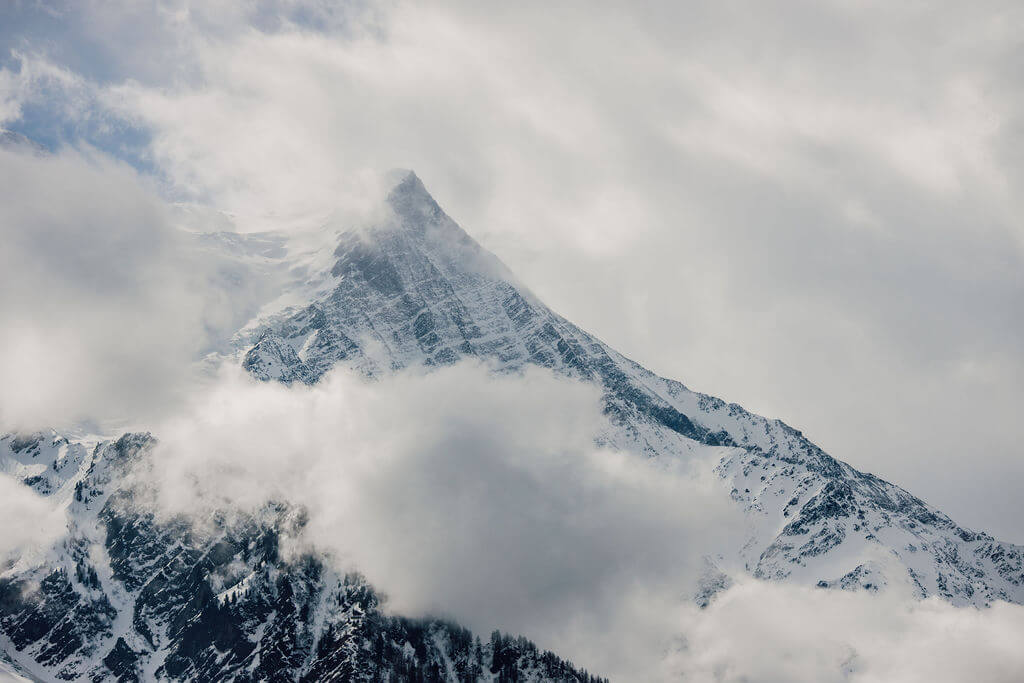 What music and entertainment did you choose and why?
Music was a tough choice and we considered all sorts of options and combinations of options before settling on live music – something we are both especially enthusiastic about. We went with a local band called Tintamarre that we had heard playing by chance at a festival on the square outside our home. They played a wide variety of well-known acoustic hits during the party, as well as more low-key happy lounge during the meal and reception.

In addition to the music, optional games and activities formed a particularly unique part of our wedding celebration. These included a quiz with fun facts about the bride and groom, a rhyming competition, a game involving the bride and groom lifting their shoes in the air to answer questions about each other, and more.

At the church, we played a beautiful song in Russian by a well-known Georgian band: Poobeschai (Пообещай) by Mgzavrebi.
How did friends and family help with the planning/ execution of the day?
– The bride's mum produced and imported one of the main food elements: the wedding cake. It was a multi-tiered chocolate and cream masterpiece and she even went to the trouble of making a vegan option for our vegan guests.
– The bride's future sister-in-law drew the welcome sign.
– The best men and bridesmaids helped by providing ad hoc information on the day.
– Friends helped us put together information on the area for guests. – The masters of ceremony were our friends.
– Various friends helped in various ways with the preparations on the day.
– Two friends from our town brought the bride to the church separately in their Tesla, ensuring a zero-waste arrival.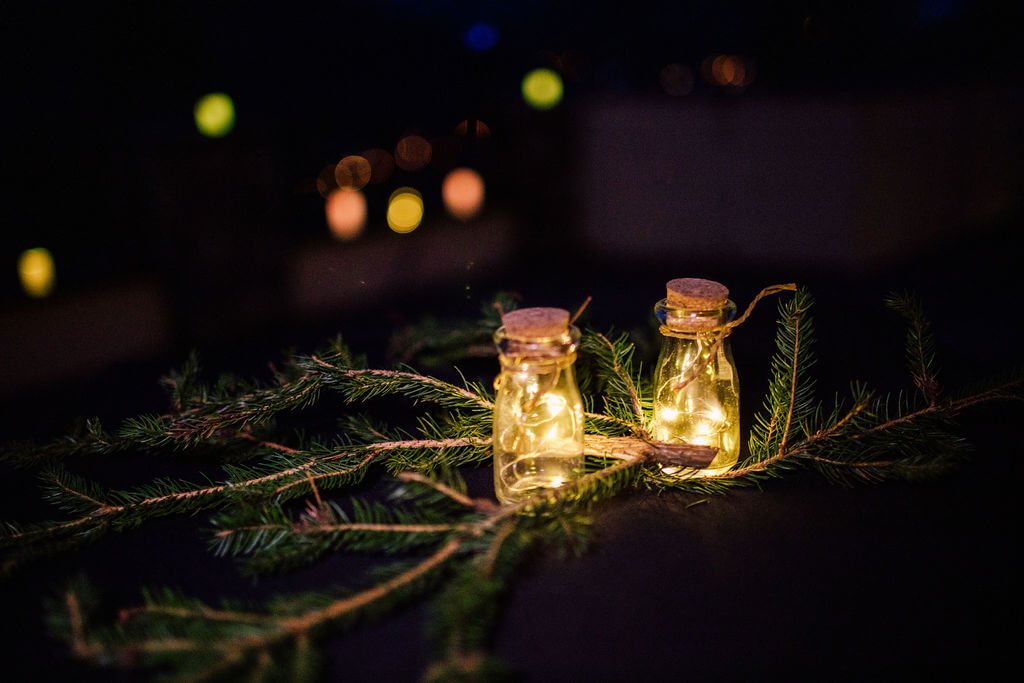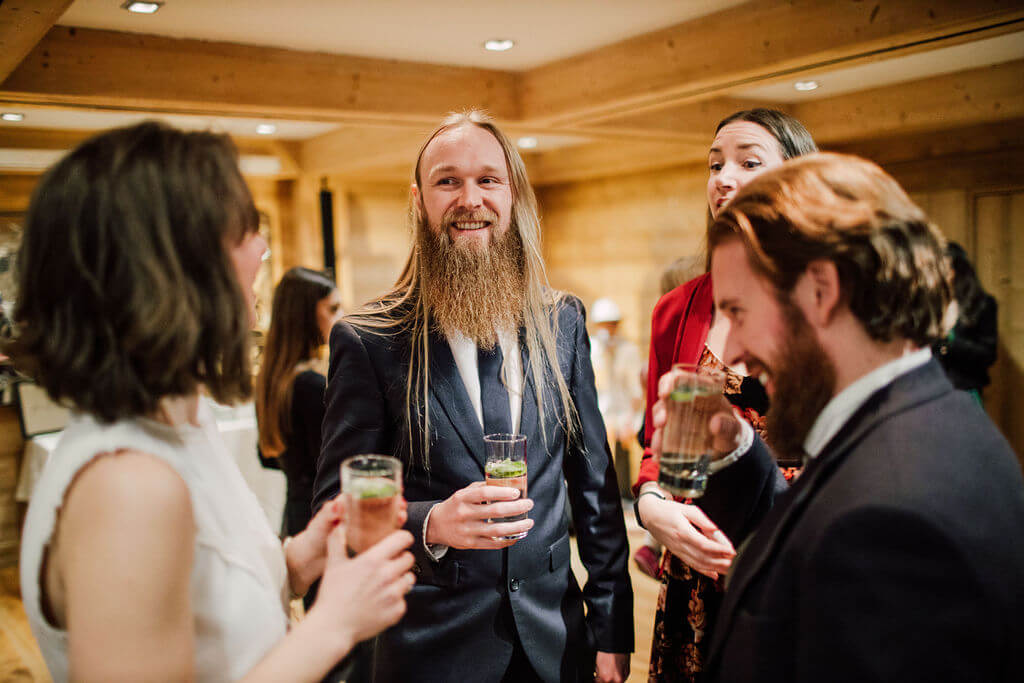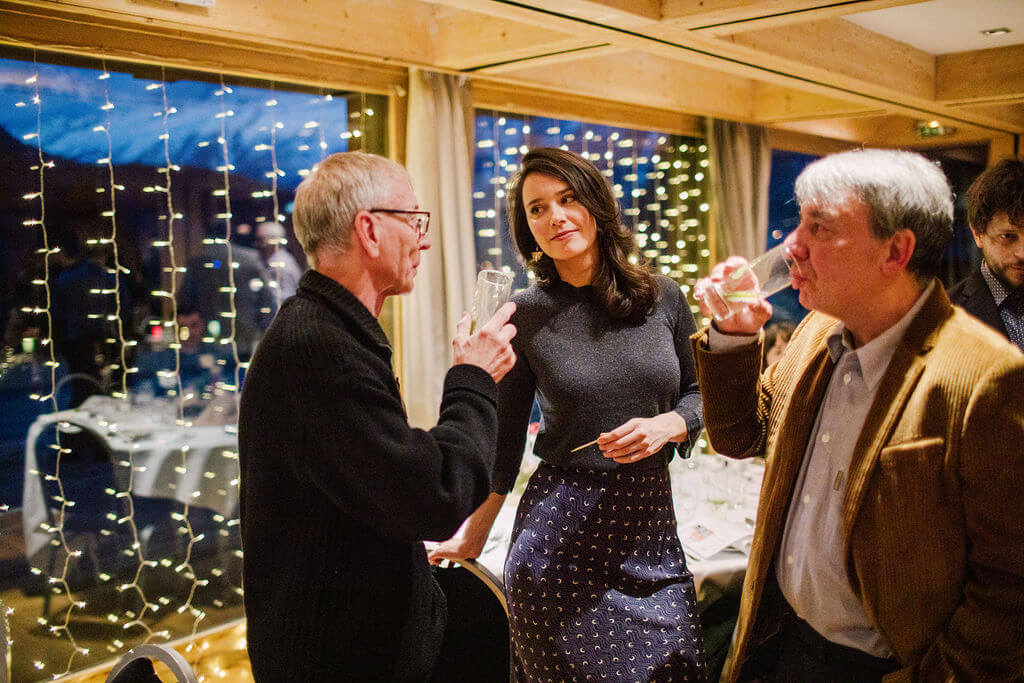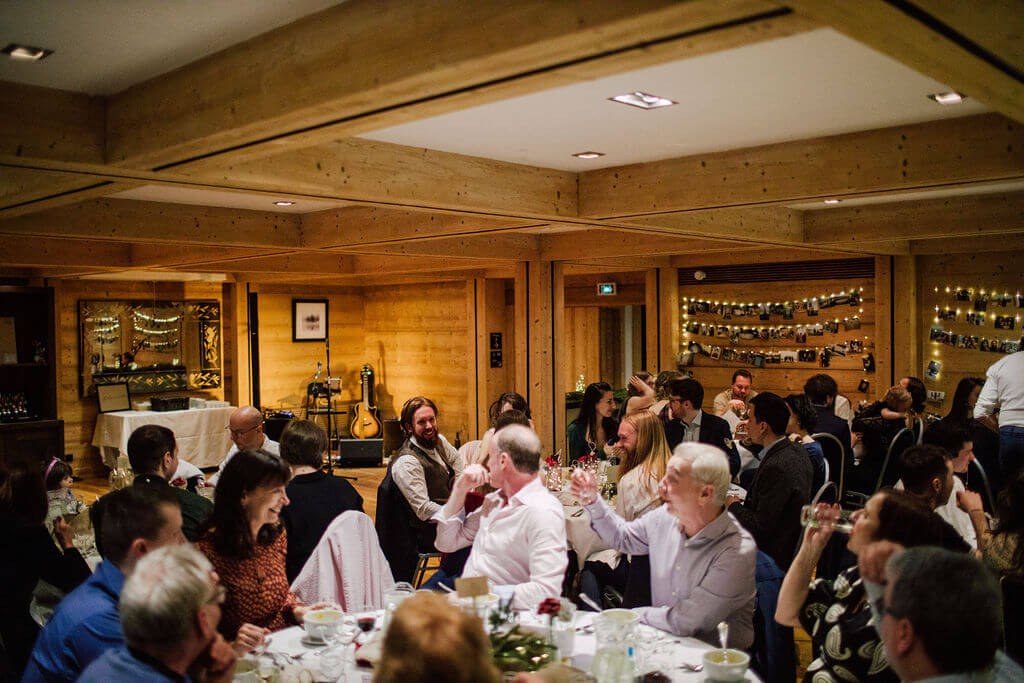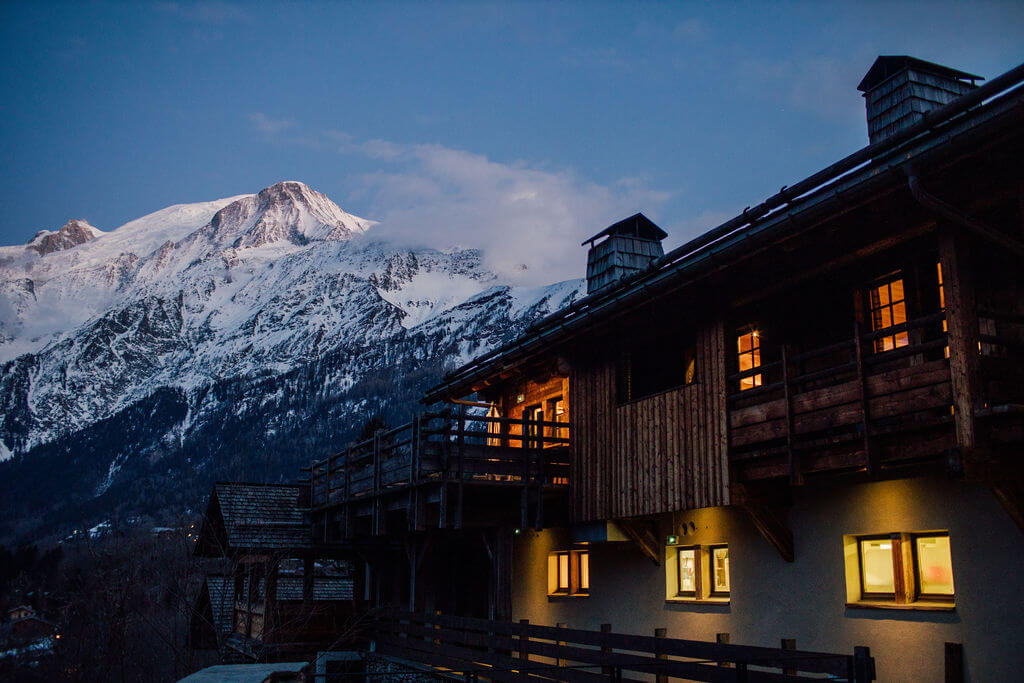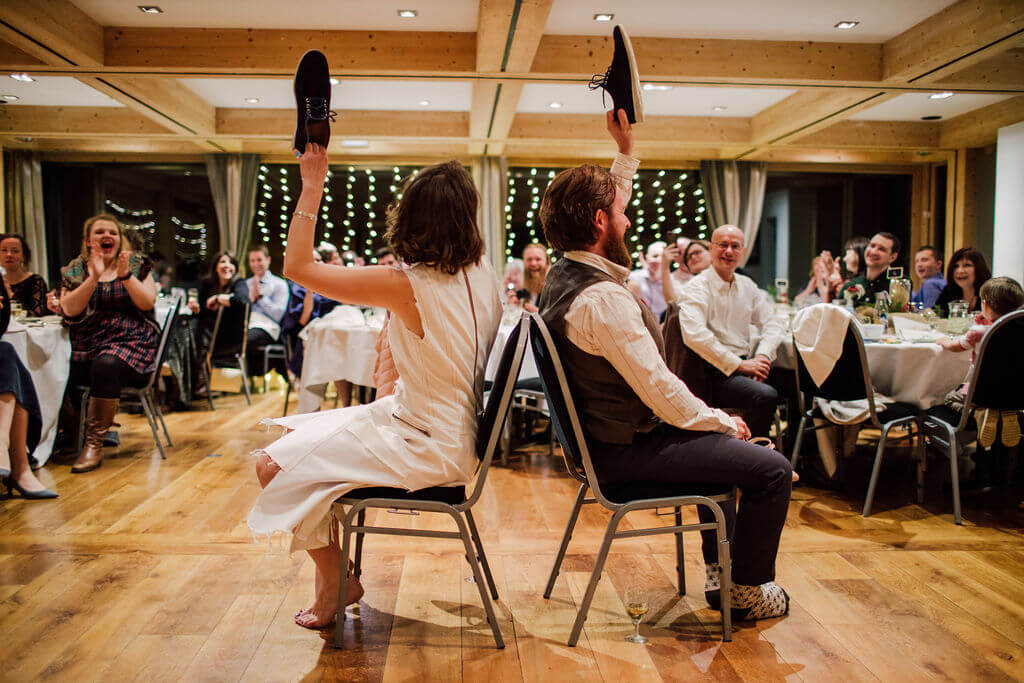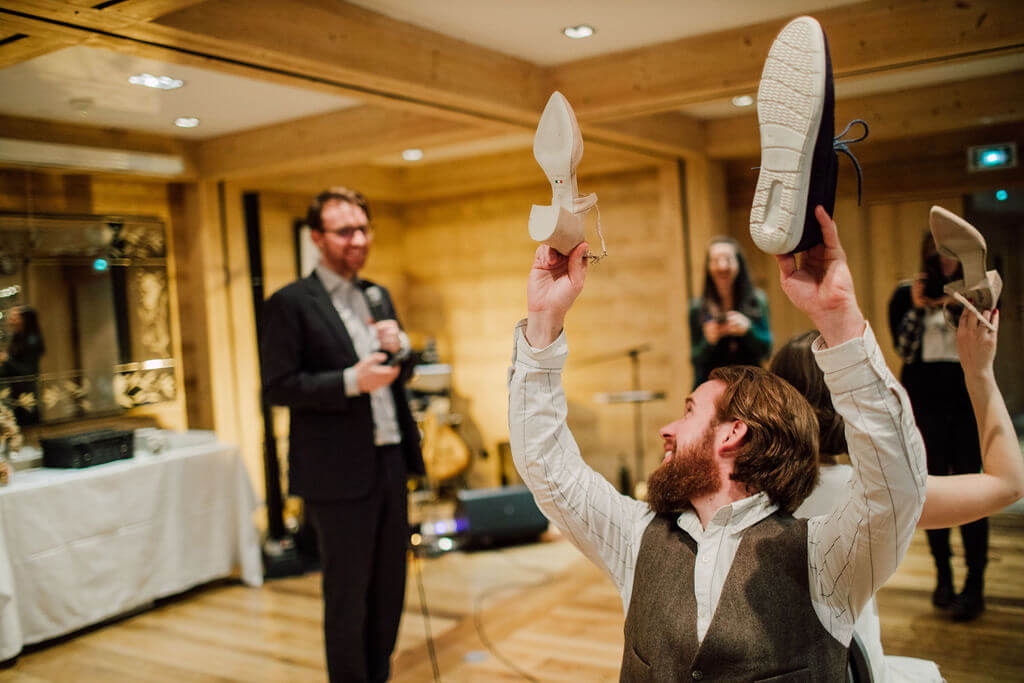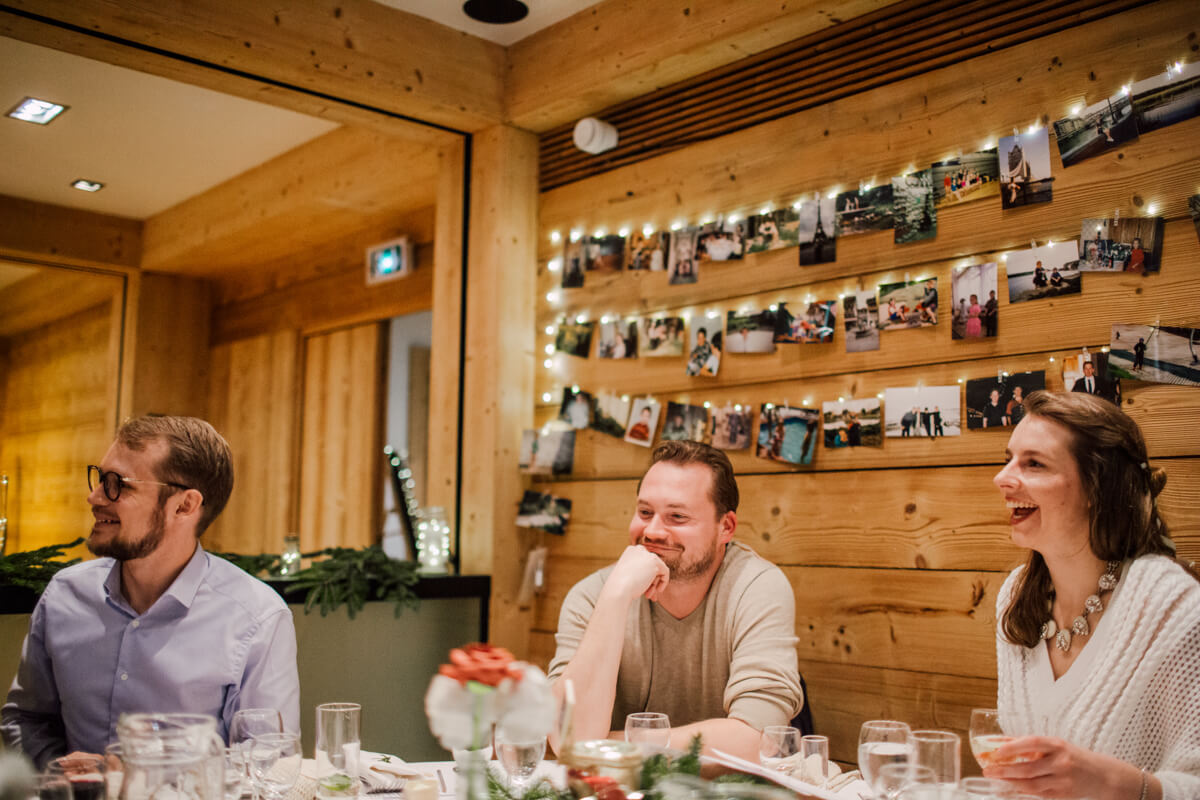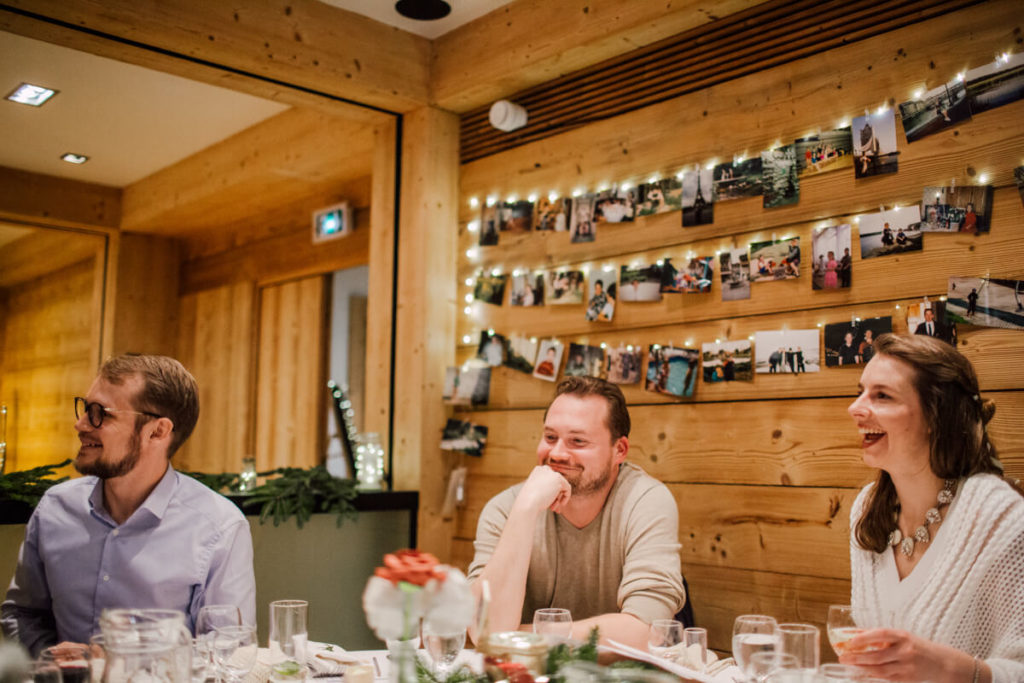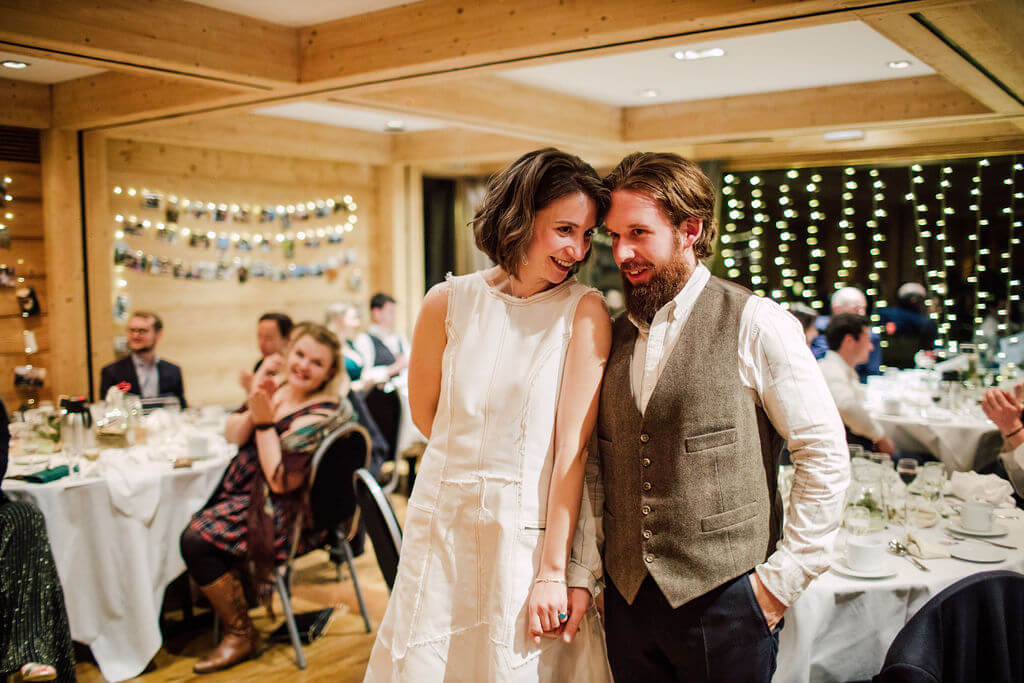 What events and moments made your day special?
In short, all of it! But it's worth noting that the, at the time, burgeoning coronavirus crisis caused the run-up to the wedding to be more stressful than we had hoped. Despite that, everything went to plan and our wedding turned out to be all we had wanted and more. That, in our book, made the day extra special.

The short and beautiful ride on the red train added a lot for us personally as it featured in our wedding artwork and we knew it would be a memorable part of the day. In addition, we were very lucky with the weather which was mostly sunny, allowing the guests to fully soak in the alpine panoramas. On the subject of the weather though, we chose the mountains precisely because we were both of the opinion that, whatever the weather, the mountains are beautiful.

We also loved that most of the guests really appreciated our choice of zero-waste theme and that we managed to inspire some of them to take up greener habits. Lastly, the fact that we were able to bring so many family and friends together from so many diverse places was an incomparable and special success for us.
Why did you choose Eight Bells Wedding Photography & Videography?
We chose Eight Bells to photograph and video our wedding following a long process of browsing portfolios. When we landed on their website, their style immediately clicked with us but what we also liked was that they worked as a team, ensuring visual harmony between video and photos.

During our first meeting via Skype, we realised that we would get along with them, that they are experienced and enthusiastic, and that we could count on them fully during this important day. It was also a pleasant surprise for us to learn that Polly is a Russian speaker, which added an extra dimension to both their interaction with our Russian-speaking guests and to the final video edit.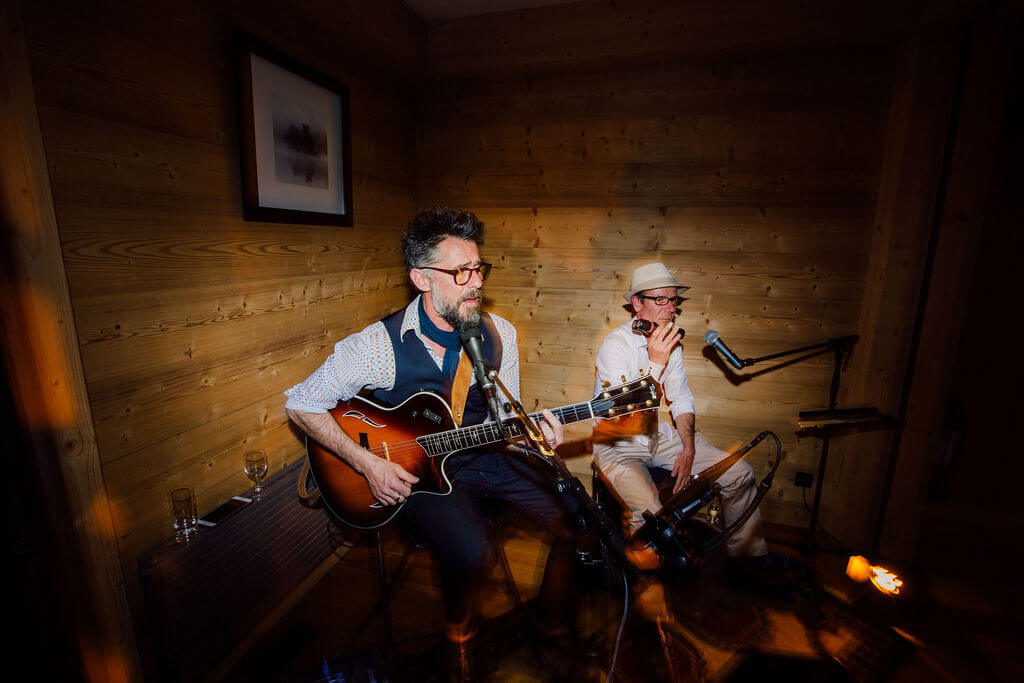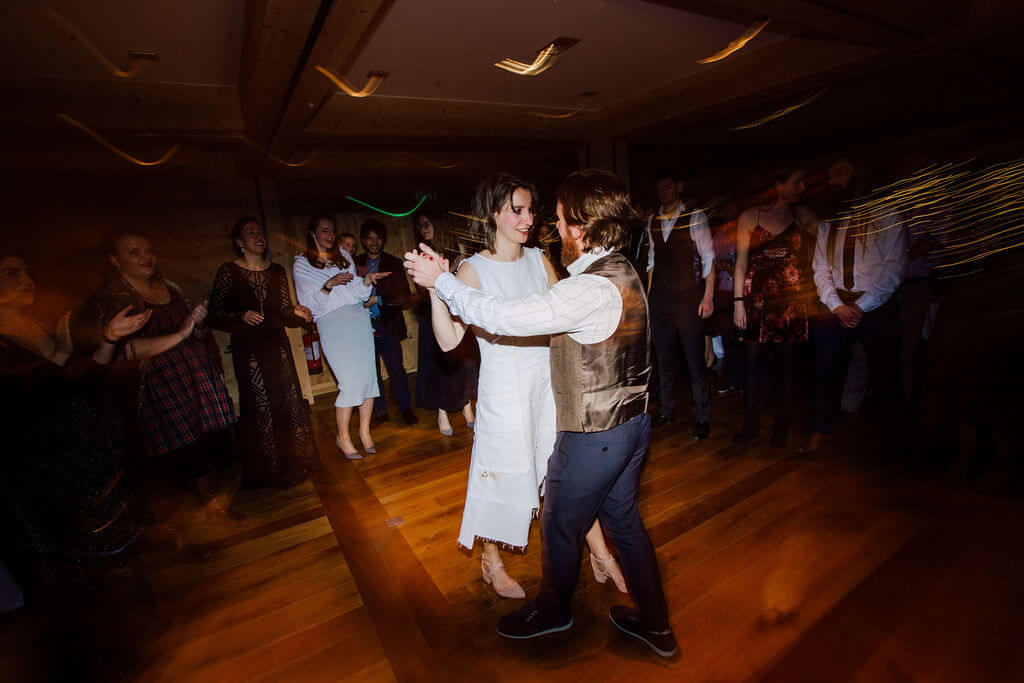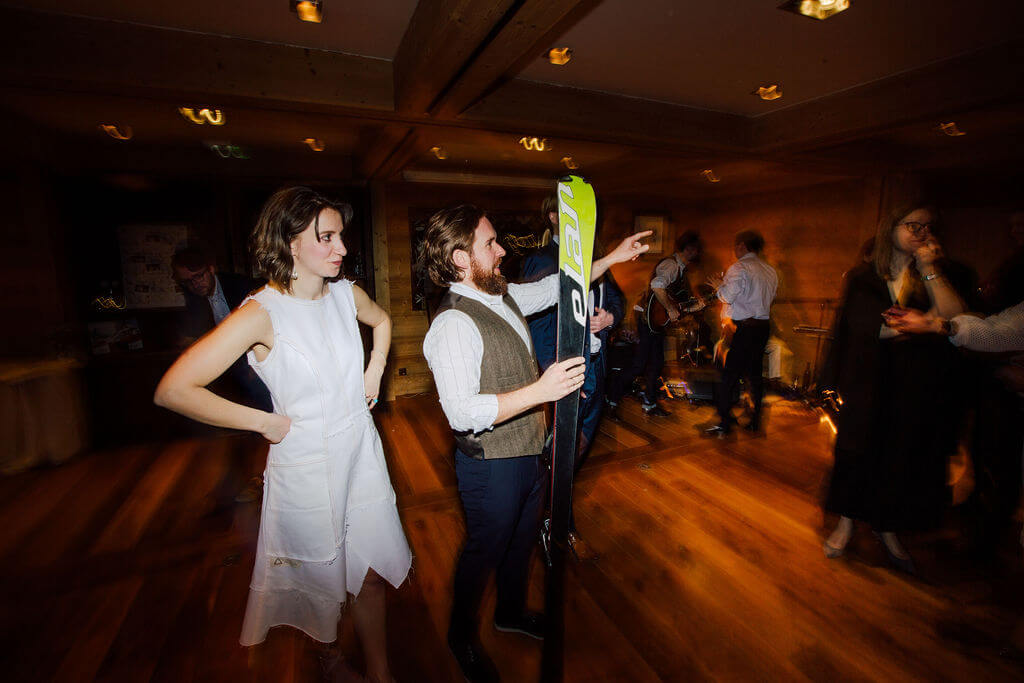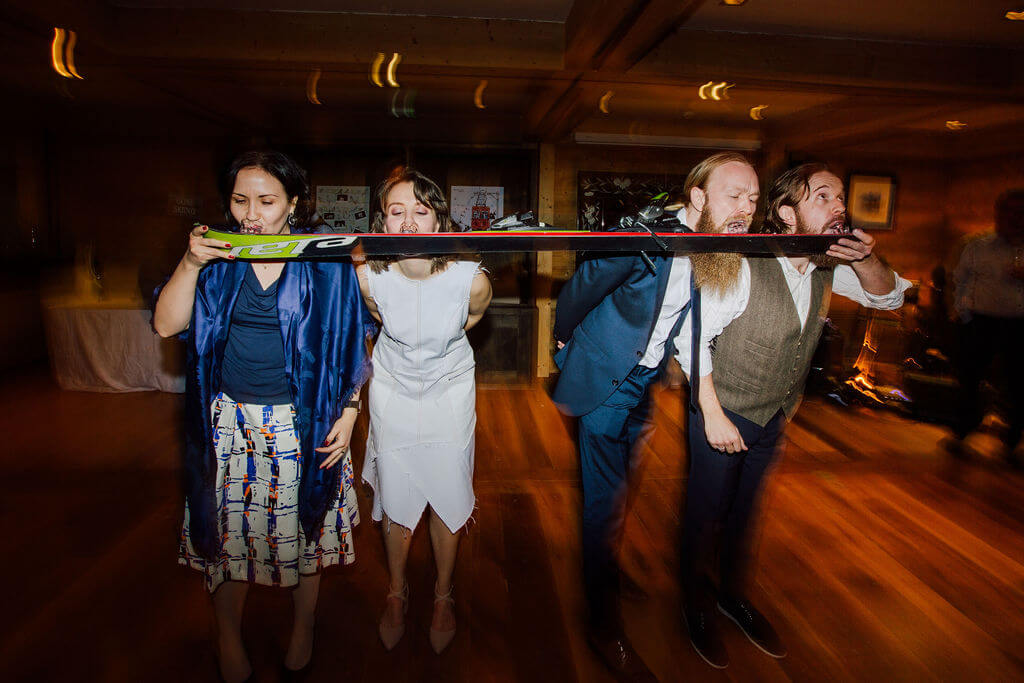 Do you have any advice to other brides on planning their day?
Our main piece of advice and inherent critique of this question is that weddings go a lot smoother if bride and groom share the workload. In our case, the bride took the lead on the visual and creative part, with the groom managing coordination of suppliers and logistics. Of course, we were also both involved in each other's areas but it helped immensely that the wedding did not rest on the shoulders of one single person.

Other than that, our advice is to work with a wedding planner/coordinator and to choose well your team of suppliers: chef, video/photography, transport, etc. This is especially relevant if both of you are working full-time and if your sanity and relationship health is important to you.

In terms of communication with guests, we found it incredibly helpful to set up a wedding micro-site using the gift registry service Given2. This is a service made to facilitate the giving of gifts and that part of it is a pay-as-you-go service, but there are also a lot of free features available such as the ability to create a simple micro-site on which you can present (and update) all of the key information rather than sending out and replying to endless e-mails.

Lastly, Pinterest can be a really useful tool, both as a mood board at the early planning stage as it helps you to get over to your team what you're after, and in communicating the dress code to your guests. Just create a dedicated board for the dress code and send out a link to guests.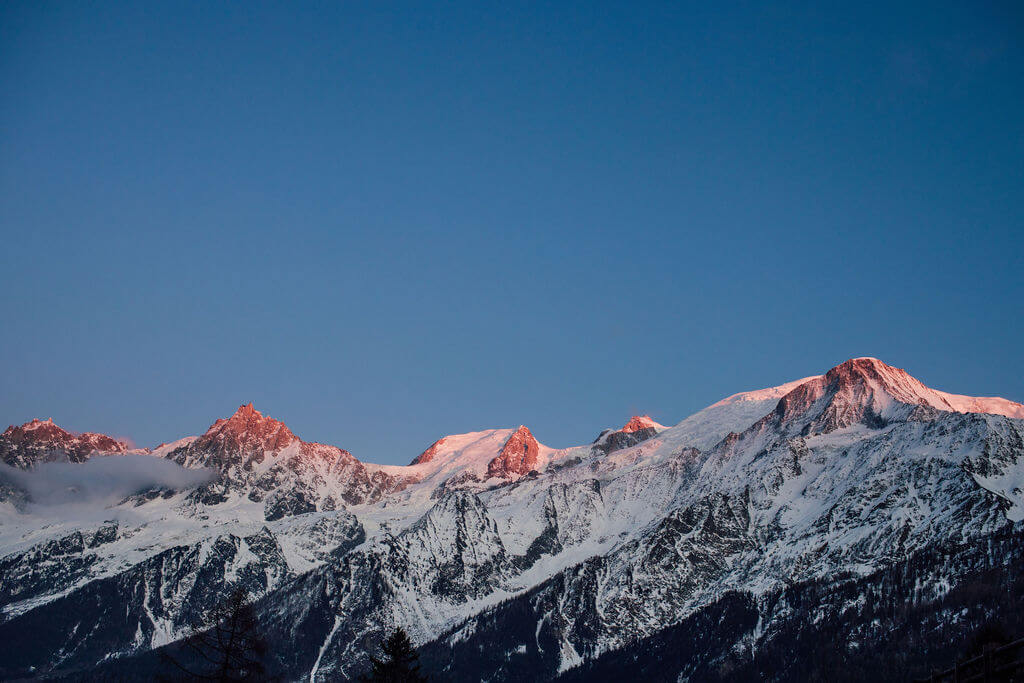 FEATURED SUPPLIERS