Mexican Fiesta Wedding in Cully Vevey, Switzerland
Real Wedding
|
1st October 2022
|
photographer - Eight bells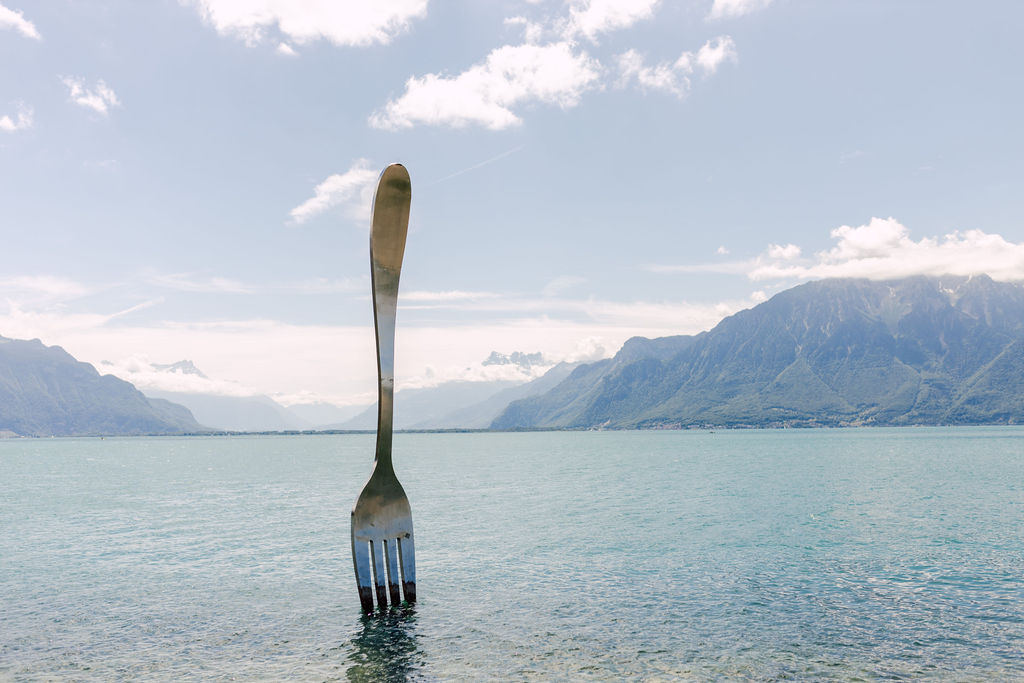 Why did you decide to get married in this region?
It's funny — both my husband and I fell in love with Lavaux before we met. Roberto studied International Relations in Geneva and I worked in Montreux (and have family in Vevey), and we talked about our love for the region on our first date in Washington DC, a year after we had both moved back to the States.

When we got engaged and started thinking about where to host our friends and family, we knew that sharing this would perhaps be the only opportunity we'd have to share this sliver of the world that we love so much with all of our favorite people, so we went for it — and goodness are we happy we did!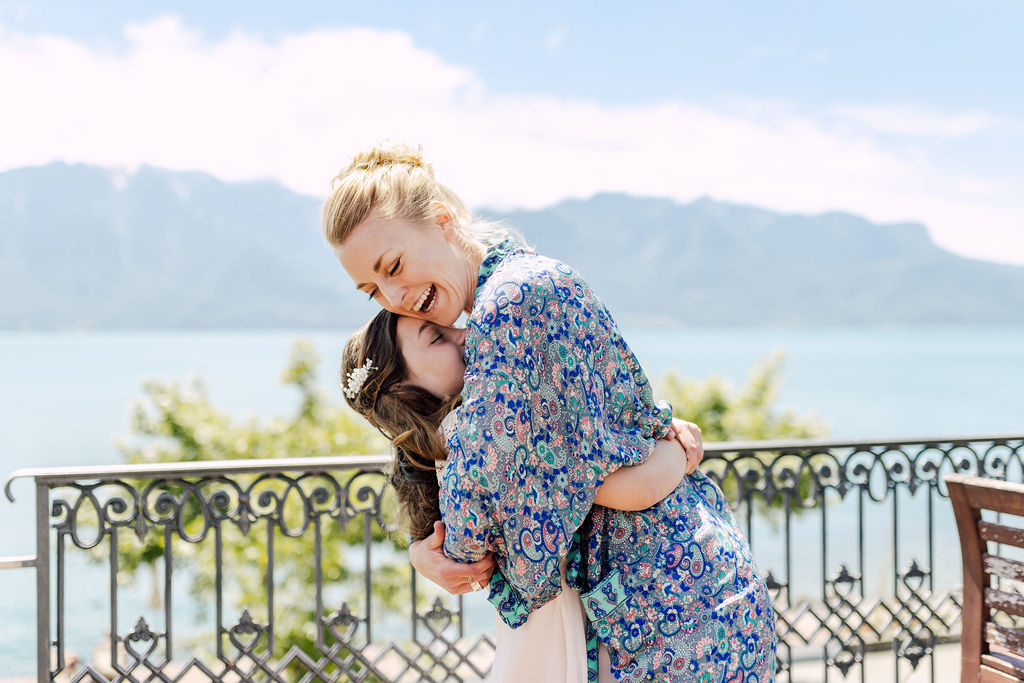 Please tell us about your wedding dress and accessories, including what influenced you in choosing the design?
I knew I wanted something simple and modern with an open back that wasn't over the top and would be easy to dance in! Thankfully in the early days of wedding planning, I fell in love with a Danish designer Maria Fekih, whose aesthetic is perfectly Scandinavian — clean lines, gorgeous silk, and modern with a twist.

I never thought I would go for a skirt and top combo, but I loved it! I went minimal with accessories wearing sage green velvet shoes from Flordeasoka and gold earrings by Zaremski that I found at a jeweler in Amsterdam. My mom gifted me a blue Morganne Bello bracelet the morning of the wedding, and I carried my an embroidered handkerchief from my grandmother. It all felt very special.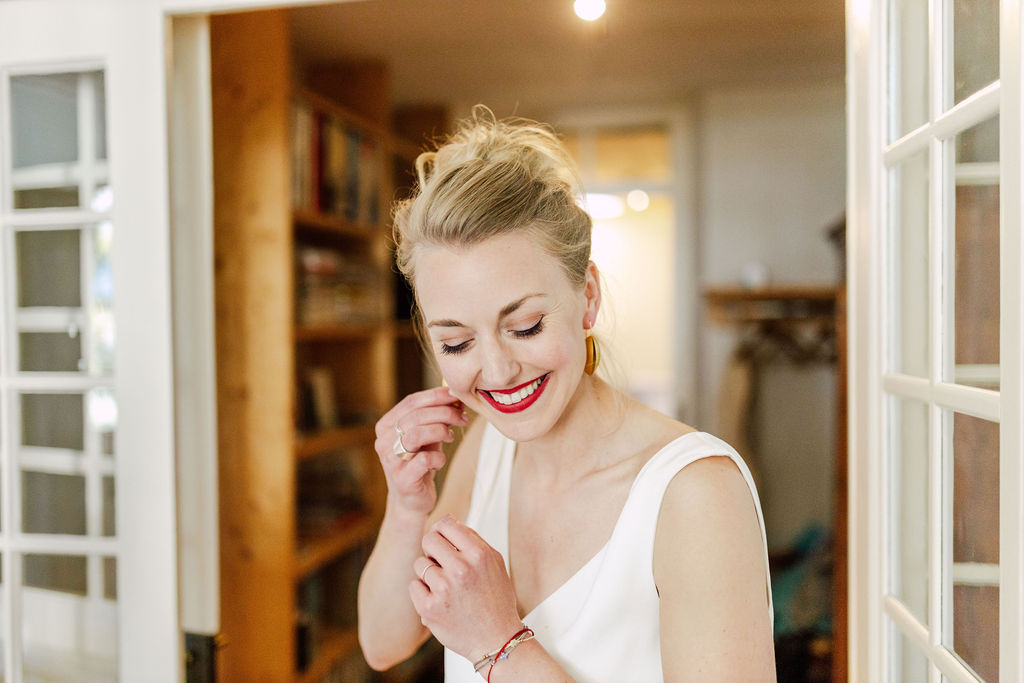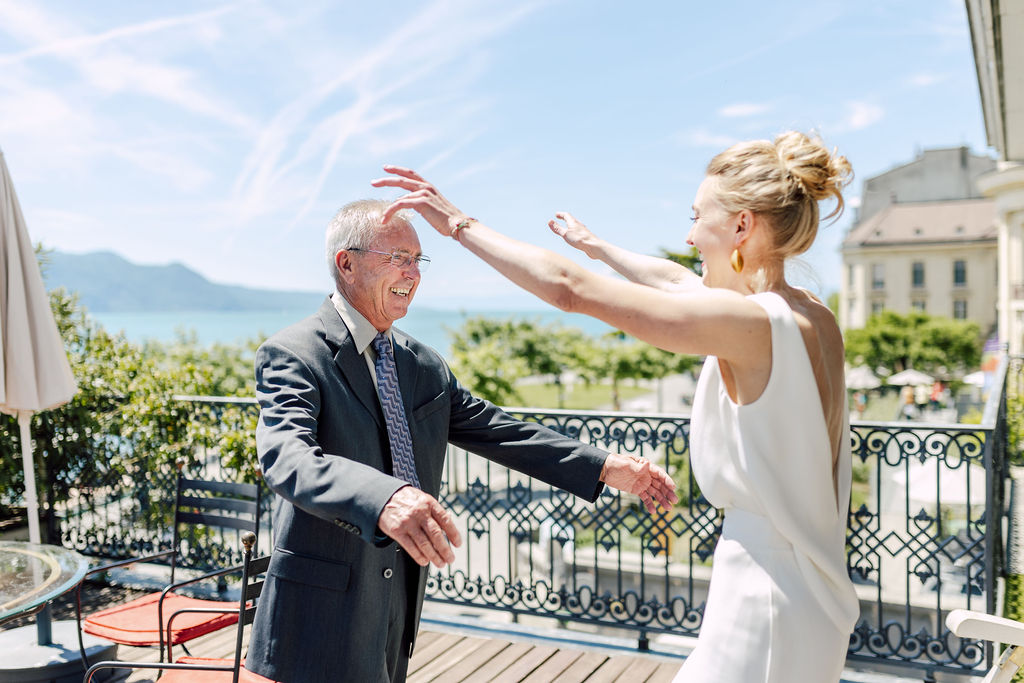 What inspired the choice of fashion and accessories for the groom?
He knew he wanted something slightly more casual but not too casual, which is always a tricky balance to strike. After trying on a lot of blue and green suits, he found a beautiful blue-grey blend and modern cut suit at Society Shop in Amsterdam and paired it white a crisp white shirt and patent black shoes. The big question was: tie or no tie? He decided not to wear one and it was perfect. Easy and classy and comfortable.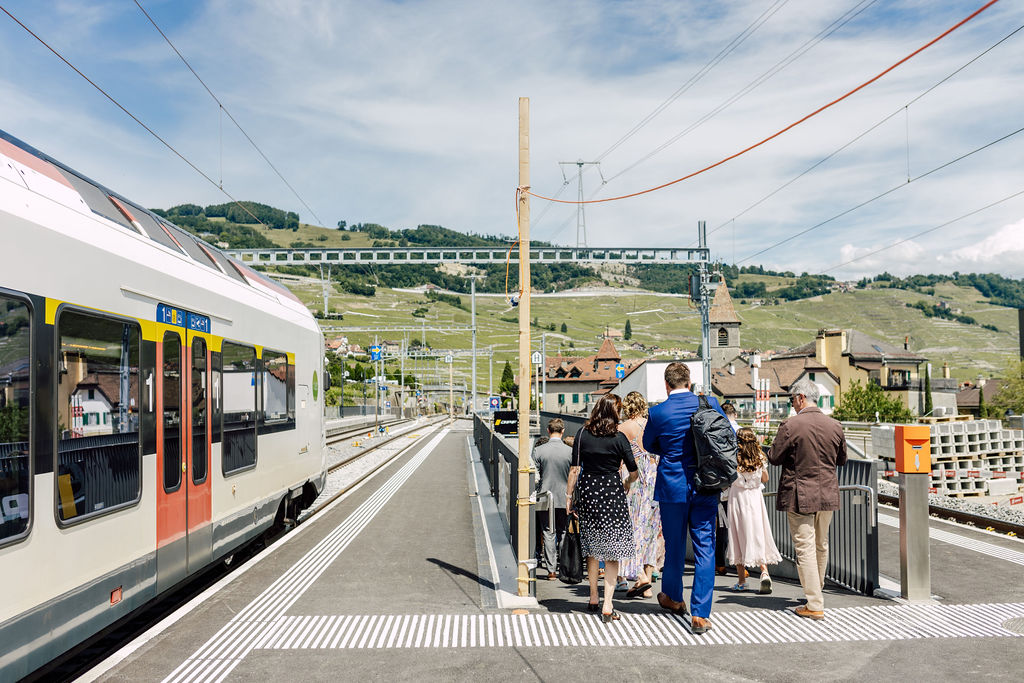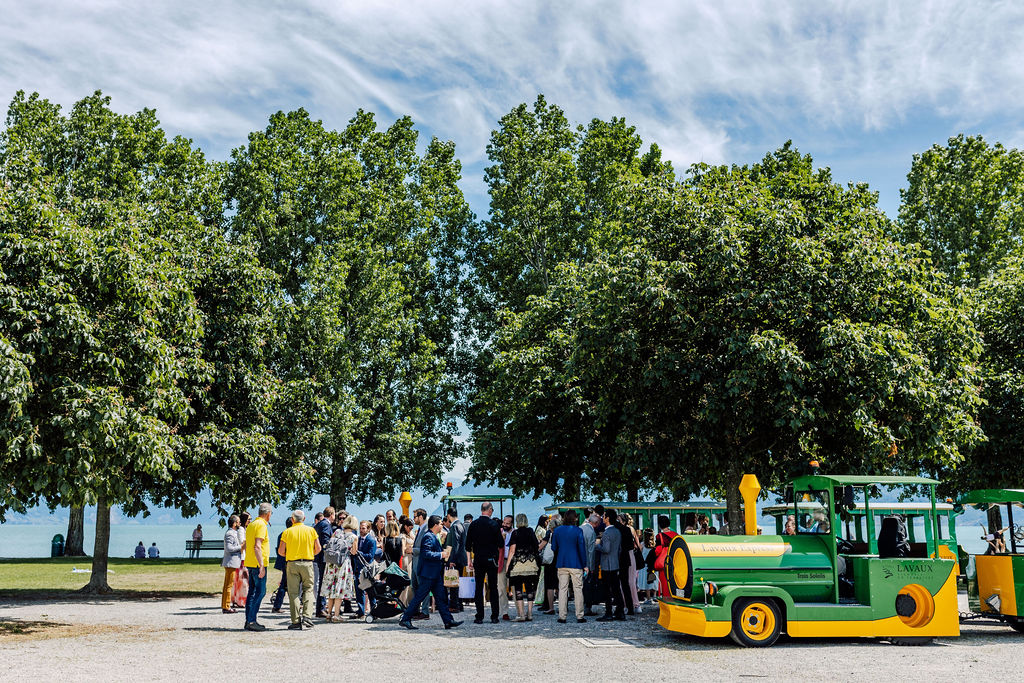 How did you find the venue and why did you choose it?
Every time we visit the region, we'll go running or walking along the wine terraces in Lavaux — it's one of our favorite things to do in life! So one day we decided to go on an all day adventure. We walked from village to village looking at different places, talking to people in different villages, drinking wine and thinking creatively about where we could host the ceremony and the reception.

And thankfully, it came together beautifully! We wanted to incorporate a little walking in as well, since it's our favorite way to experience the area, so we hosted the ceremony and aperitif at Domaine de la Crausaz and then we walked with the whole wedding party and Mariachis (my husband is Mexican 🙂 to Tout un Monde in Grandvaux. Both places were fantastic to work with and the views are the best you can find in Lavaux!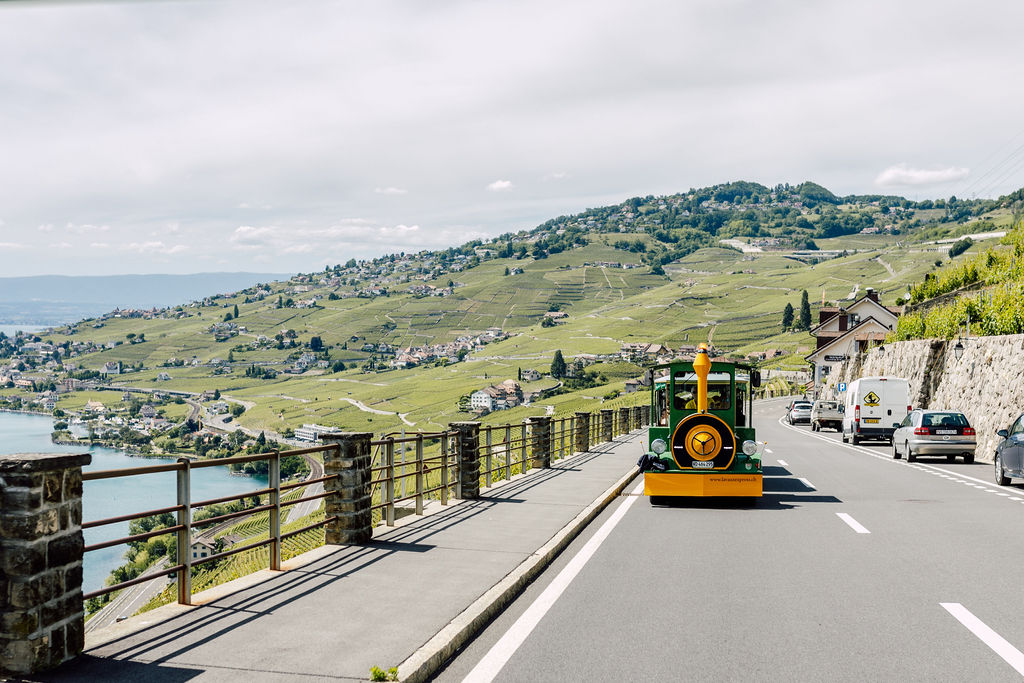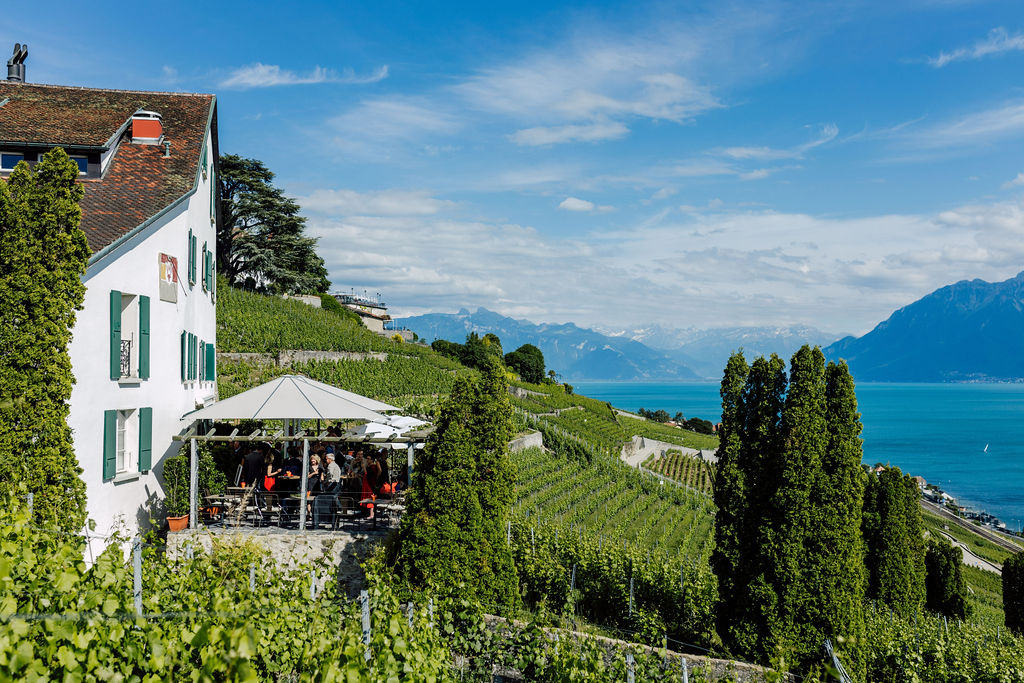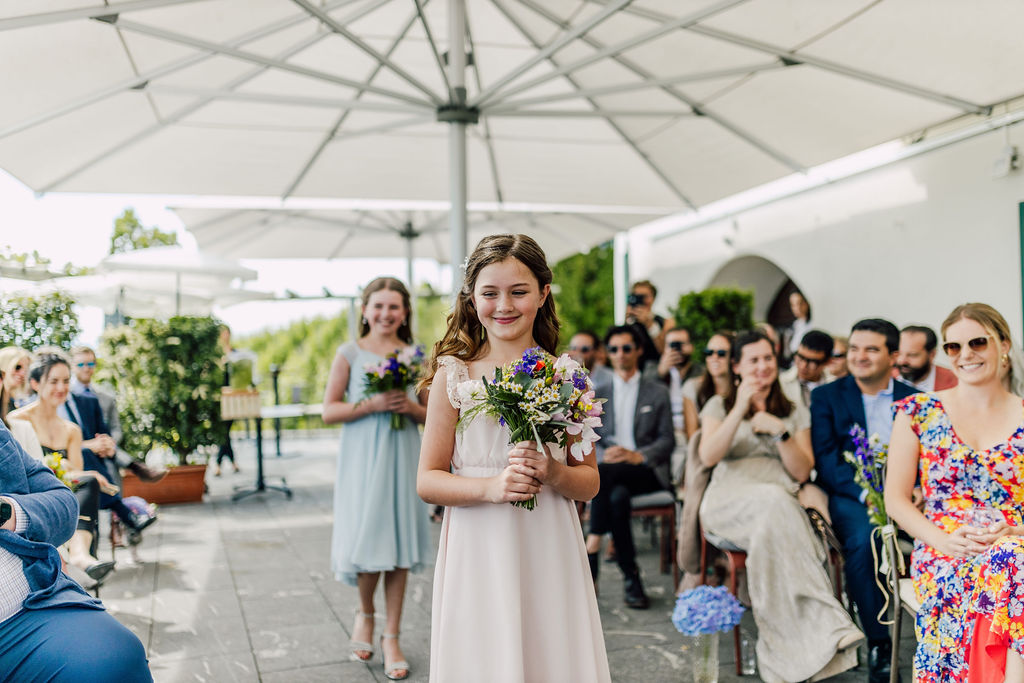 Was there a theme for the wedding party fashion and what inspired the outfits for the bridesmaids, bridal party, groomsmen etc?
We chose not to have a big wedding party because we have a number of close friends and family from different parts of life and it would have been impossible to choose. We also wanted a really simple ceremony centered on family. My nieces walked down the aisle in dresses and colors they picked — light pink and light blue — and our nephew carried the ring box in his cute teal shirt and khakis. It was nice to let people wear what they wanted, though I'll admit that not having any designated colors confused people!

For our guests, the dress code was: a fancy and fun dinner party (with shoes you can walk and dance in)! It felt very "riviera" with a lot of flowing dresses and colorful suits. It made for a very joyful group!
What type of ceremony did you have and what were the special features of the service?
We knew we wanted the ceremony to be short and heartfelt, with family members at the core. We asked my husband's sister to officiate since she was there when we first started dating and had been part of every stage of our relationship.

When we started prepping, we decided we wanted the ceremony to be a surprise for us (as opposed to writing a script for her to use or adapt), so we wrote down a bunch of notes about why we were getting married, what marriage means to us, what we mean to each other, and asked her to include my brother in some way. They then crafted the whole thing and it was beautiful.

I'll never forget it and will always be grateful that I didn't know what was coming. It helped us both be in the moment fully. I tear up just thinking about it!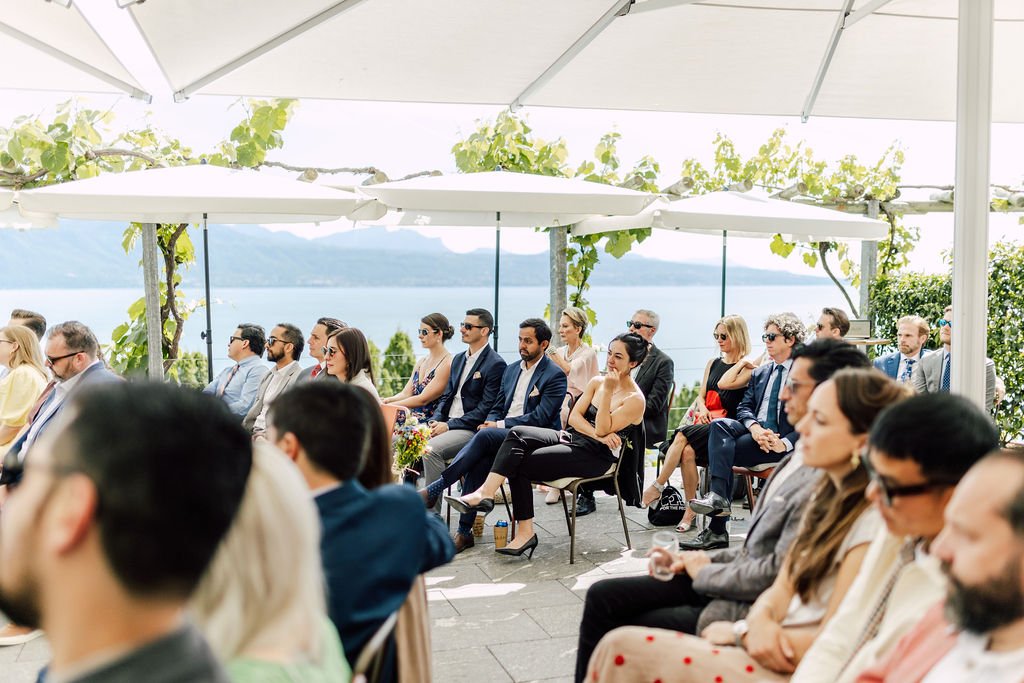 How did friends and family help with the planning / execution of the day?
It really was a family affair from the beginning. My husband's mom designed our wedding invitations, my aunt managed the flowers, and the evening before the wedding, my aunt, uncle, and family hosted and cooked for 60+ people to welcome everyone and kick start the festivities.

Then on our wedding day, the biggest part was the morale support everyone provided to help us get through the nerves! My husband got ready with his dad and brother and then invited a bunch of his friends to have a drink before heading to the ceremony. I got ready with my parents, step-mom, nieces, brother and sister-in-law. We could not be more grateful for all the love and support we received along the way.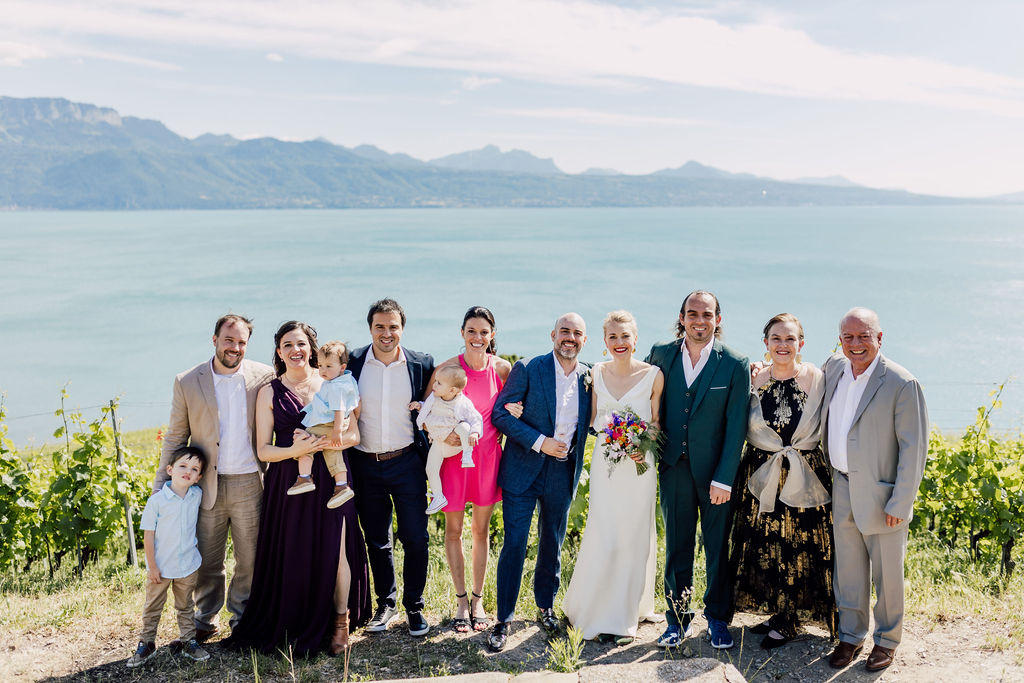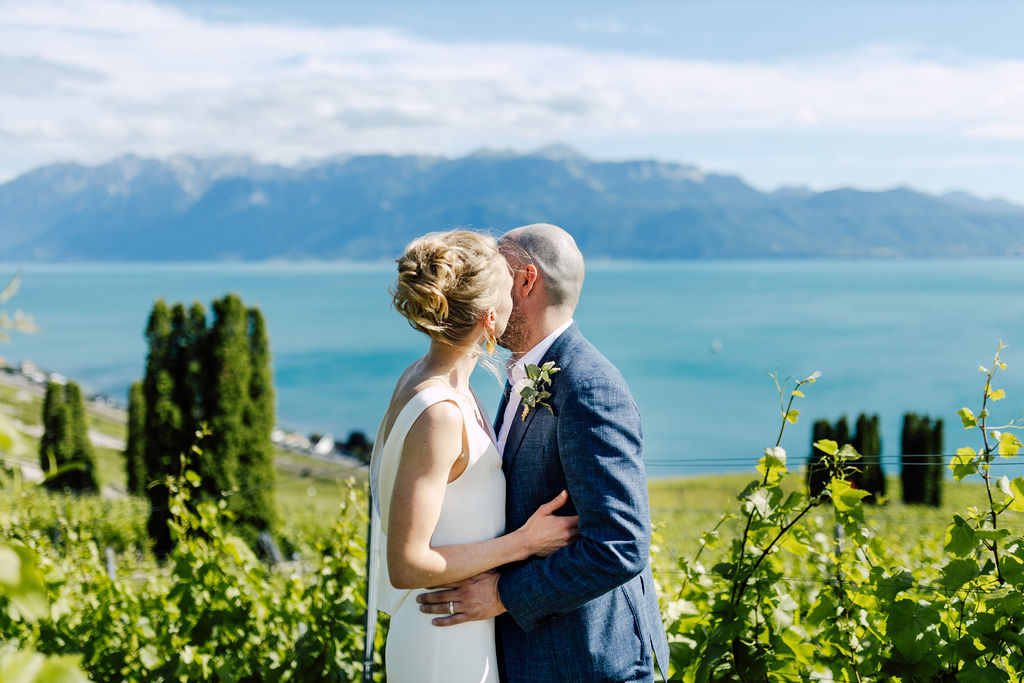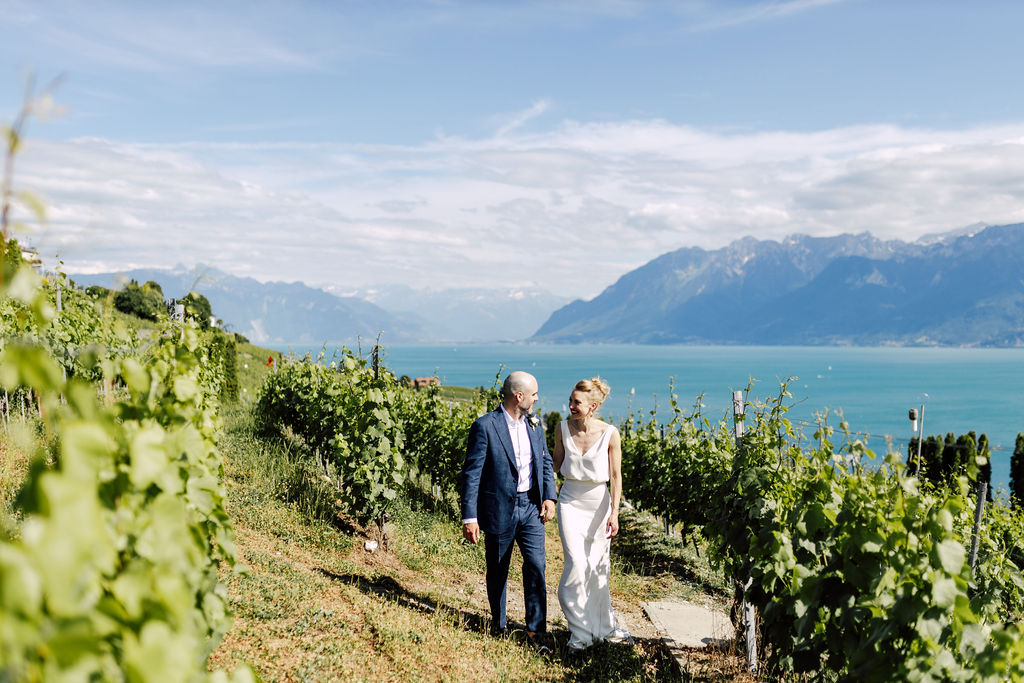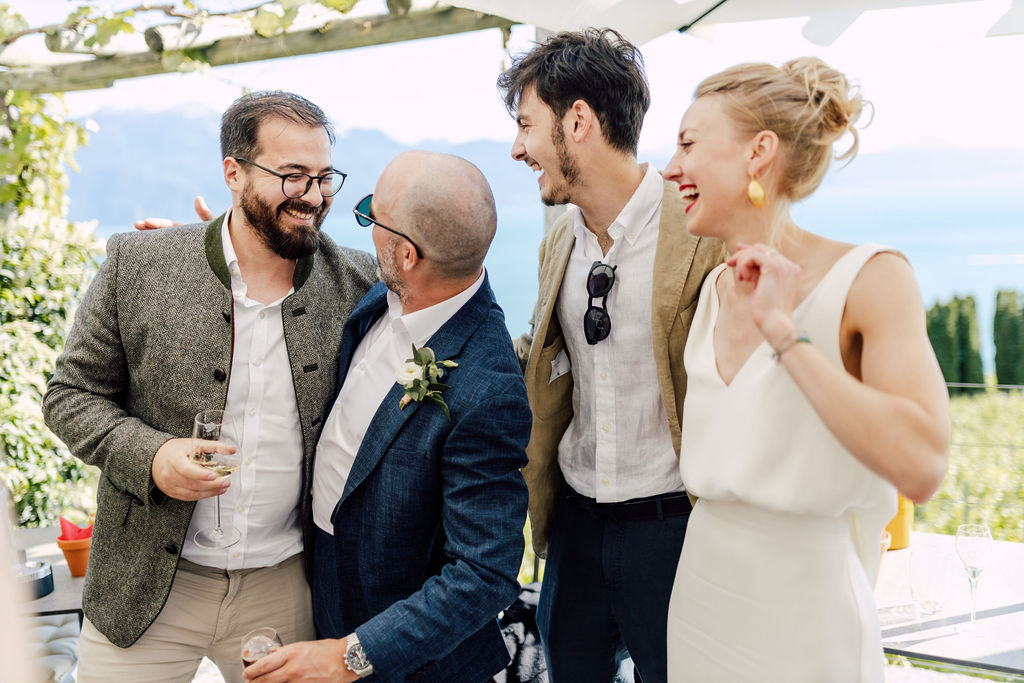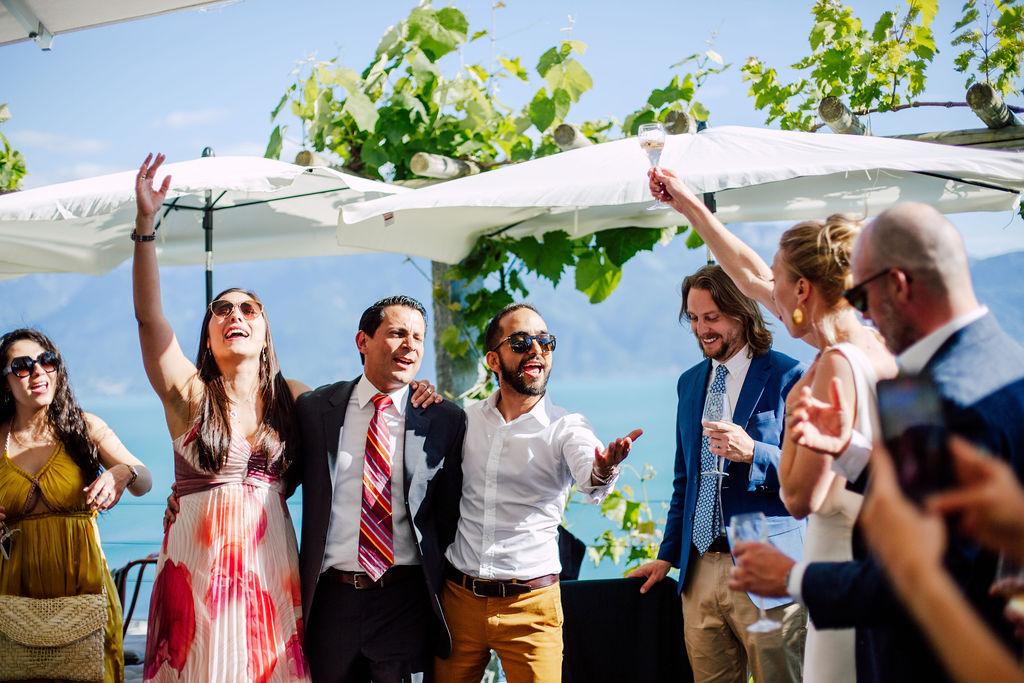 What music and entertainment did you choose and why?
My husband was born and raised in Mexico, so we knew we wanted to have Mariachis. And believe it or not, there is an amazing group in Switzerland! They typically come at the end of the night but given the tight space we had for dancing, we knew that wouldn't work. So we decided to have the play after the first apéritif and then walk with us through the village to the second venue.

Only my husband and I knew about them, so when they burst onto the terrace, the look of shock and joy on everyone's faces was priceless. It was the best surprise and they set the tone for singing and dancing for the rest of the day. Then for the reception and dancing, we worked with DJ Mehrez from Swiss DJ who did a brilliant job reading the room and keeping everyone dancing until 1.00!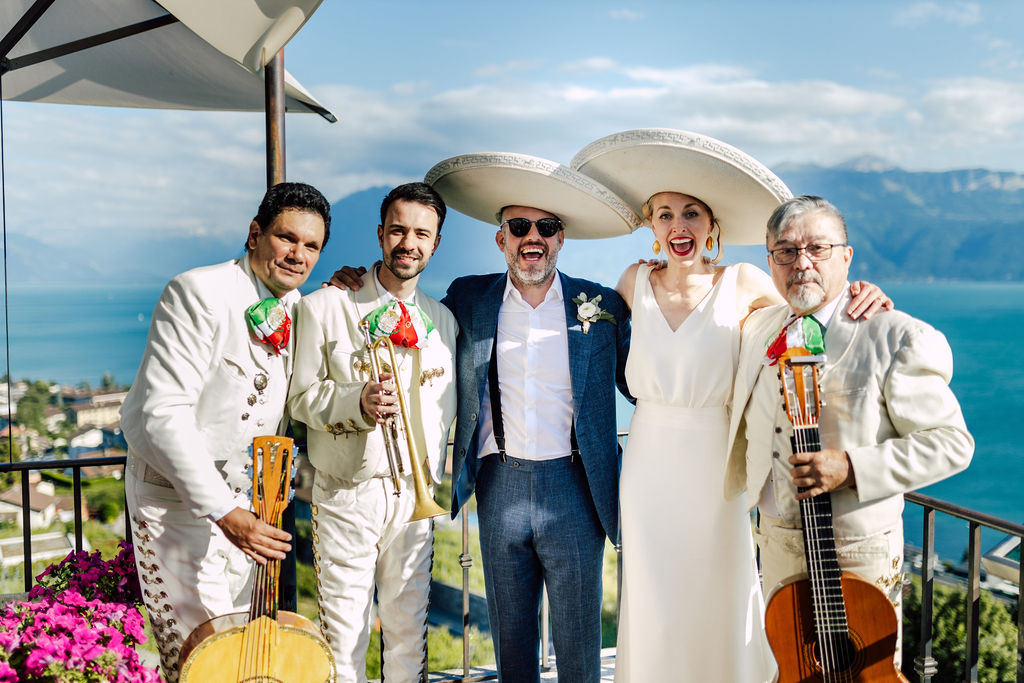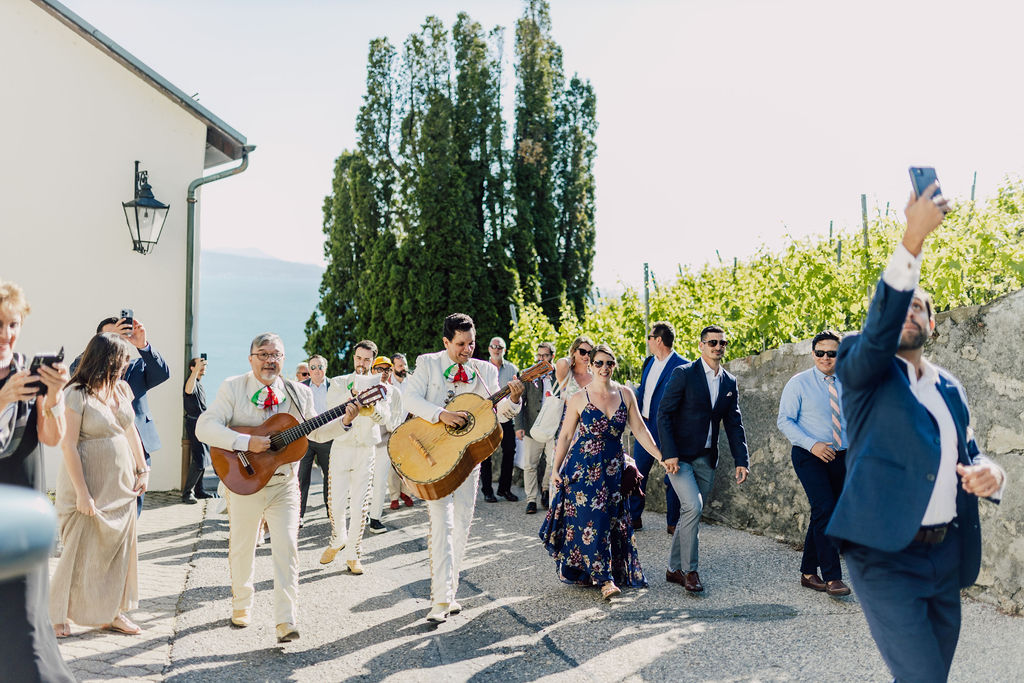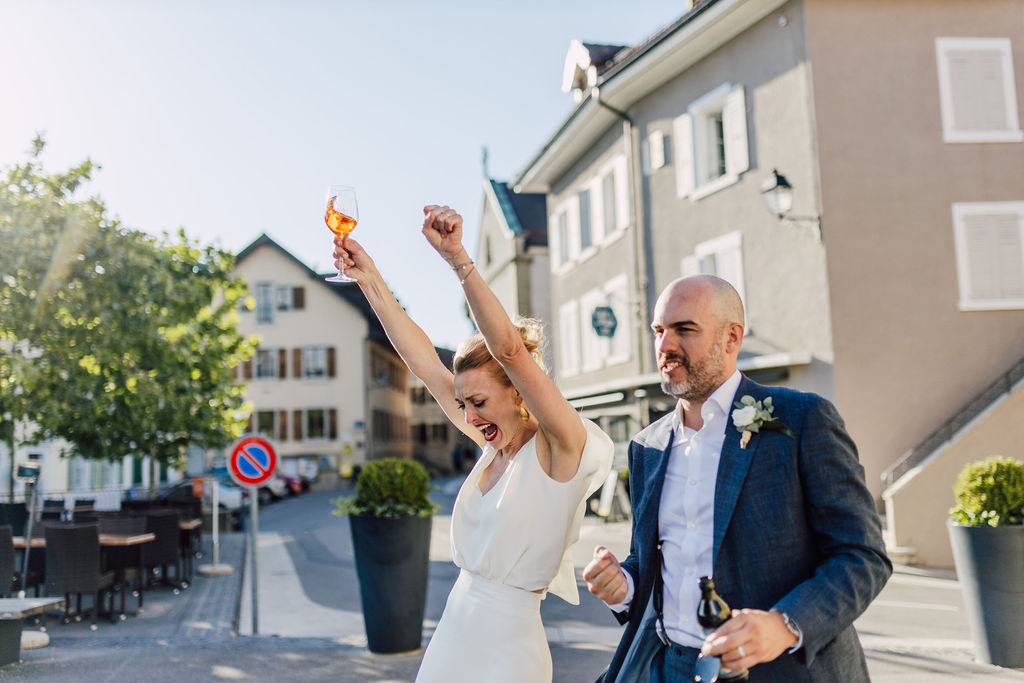 Describe the decor, stationery and any DIY elements
To be honest, the views and venues were so beautiful that we didn't want to do much! Aside from the flowers which added little bursts of color and lots of white candles, my 9 and 11-year old nieces love art projects so we asked them to make our welcome sign. It was glittery and had flowers on it and said "Welcome to Aunt Mel & Uncle's Ro's Wedding!" I will keep it forever.

For place cards at tables, we wrote names on envelopes and inside each guest had a personalized haiku poem that we wrote on old postcards we had collected. It was quite a project but it ended up being a fun way for us to share our gratitude in a unique way with each person who had traveled so far to be there. The haikus were a hit and it just boosted the love that everyone felt. The views of Lac Léman and the Alps certainly provided a nice backdrop too.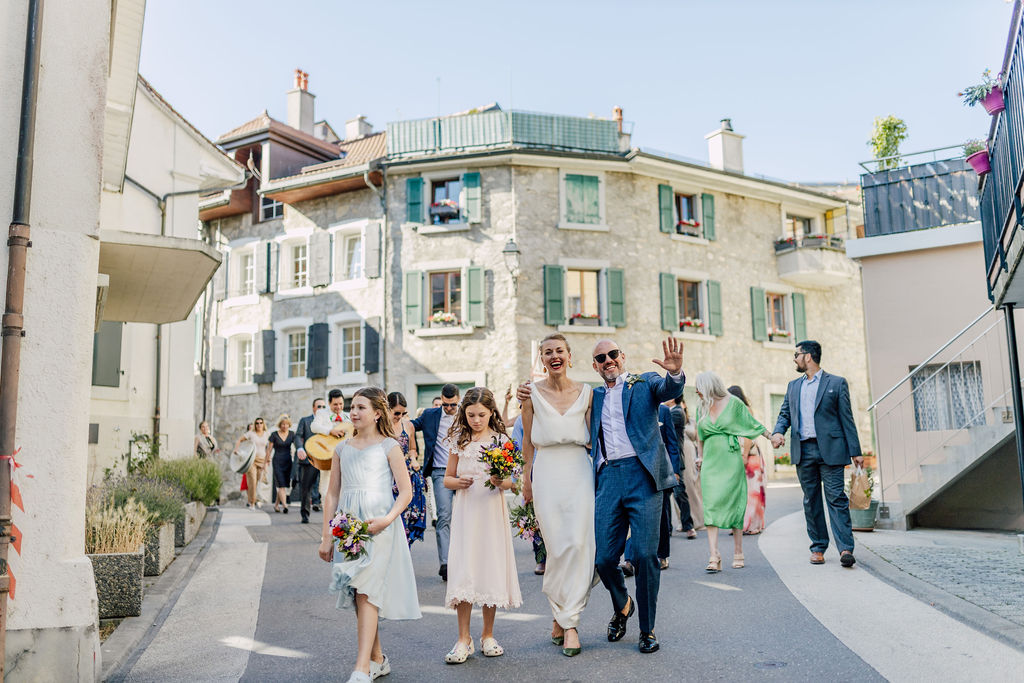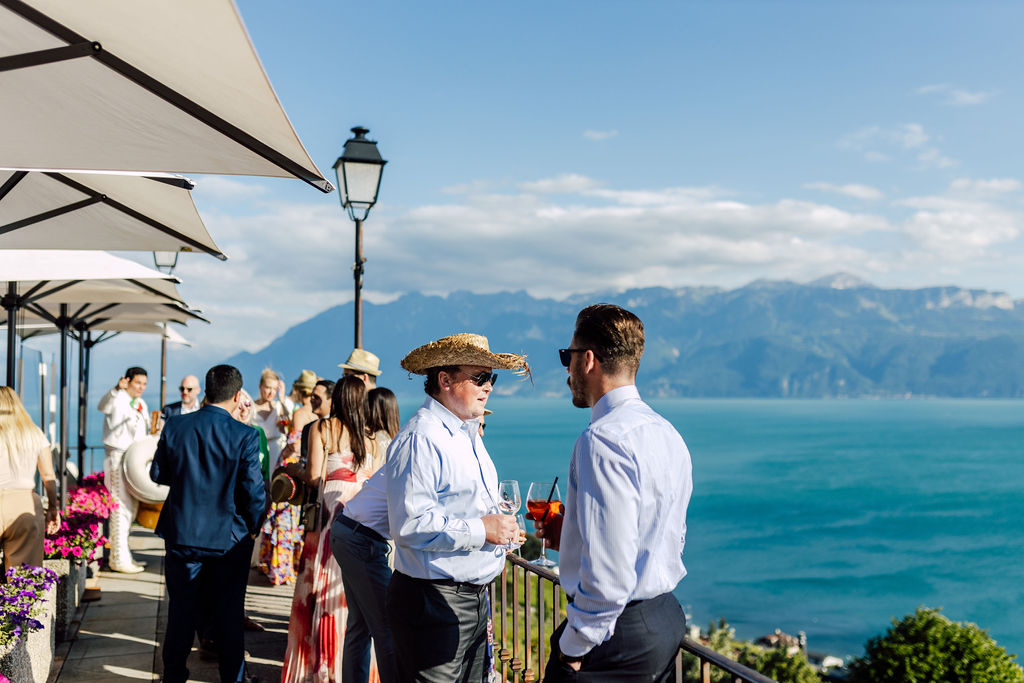 What were your thoughts behind the flowers – bouquet, button holes, centrepieces etc?
The inspiration was this: colorful, natural and wild with a ton of candles! My aunt, mom, a close family friend and me did all the wedding flowers the day before the wedding. My aunt even went to a field that morning and collected wild ferns and wheat to add a special touch.

I had also been collecting glass vases of all sizes from flea markets in The Netherlands for six months! We then added a bunch of different candles to make everything glow in the evening. It was a labour of love and the flowers, especially, were a wonderful way to spend time together with music and coffee and champagne.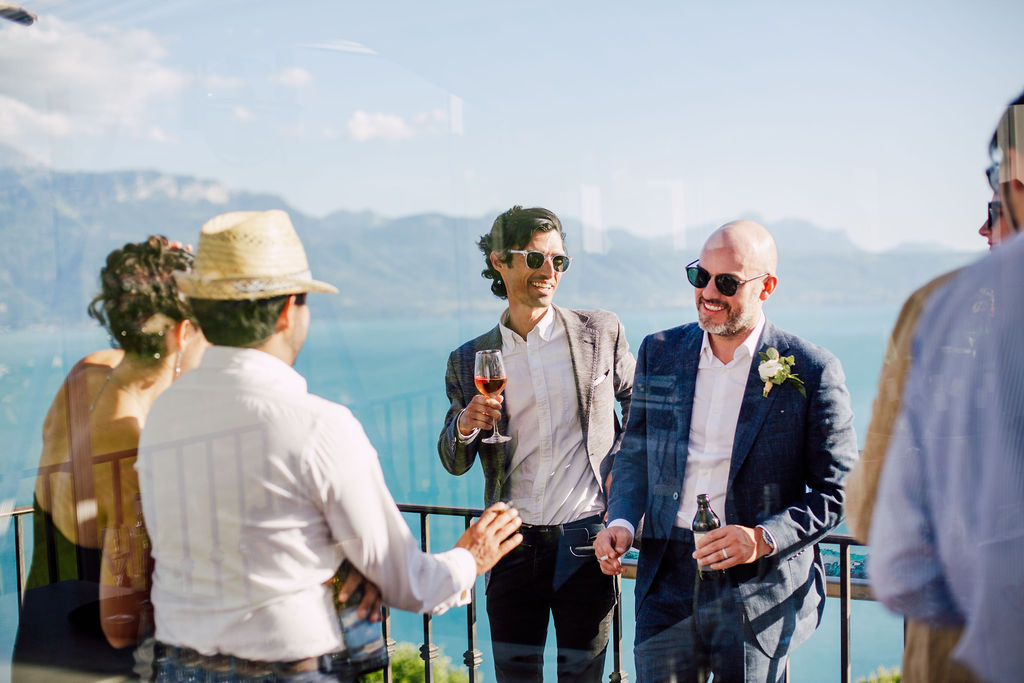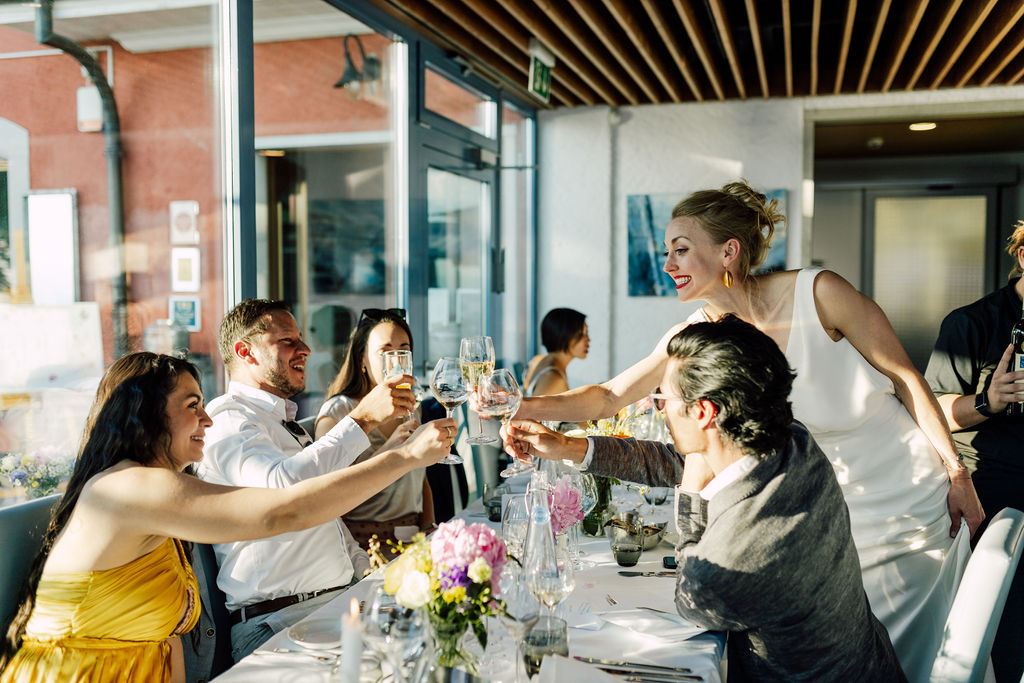 Describe the food (canapés, cake, main menu etc)
We had wine and small canapés at Domaine de la Crausaz and then wine, beer and Aperol Spritzes upon arriving at Tout un Monde. Dinner was four courses with dessert and everything was delicious. We stared with a small crostini with trout rillette, followed by lemon ravioli in a creamy green pea sauce, then veal with foie gras sauce, zucchini gratin and polenta. We then finished with Saint Honoré Moderne monté.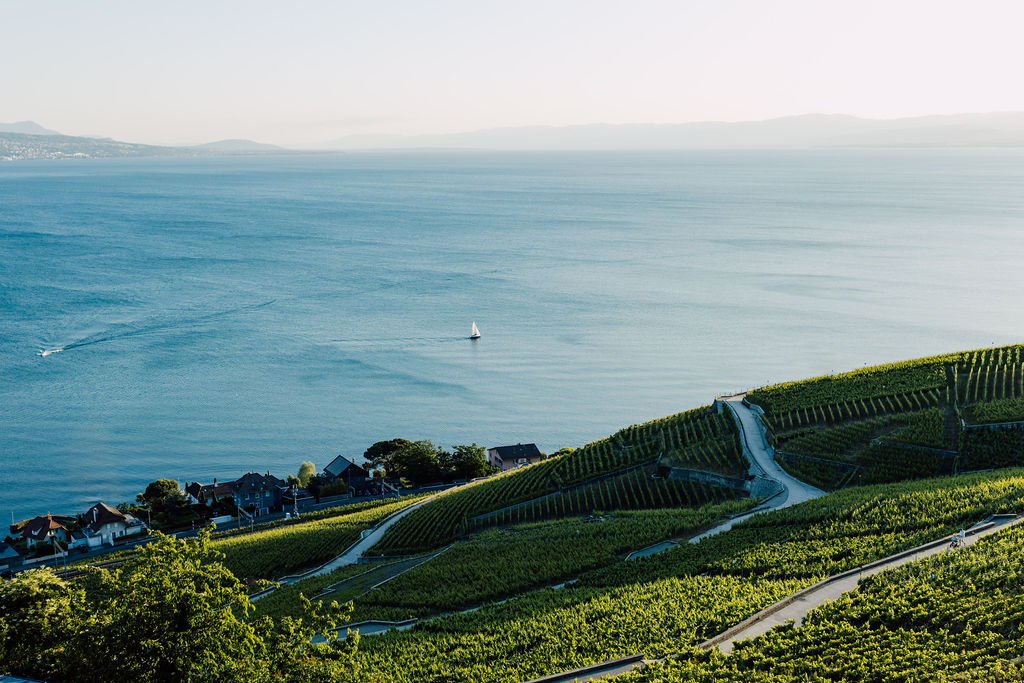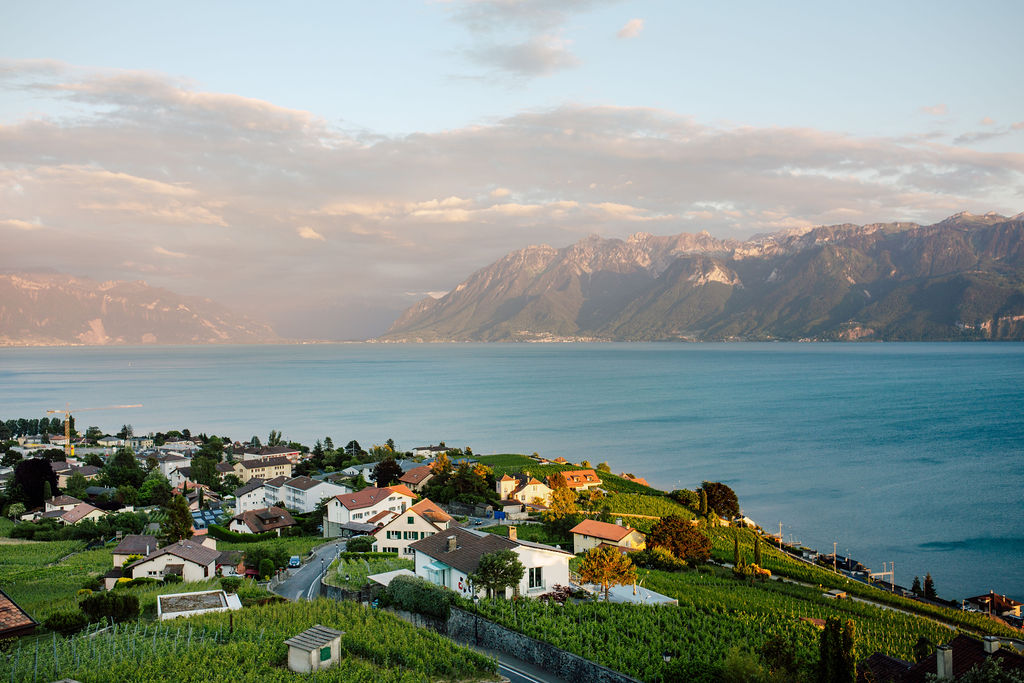 What events and moments made your day special?
Too many to count! Honestly, the love that we felt that day was unlike anything I could have imagined.
– The ceremony is still one of my favorite parts of the day. Speaking those vows and listening to my husband's in front of the people we love most. Then the the look on people's faces when the Mariachis started playing after the ceremony!
– People dancing in between each course.
– The sunset.
– Our dads' speeches.
– Dancing with my nieces.
– Taking 5 minutes with my new husband to step back and just watch everyone.
– And the dance that our family had learned and surprised us with!
Pure joy and love, all of it.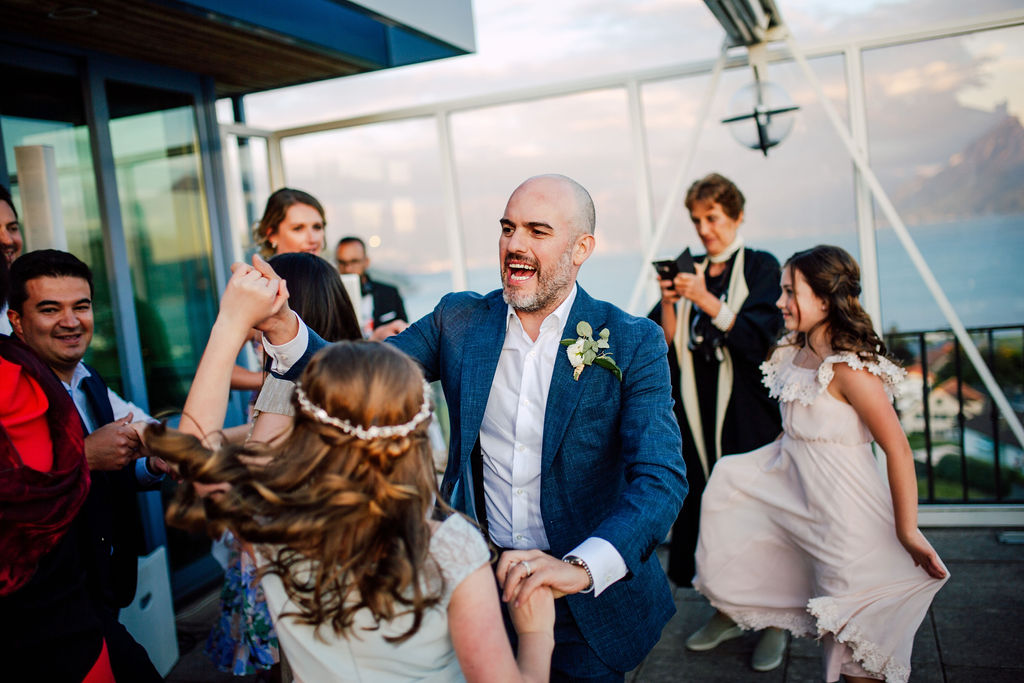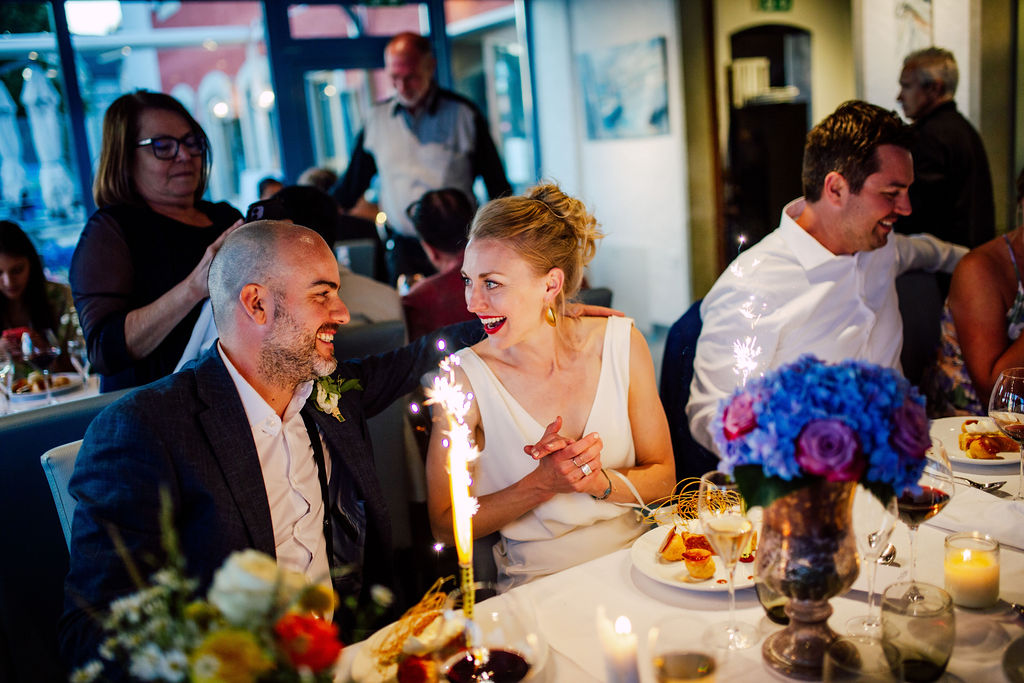 Do you have any advice to other brides on planning their day?
Three things:
1. Enjoy the process! Someone told me this early on: your wedding day is only one day and it will go by way too fast. So whatever you do, make sure you have fun planning your wedding. This was especially handy to remember when things got a tad stressful.
2. Choose the three things about the wedding that are most important to you as a couple and focus on those. I found this invaluable as it kept me from getting overwhelmed by things that weren't important to us.
3. Trust your gut and don't get sucked into thinking that you need to do certain things. We went non-traditional with a number of things (no cake cutting, no colors, no wedding party) and it confused people at first, but the day was then a true reflection of us and our families, which is the feeling we wanted all along.
Why did you choose Eight Bells Wedding Photography and what comments can you make about the images?
On one of my first google searches for photographers in the region, I came across Eight Bells and loved how natural and beautiful Reuben's photos were. The lighting and the way he captures unique moments and reflections. That's exactly what I wanted from the beginning — very few posed pictures and instead snapshots of people in their element, surrounded by gorgeous vistas, the warmth of people together.

Reuben delivered all that and more. Our guests — even our vendors! — commented and downloaded photos for themselves. We couldn't be happier with the photos and will have them for a lifetime!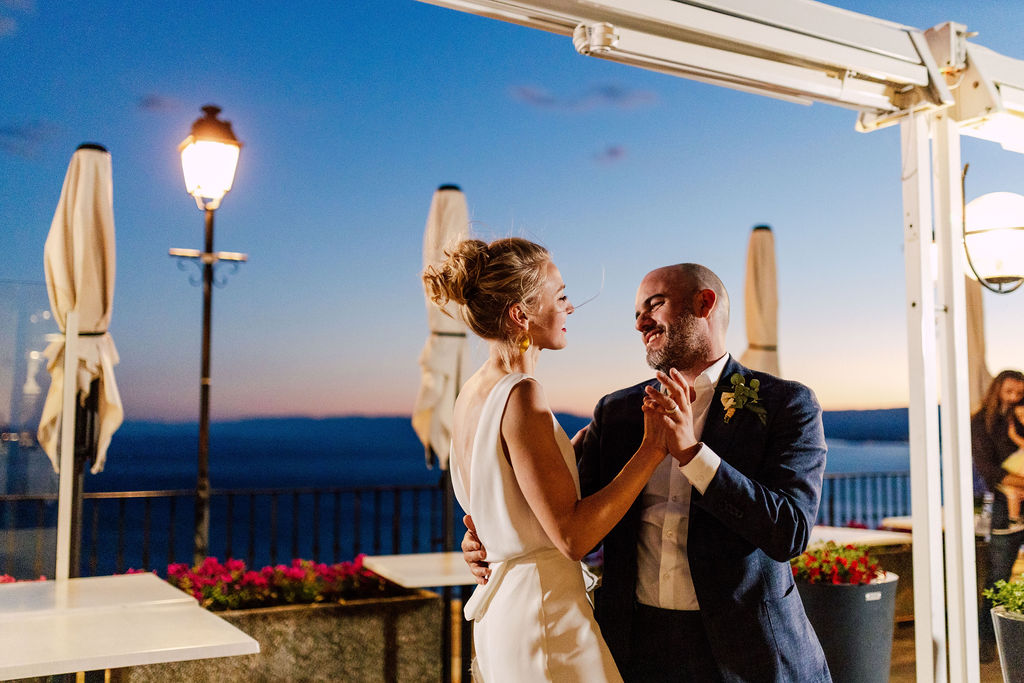 FEATURED SUPPLIERS