Lake Annecy Wedding at Abbaye de Talloires
Why did you decide to get married in Lake Annecy?
Robyn's family is from just outside Annecy, so she has always visited and loved the region. It was also our first holiday as a couple.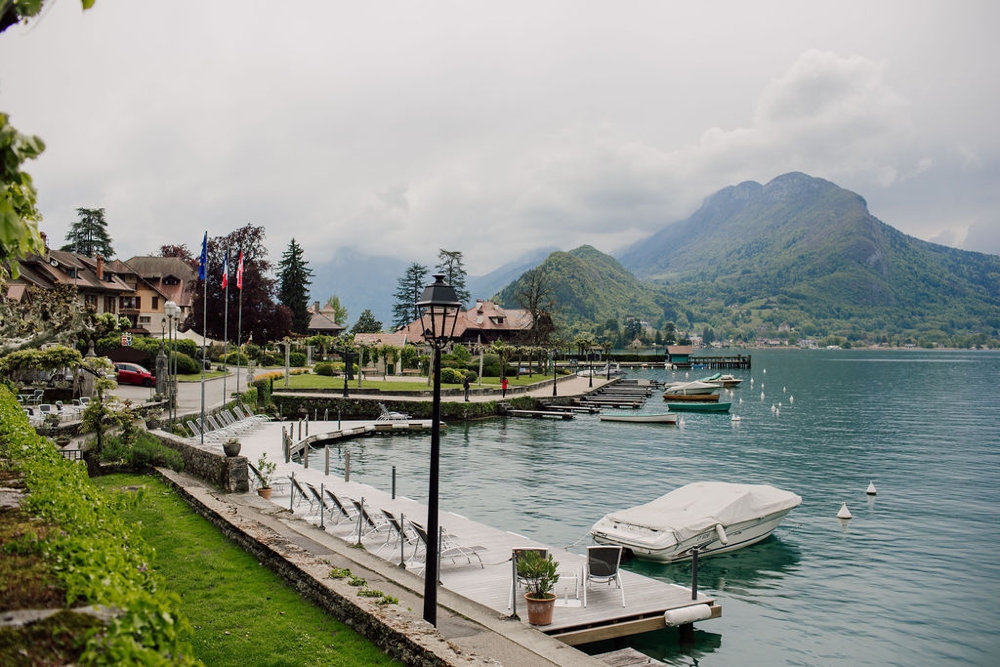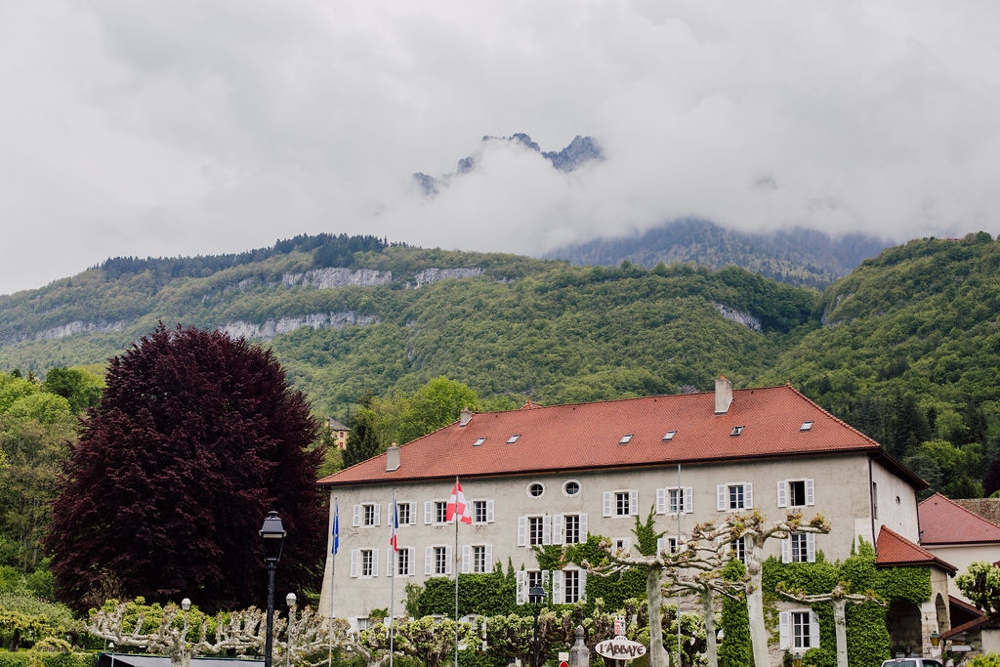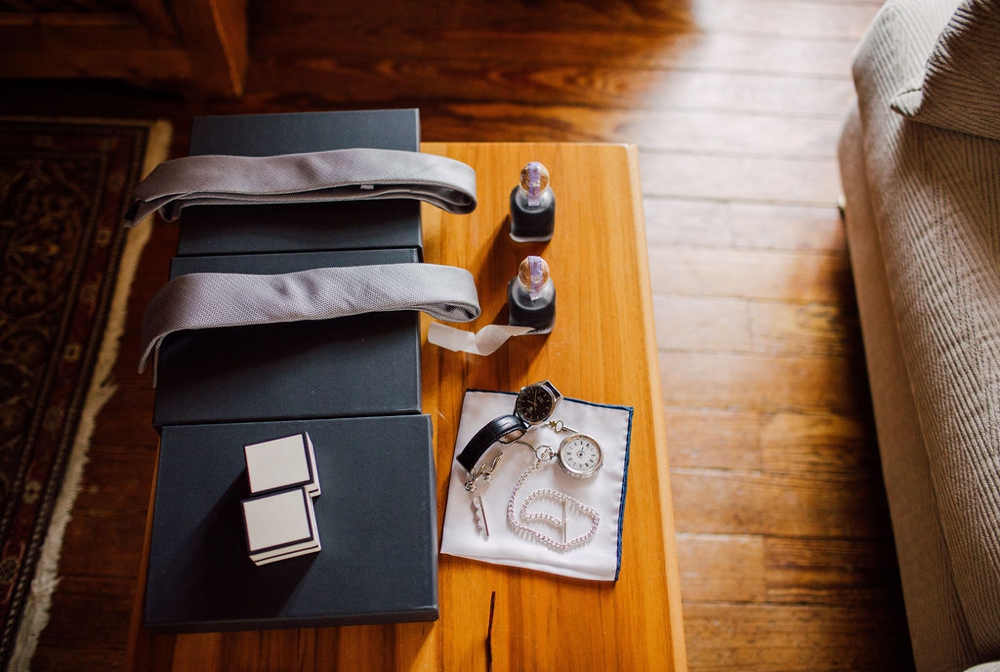 How did you find the venue and why did you choose it?
Location was key for us, we knew we wanted to get married by lake Annecy so that helped to narrow down our options. We knew that the Abbaye de Talloires was the perfect place for us as soon as we walked through the doors. It had so much history and the most unbelievable views.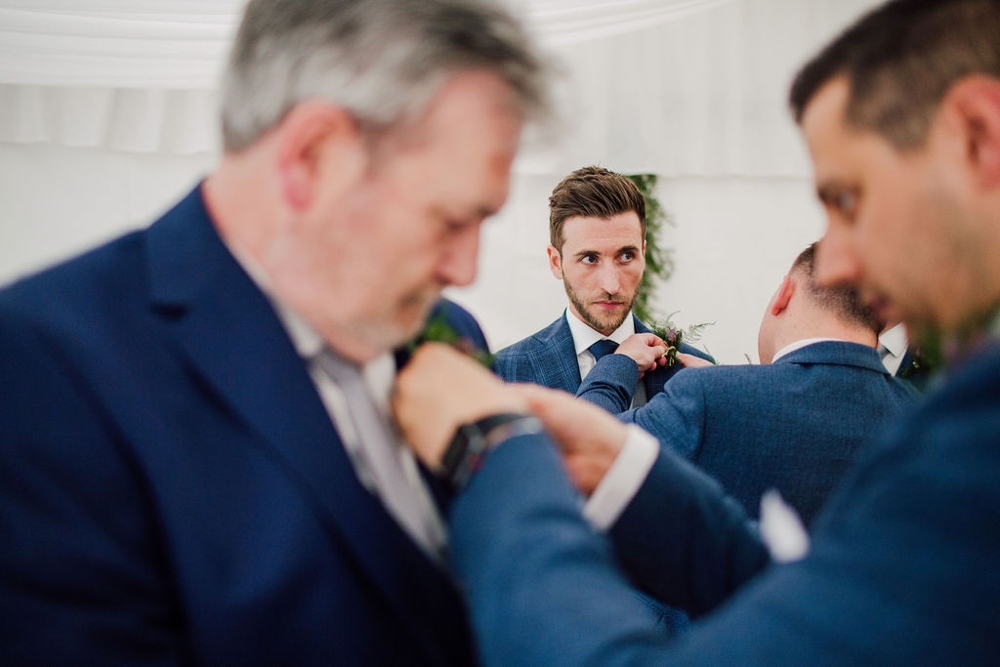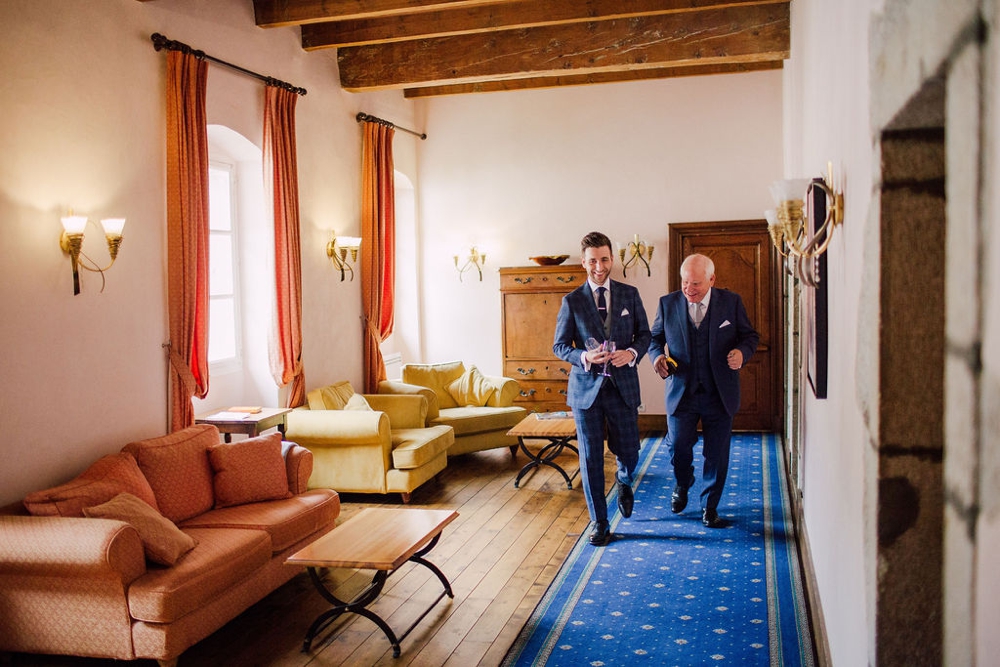 Please tell us about your wedding dress and accessories
My wedding dress was from Morgan-Davies bridal in Hitchin (UK). The designer was Allure and the dress was called "Empress". It was the complete opposite of what I thought I wanted, but as soon as I tried it on I fell in love. My shoes were Jimmy Choo – Emily, this was my grandmother's name who passed away the year before our wedding so it felt like fate when I chose them.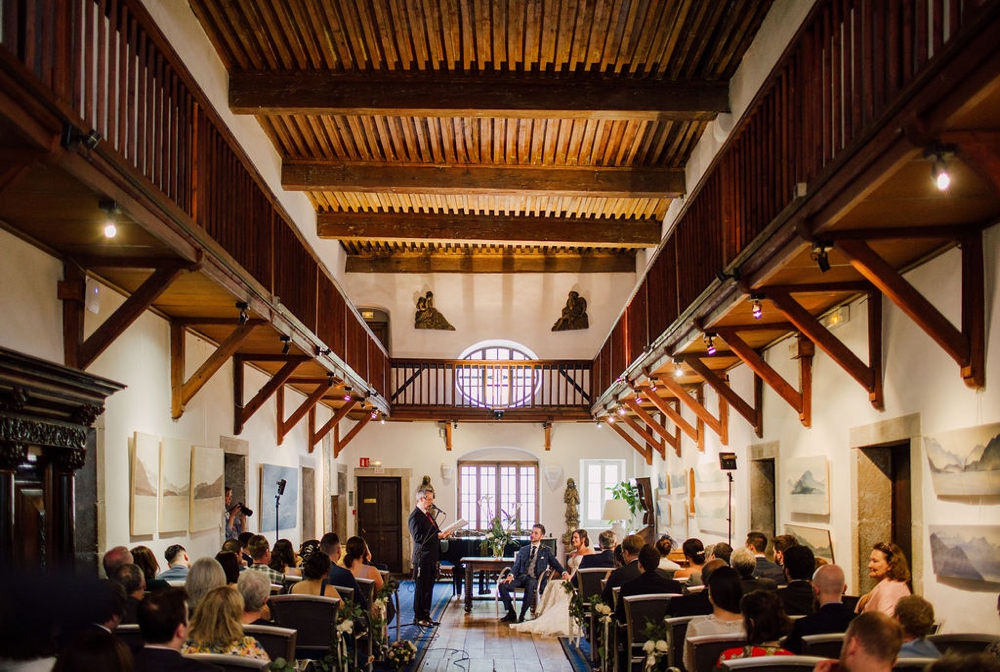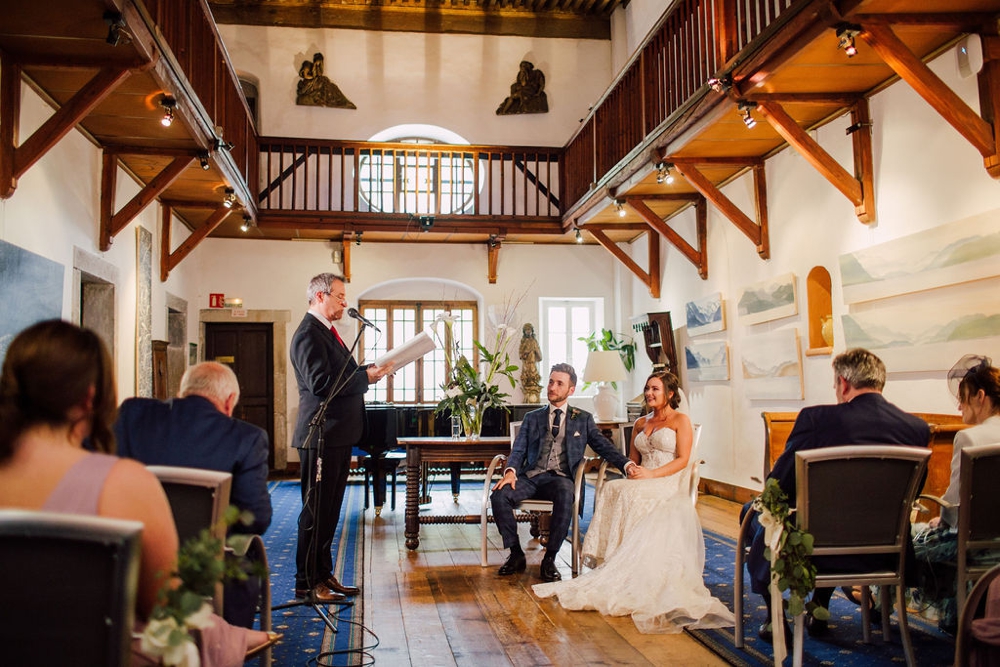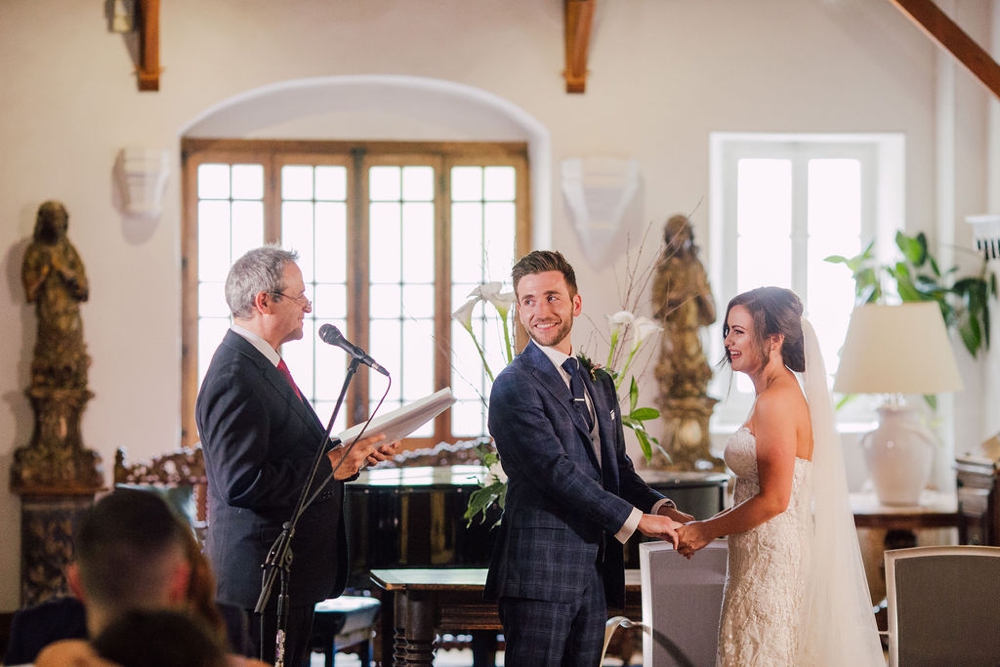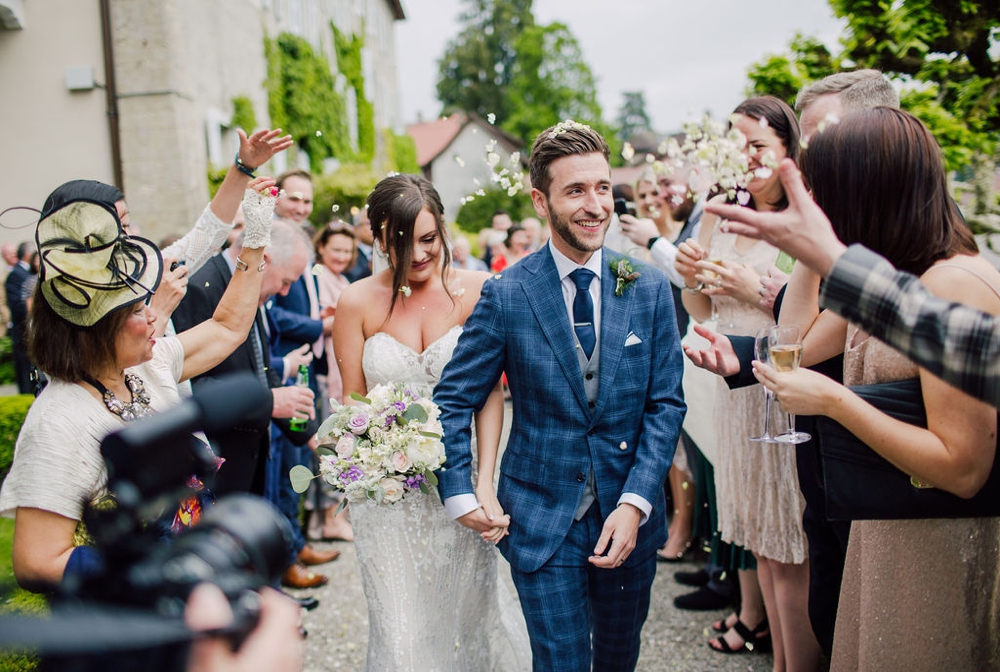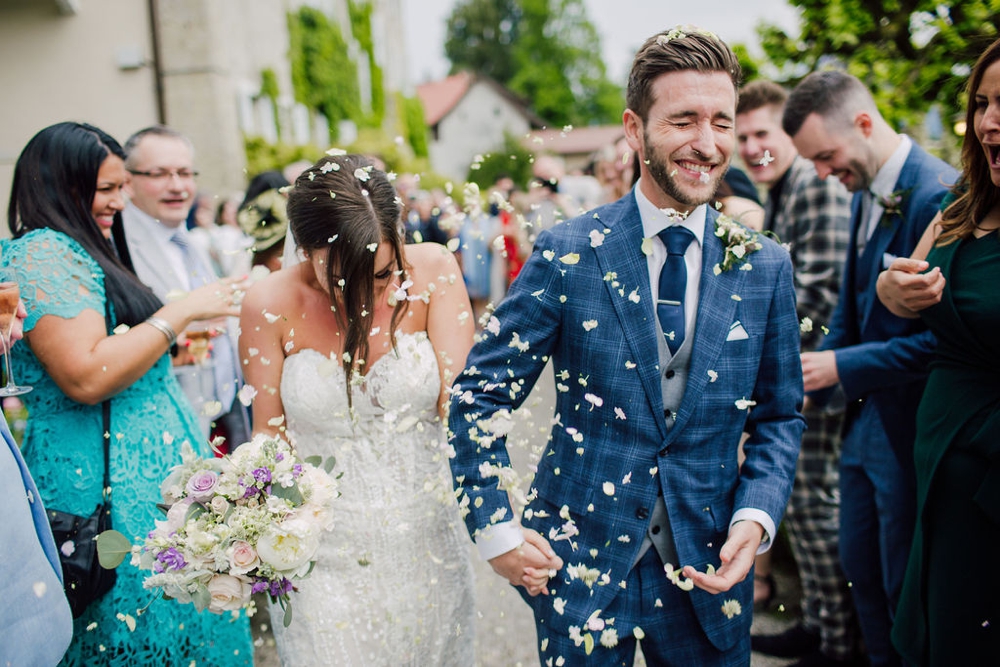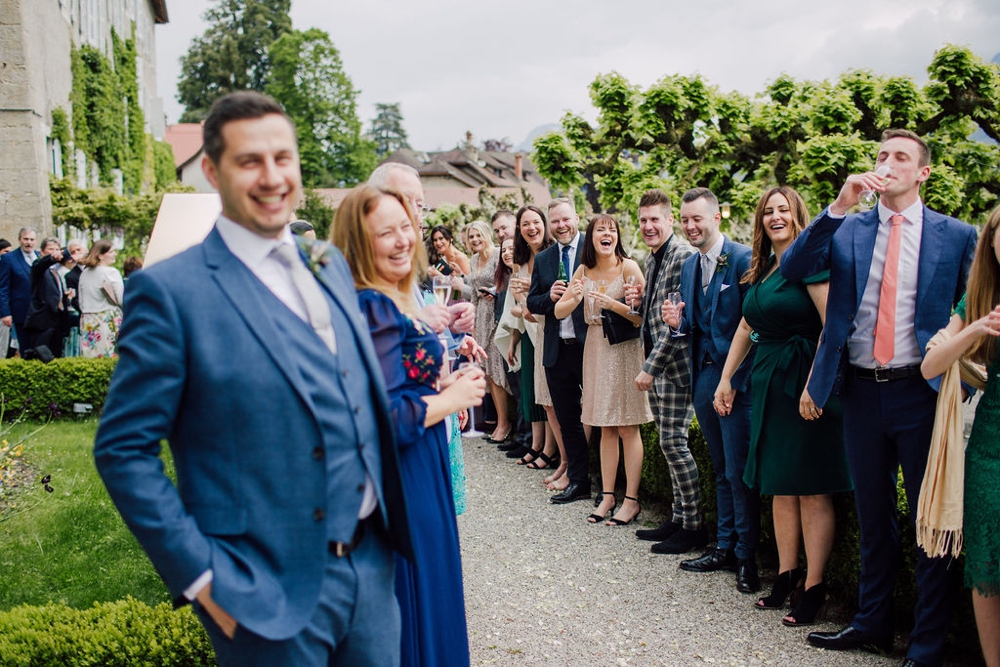 What inspired the choice of fashion and accessories for the groom?
Matt chose his suit from a shop called TailorMade in London. He wanted a blue suit, but also wanted something a bit different! The pocket watch Matts fathers.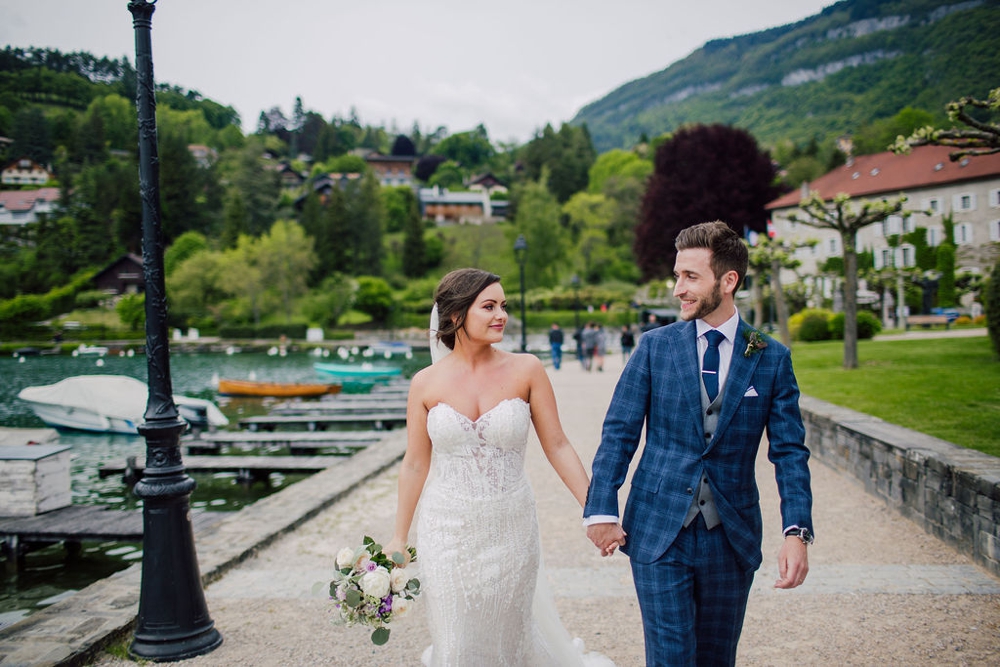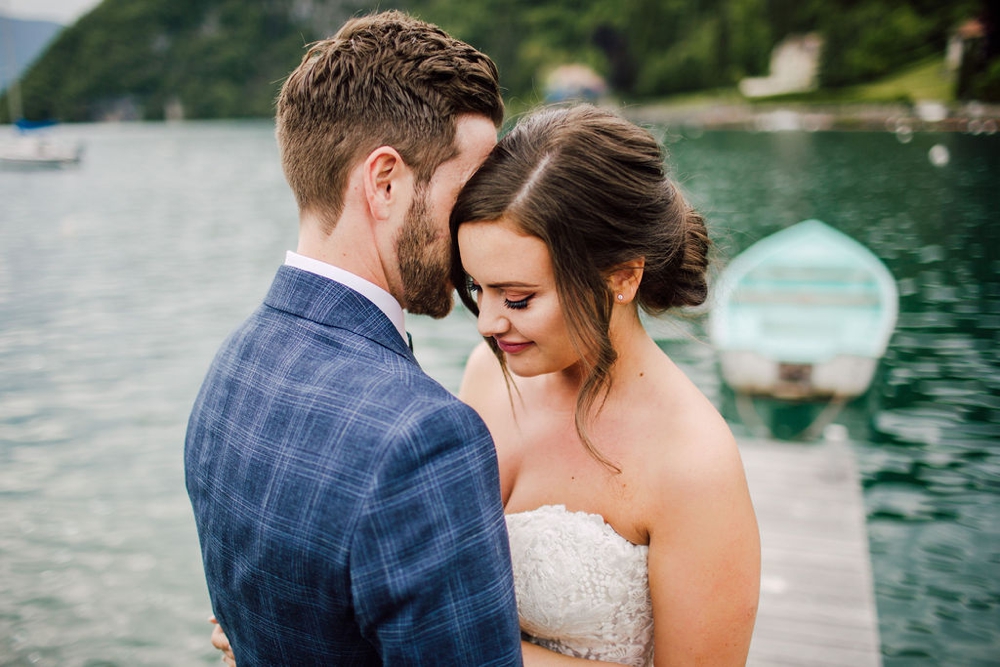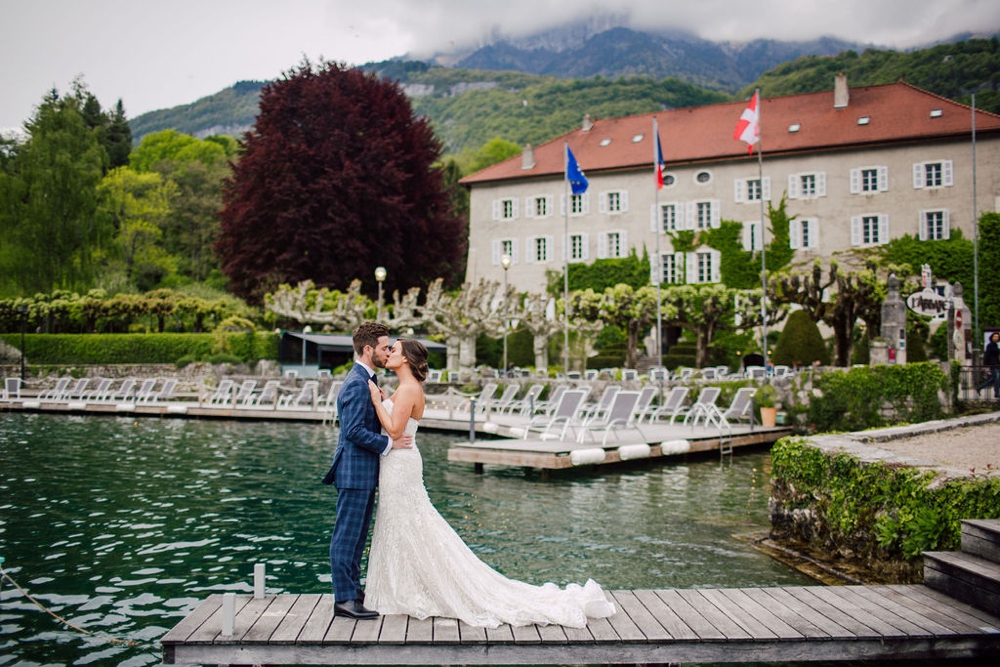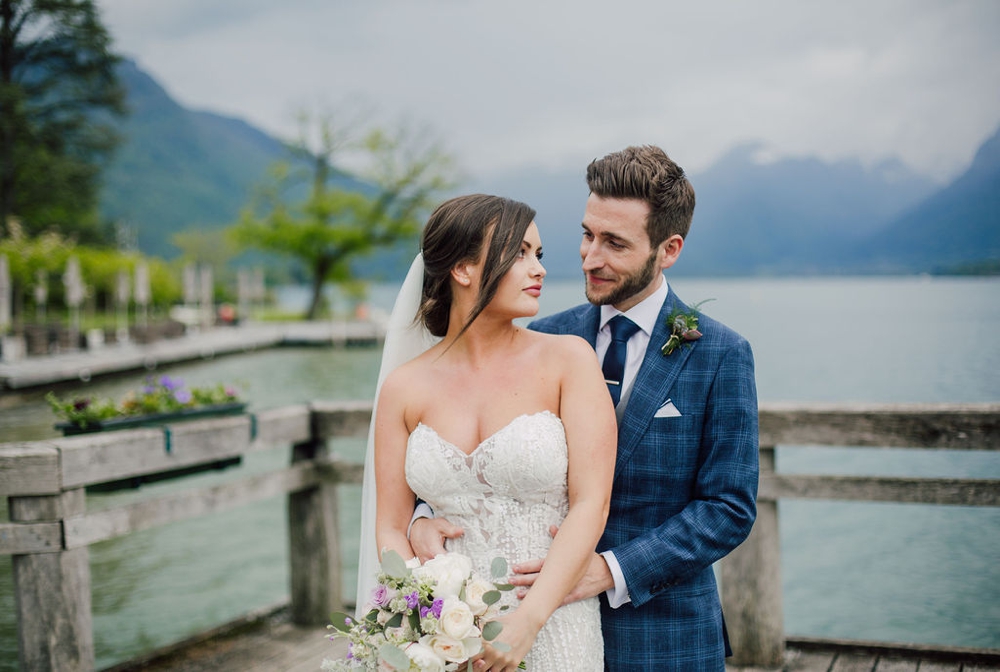 Was there a theme for the wedding party fashion and what inspired the outfits for the bridesmaids, page boys, bridal party, groomsmen etc?
We were very much influenced by the scenery in Talloires, we wanted the bridesmaids in dusty pink/french lavender to match the flowers and the groomsmen all wore blue with silver ties to match the lake.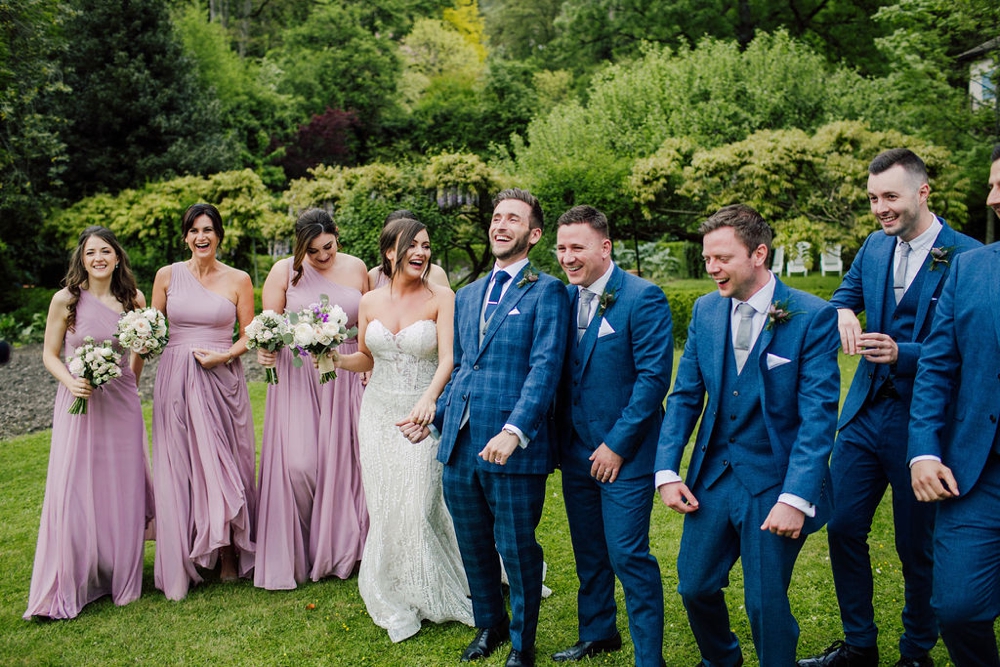 What were your thoughts behind the flowers – bouquet, button holes, centrepieces etc?
Our florist Sonya Pollitt was so incredibly helpful in bringing to life our vision for the flowers. We wanted to stick with more muted pinks and purples for the bouquets with a slightly undone look. We opted for vintage feeling centre pieces with individual flowers all decanted in little glass jars. We wanted to avoid floral buttonholes so instead opted for foliage for a more rustic look.
Describe any DIY elements?
We decided to name all of our tables after some of the maiden names in our families, and for each of the tables we framed photos of the couples on their wedding days with pressed flowers picked from Matt's mums garden. They created a real talking point for our guests and helped us to emphasise how important our families and our heritage is to us.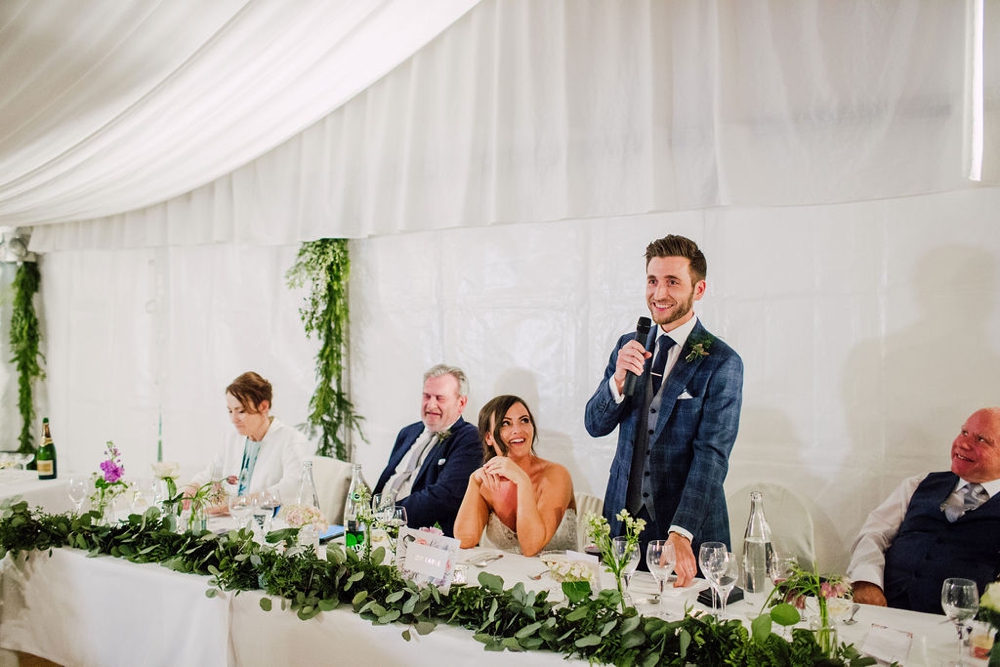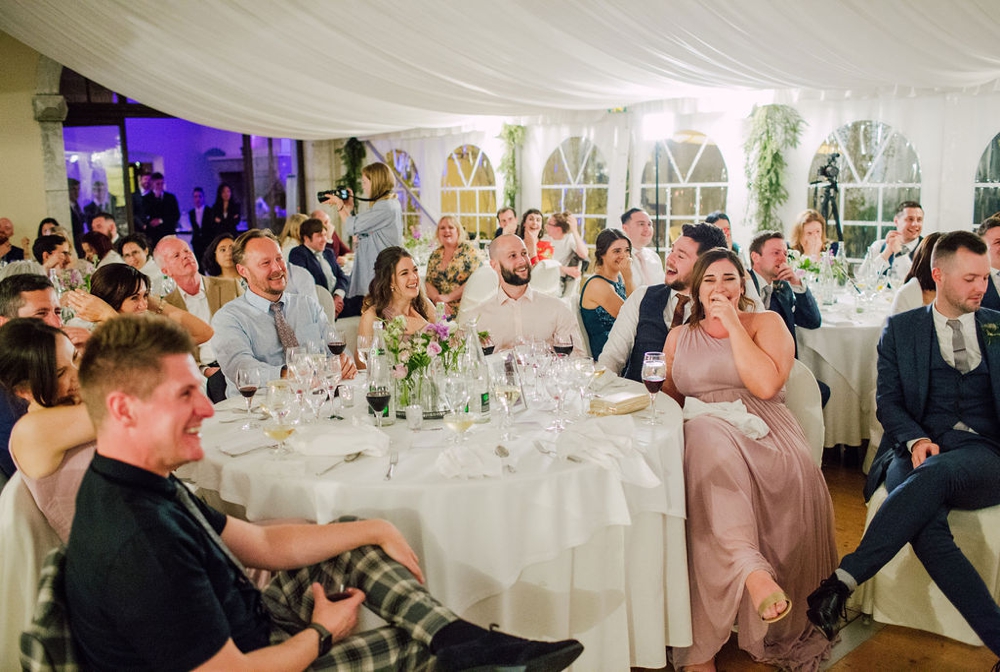 What type of ceremony did you have and what were the special features of the service?
We had a celebrant from Love Gracefully who conducted our service. It was very personal and had a good balance of sincerity and humour which was exactly what we were looking for. Robyn's brother-in-law Pete did a reading of 'Everything I know about love' by Dolly Alderton.

To symbolise the joining of our two families we also introduced an old French tradition where Robyn's mother and Matt's father drink wine from the same glass which was filled by us. We then took a sip from the same glass.
Describe the food (canapés, cake, main menu etc).
We had A LOT of food as eating is one of our favourite things to do together. We had some live cooking stands in our cocktail reception which included smoked salmon blinis, Serrano ham with accompaniments and a number of other canapes.

Our reception dinner was Marinated Scottish salmon to start. Fillet steak with shallots, mustard of Reims and seasonal vegetables for main.

Finally for dessert we had chocolate nibs biscuit, iced chocolate parfait and orange crème. Instead of a cake, we opted to have a Pièce montée which was made by Philippe Rigollot and was probably the best thing I have ever tried!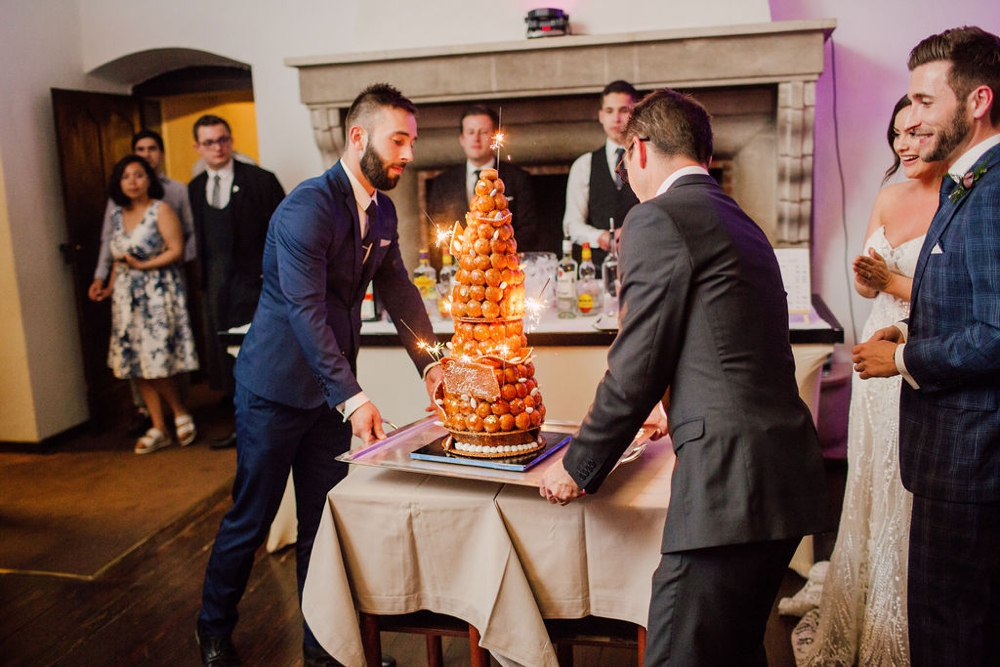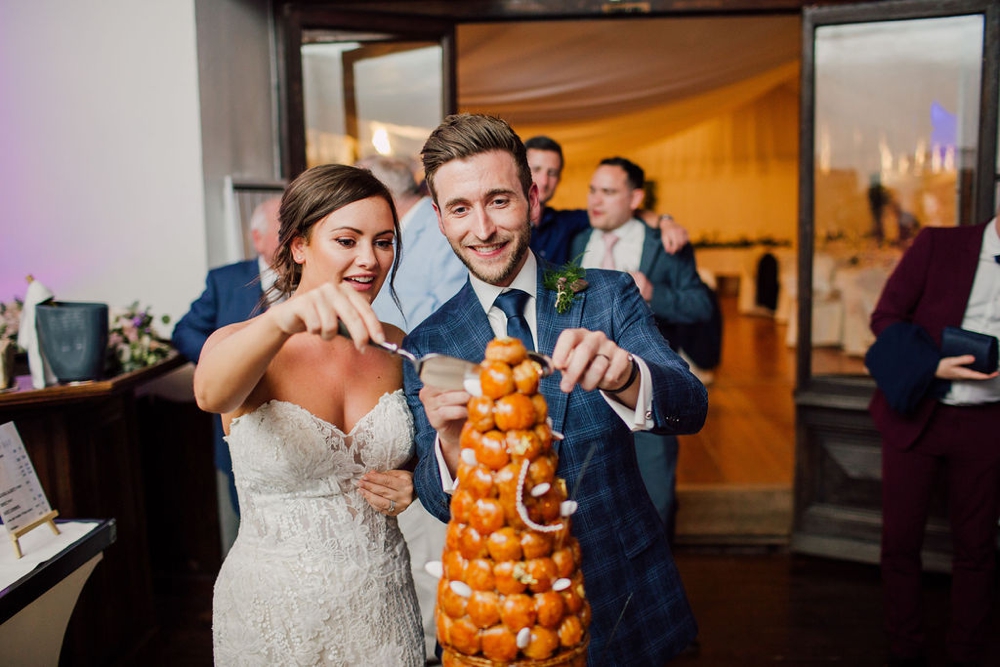 How did friends and family help with the planning/ execution of the day?
Matthew's parents visited the venue with us and helped us select our floral arrangements. Robyn's dad visited the venue and did the wine and food tasting to help us pick our options. Matthew's parents also drove to France for the wedding and helped us to transport everything from the wedding dress to the centre pieces.
What music and entertainment did you choose and why?
Music was very important to us and so we opted for Doug Jones from 'UK DJs Abroad' as we didn't think old school garage and Rnb was something that would be universally recognised. Doug did a great job of reading the room and had a great mix of wedding classics and some more niche tracks.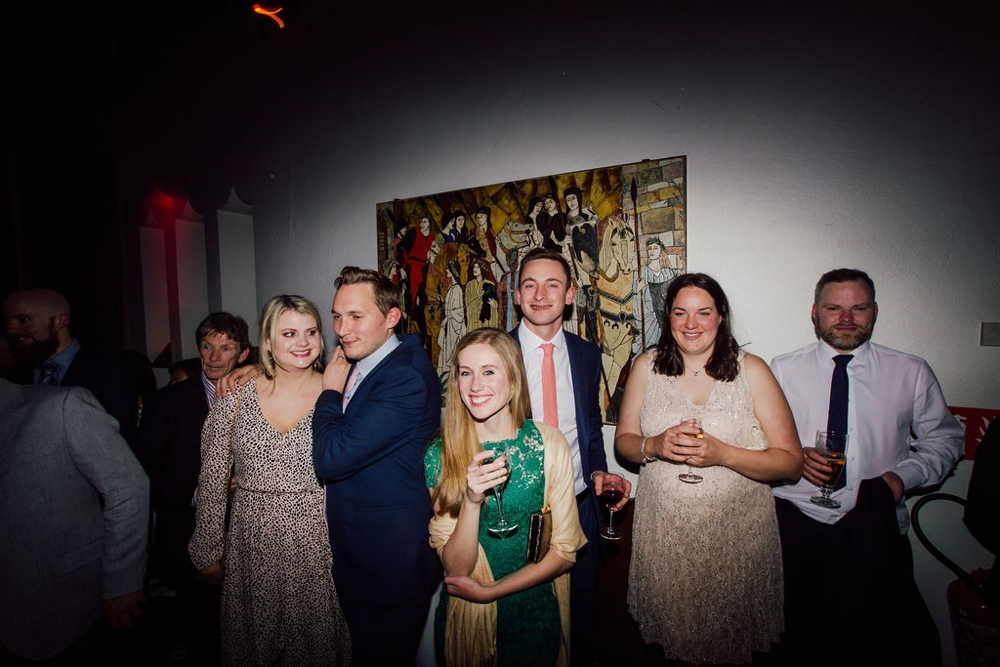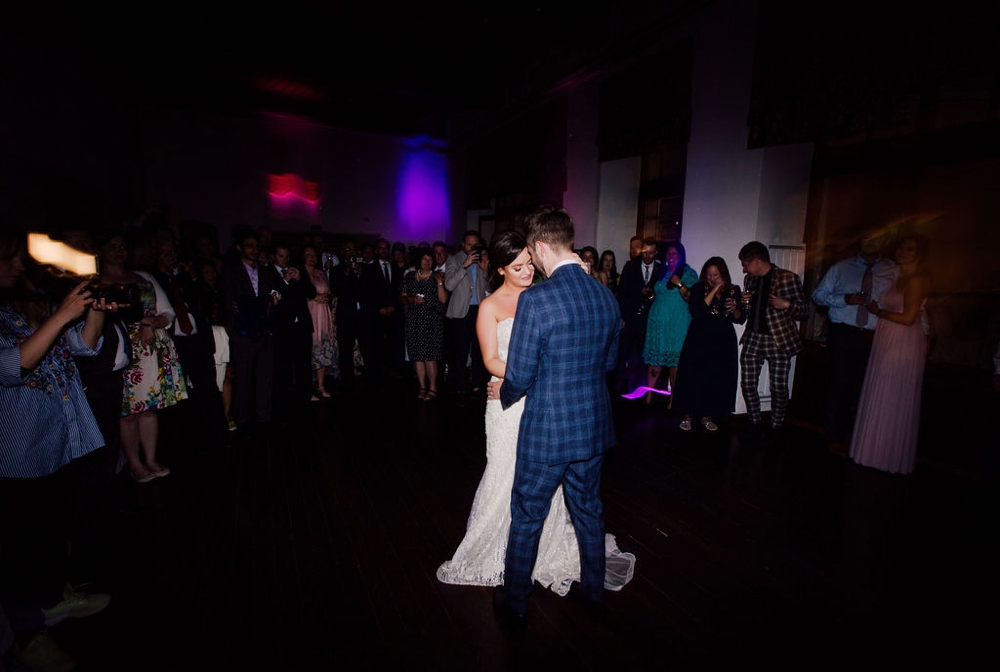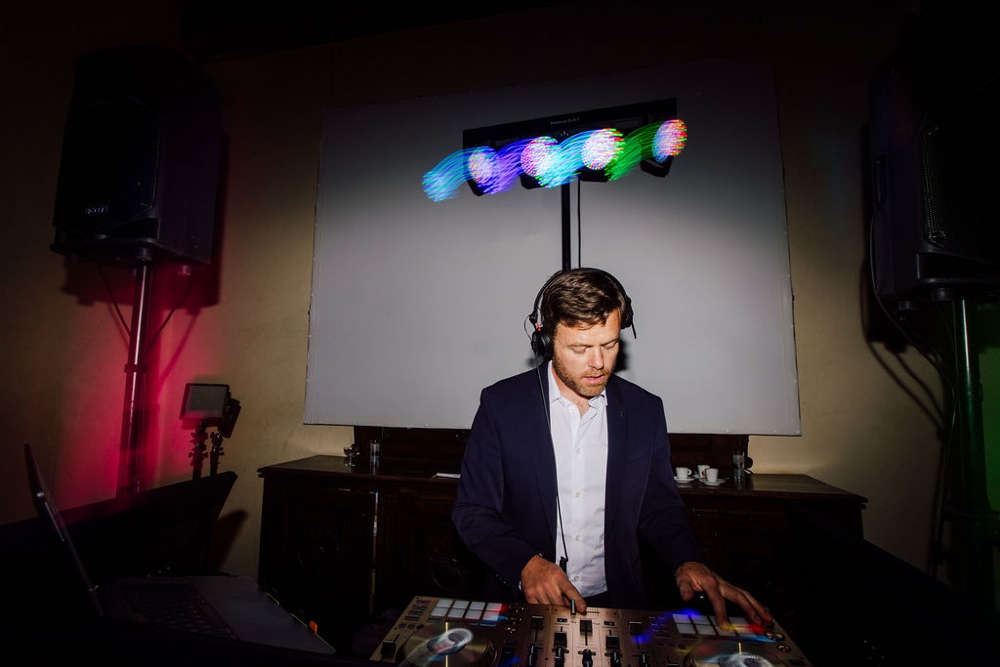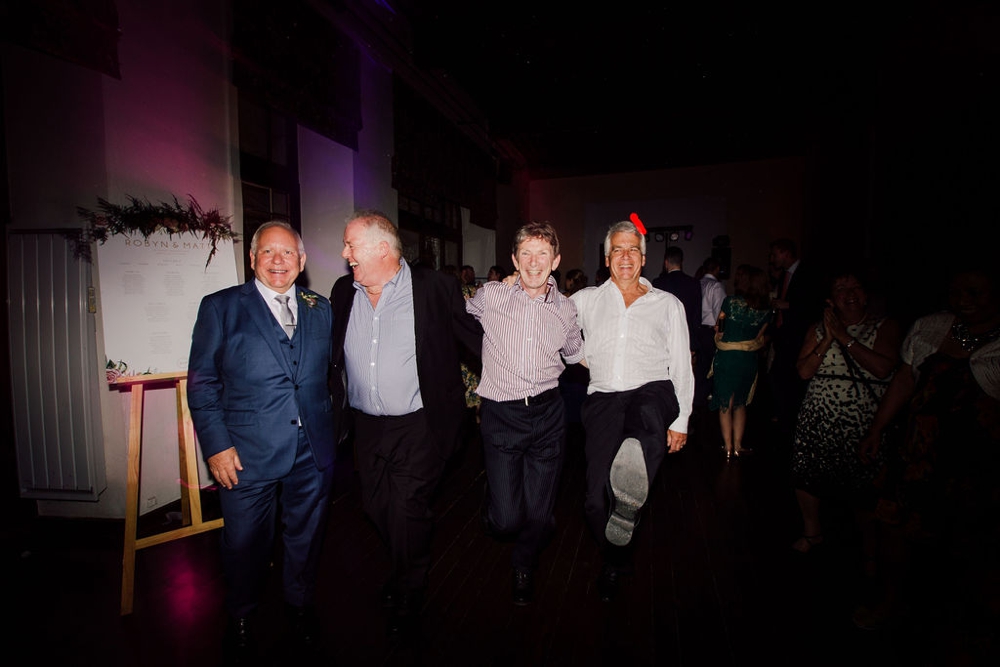 Why did you choose Eight Bells Wedding Imagery?
We loved your portfolio and approach to photography, nothing was too staged and it just captured some of the beautiful natural moments. The photos and the video by far exceeded our expectations and you made us feel so comfortable throughout.
Do you have any advice to other brides on planning their day?
Go with the flow and don't worry about all the little details. Try to carve out some time in your day to spend some quality time with your new husband. And if you want to wear a big/heavy dress, bring a little party number for the evening!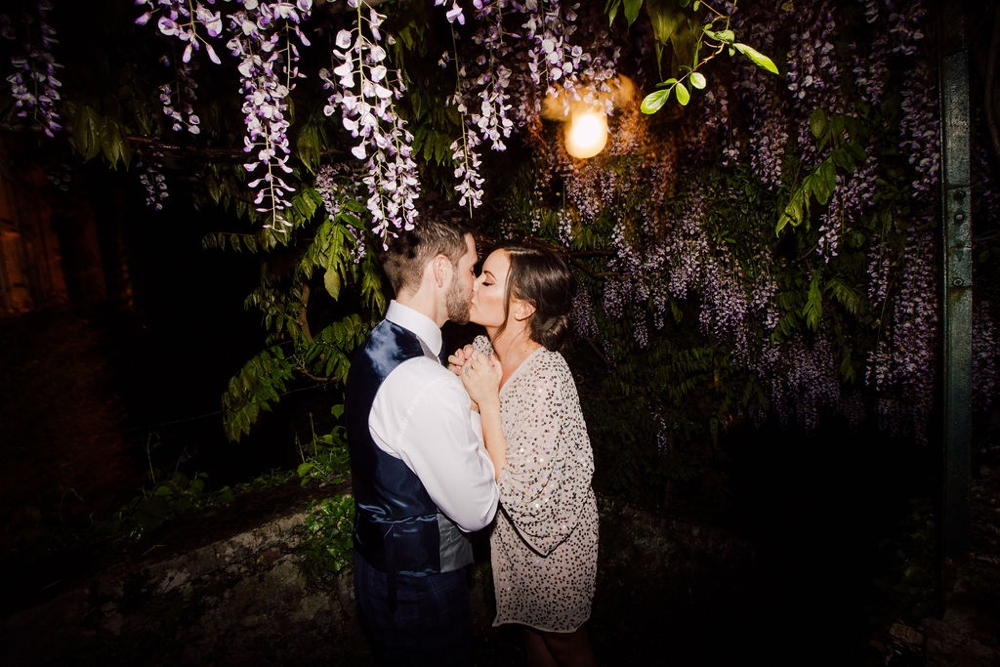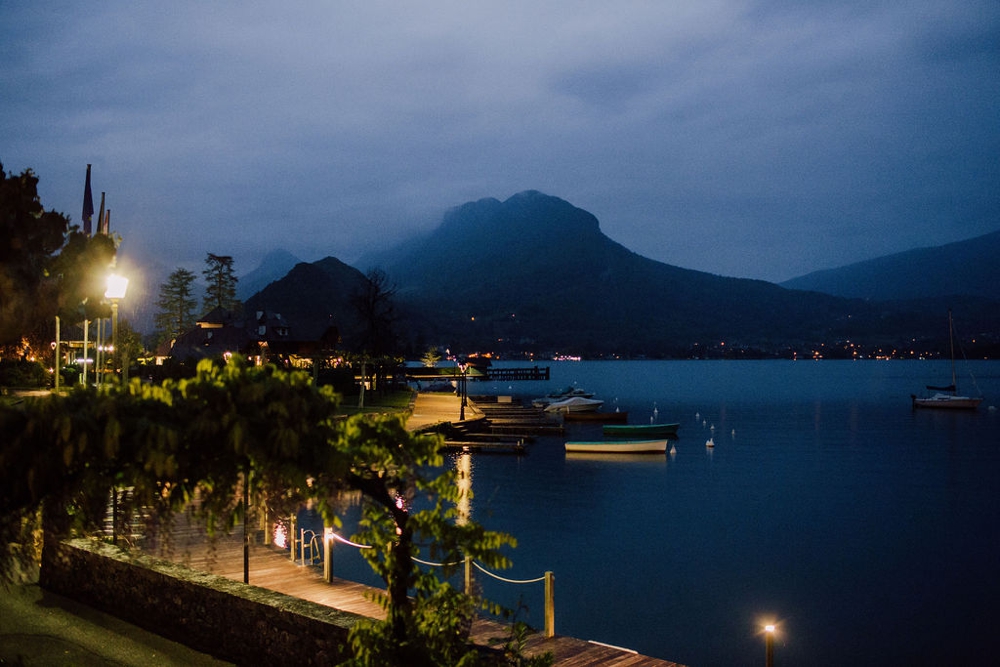 FEATURED SUPPLIERS