Chateau Du Touvet Romantic Wedding in the French Alps
Why did you decide to get married in this region?
Tom's French family has roots in Savoie, and we wanted to show off this gorgeous part of the world to the rest of our family and friends.
How did you find the venue and why did you choose it?
A lot of Googling! We spent ages making a list of venues to come and check out… Chateau du Touvet was the first one we visited on our schedule and blew the rest out of the water!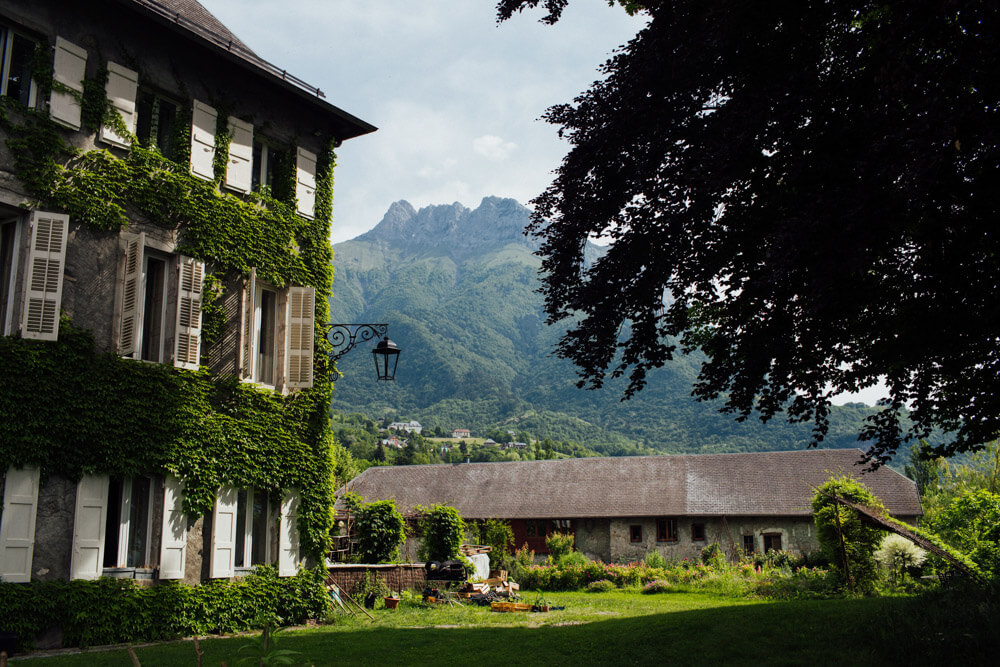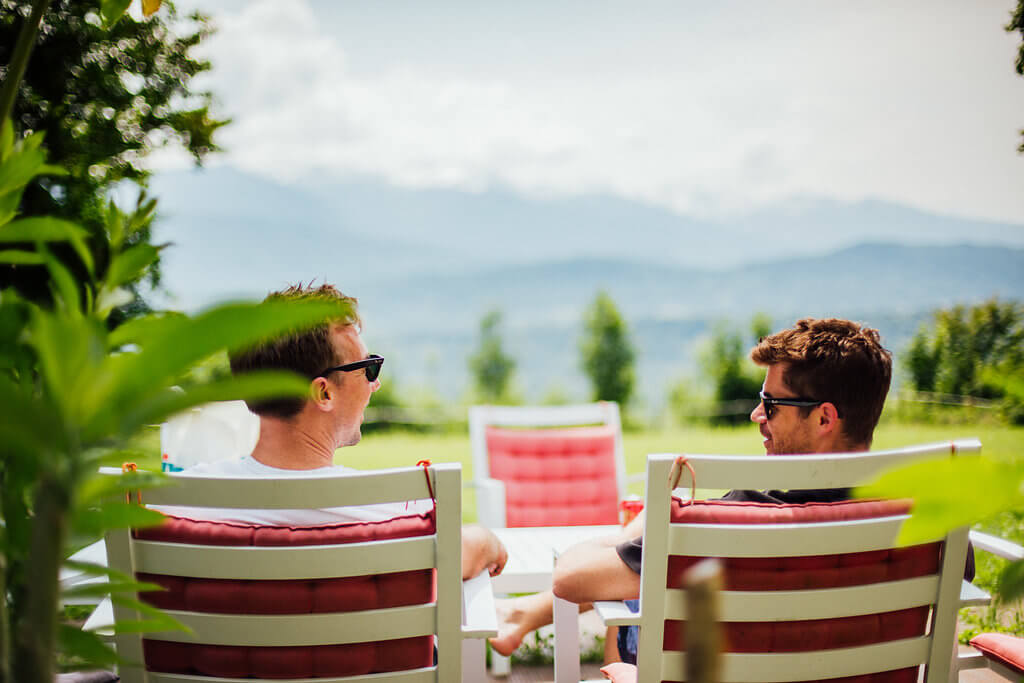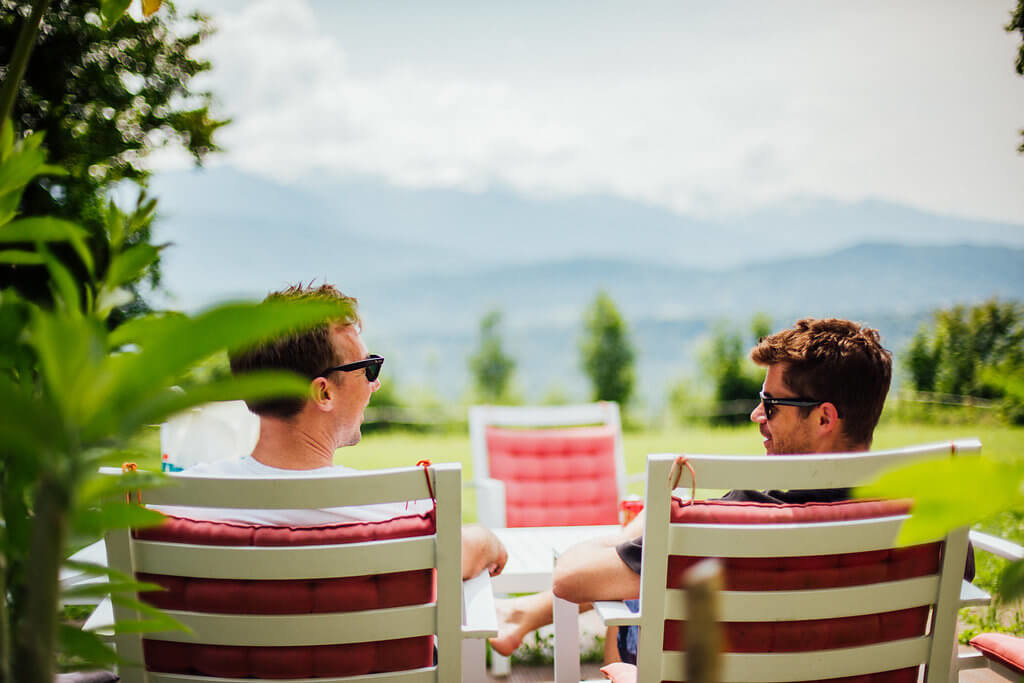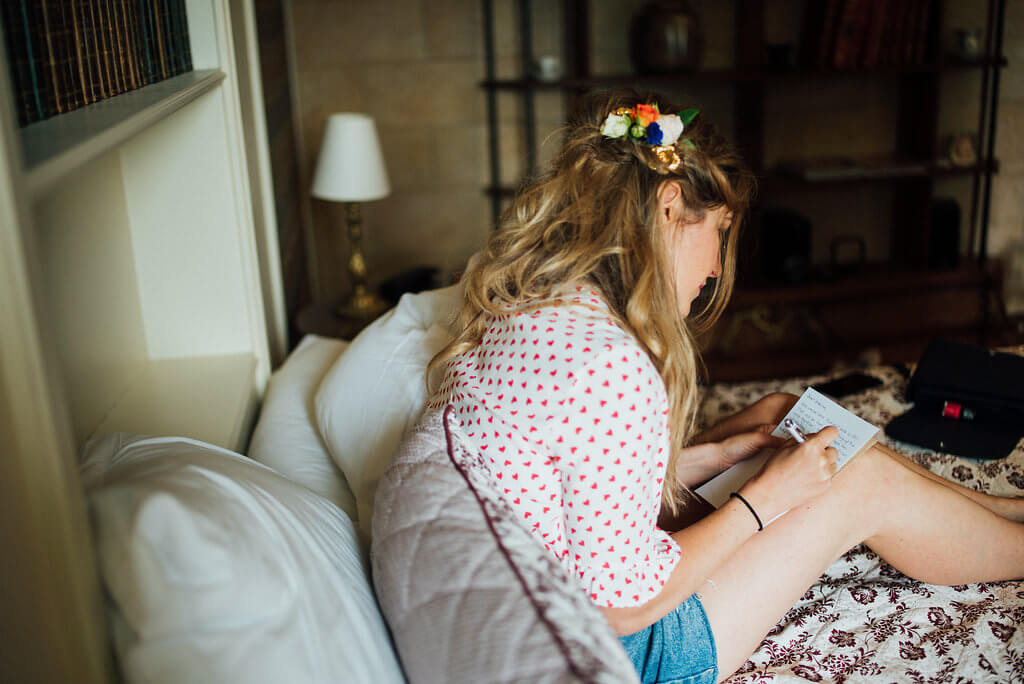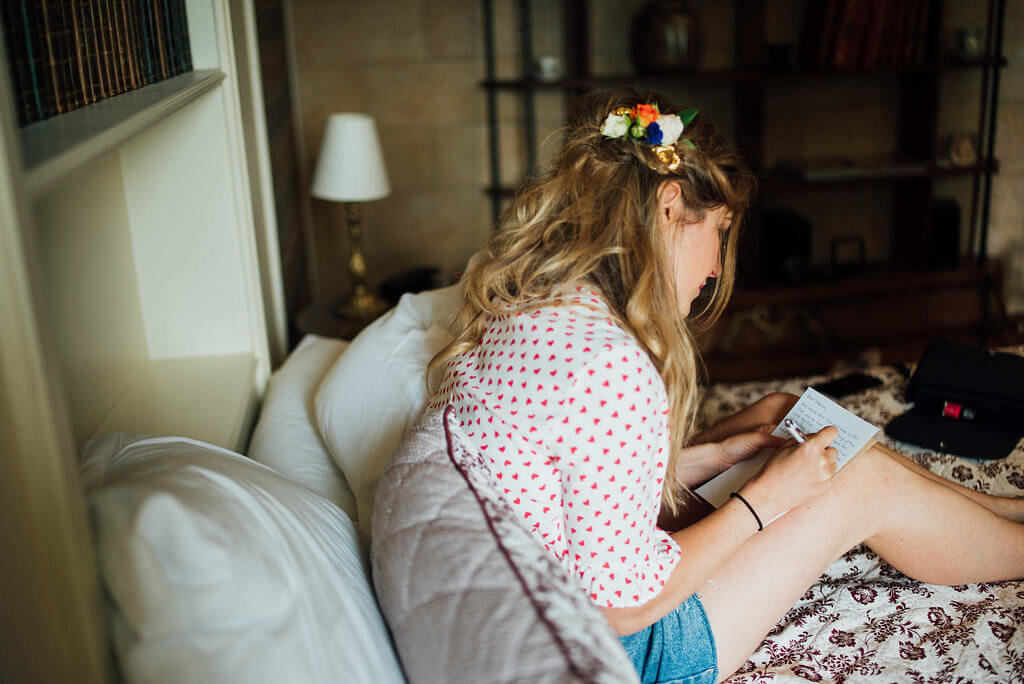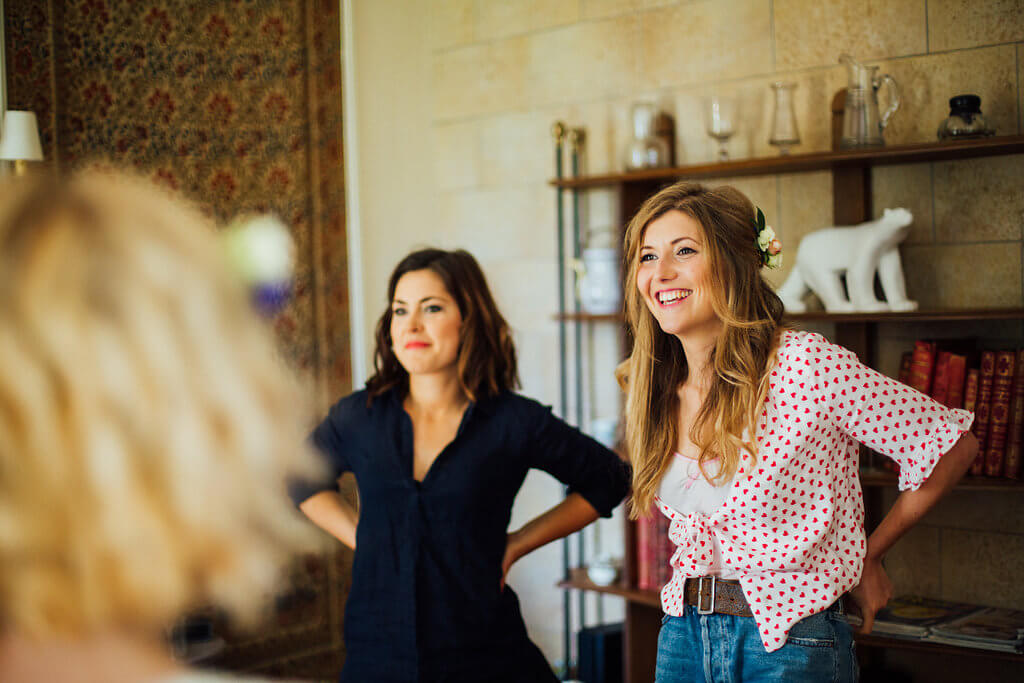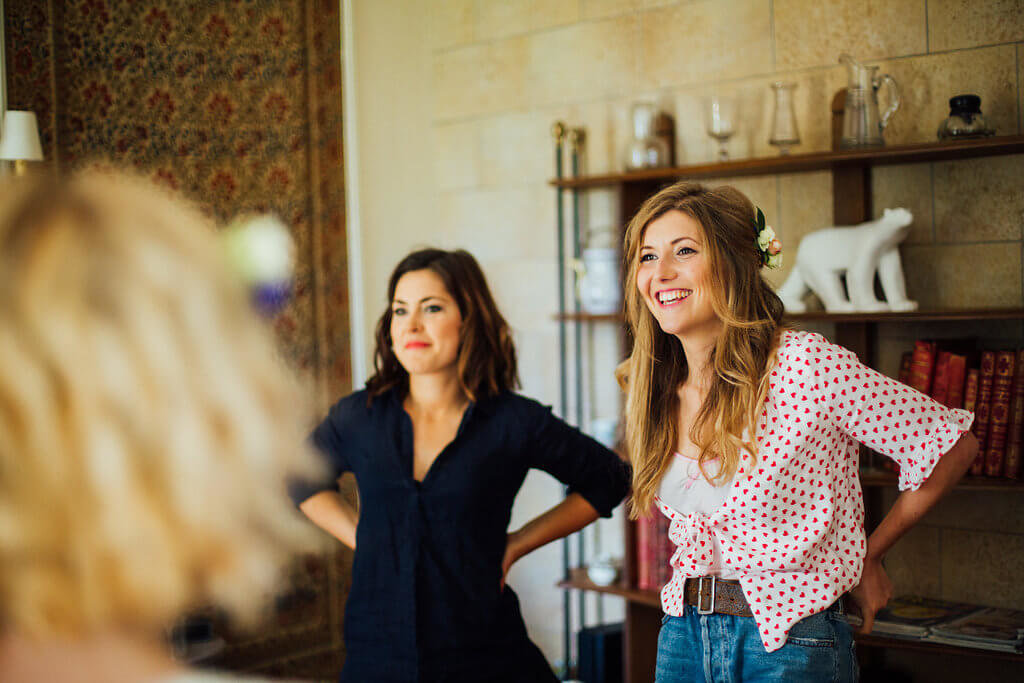 Please tell us about your wedding dress and accessories?
My dress is by a new British designer called Galvan. I wanted a structured corset, and also something quite fresh and modern yet timeless. If I had all the money in the world I probably would have gone for something more ornate!

In my hair I wanted a mix of fresh flowers and gold flowers – I managed to find some gold clips from Jennifer Behr. My shoes were gold sandals from Maje.

My veil was made by a local dressmaker, Linda Brooker, in London – the tulle was spotty with a fun yet pretty daisy border. I didn't want to be too boring and traditional!
What inspired the choice of fashion and accessories for the groom?
We left buying all that very much to the last minute! Tom is very indecisive! In the end we had pale pink spotty ties to add a bit fun, and to complement some of the softer colours in my bouquet.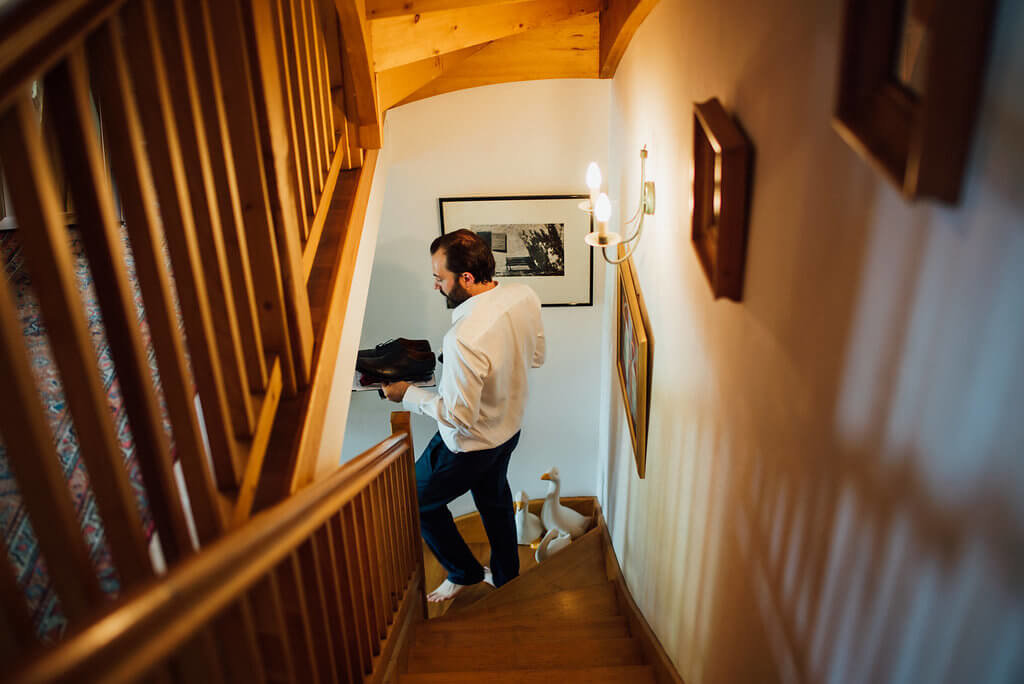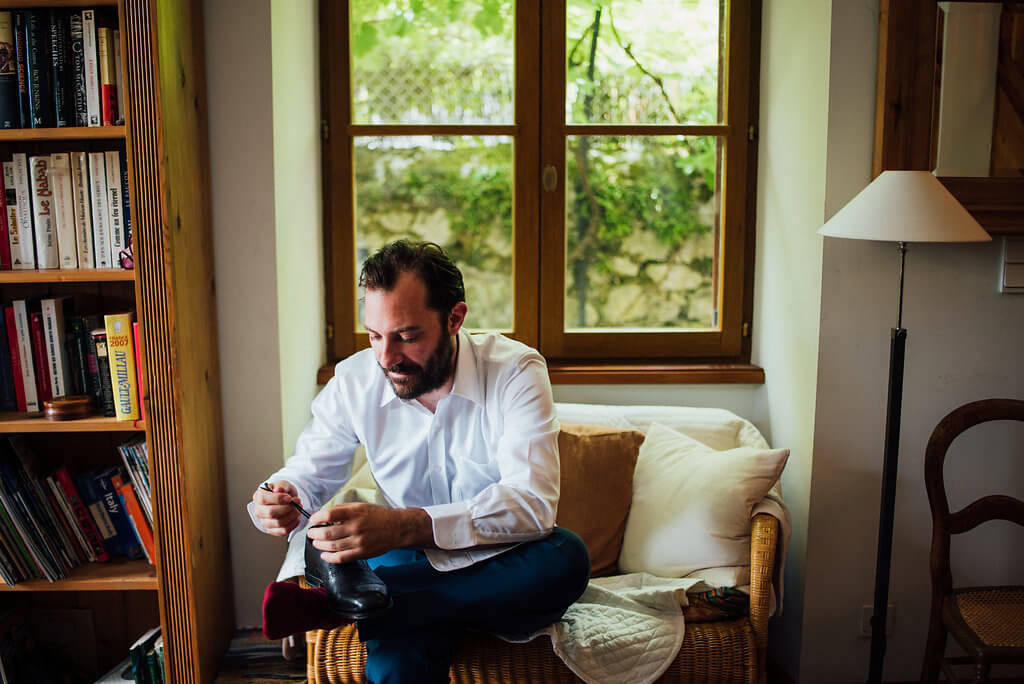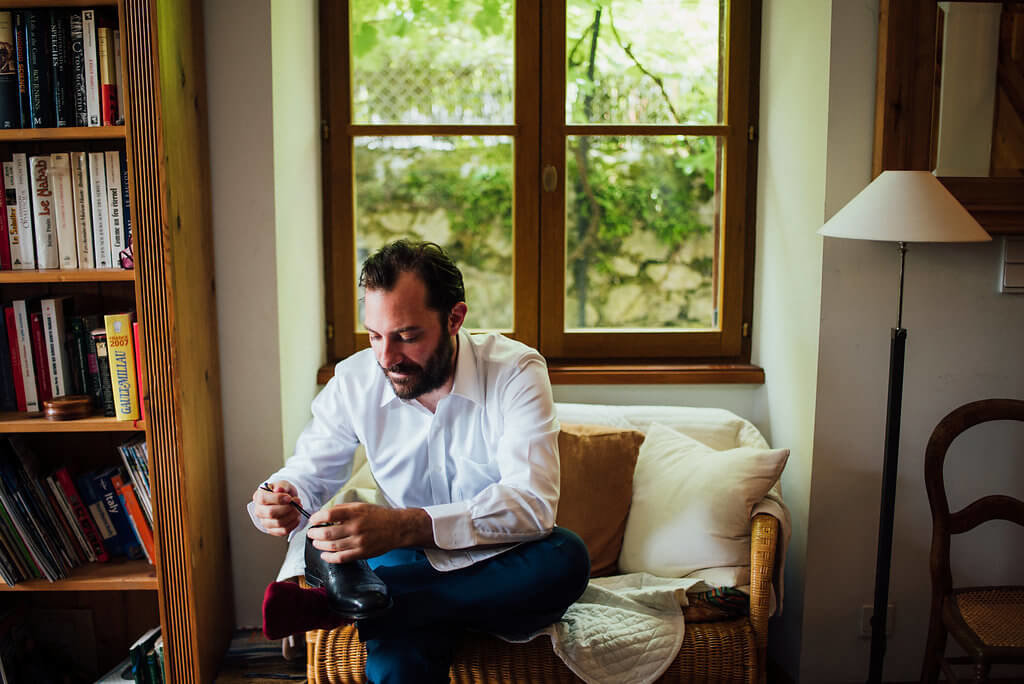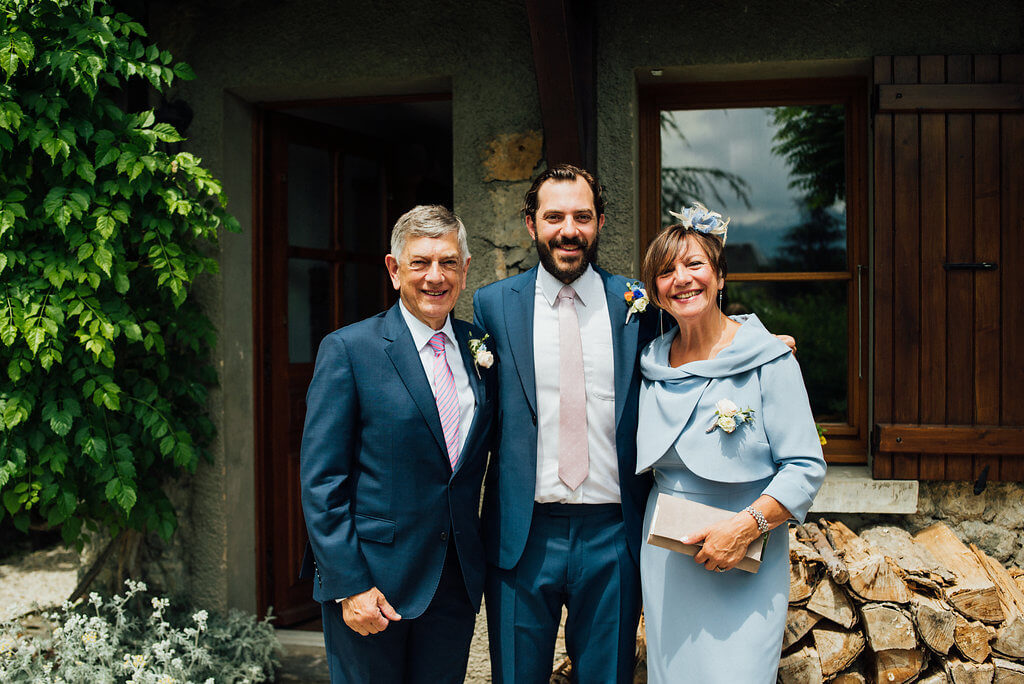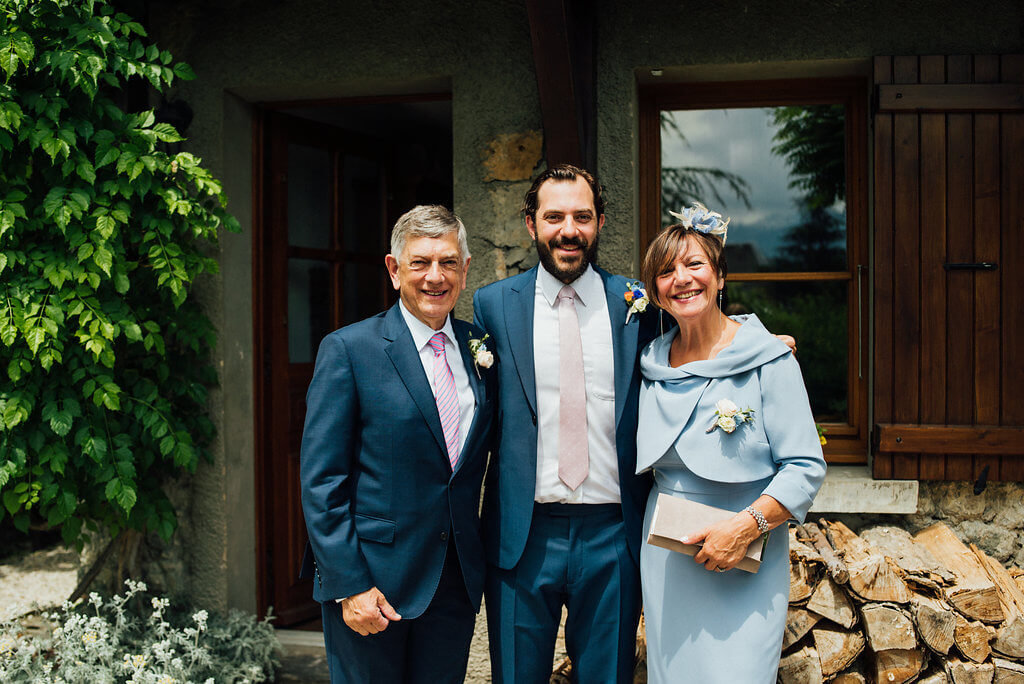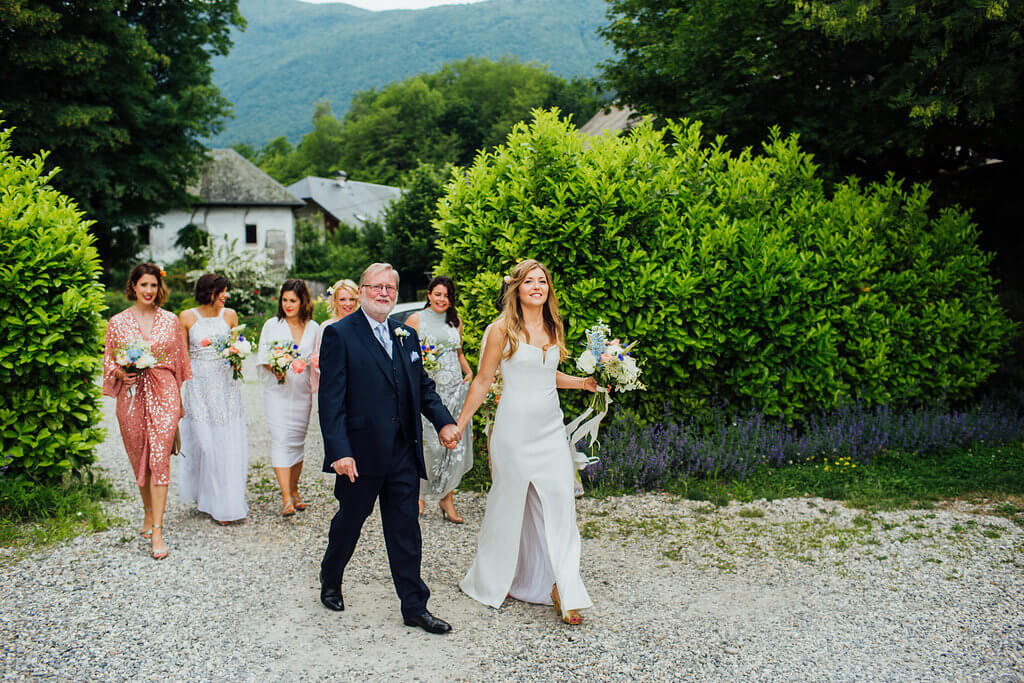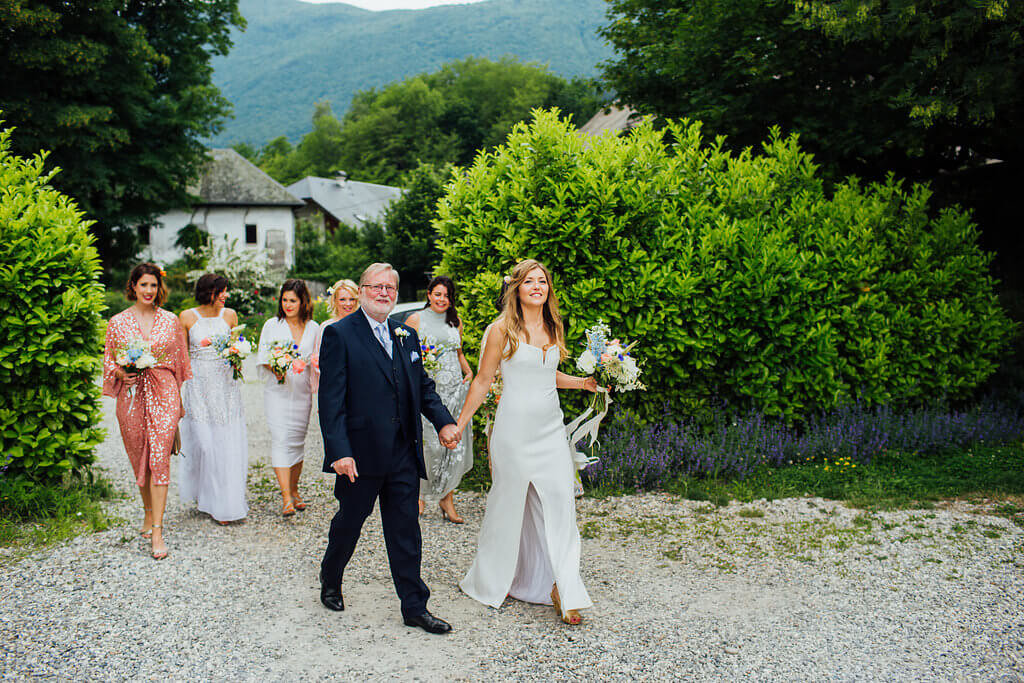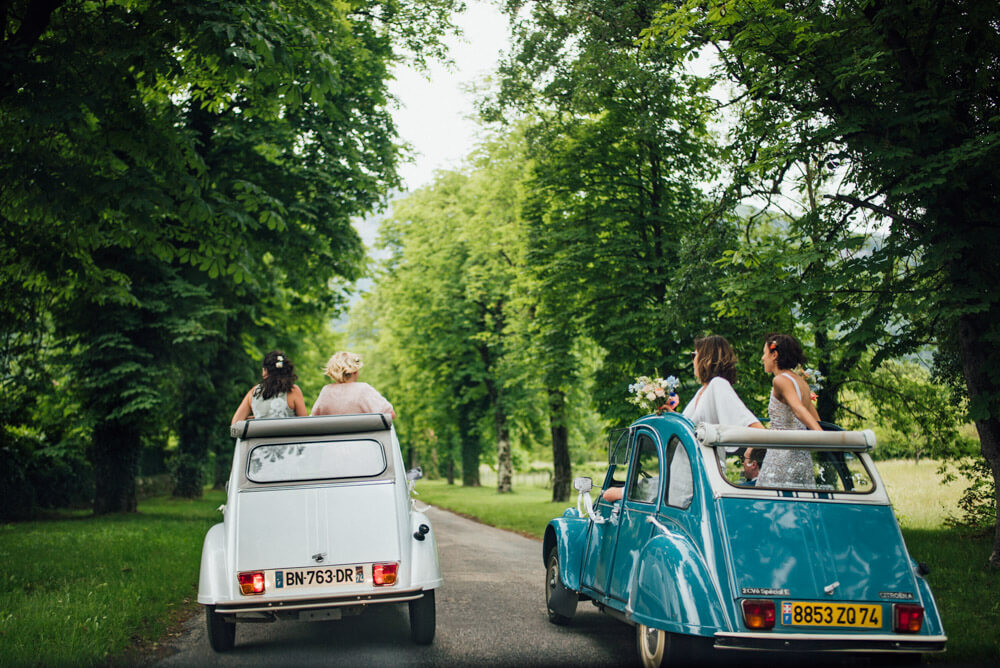 What type of ceremony did you have?
My family is religious so we had a church service. We managed to convince the local priest to allow us to get married at a little church in chignin, which is perched on the hillside amongst the vineyards. It was gorgeous.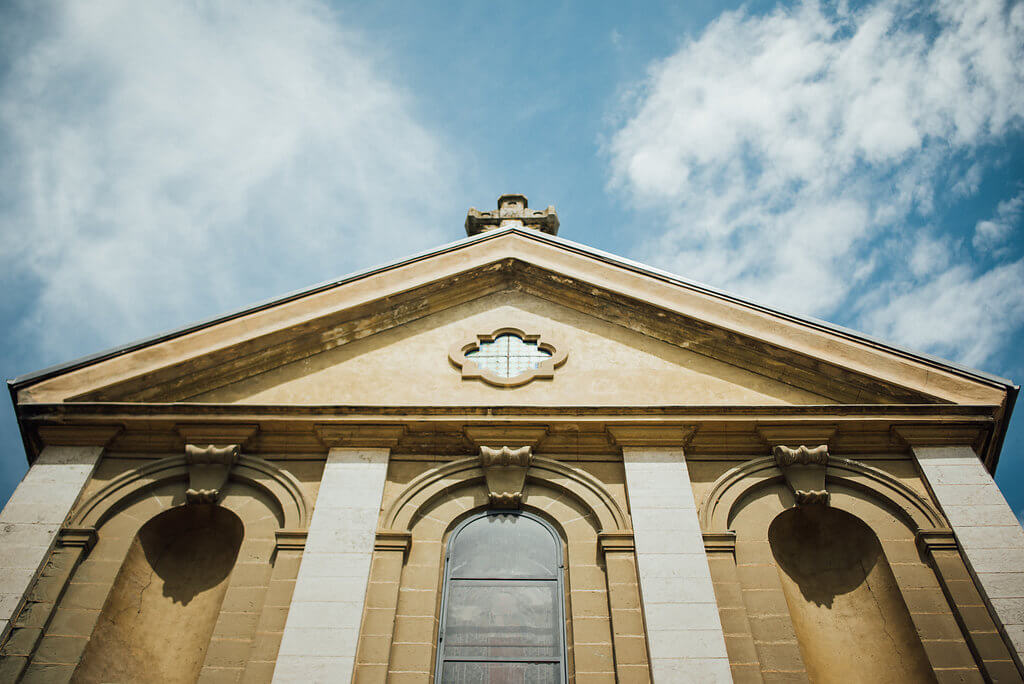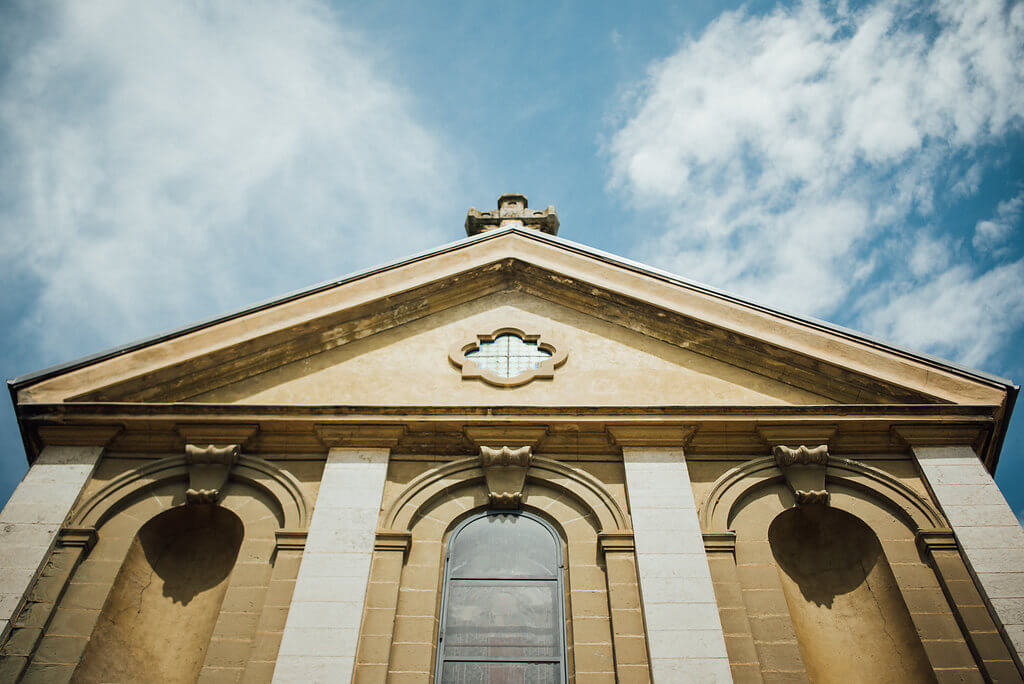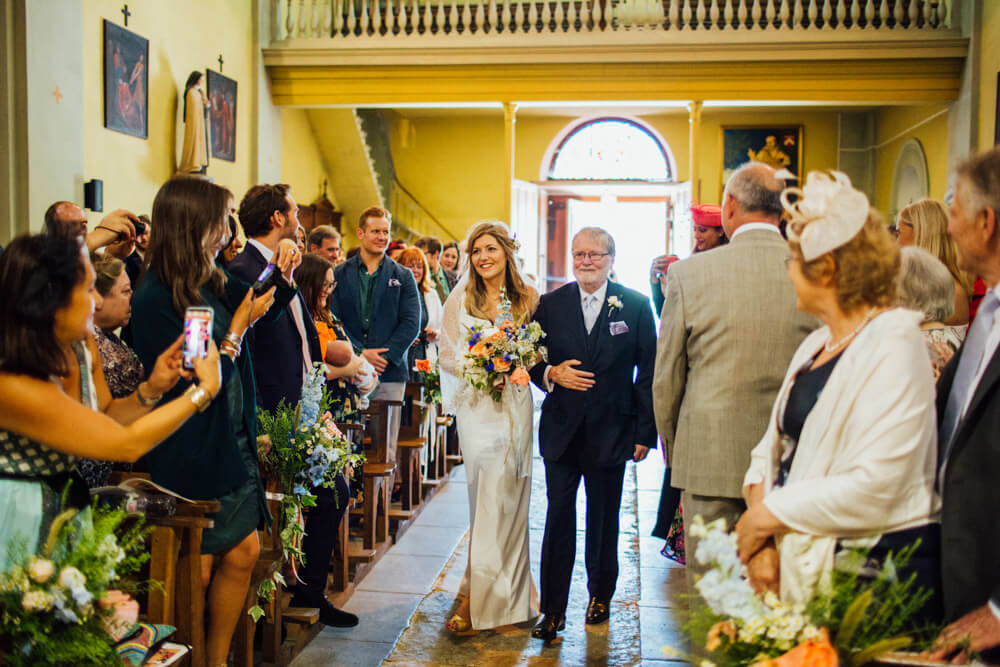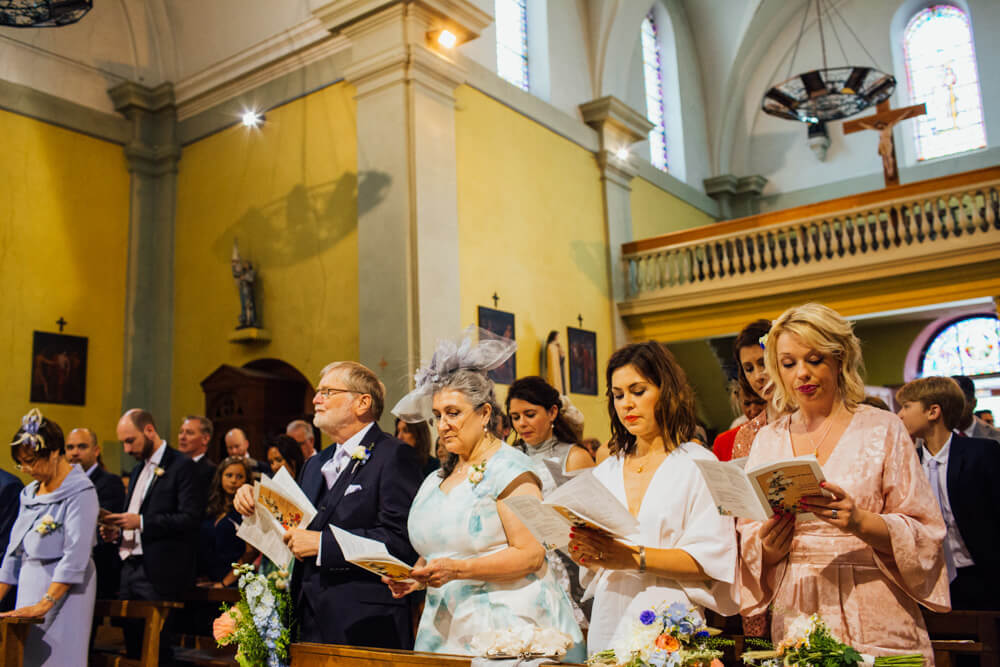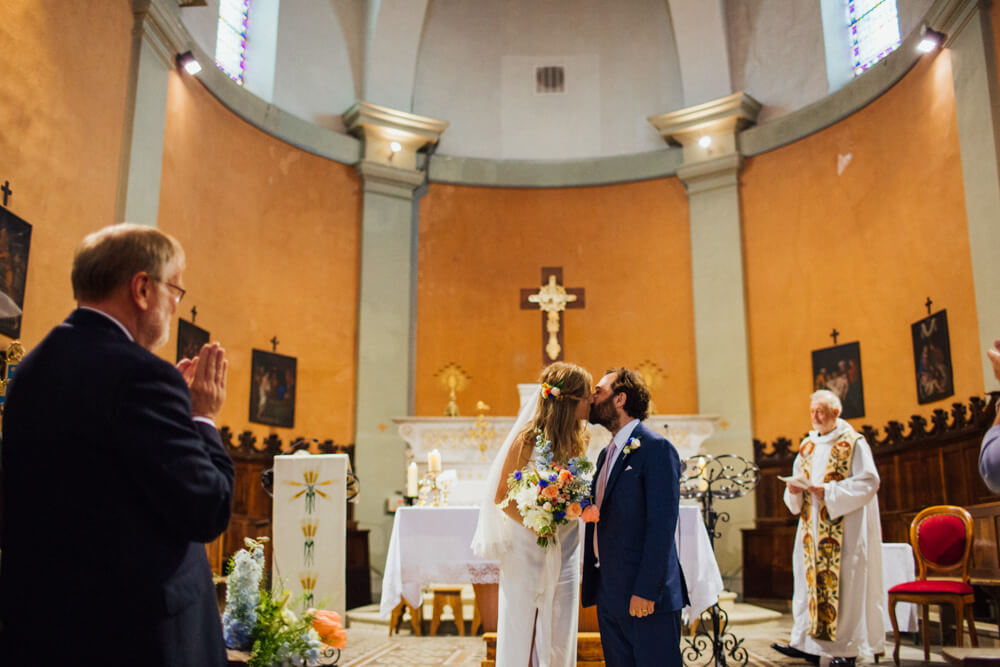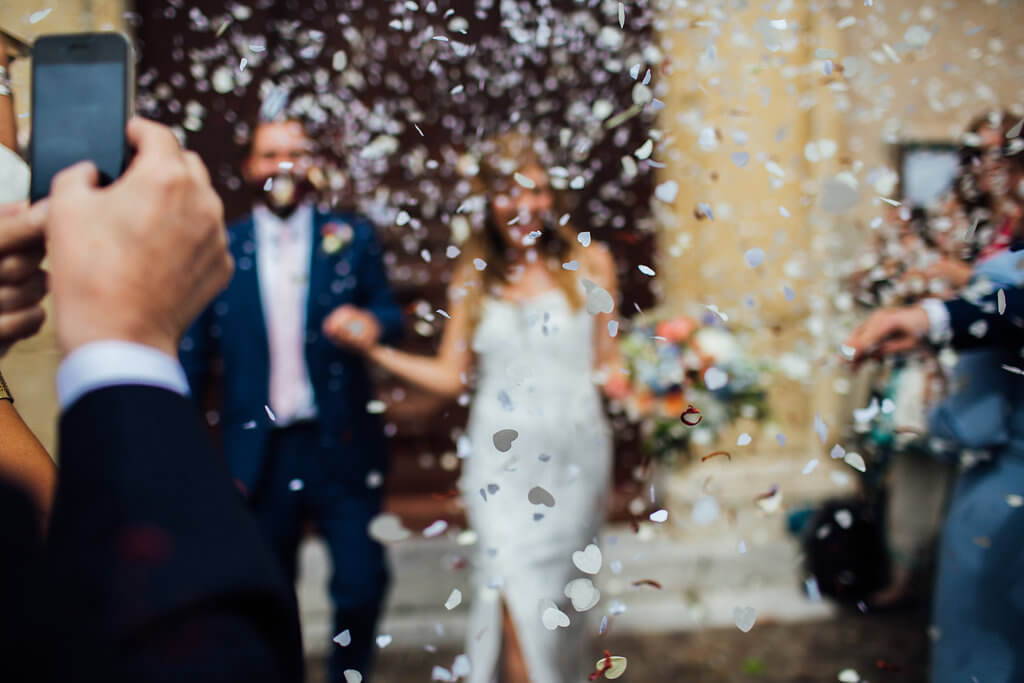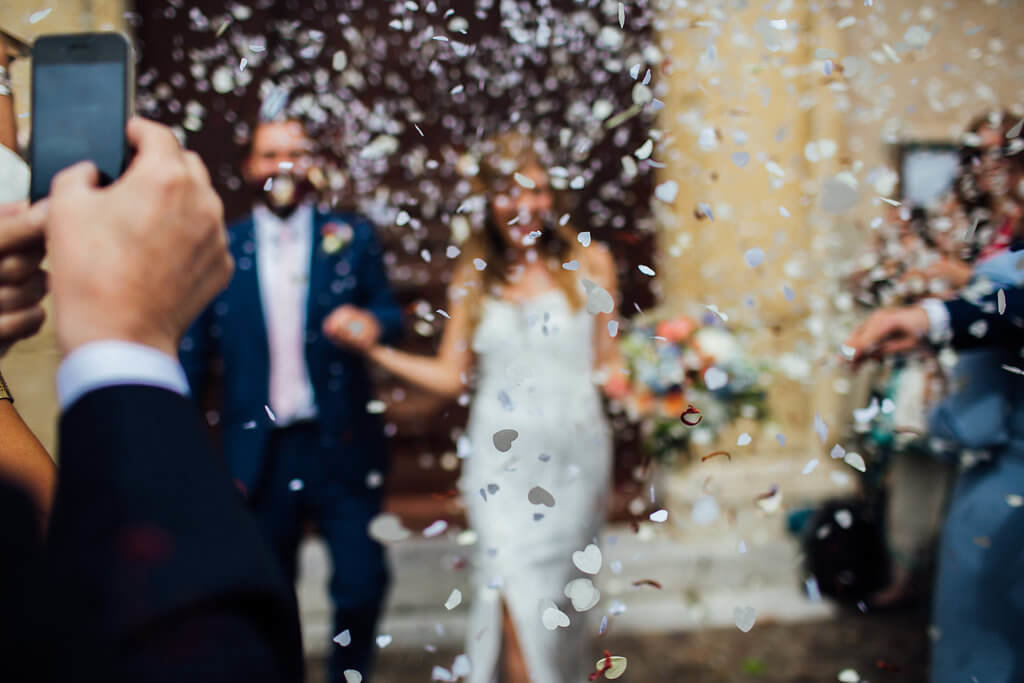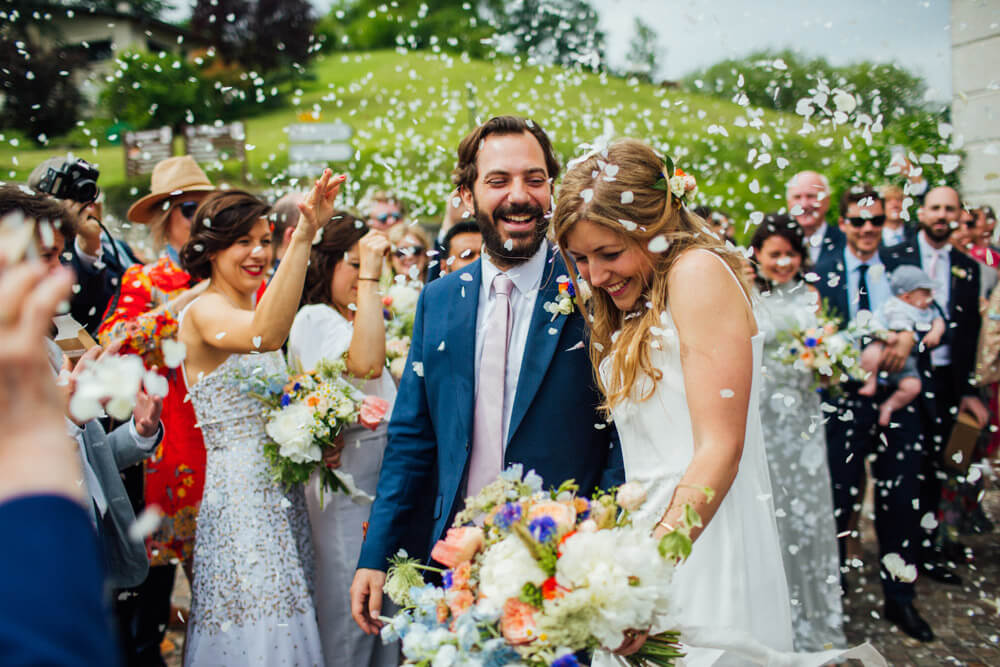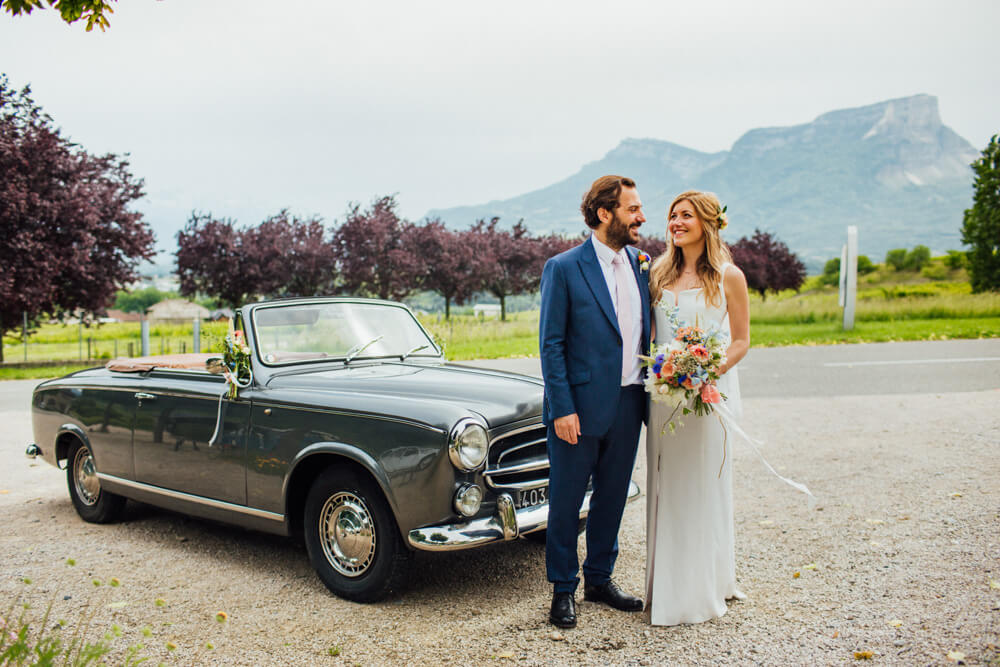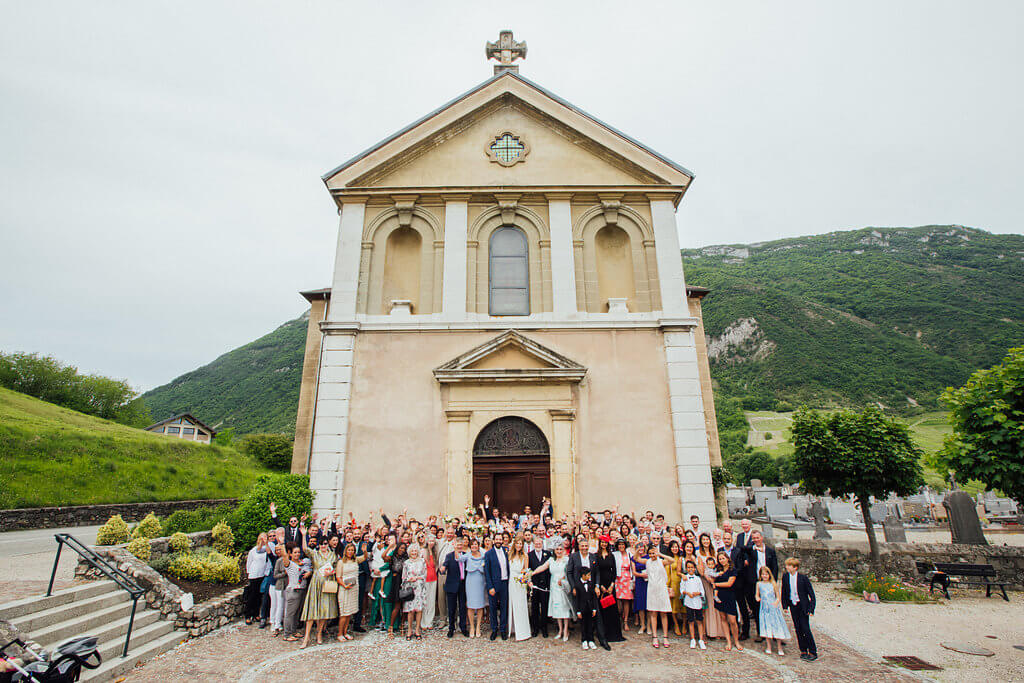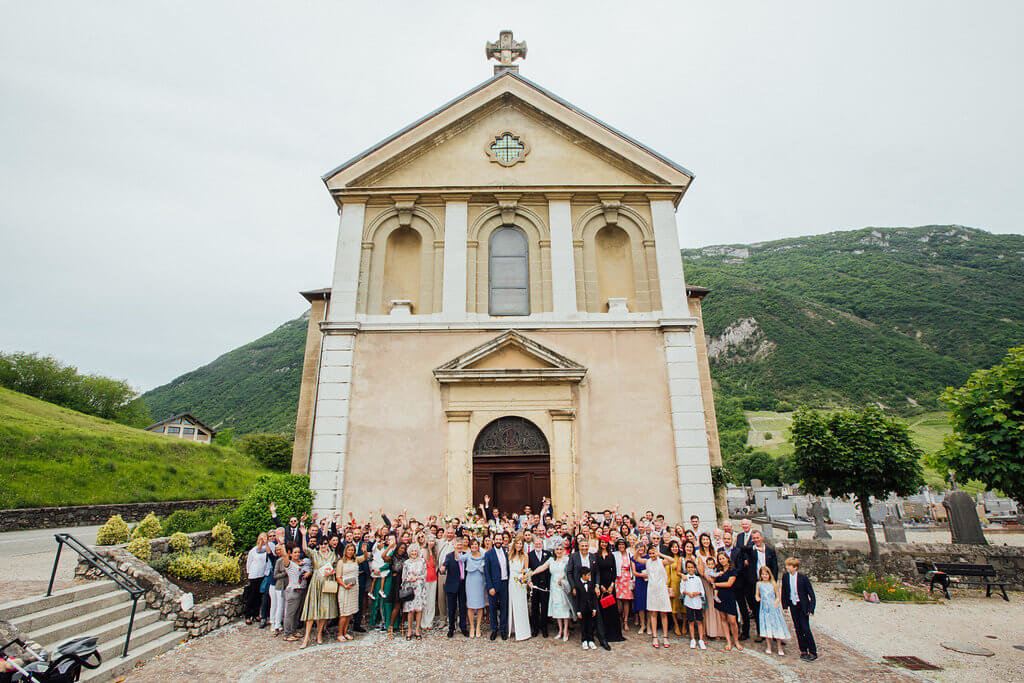 Was there a theme for the wedding party fashion?
I had six bridesmaids, two of whom had just had babies! So it was impossible to find a single dress that everyone would like. It was a VERY long process – but ultimately we went for quite a few kimono style dresses in way more sequins that I had planned! Tom and I lived in Japan for a short while a few years ago, and this Japanese influence has definitely had an impact.
What were your thoughts behind the flowers – bouquet, button holes, centrepieces etc?
Our good friend Jo Frost is a brilliant florist (originally print maker and artist) so we were just delighted when she said she was up for doing her first wedding abroad. I had two moods for the flowers – in the church and our bouquets they were quite wild and meadowy (I was desperate for poppies, cornflowers, delphiniums as well as luscious roses and grasses). F

or the table centrepieces we went for a more luxuriant style given the gravitas of the chateau – again I was influences by Japane, with ikibana style arrangements. We were meant to have bunches of grapes nestled in the arrangements too, to highlight the vineyards in the area, but it was the wrong time of year!

We had a rather comedic time in the supermarket the day before the wedding buying apricots, oranges and cherries which Jo effortlessly placed around the tables instead!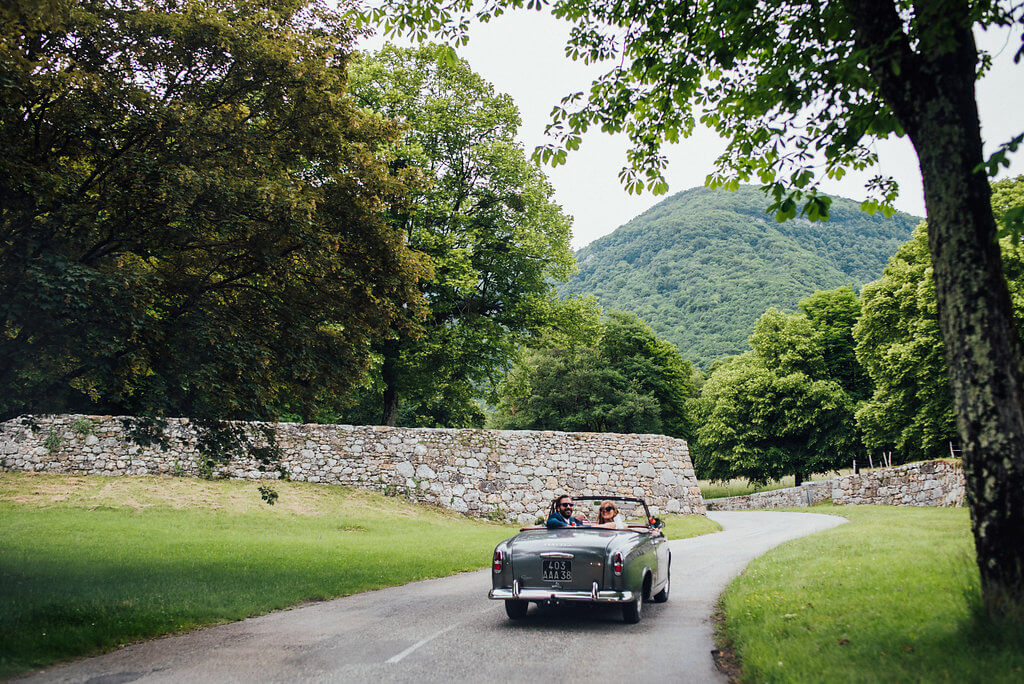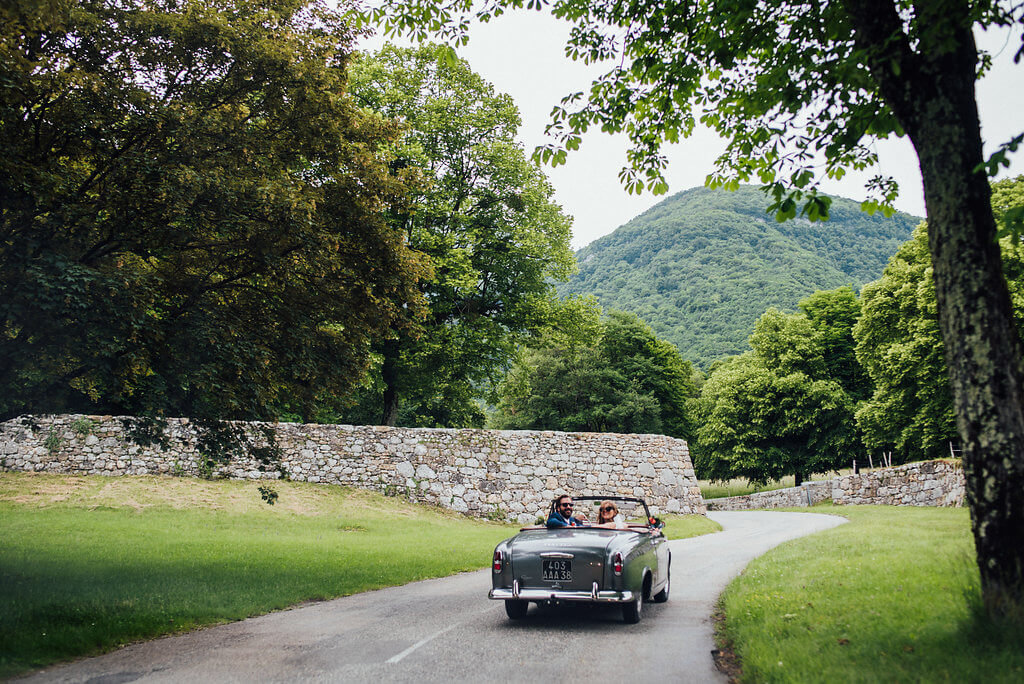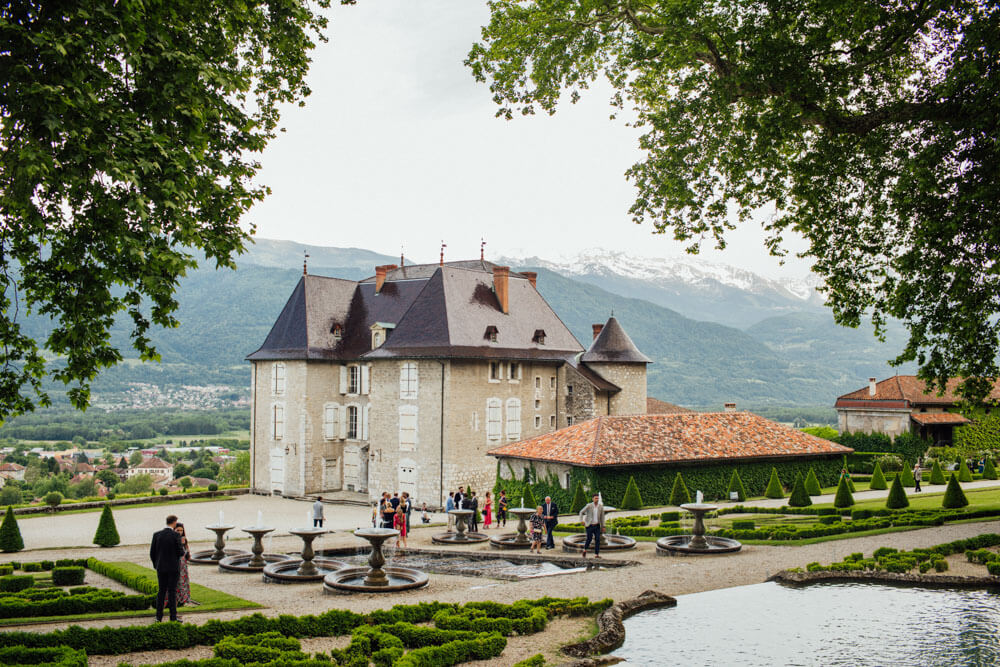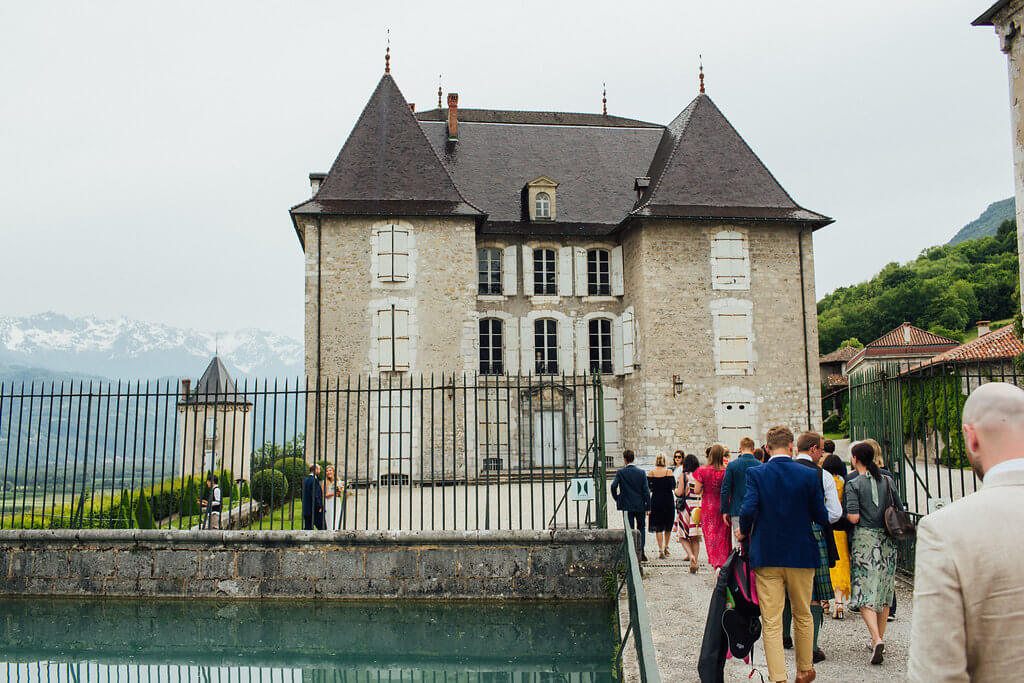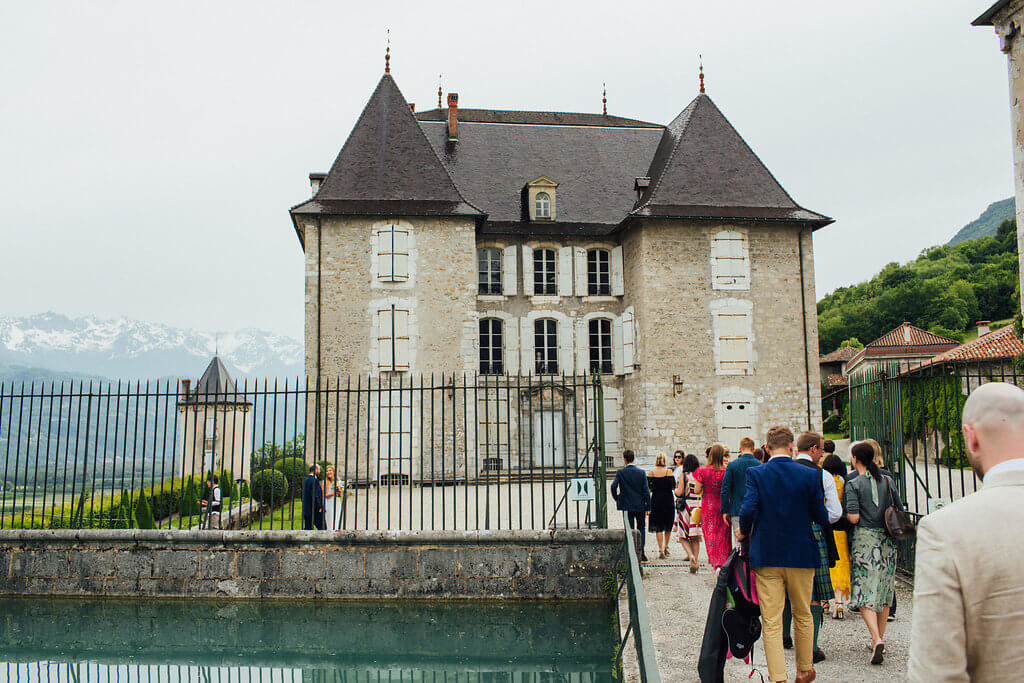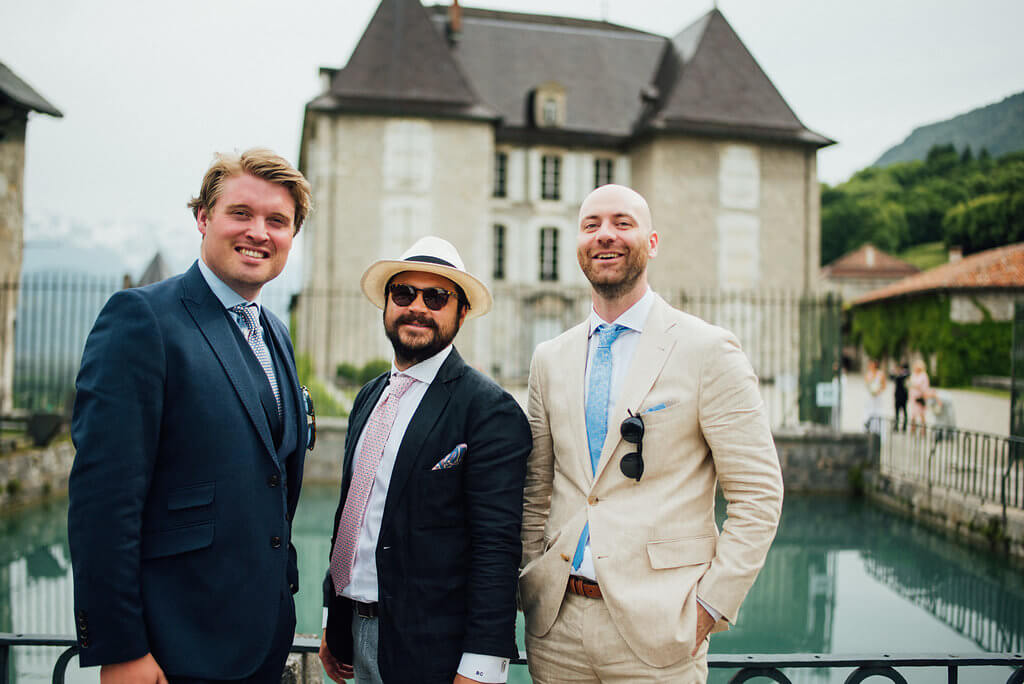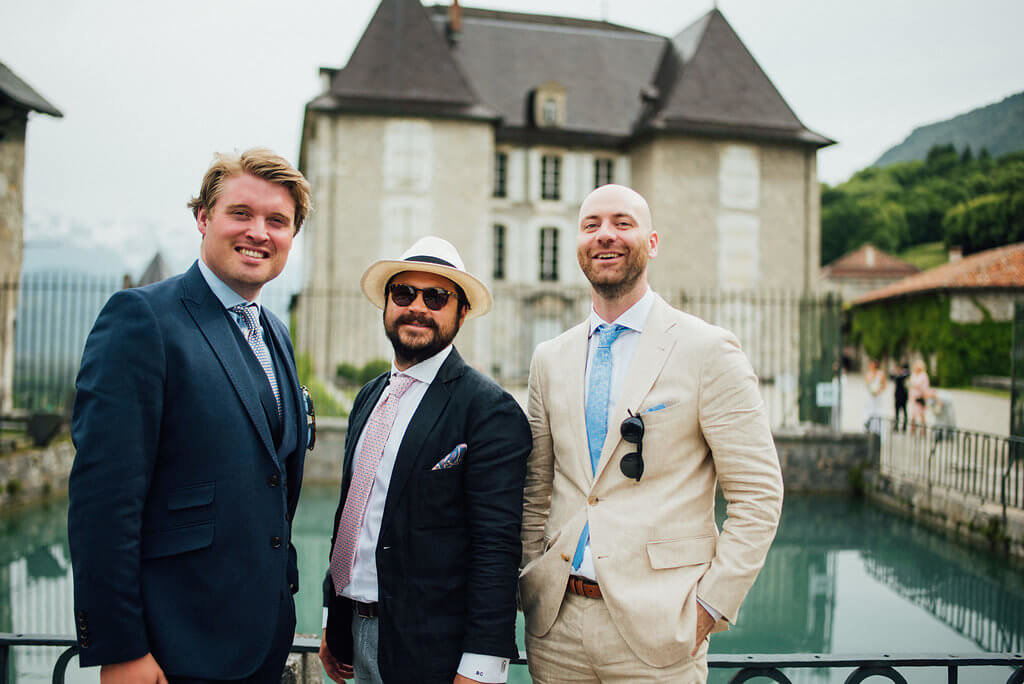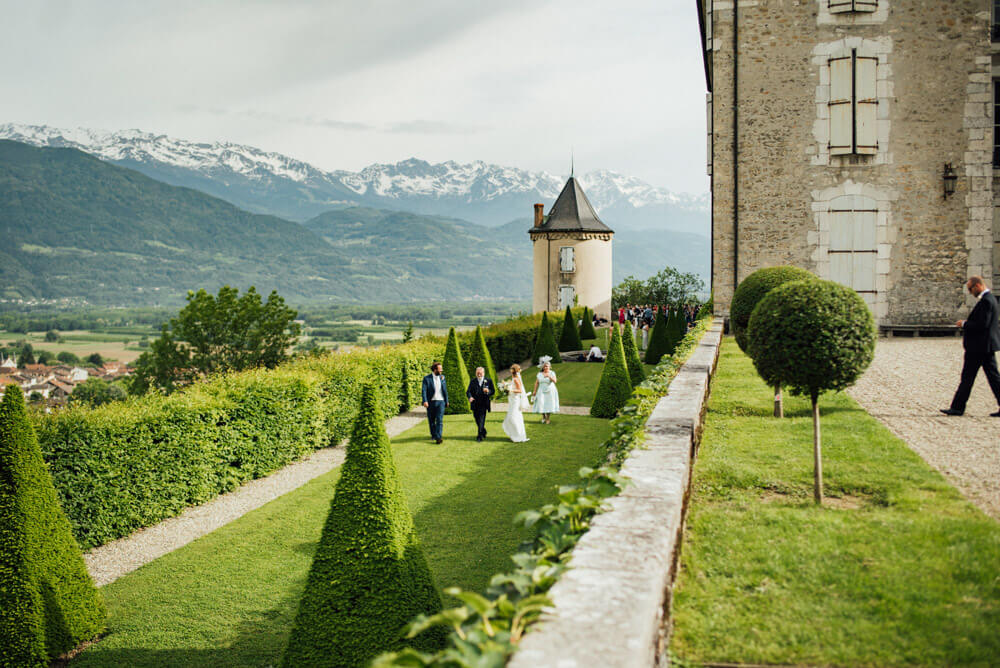 Describe the food?
We went big on the food – it's France after all! Christophe Durand is a top caterer based in Grenoble (near the Chateau). The canapés were absolutely amazing, and for dinner we had scallops and celeriac purée, followed by beef and potoato dauphinoise, and an epic cheese board. For our dessert we just served our wedding cake later on which was an almighty croquembouche (piece montee). I thought if we're going to have this mega cake let's go BIG – so it came out ablaze with mini fireworks and flamingoes on top! For the wine we had a Bourgogne red (which went down a treat) and the white was from the vineyards of Chignin, just by the church.
Describe any DIY elements?
We couldn't bring too much stuff over from the UK, but we did decorate the dance room with loads of heart shaped helium balloons, pink foil curtains and festoon lights. It sounds awful but was good fun! I also bought loads of tea lights for the dinner tables and made our menus and name plates. Oh and I made the seating plan – we blew up our save the date picture which was a vintage travel image of a lovely snowcapped Savoie mountain and then we added ski pistes to it, which showed people where they were sitting. I then made piste markers for the table numbers!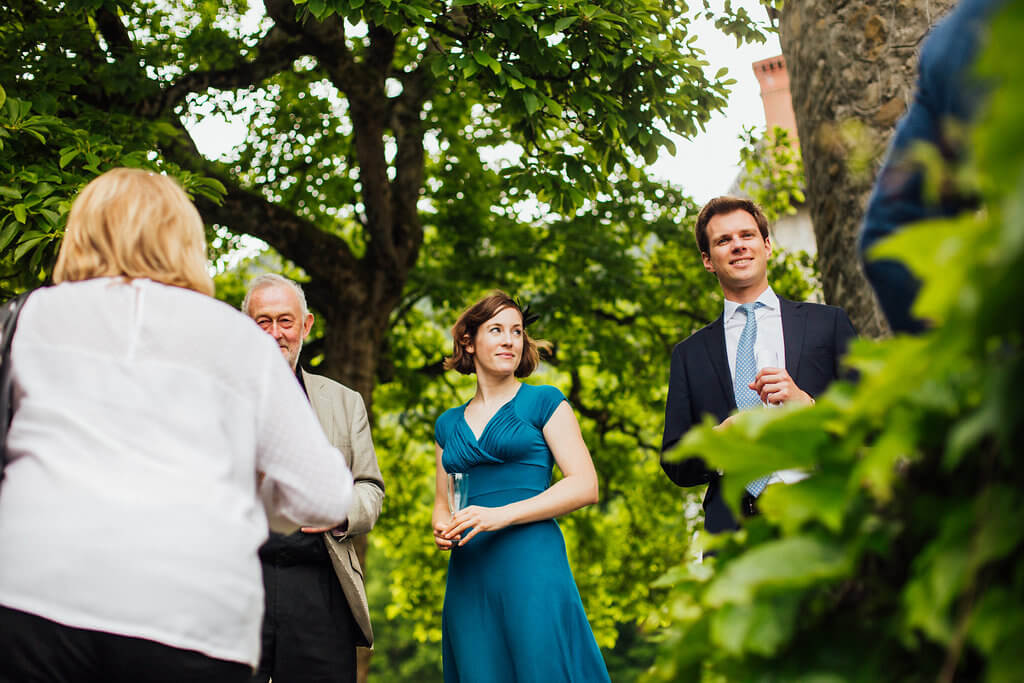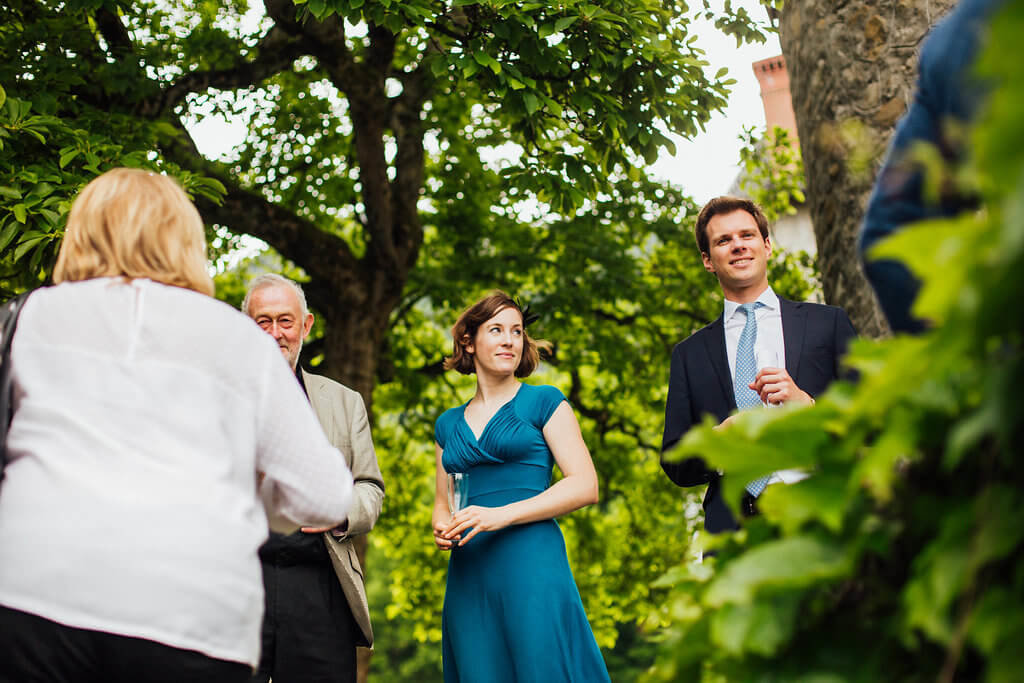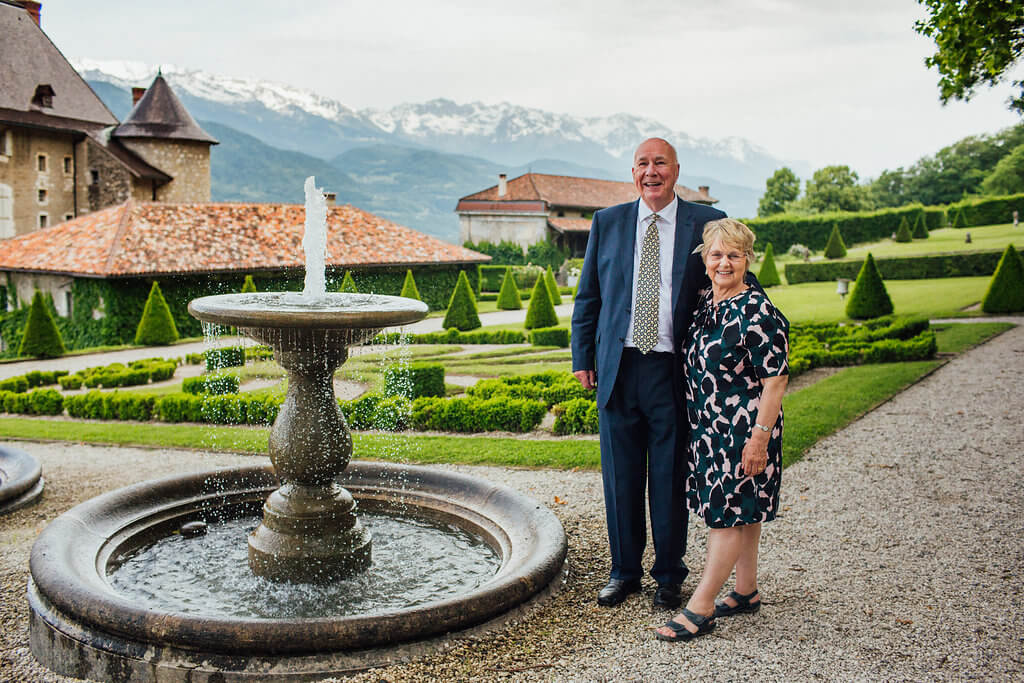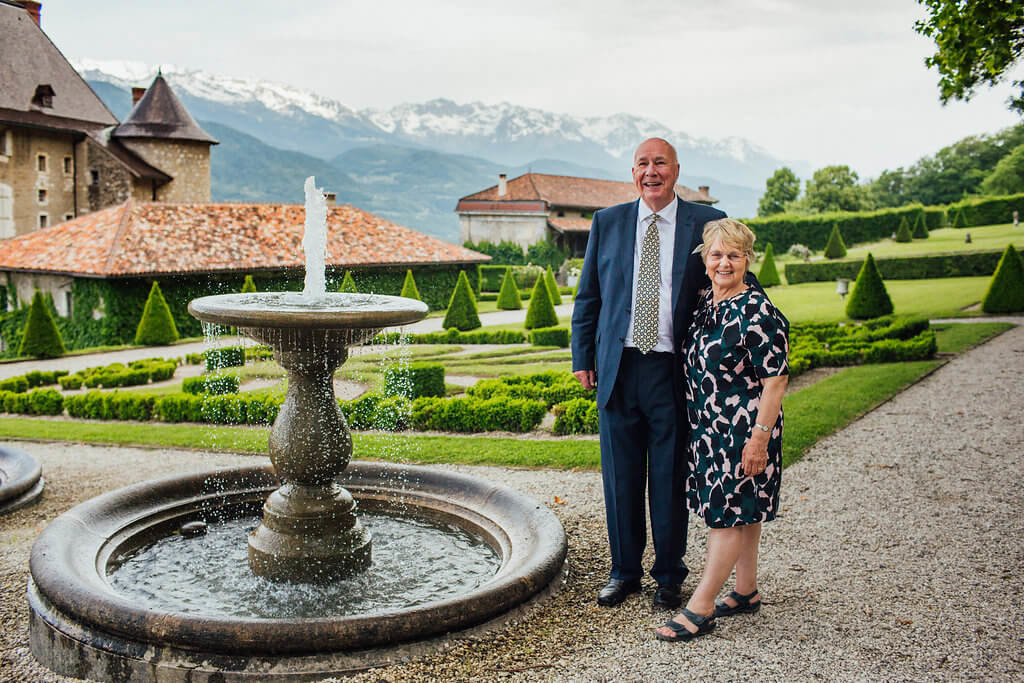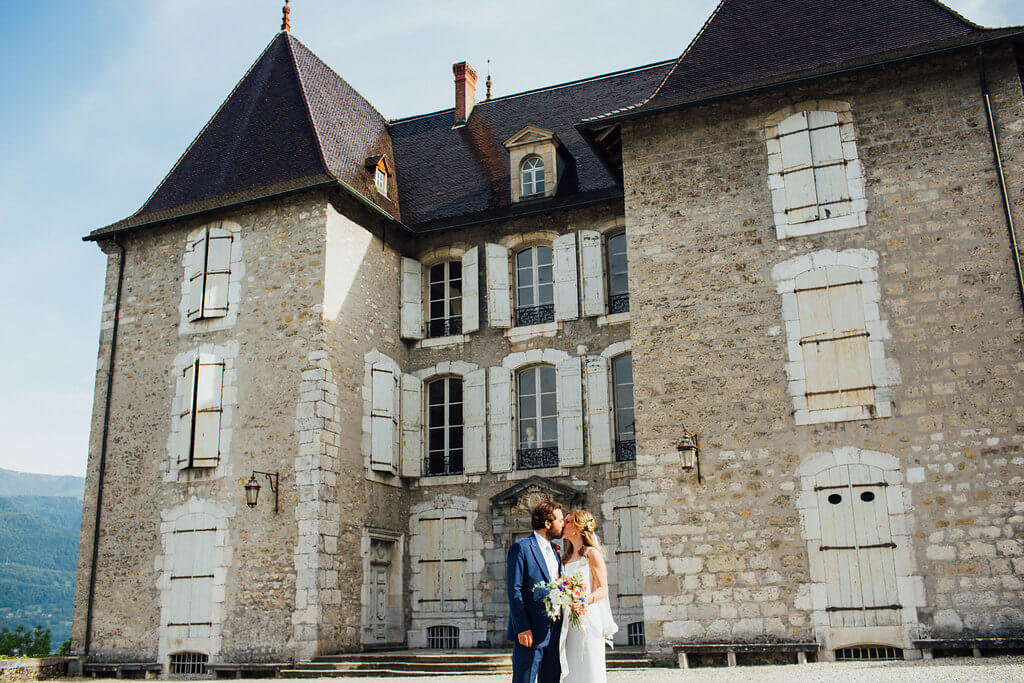 What music and entertainment did you choose and why?
It was so hard choosing the music! Catholic ceremonies are very prescriptive – all the music has to be religious, apart from one random bit during the signing of the register. We are really into our music (and not so much the hymns) so it was a real challenge.

Ultimately we picked hymns that we thought both French and British people would know, and that were quite rousing so everyone could be in fine voice! These were: How Great Thou Art and Jerusalem.

I'm happy to say we managed to push the boundaries a bit for the rest of the music – we had Max Richter's recompositon of Vivaldi's Spring for my entrance (which is a real tear jerker!), Sebastien Tellier's Ritournelle during the register, and the end with a bang we had the Edwin Hawker Singers gospel version of Oh Happy Day. It was amazing!

Our first dance was Can't Do Without You by Caribou – it's a modern dance classic which is romantic and euphoric all at once (and has a special place in our heart!)
How did friends and family help with the planning/ execution of the day?
Tom's parents live in Savoie for a couple of months a year, so their help on the ground was invaluable! From reccying potential venues, liaising with caterers and suppliers etc (obviously all in French)! Our bridesmaids and ushers were amazing the day before the wedding, setting up the venue and making sure guests got on the shuttle buses!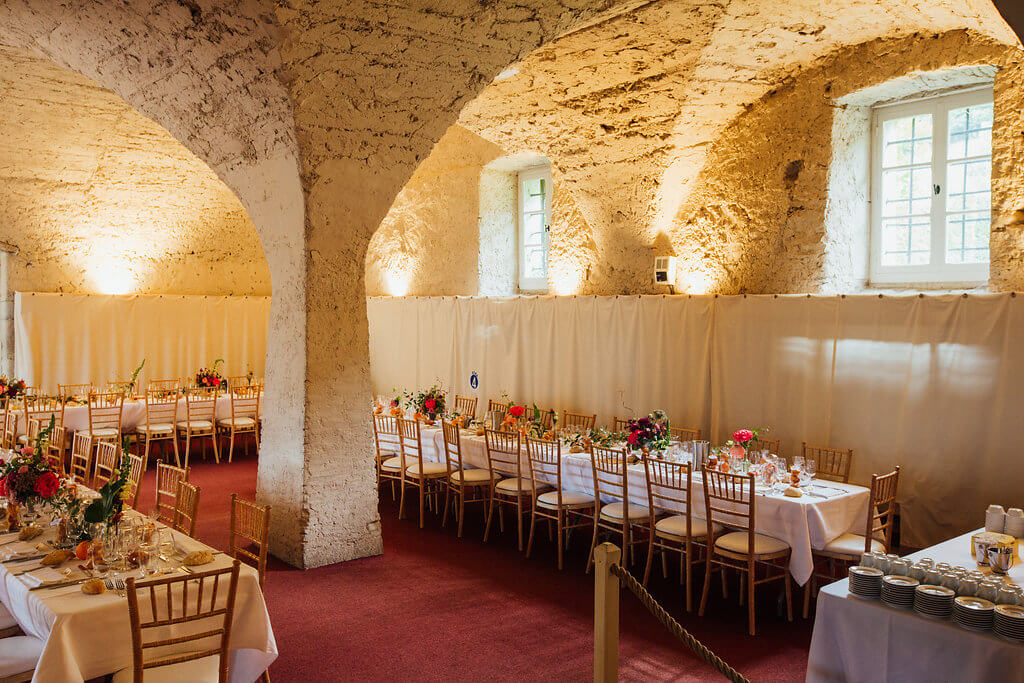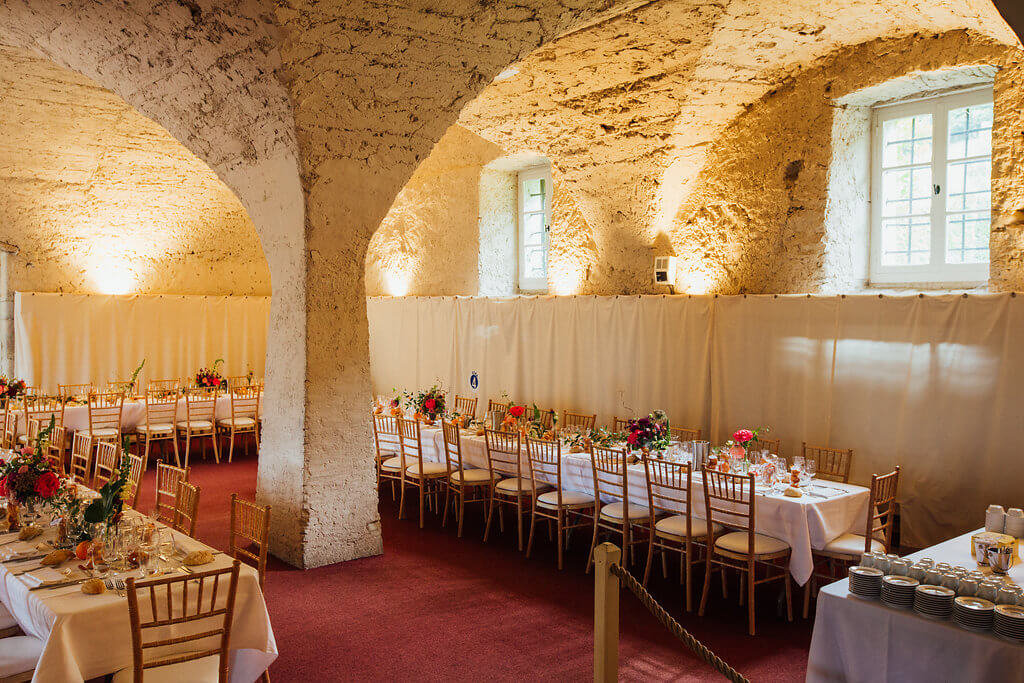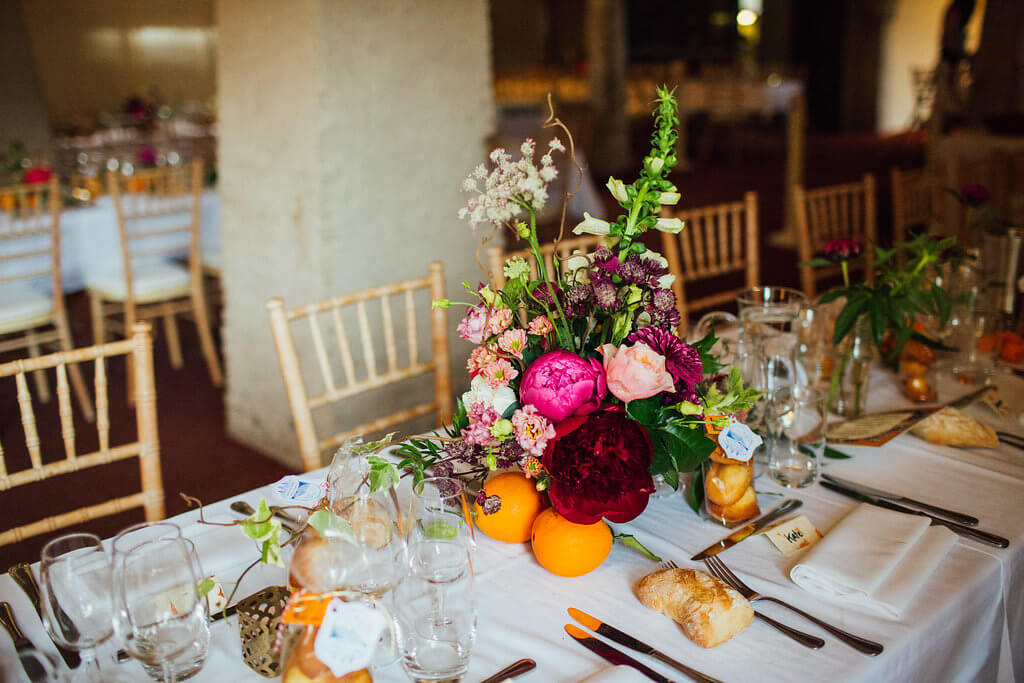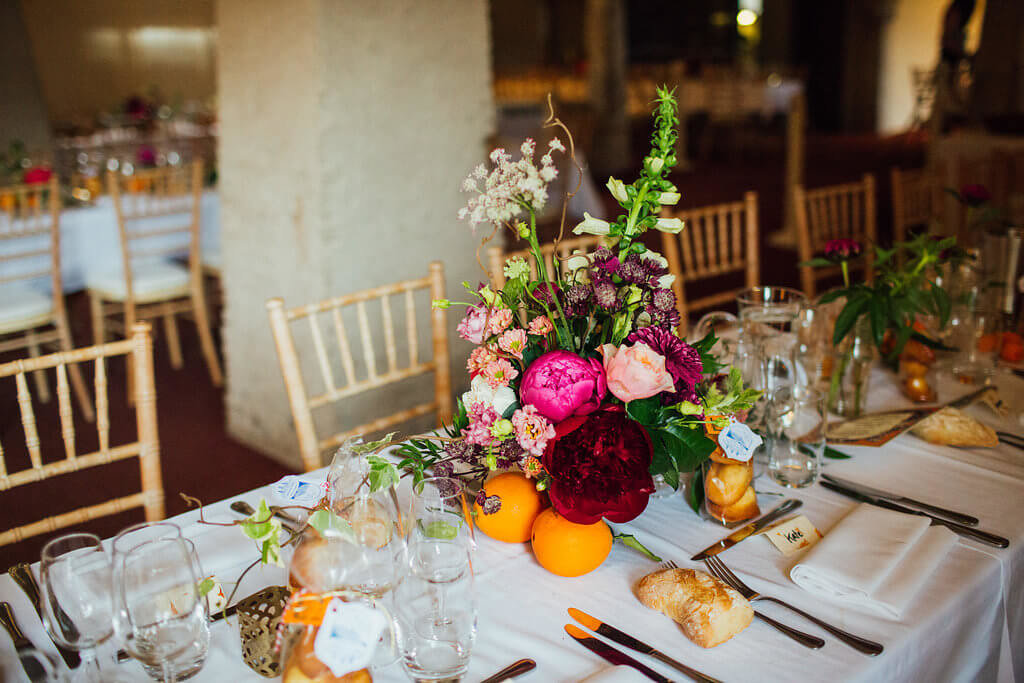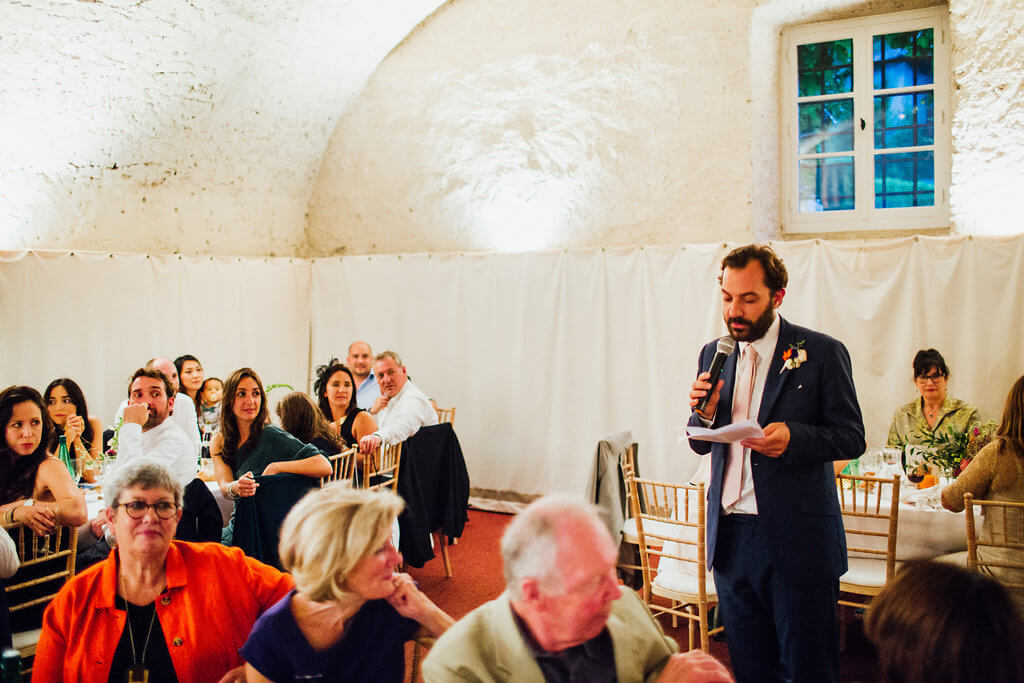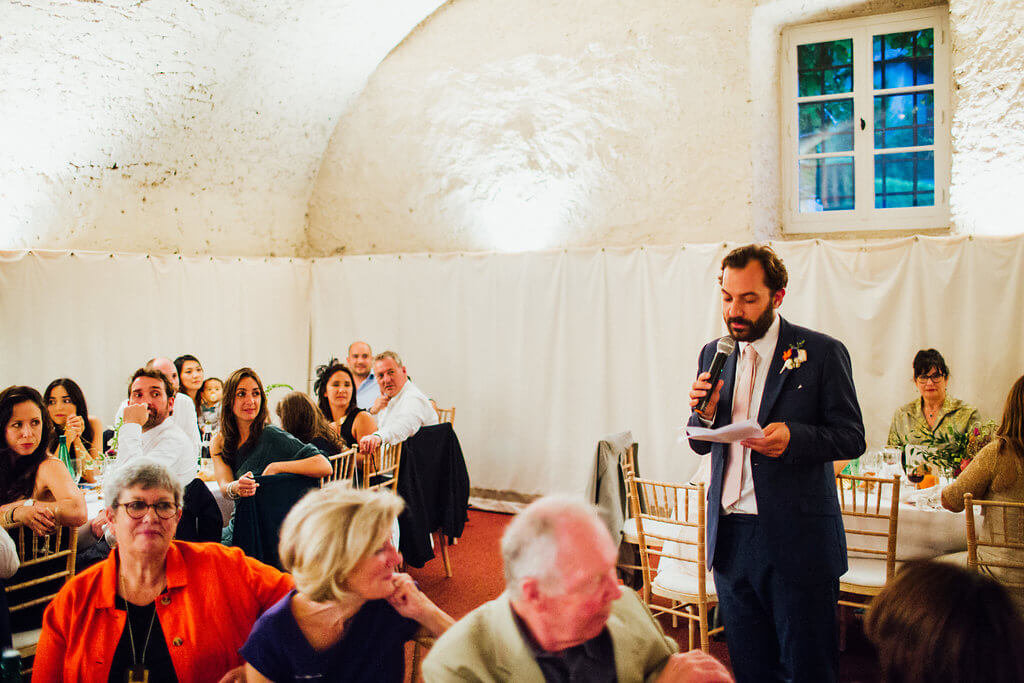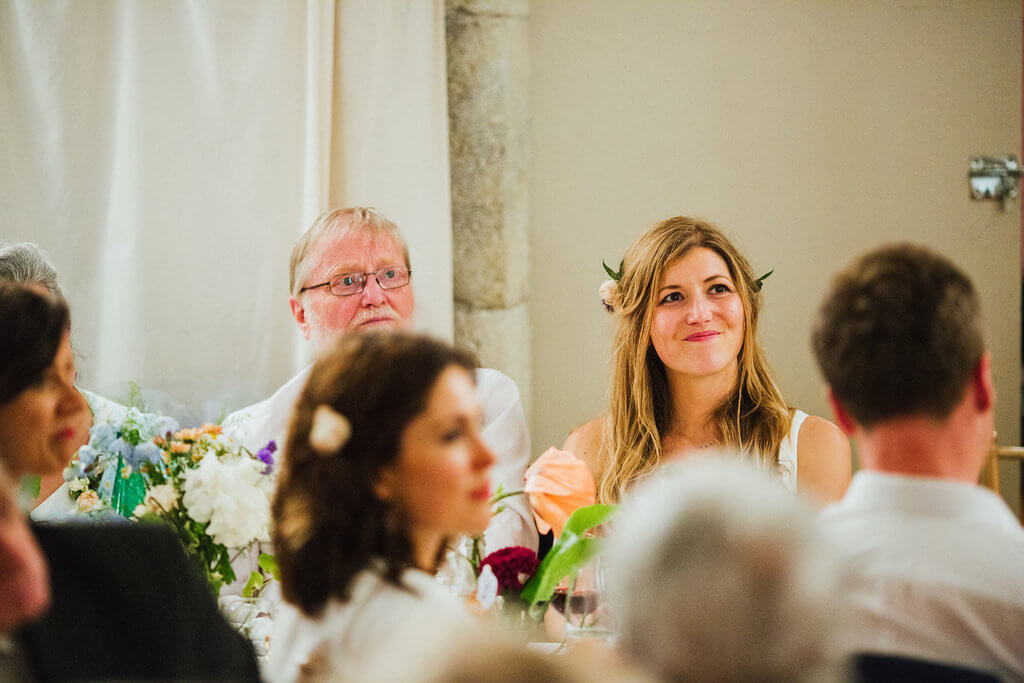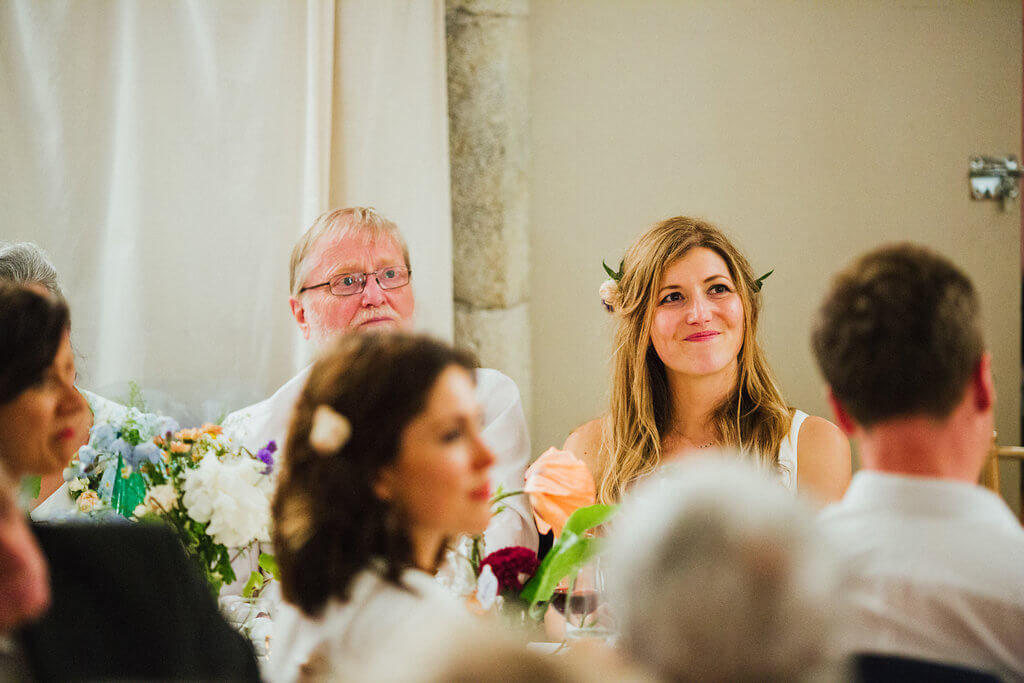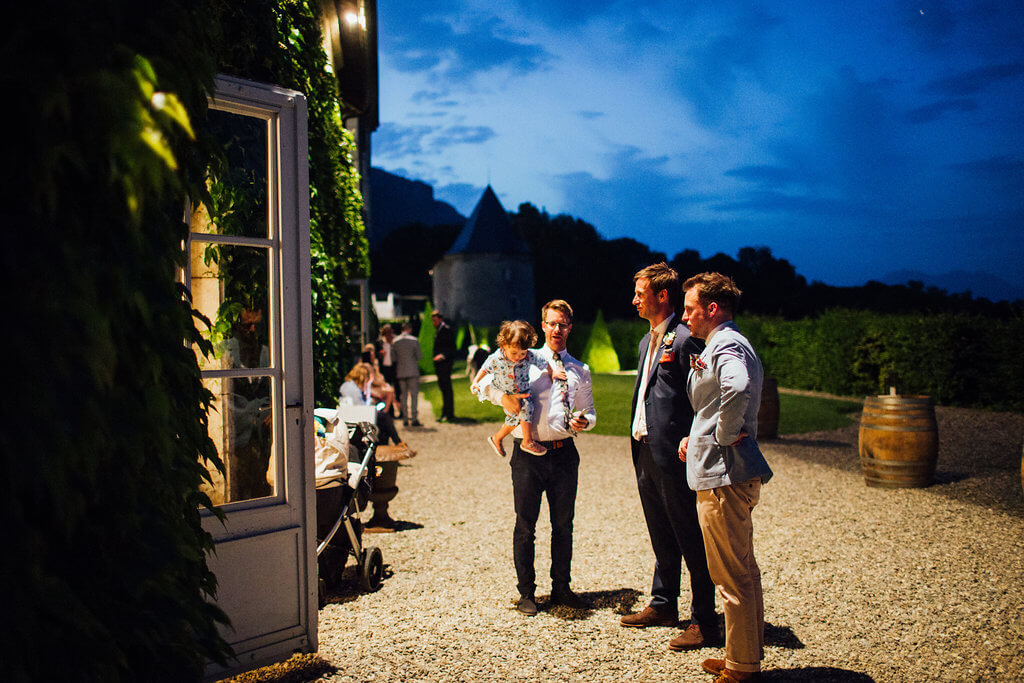 What events and moments made your day special?
It sounds so cheesy but I loved all of it. I loved getting ready with my bridesmaids at the stunning Chateau des Allues, I loved driving through the vineyards on the way to the church with my Dad, I loved Oh Happy Day walking down the aisle with Tom with everyone cheering, I loved seeing our bridesmaids pop out of the sunroof of the vintage CVs on the drive up to the Chateau with the buses honking in the background.

I loved everyone's reaction to the Chateau and it's stunning gardens and the snow capped mountains. And I just loved having all of our family and friends together in such a beautiful location.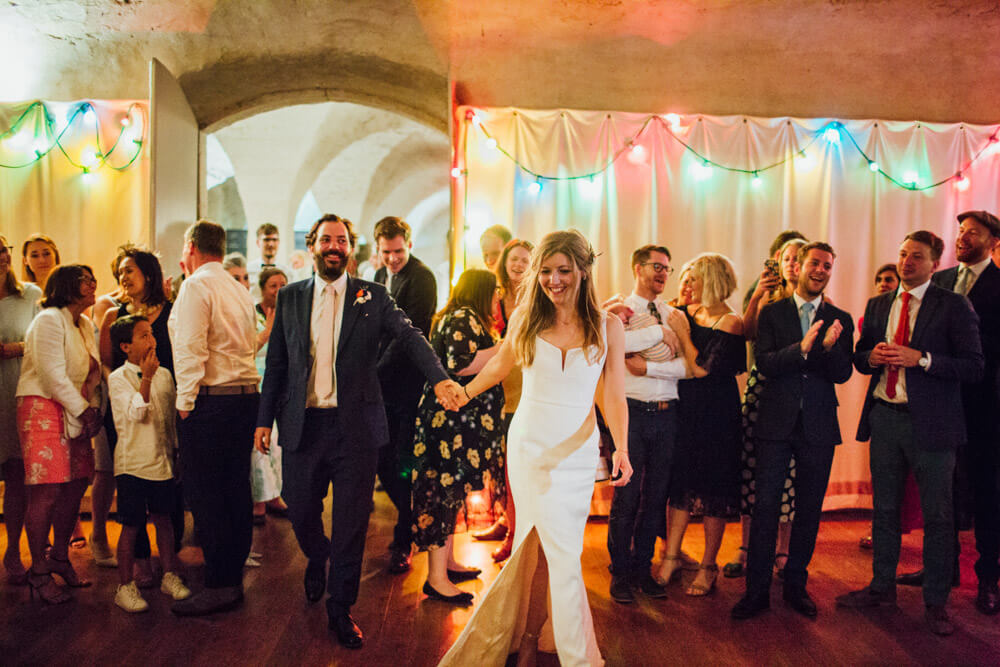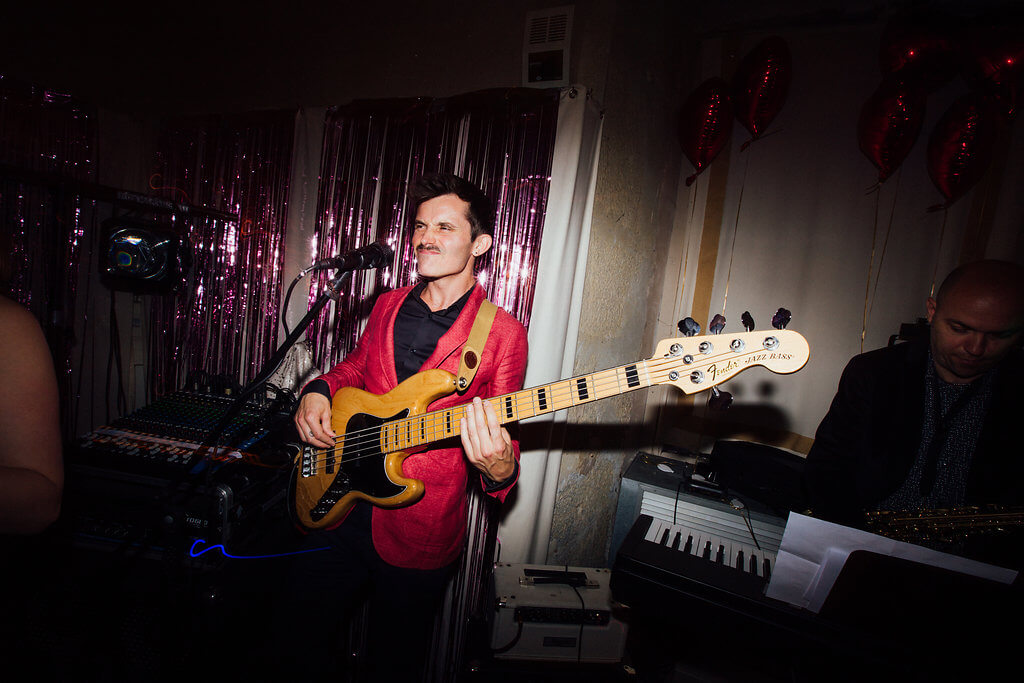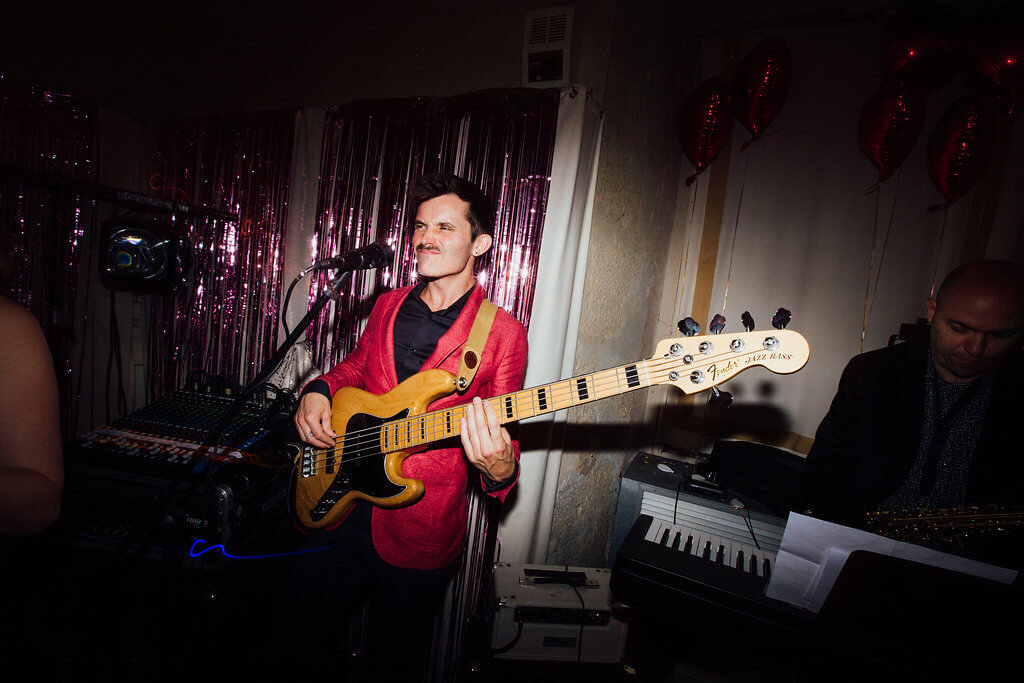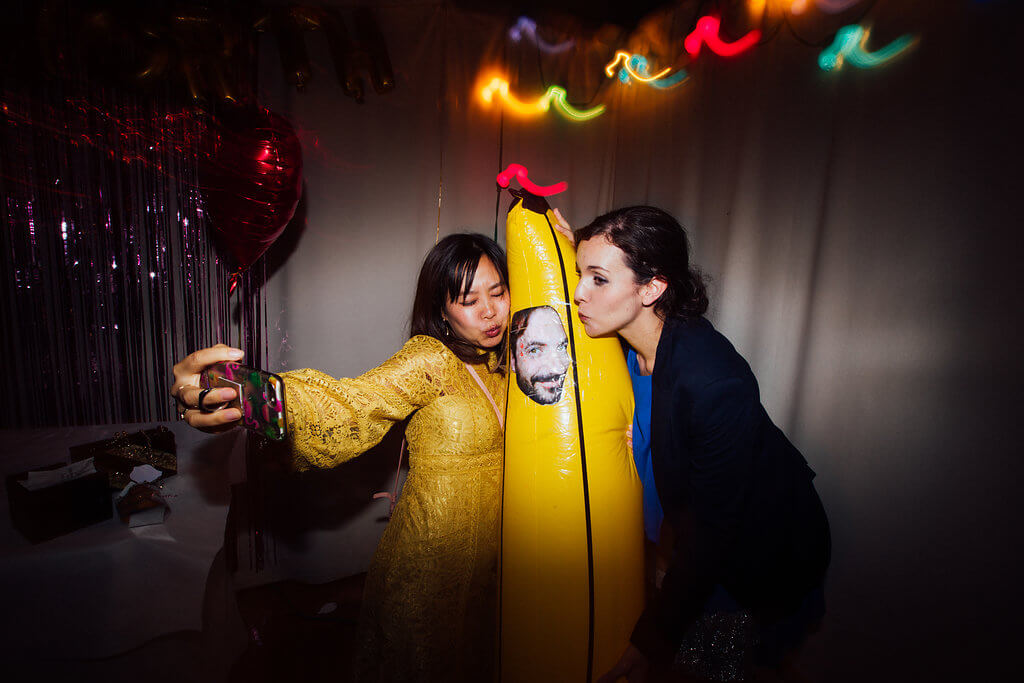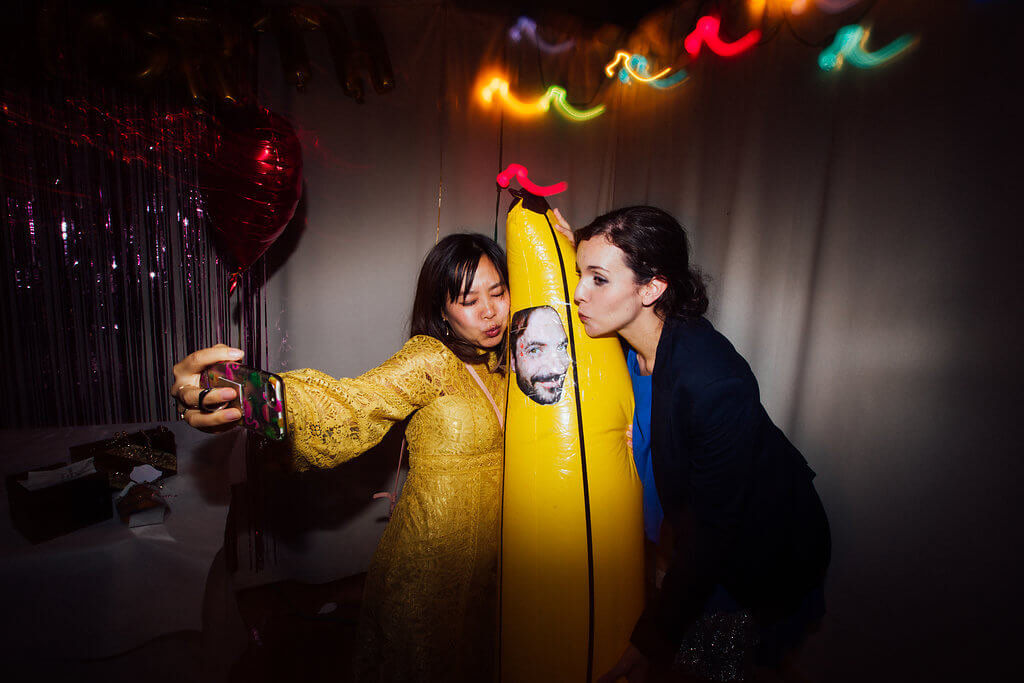 Why did you choose Eight Bells Wedding Photography and Videography?
It was a strike of luck finding Reuben and Polly – they were recommended by another local photographer who I had contacted, who actually does landscape and skiing photography! Tom and I didn't want anything too formal, and wanted to capture the magnificence of the scenery as much as anything! We loved Reuben's reportage style and are so happy with the results. Some of my favourite photos are of both Tom and I getting ready – there's just loads of us laughing, eating, smiling with our friends and family. Unfussy and natural, but also beautiful tones and colours, and of course timeless. Perfect memories.
Do you have any advice to other brides on planning their day?
Get your venue booked ASAP and choose Savoie! What's not to love! And just enjoy it and have fun.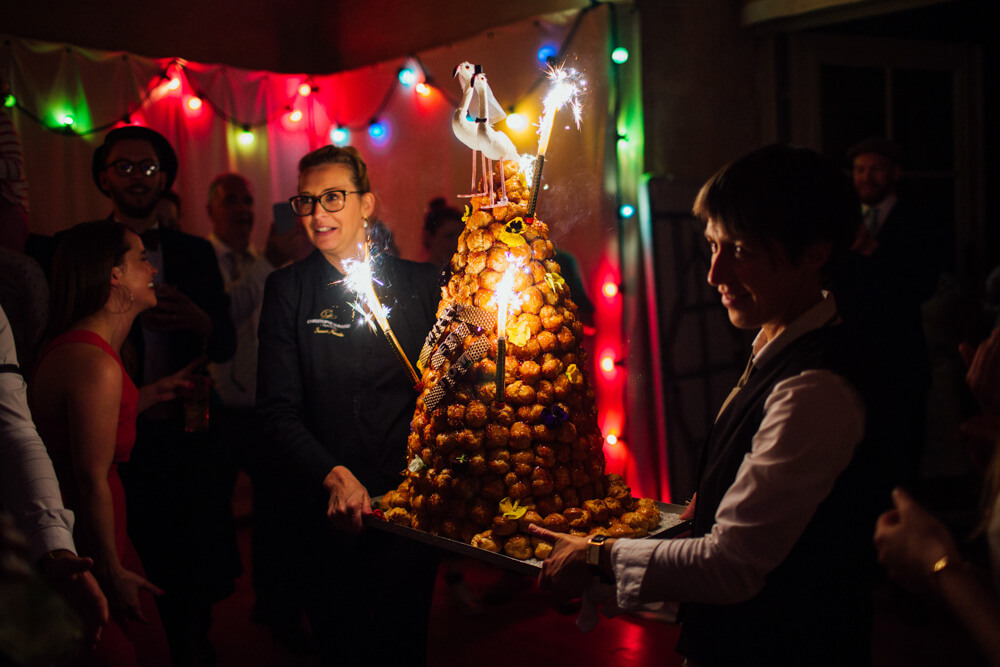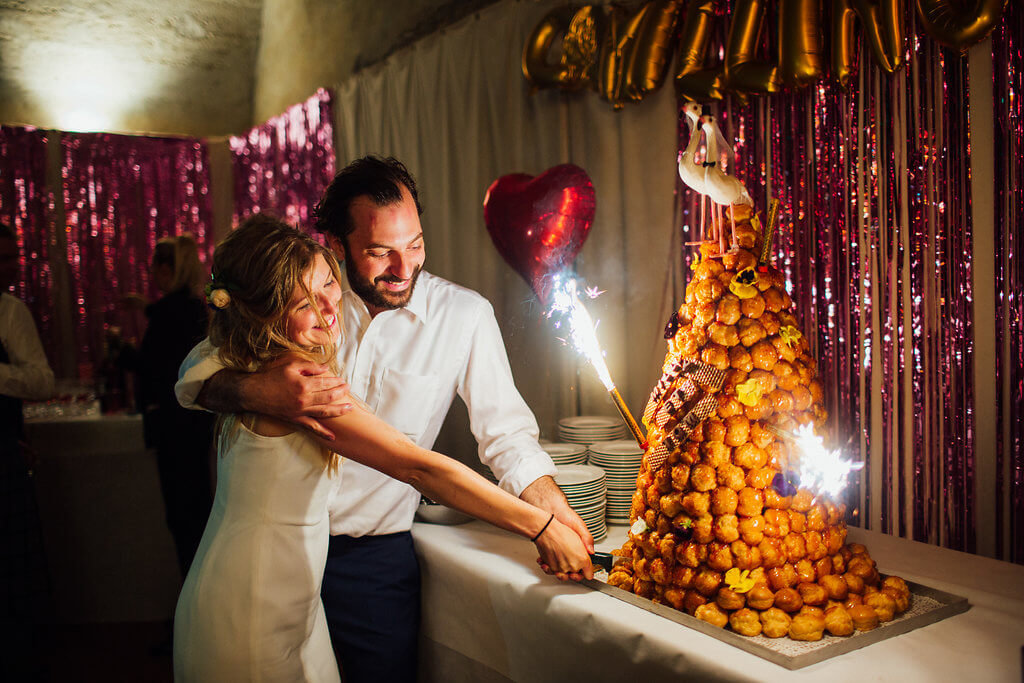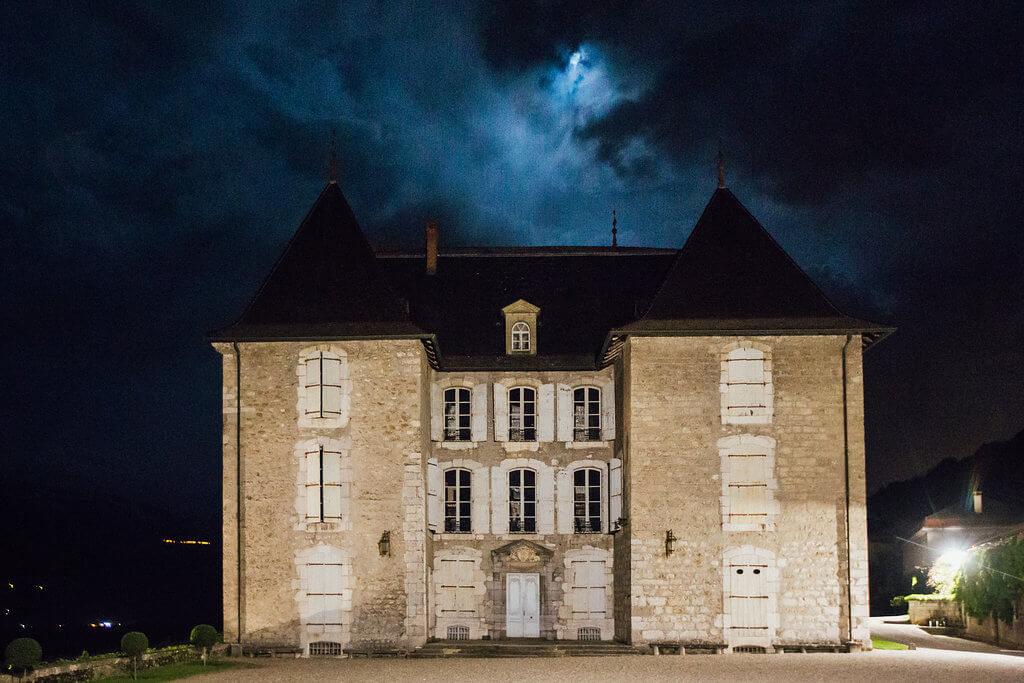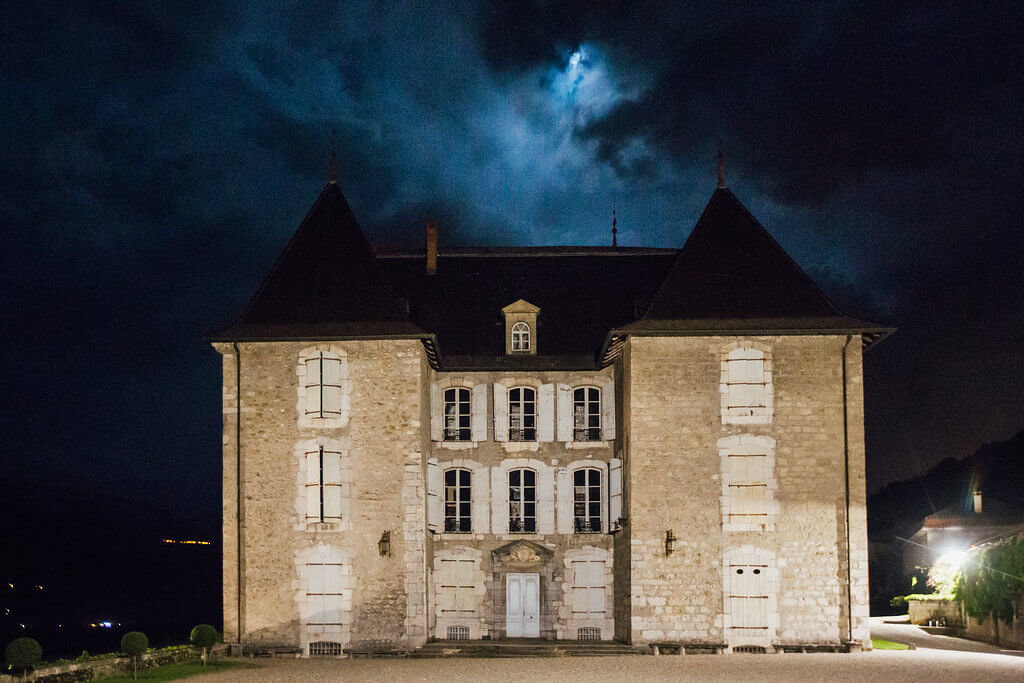 FEATURED SUPPLIERS