Colourful Summer Alpine Wedding in the Rhone-Alps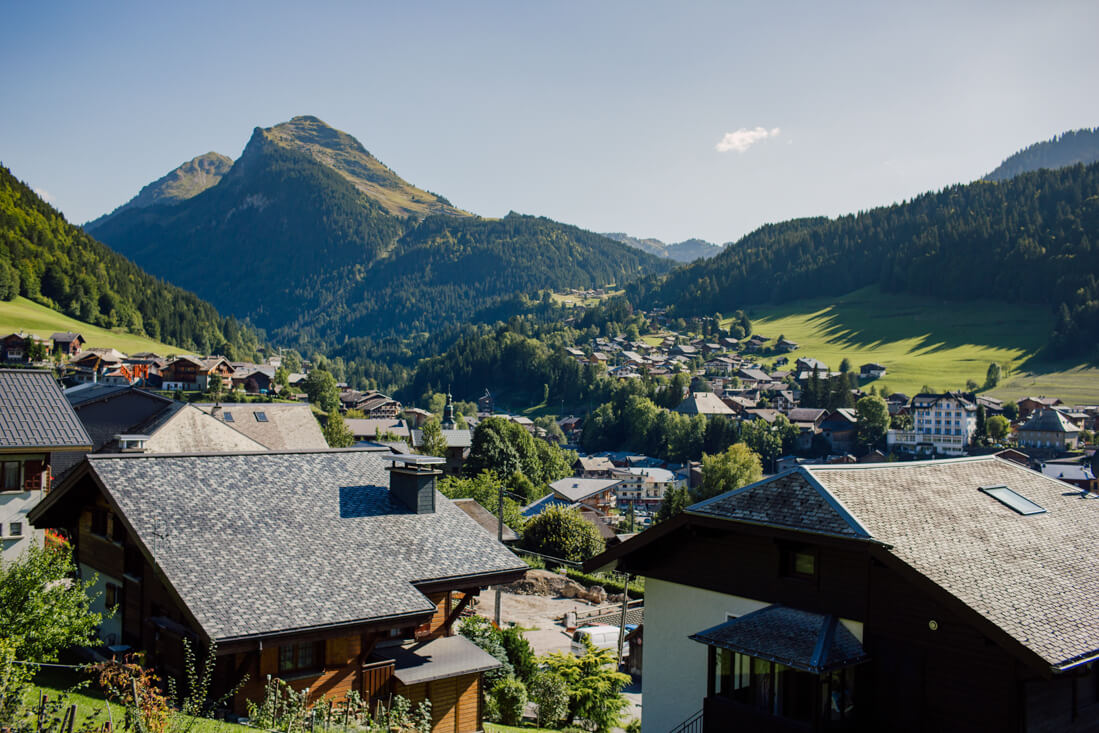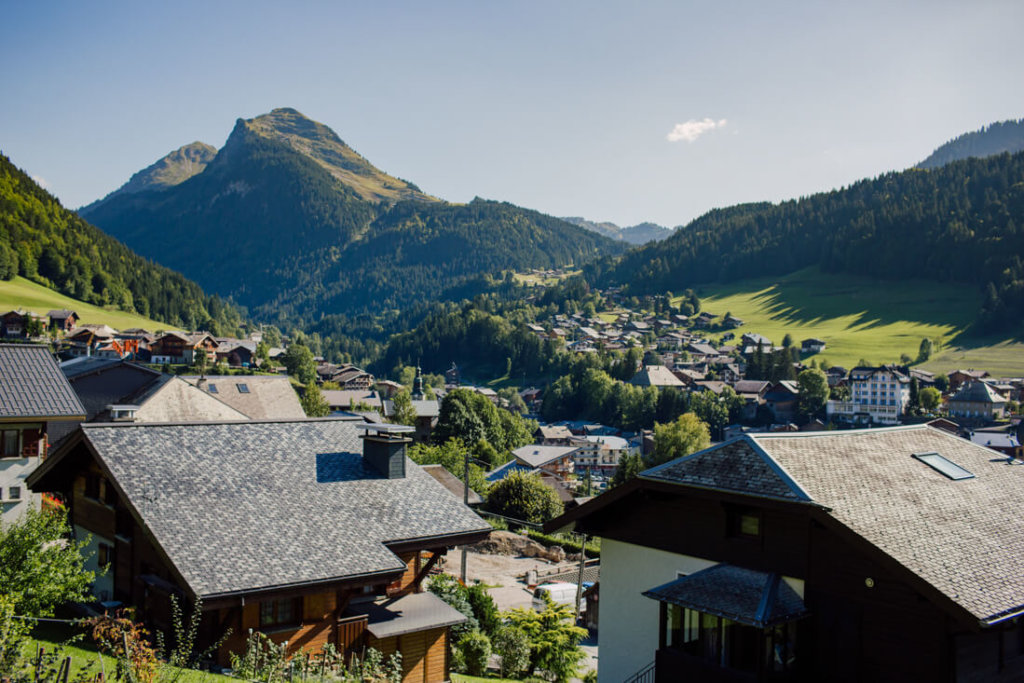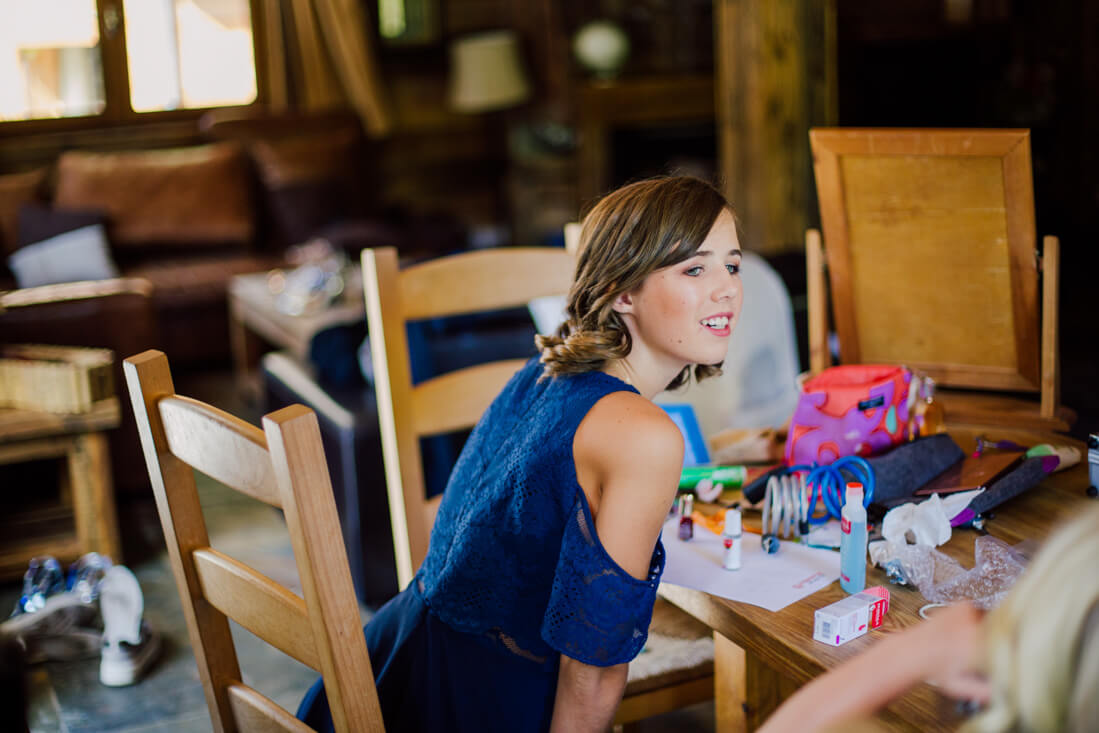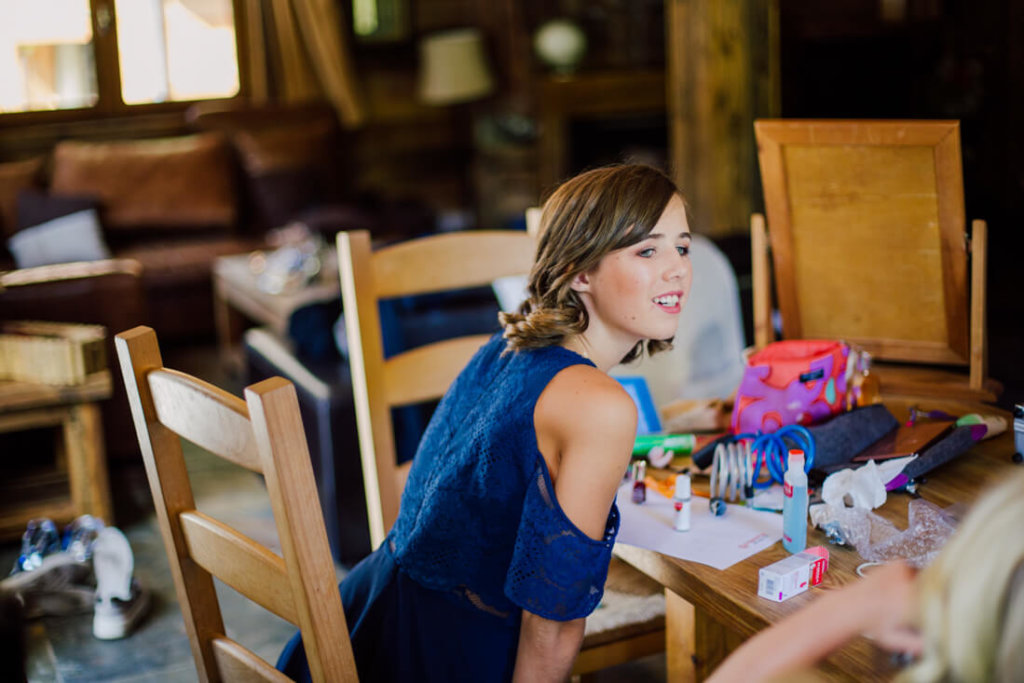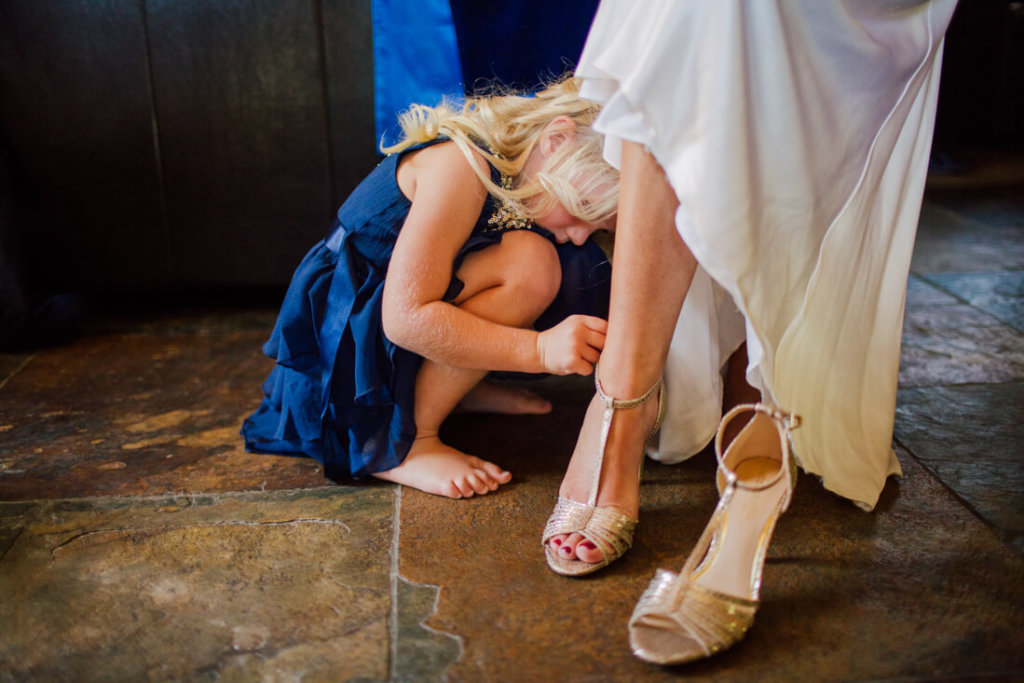 Why did you decide to get married in the Rhone-Alpes?
We first met in Morzine 17 years ago when I used to work as a chalet girl for James!
How did you find the venue and why did you choose it?
We own a lovely hotel called the Hermine Blanche in Morzine. It has stunning views and we couldn't wait to host all our friends and family there. I also loved the idea of having carte Blanche in terms of decor, food and curfews!
What type of ceremony did you have?
We got married in the church in Morzine. It was the weekend of the Mont Blanc car rally which definitely added to the atmosphere. My son read The Owl and the Pussycat which brought much laughter and tears and James' cousin Anna sang for us. We had an organist for the hymns which were Amazing Grace, Eternal Father Strong to Save and Jerusalem. I walked down the aisle to Sailing by (the music from the shipping forecast!) and we left the church to the music from Ski Sunday.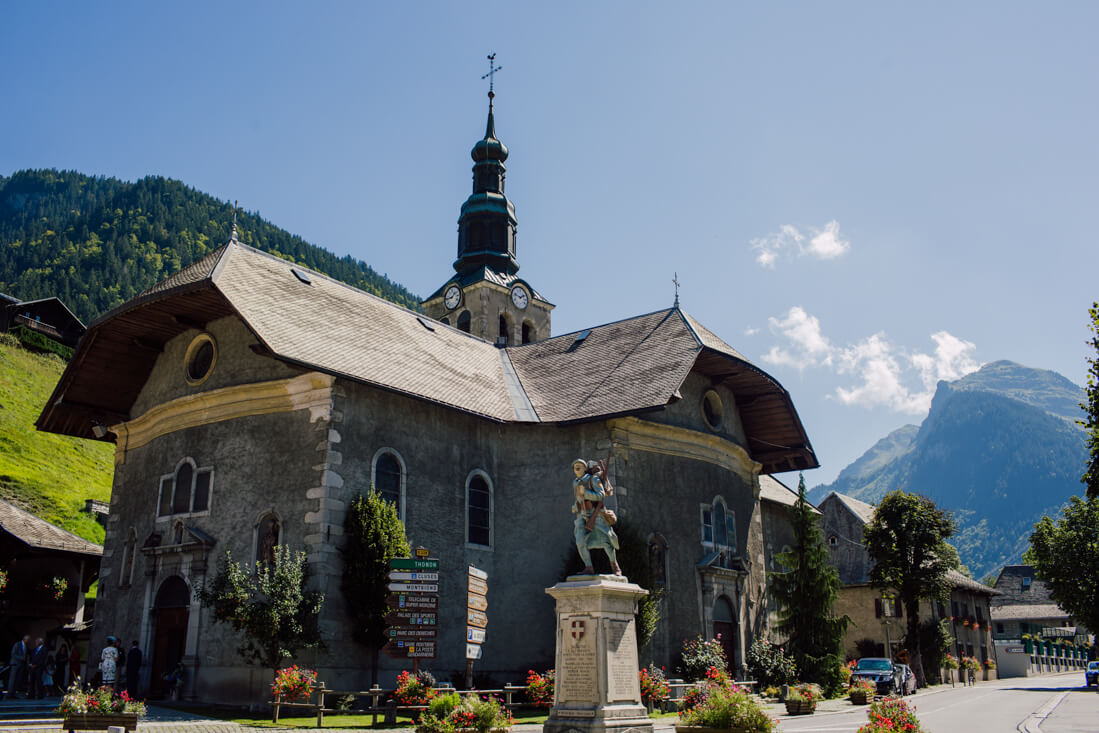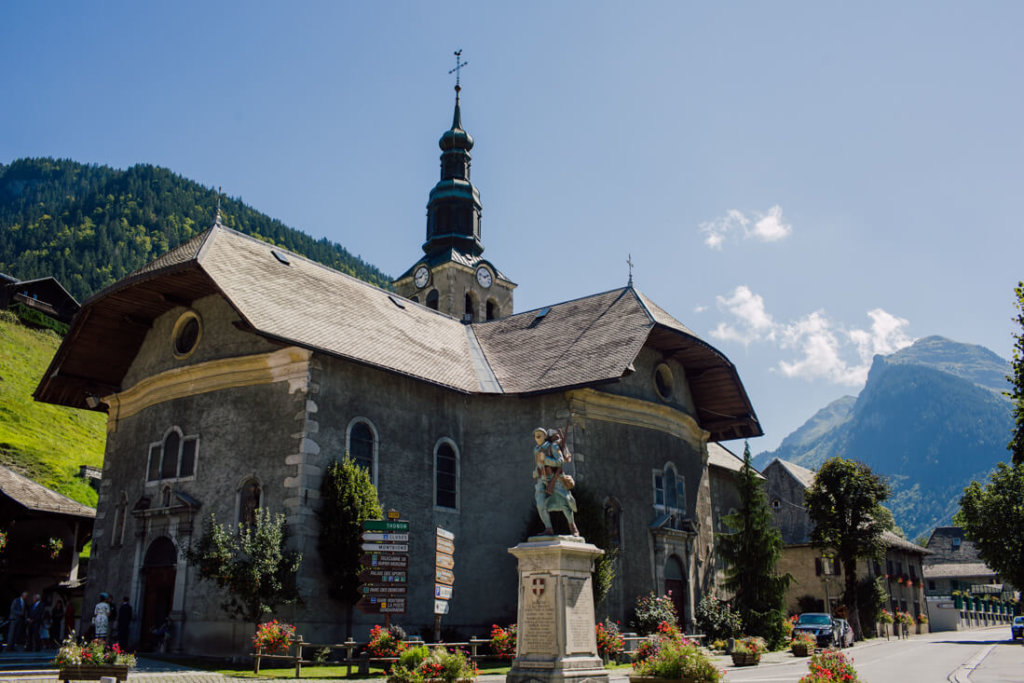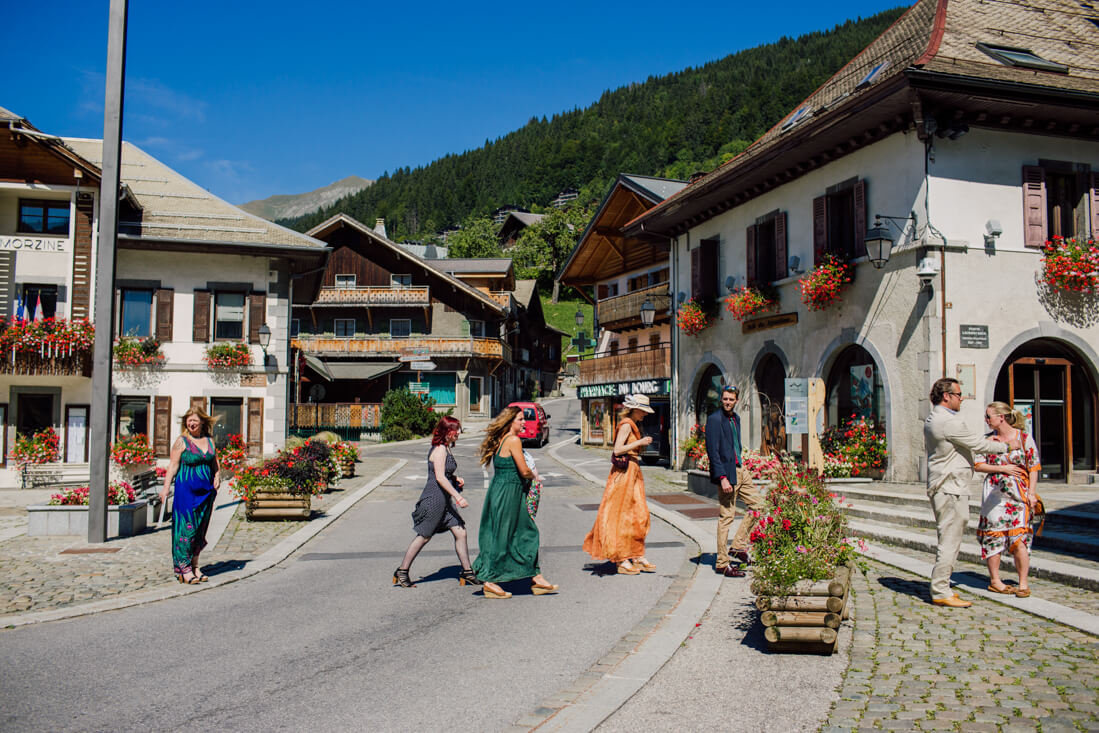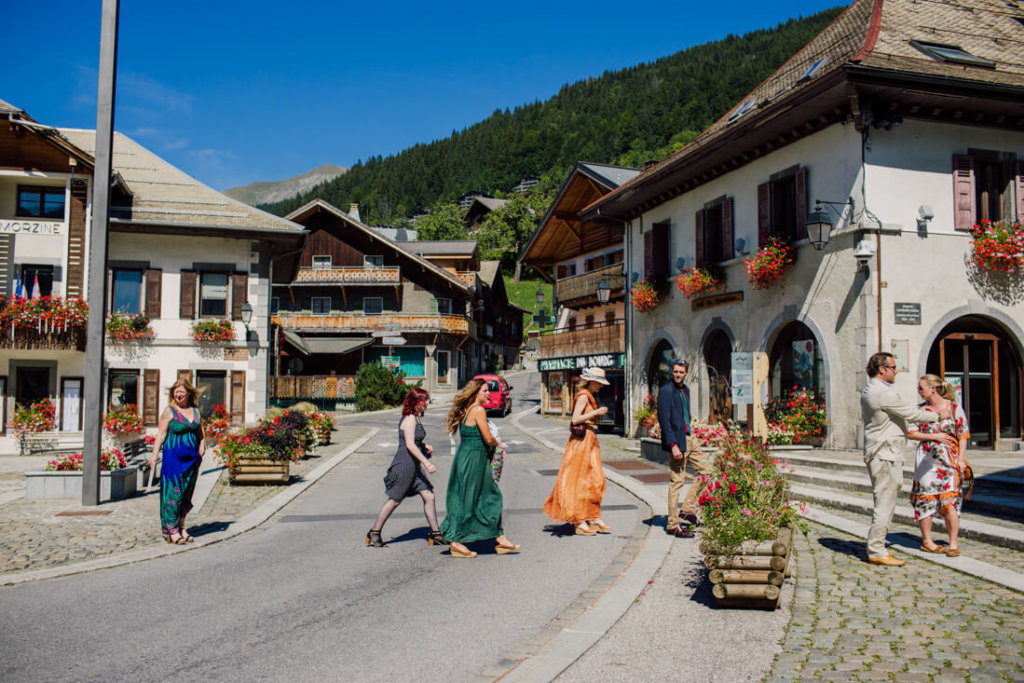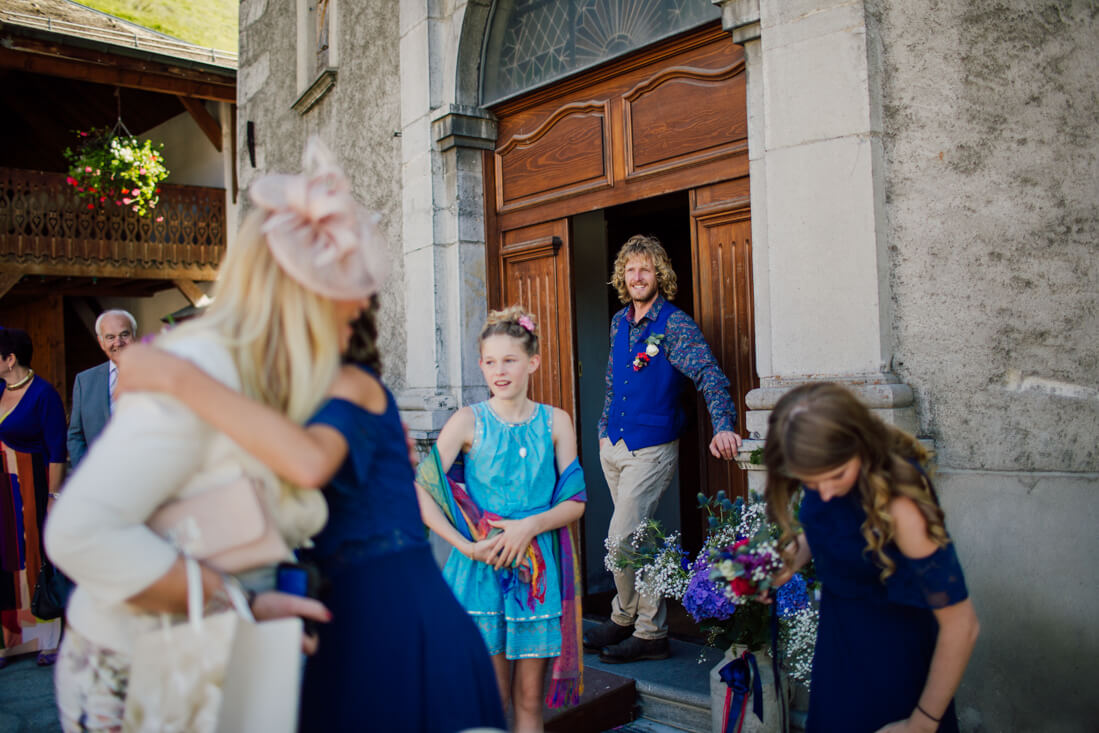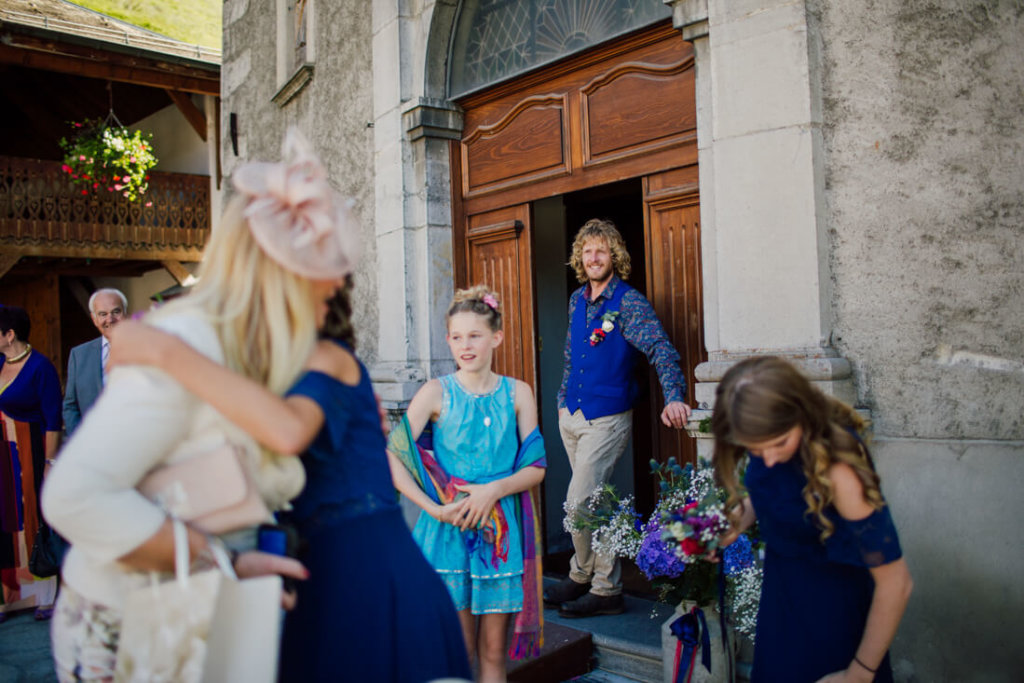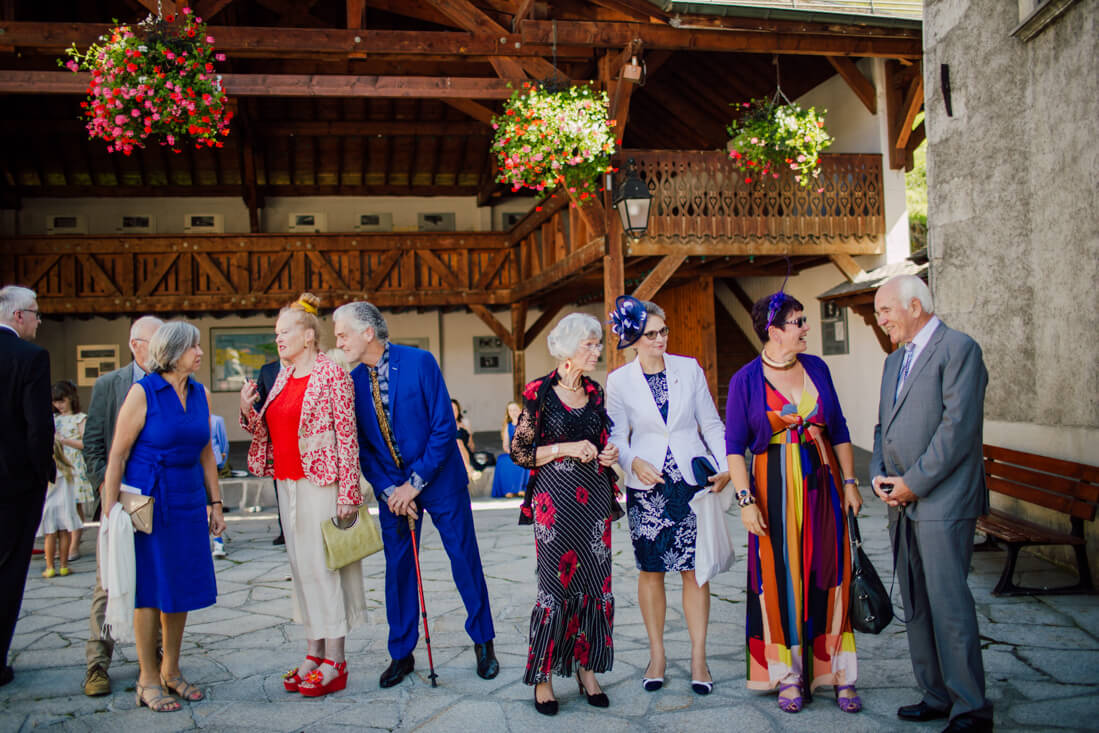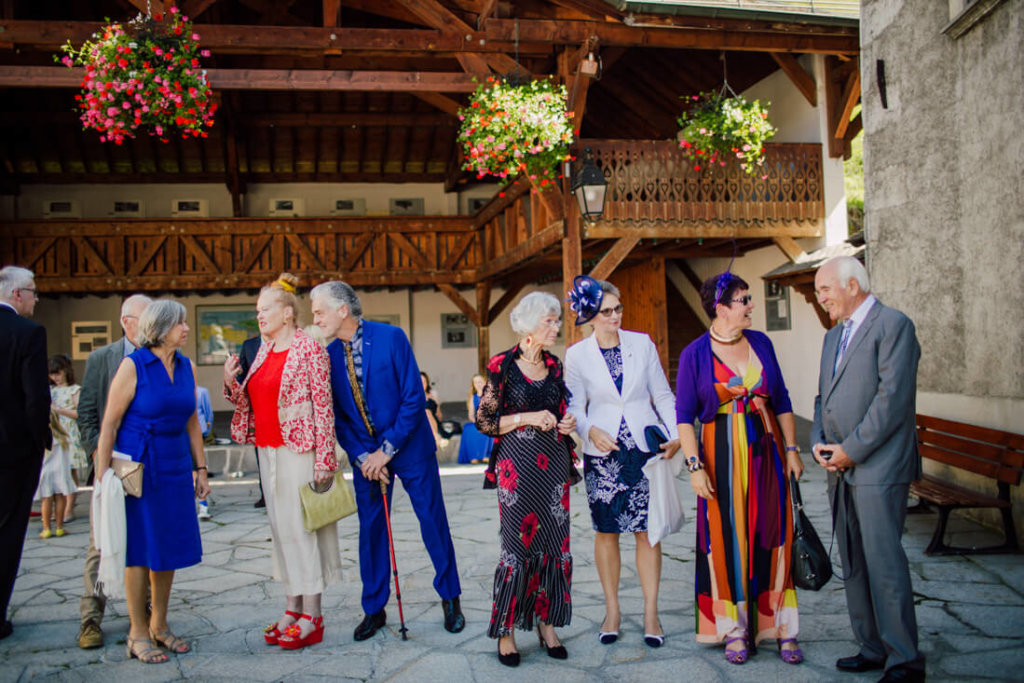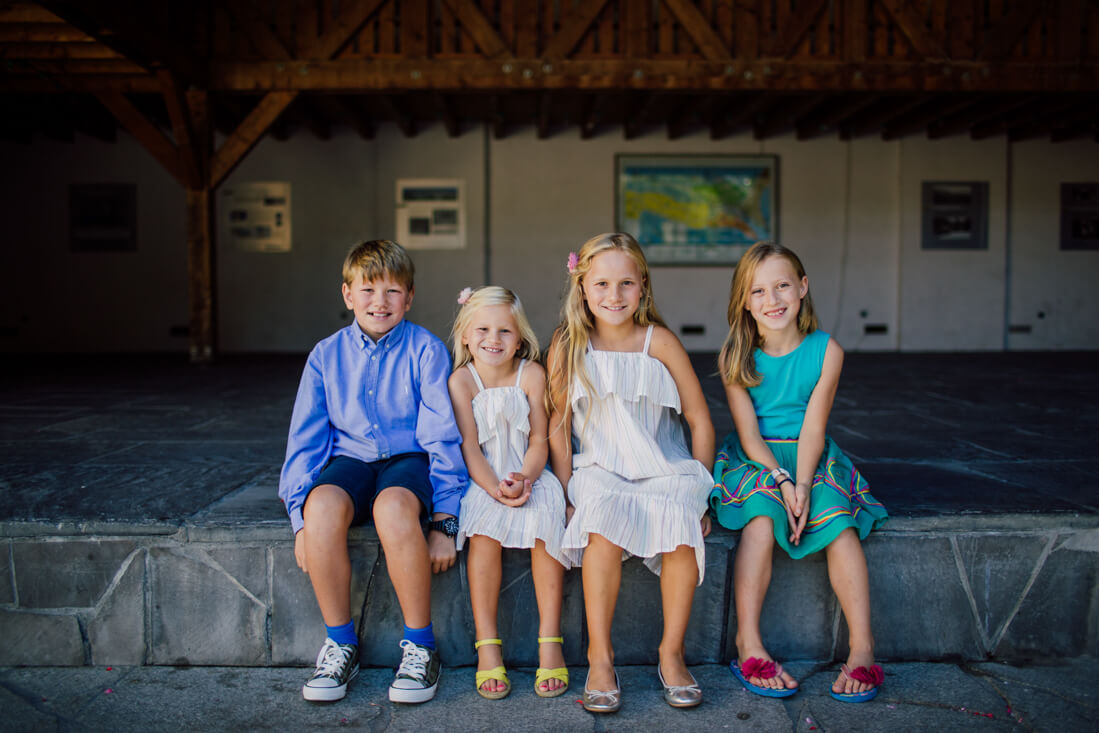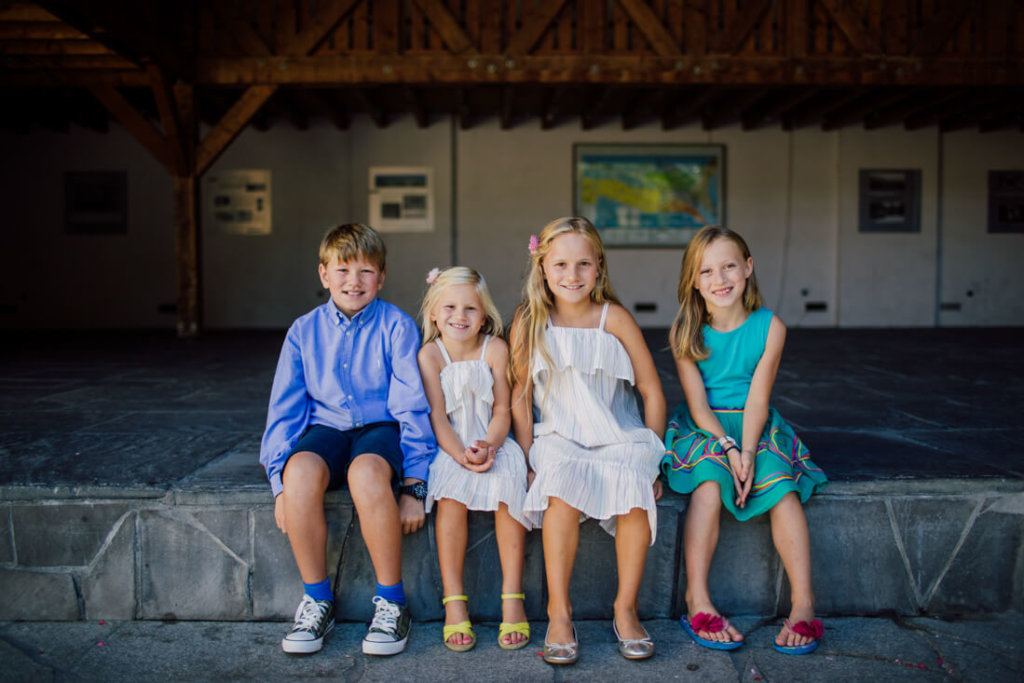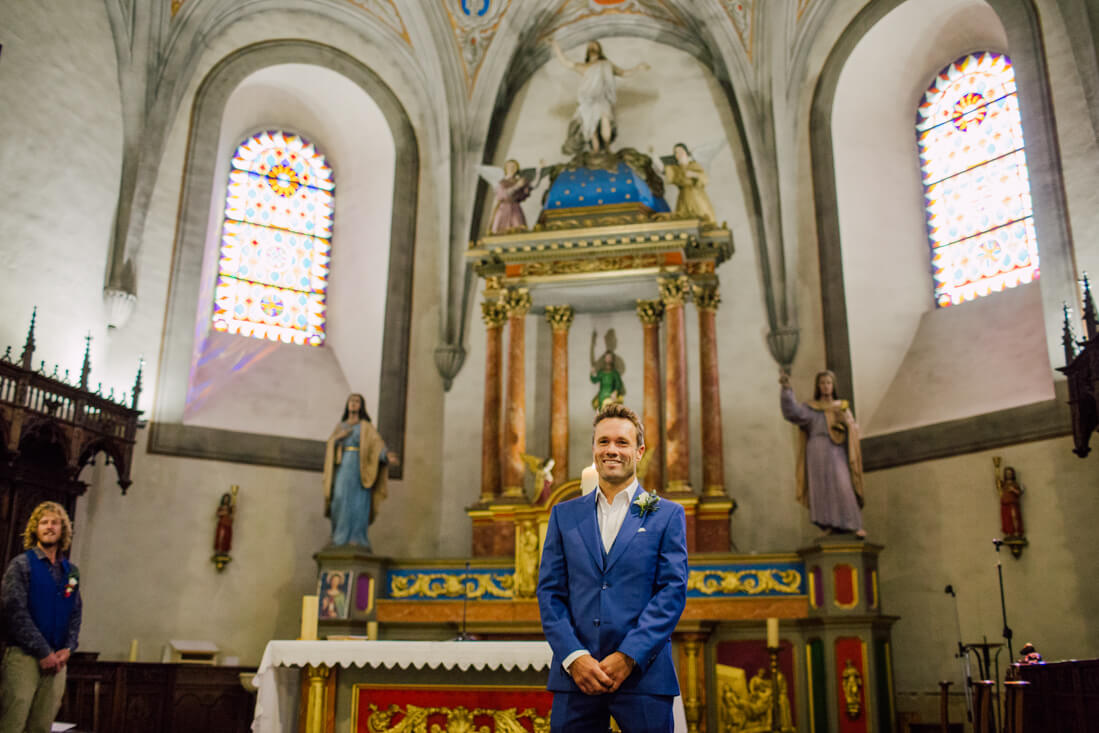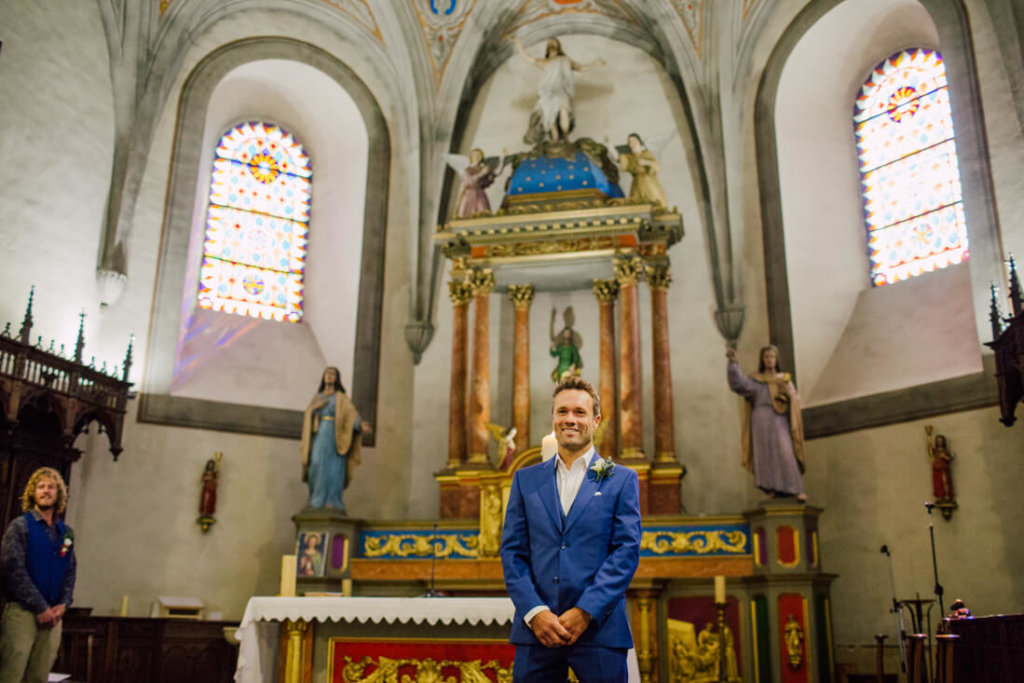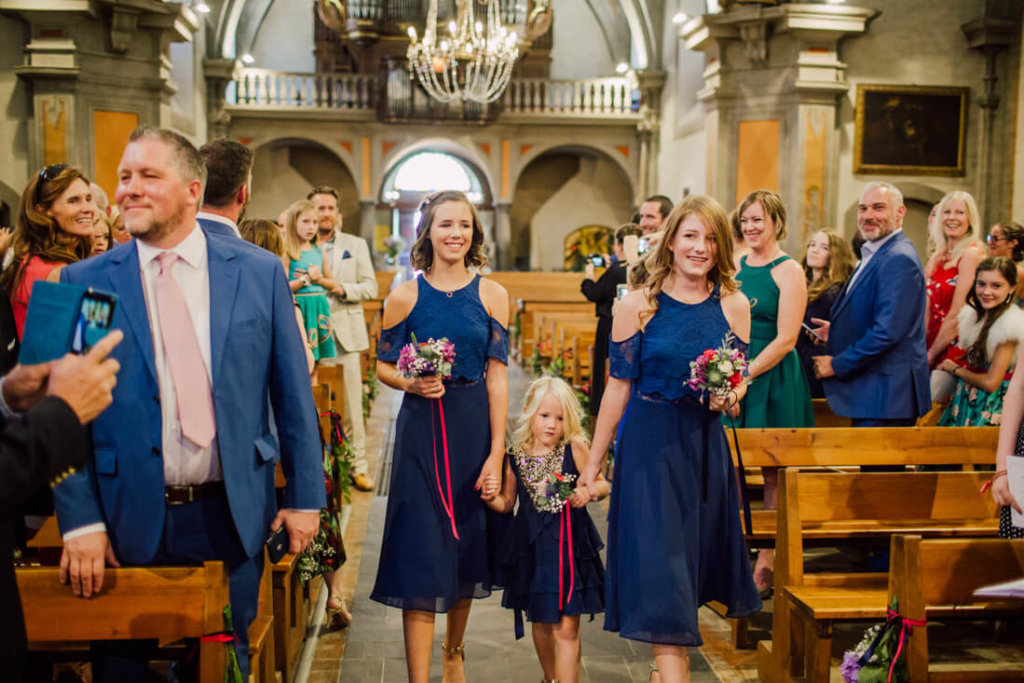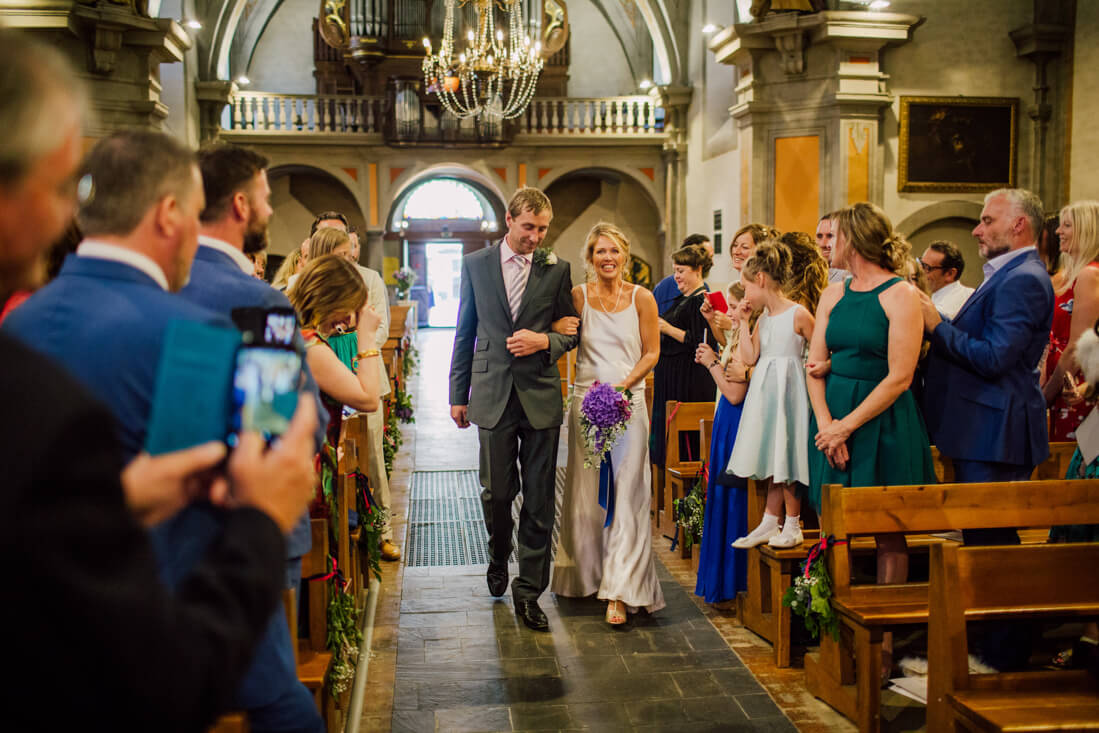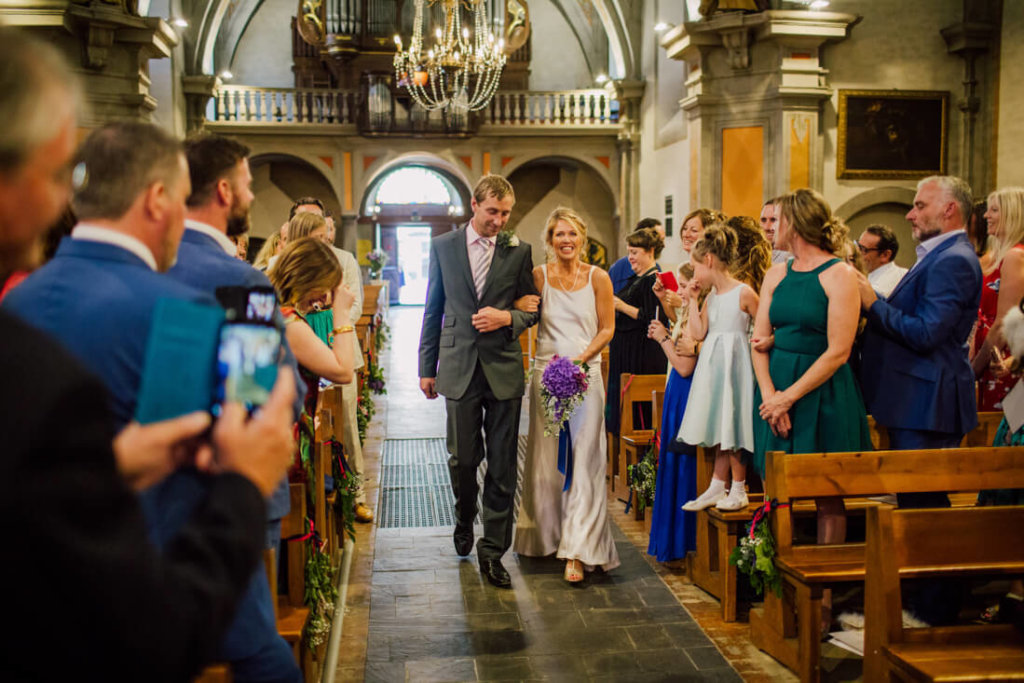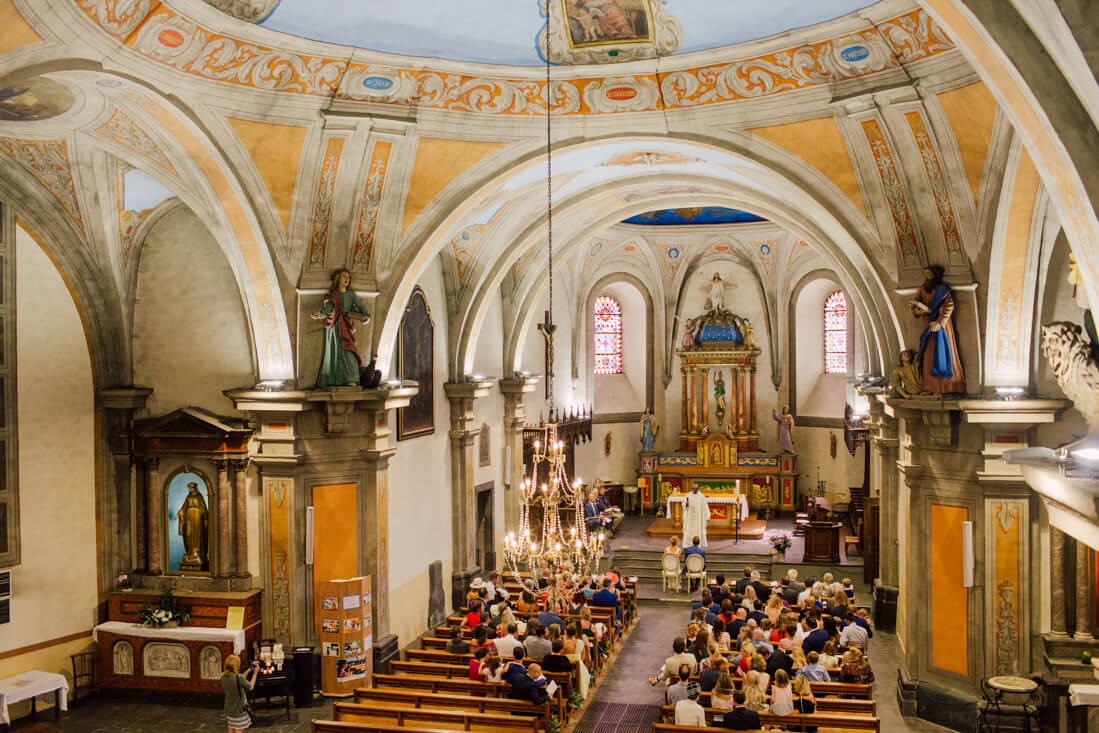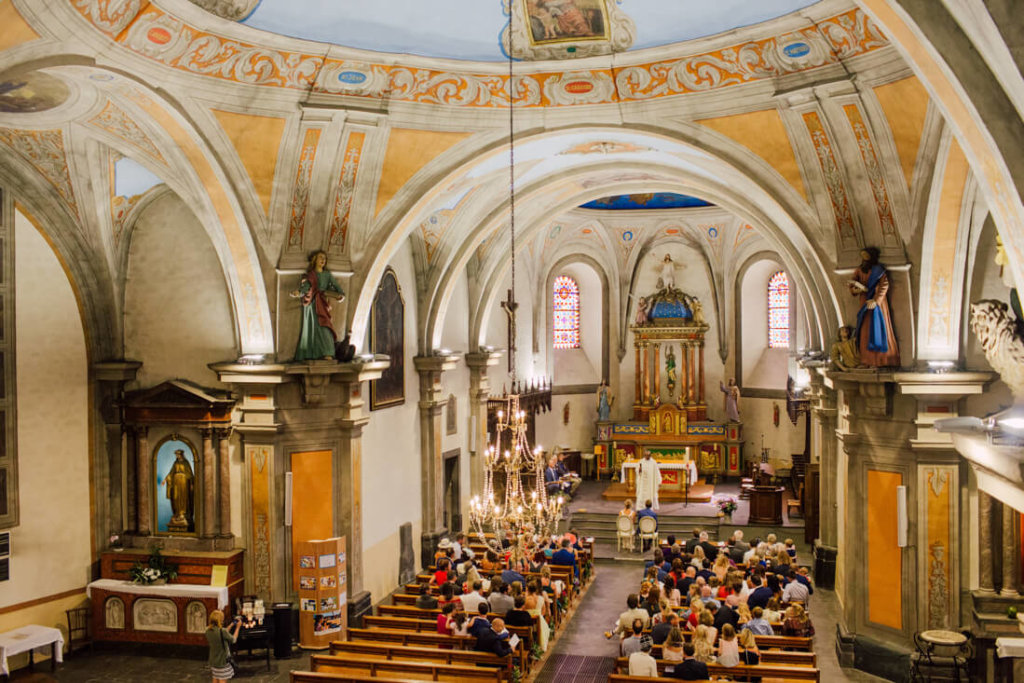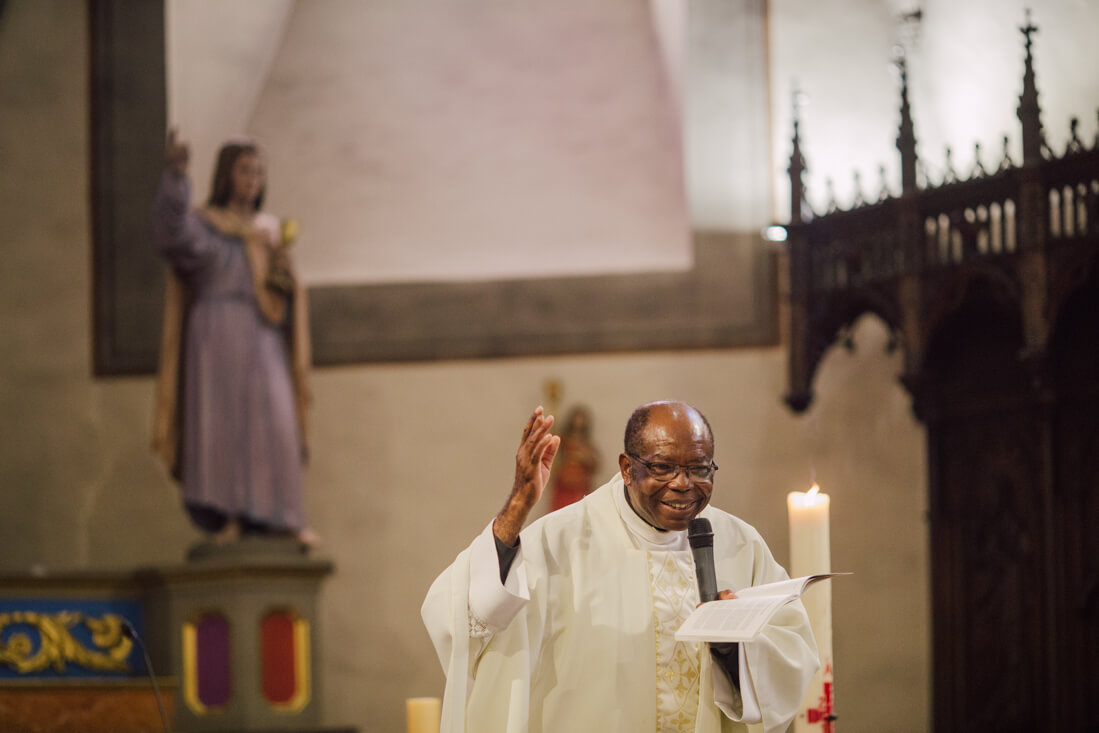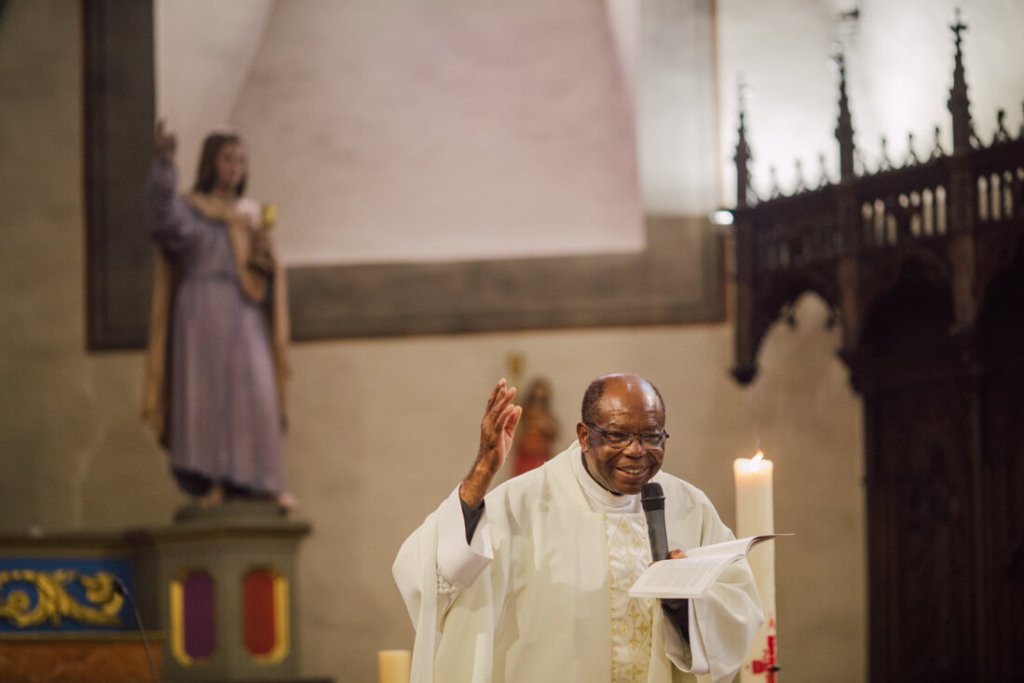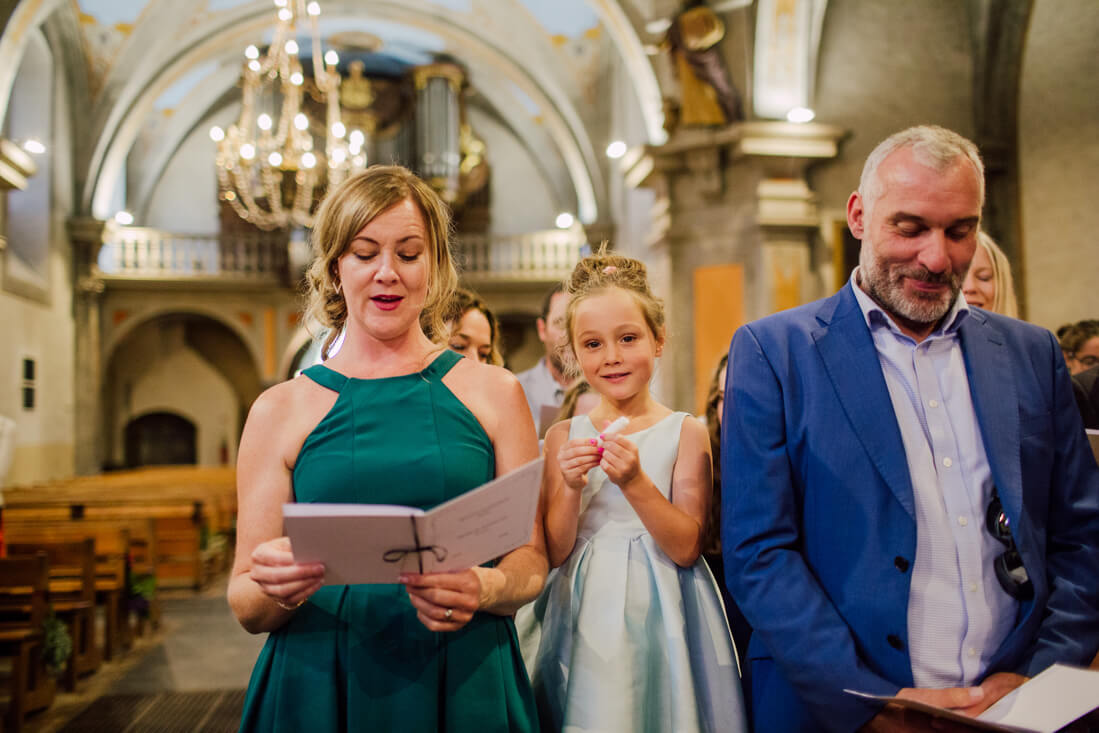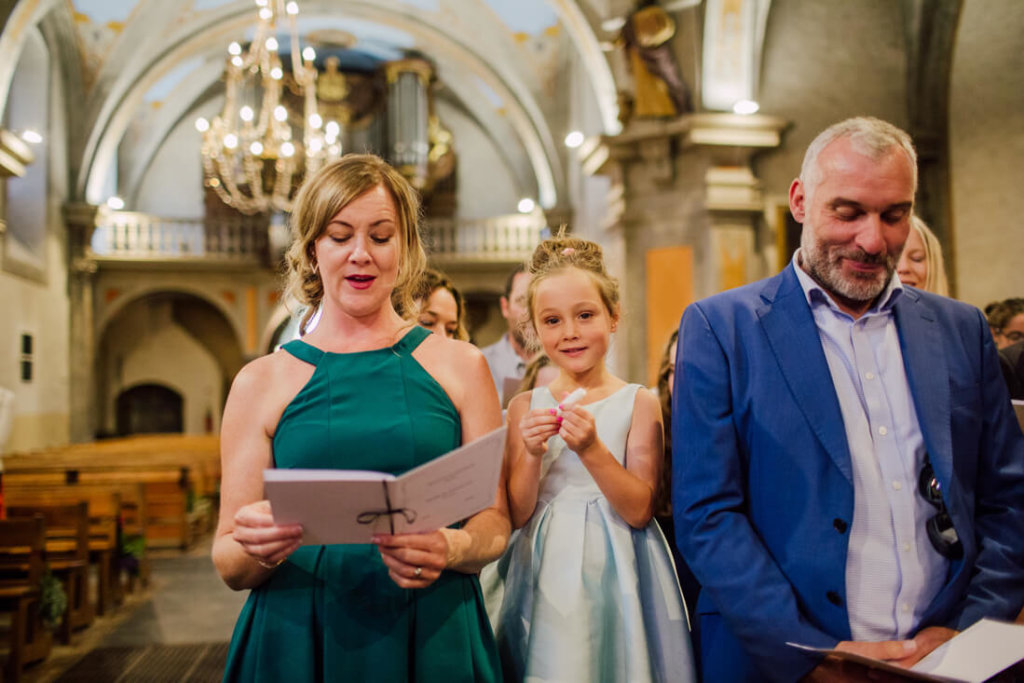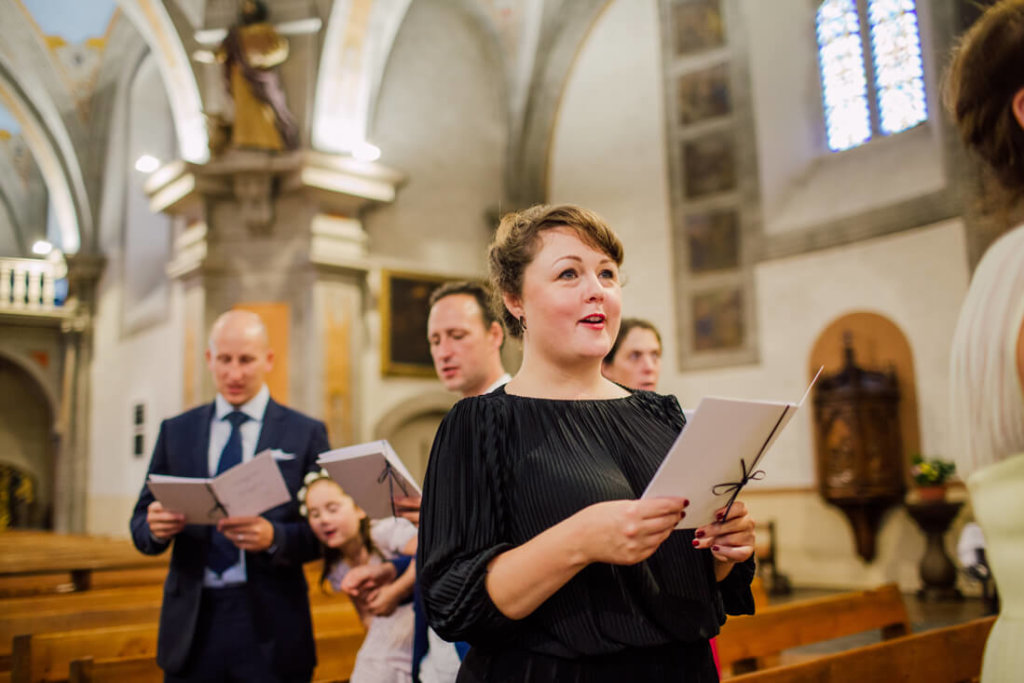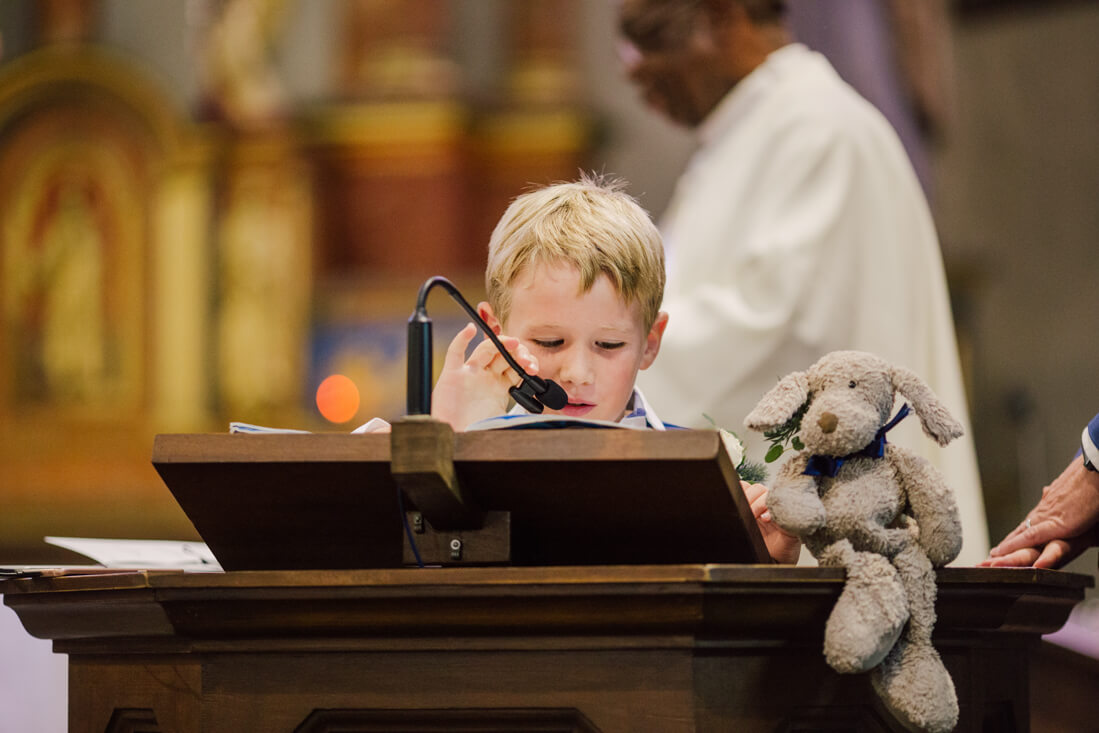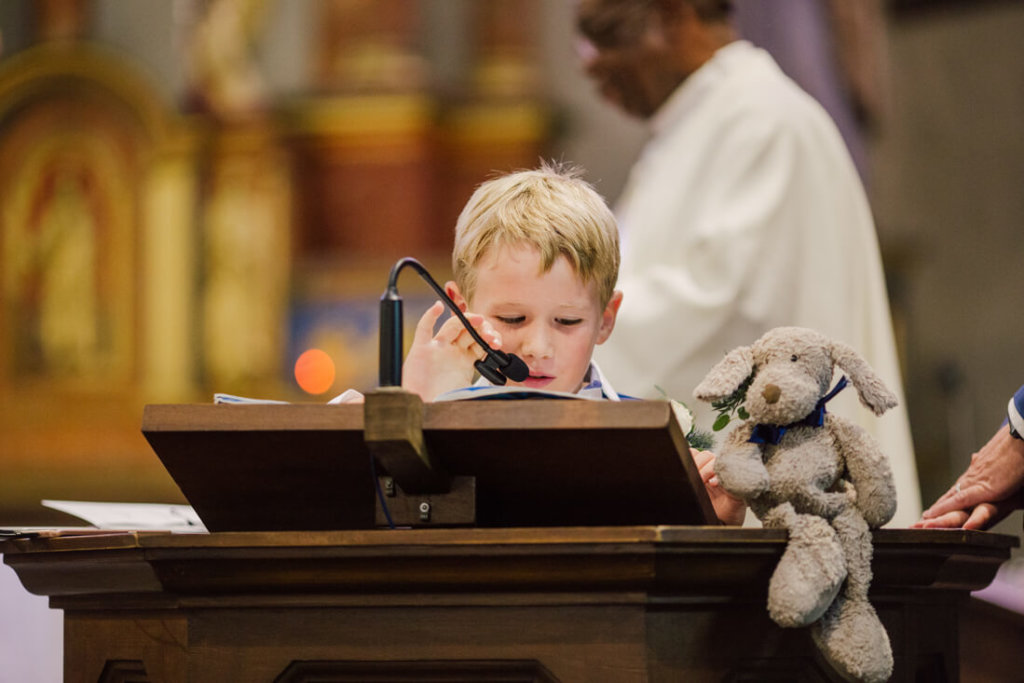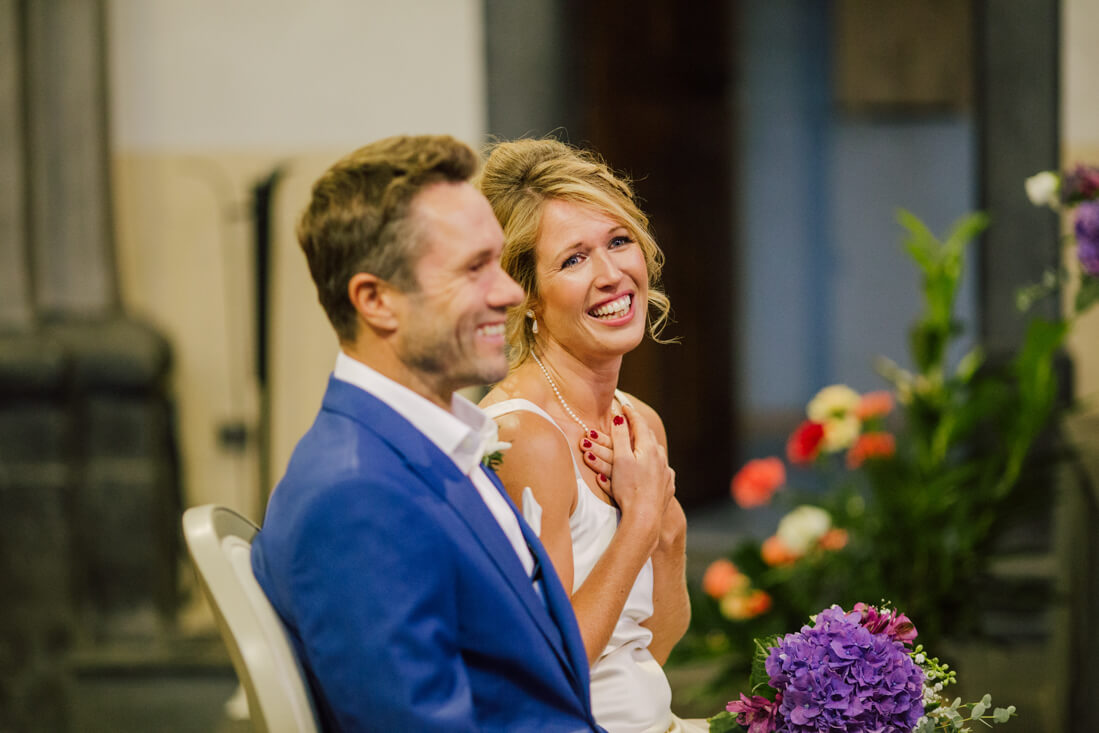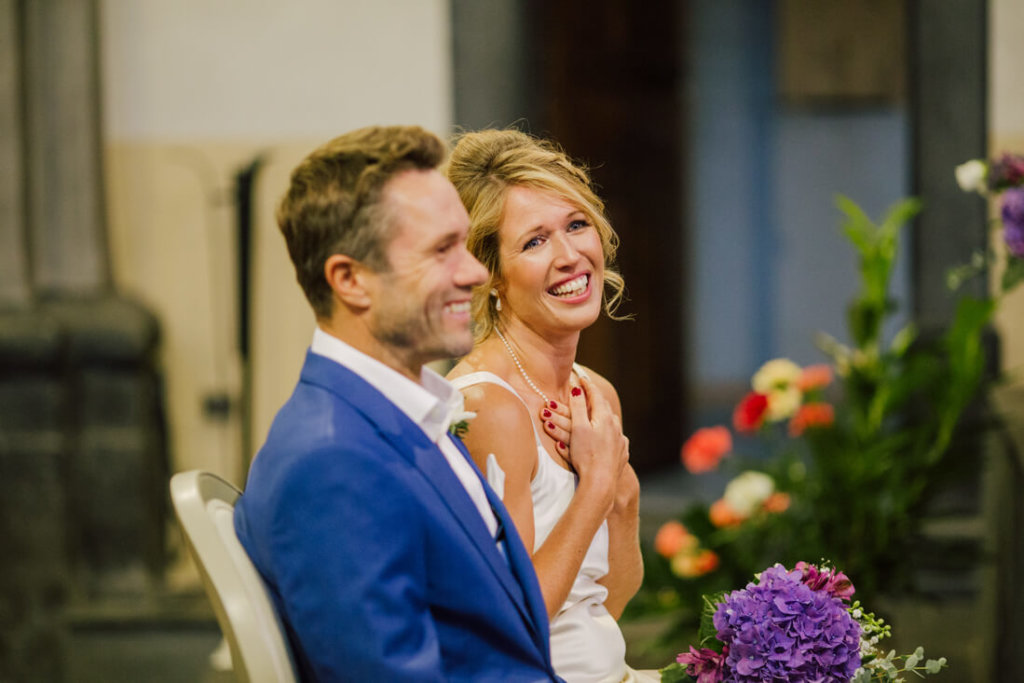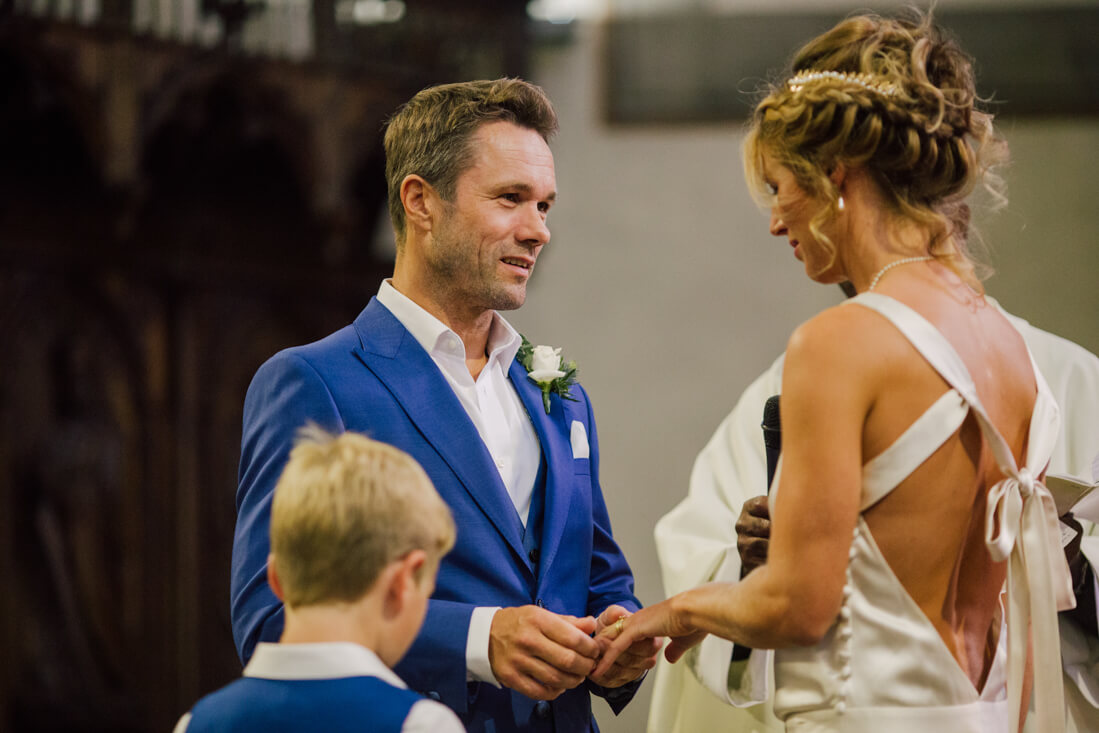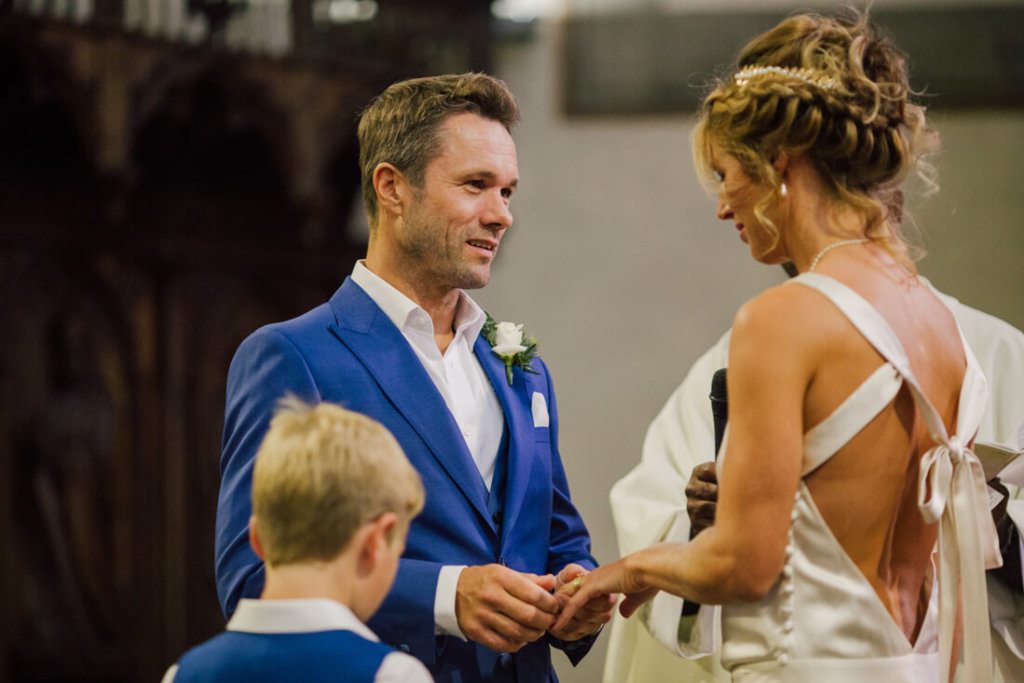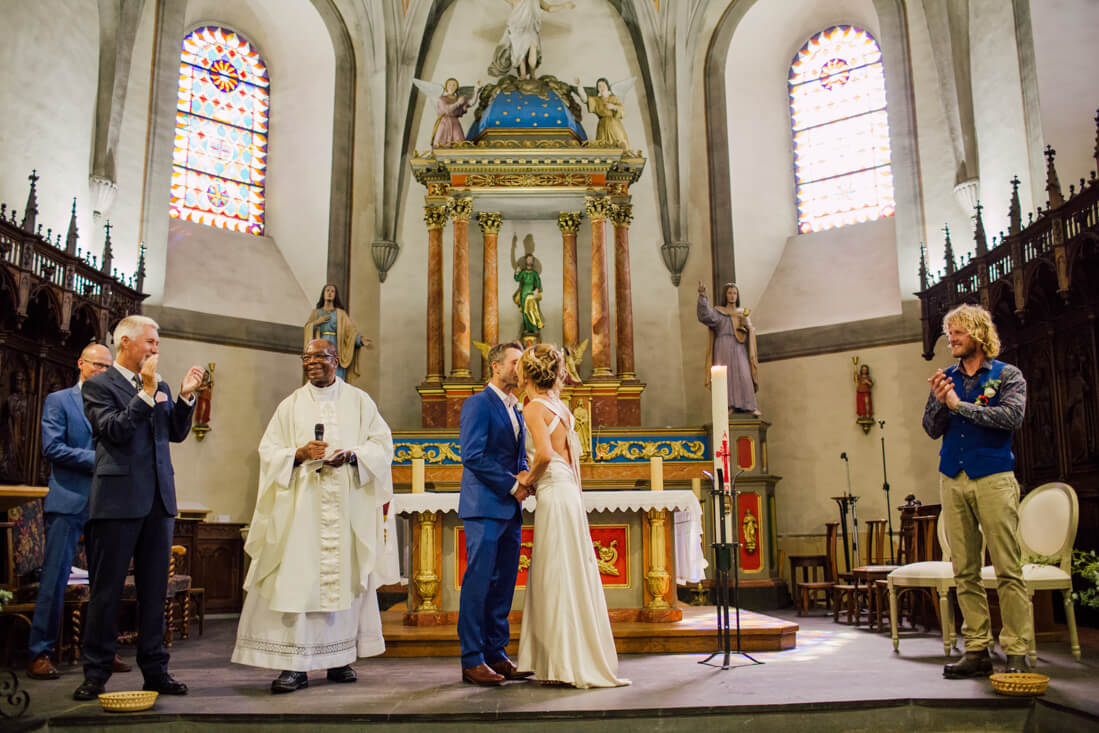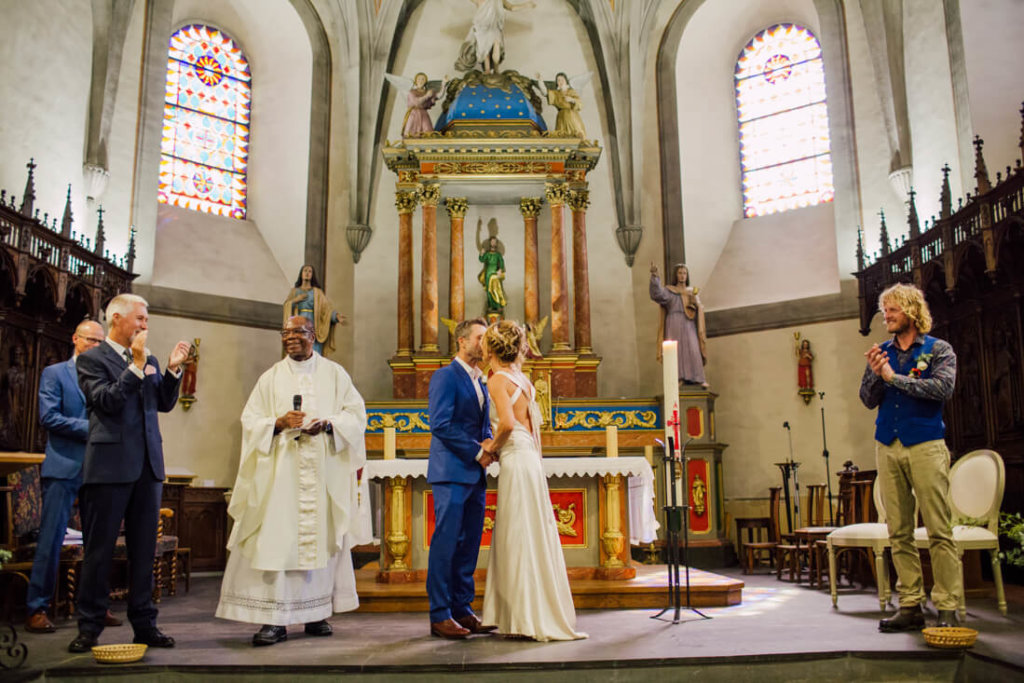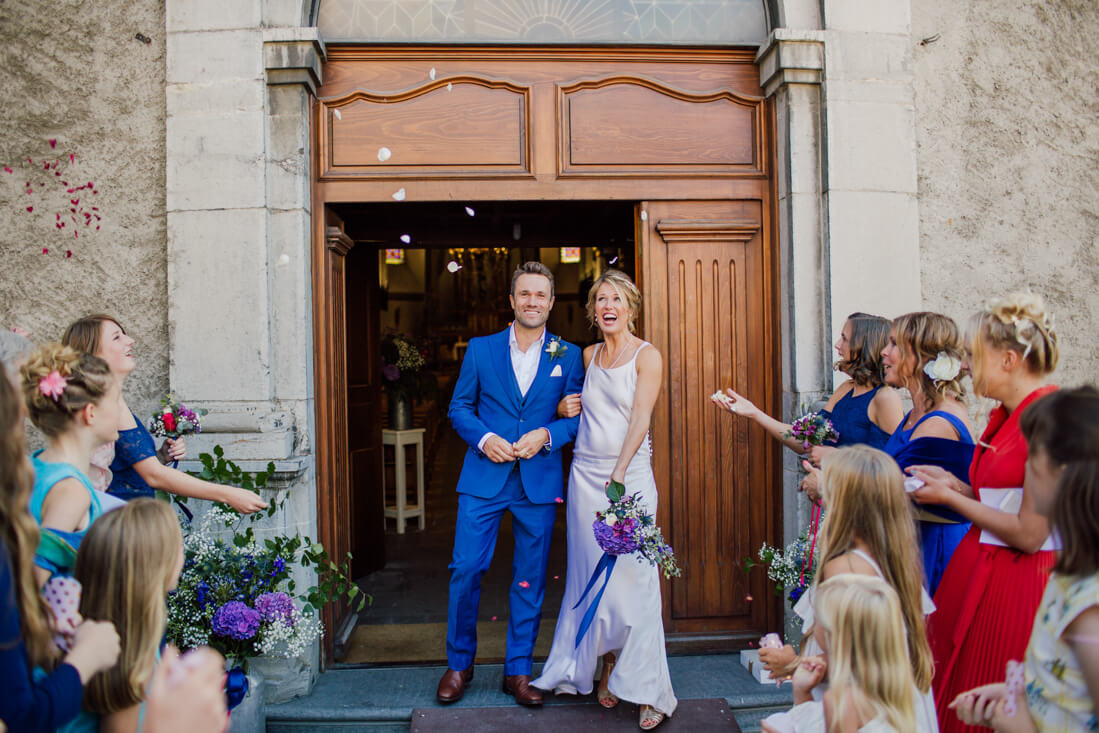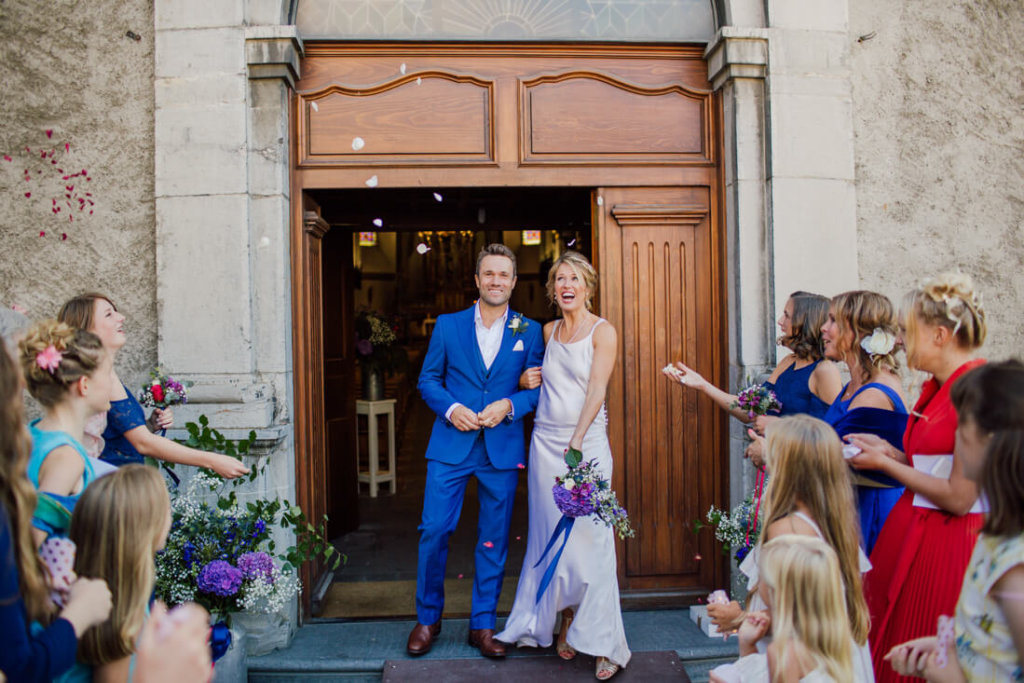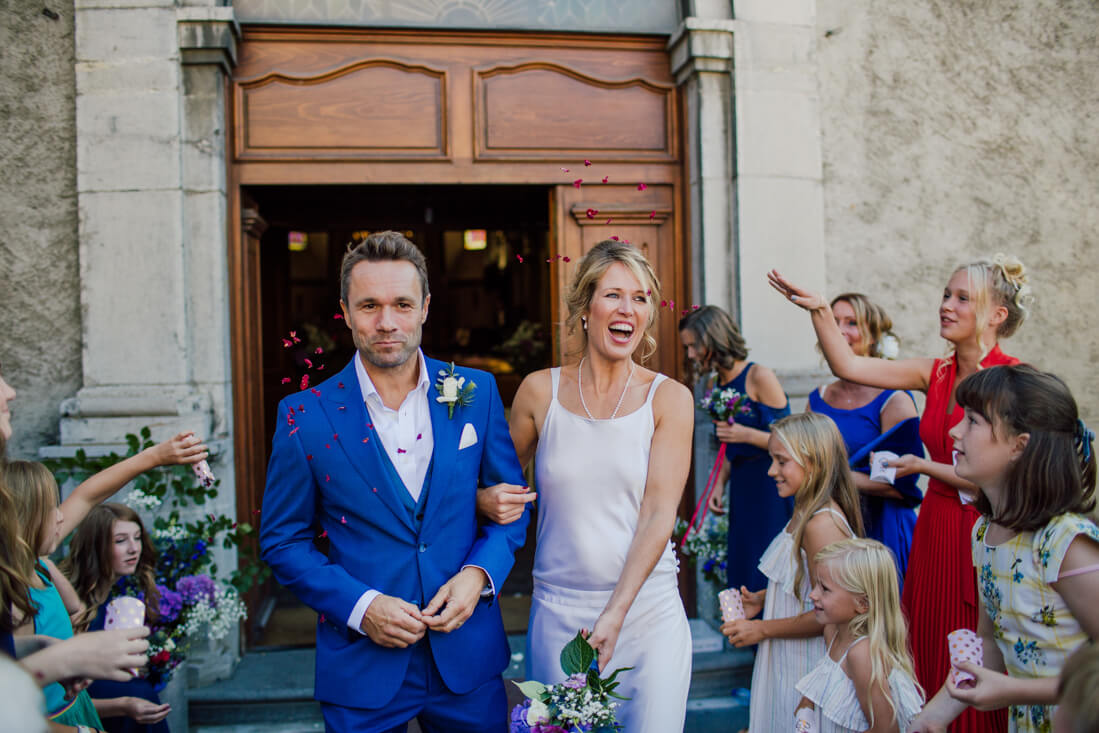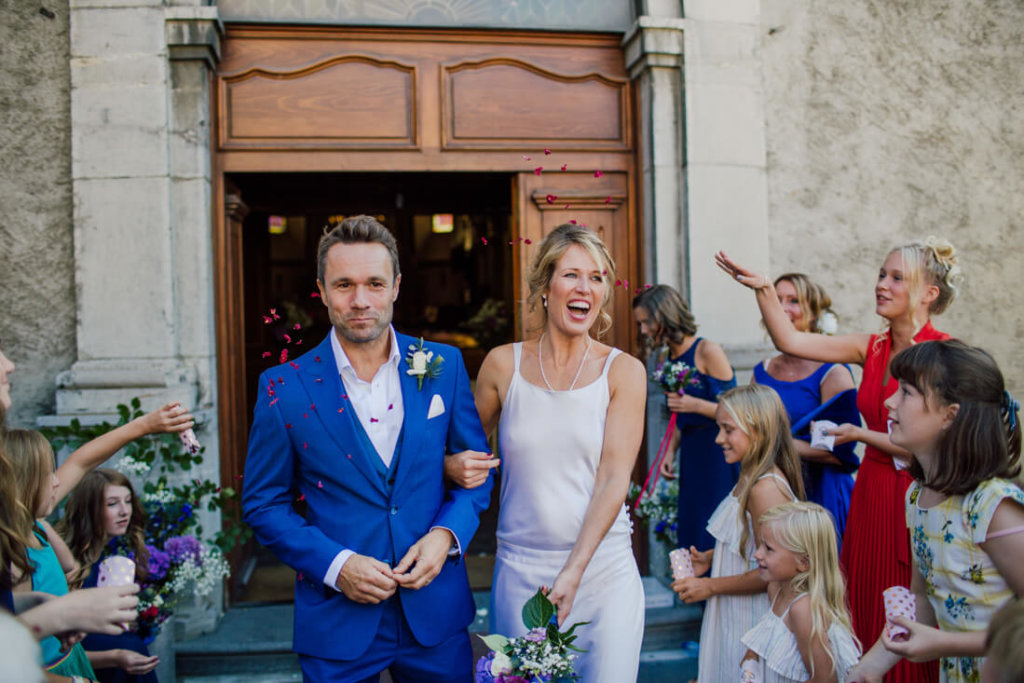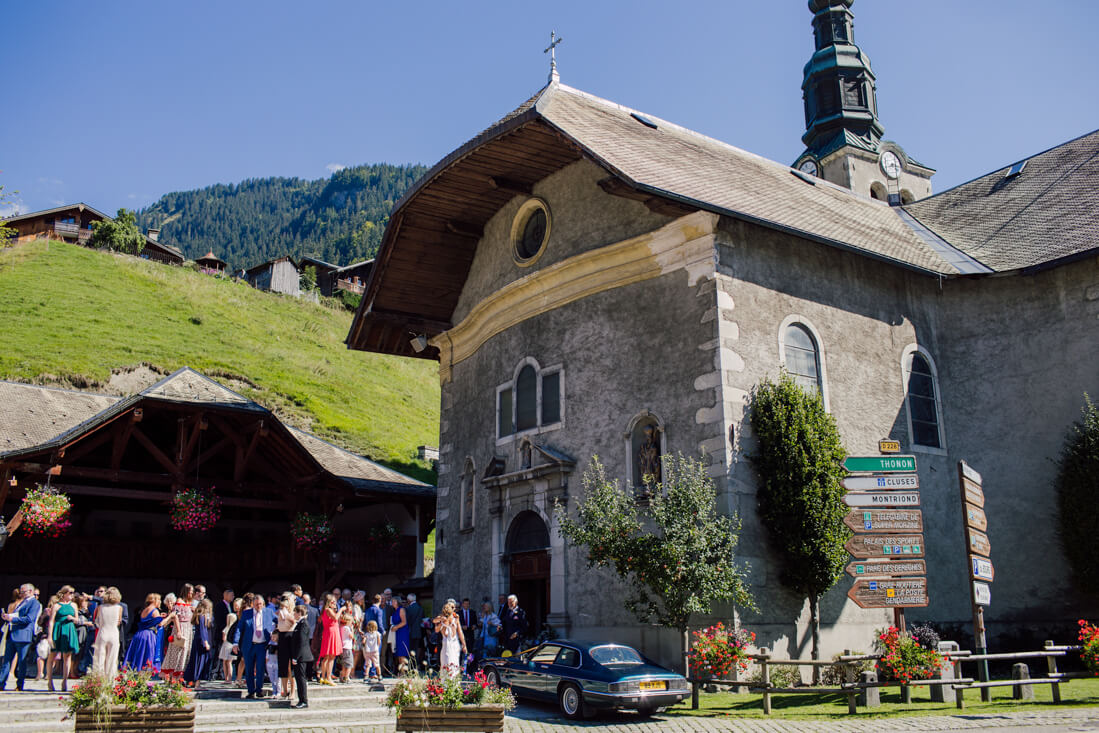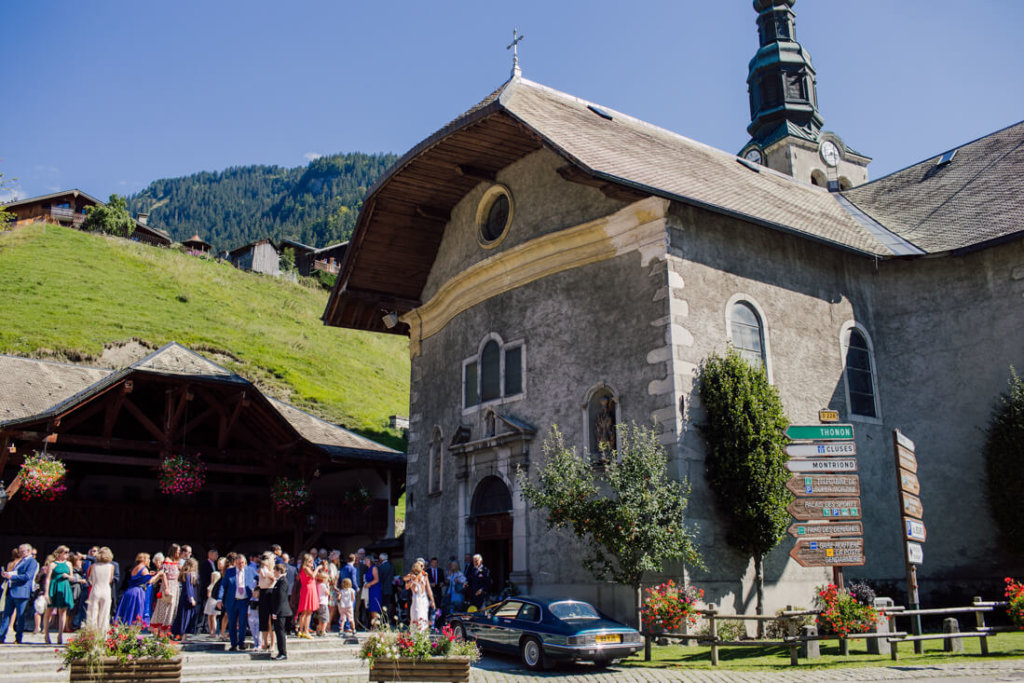 Please tell us about your wedding dress and accessories?
I knew from the start exactly what sort of dress I wanted. I love simple and elegant designs and as we were getting married in France Delphine Manivet the Parisian designer was a perfect choice. My dress was a heavy silk, drop waisted and backless design called Anatole and it was utterly perfect for throwing some crazy shapes on the dance floor later on! I love the beach and am a bit of a hippy at heart so wanted low key hair and make up and I managed to find a Grecian style hair vine which was perfect. My 90 year old Grandma couldn't make the journey but did lend me her beautiful pearl necklace which made me feel she was near by.
What inspired the choice of fashion and accessories for the groom?
The main colour of the flowers was blue so James looked great with his blue Ted Baker suit, white shirt and Loakes brown leather boots. The wedding ring from Malcom Betts in London finished off the look!
Was there a theme for the wedding party fashion?
To carry on with my favourite colour, all the wedding party wore blue. My three daughters were my bridesmaid and they looked gorgeous in navy blue chiffon dresses and gold sandals. I bought them each a gold necklace from a local shop in North Devon called Wanderlust. My son was 'Best boy' and wore a white shirt with Ted Baker waistcoat, tailored shorts and deck shoes. His much beloved toy dog wore a button hole too!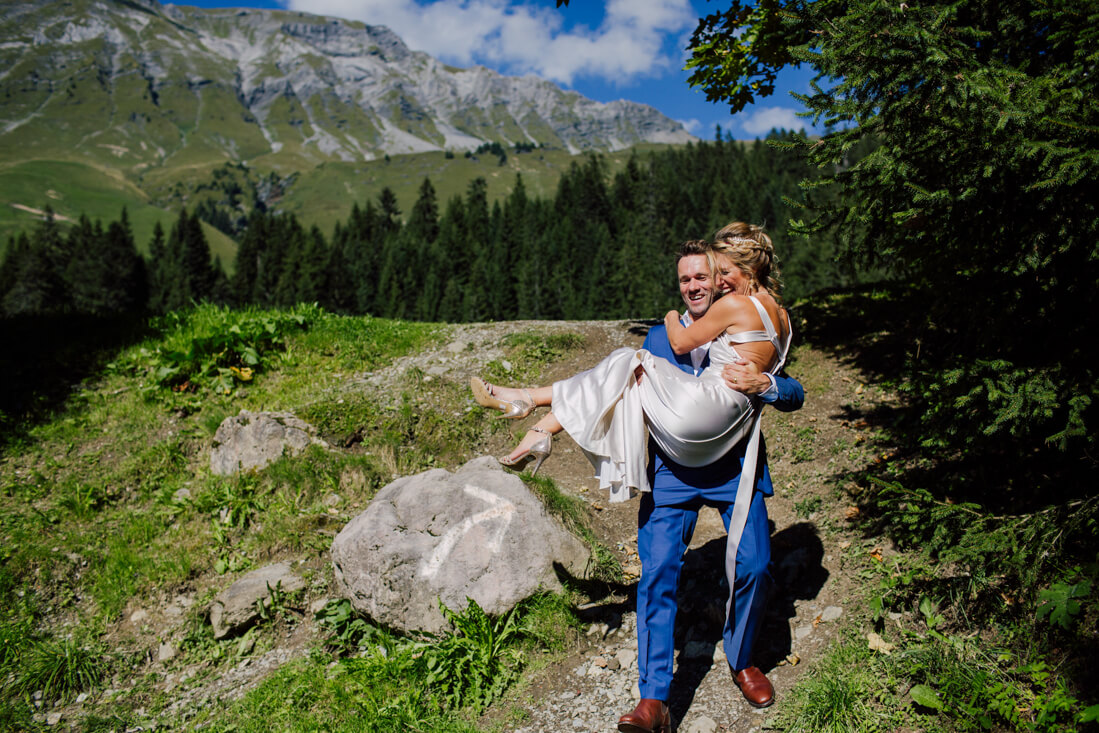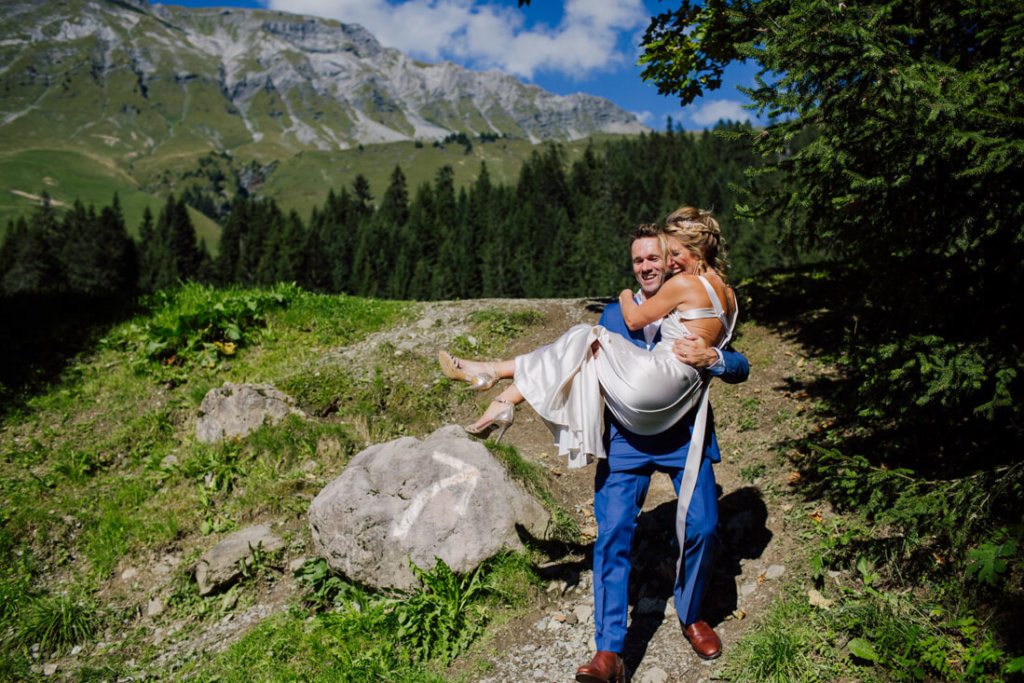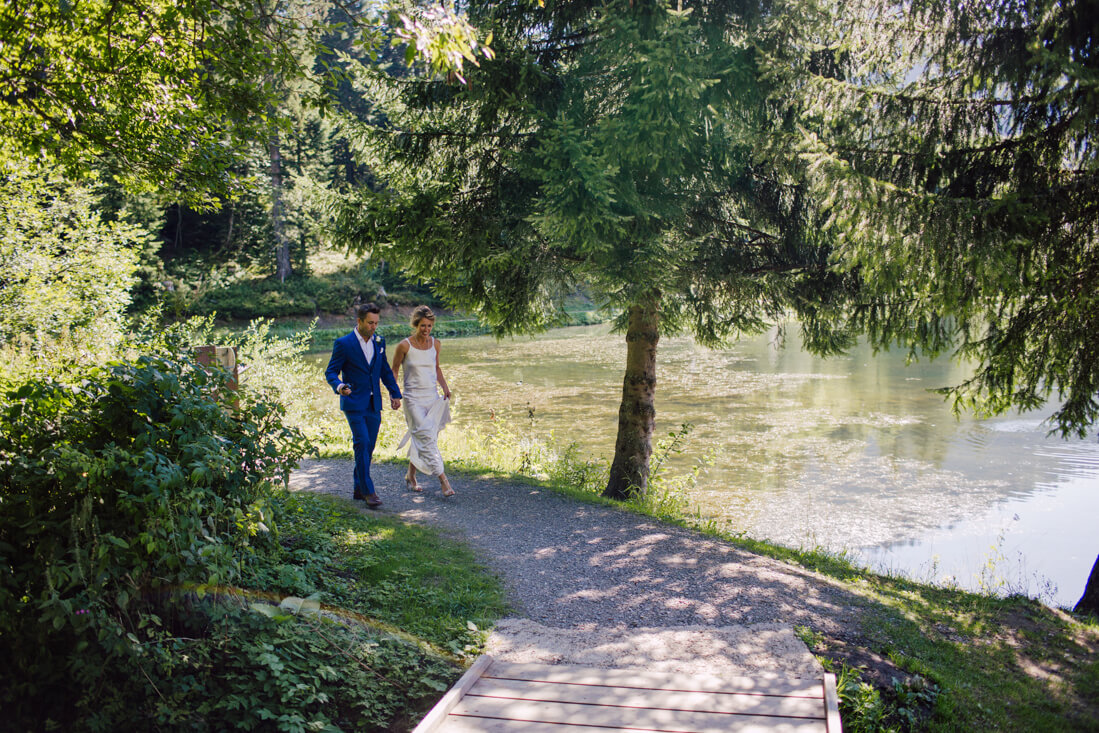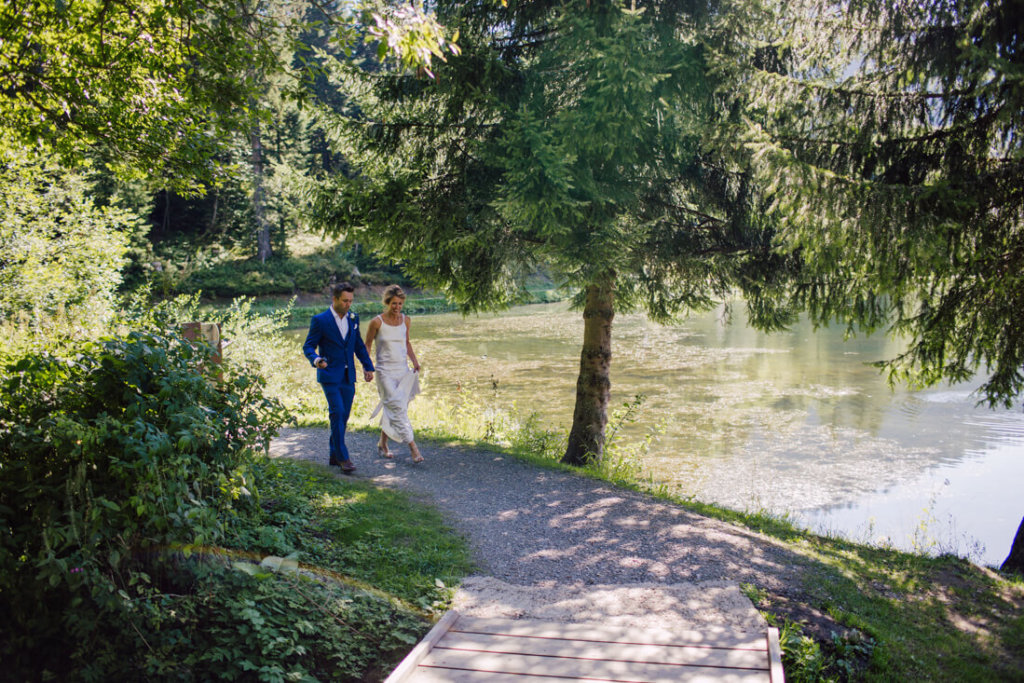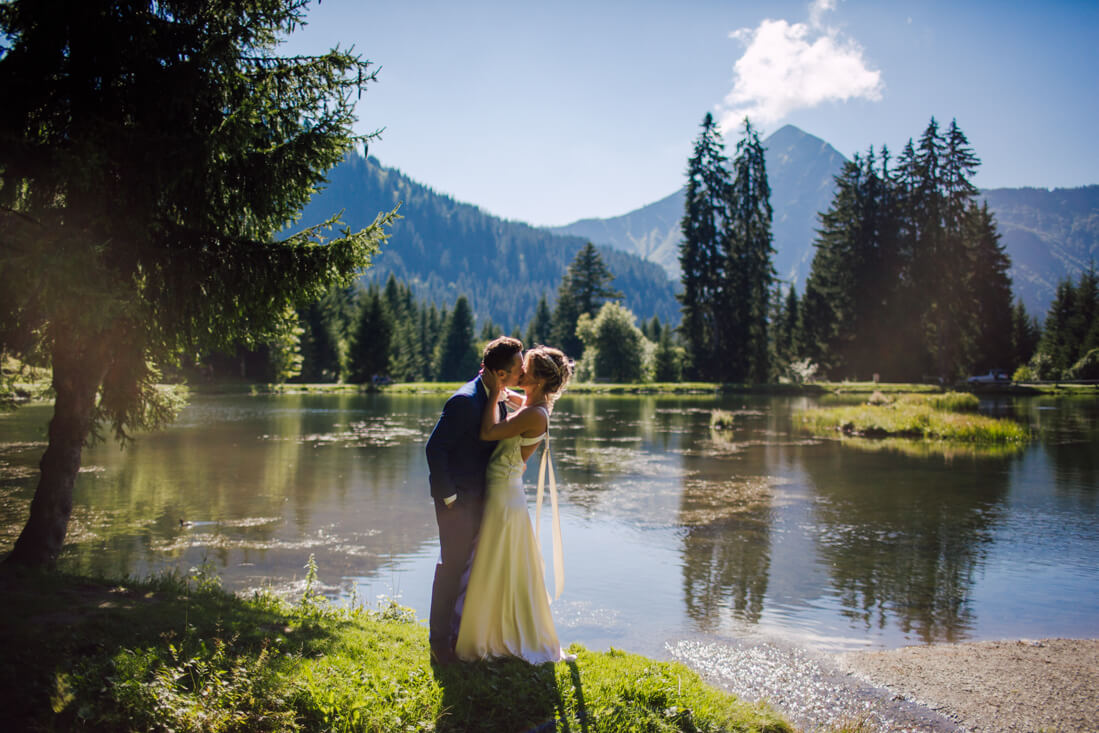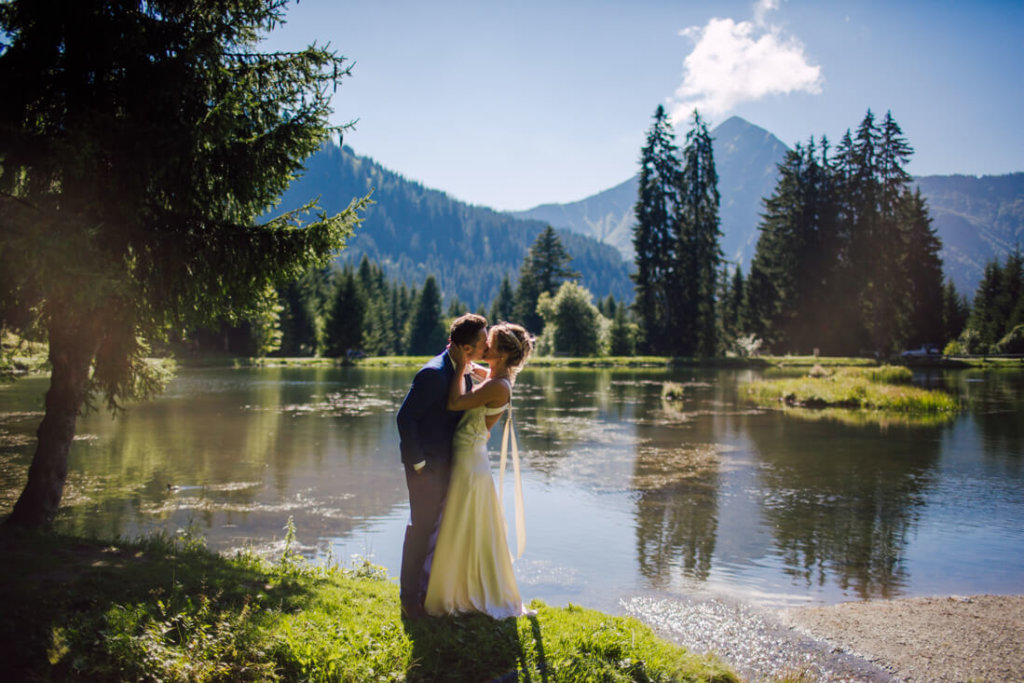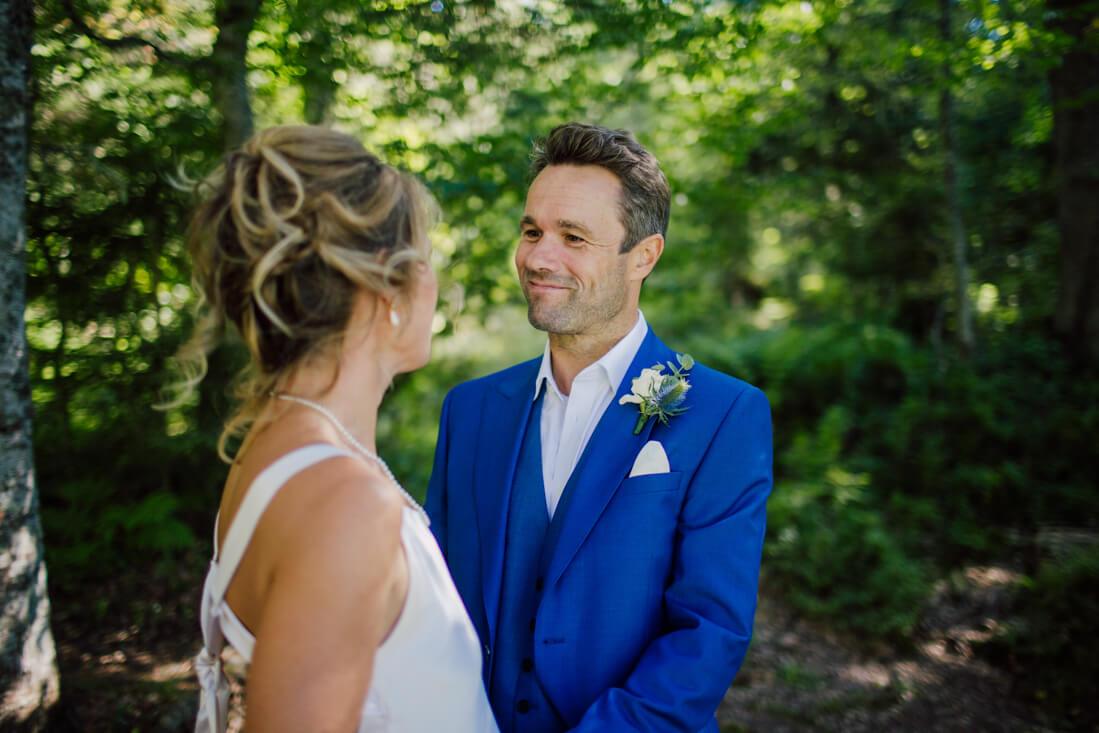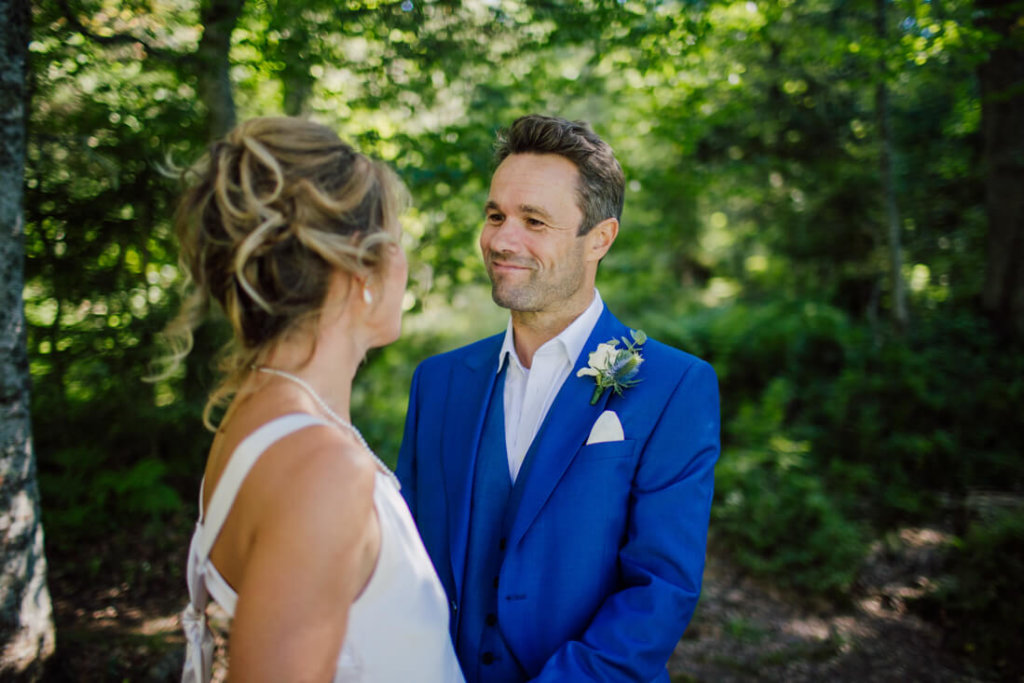 What were your thoughts behind the flowers – bouquet, button holes, centrepieces etc?
I wanted to have plenty of large floral displays but was struggling to organise what I wanted from the UK. In the end I ordered wholesale from Dutch Flower Auctions and ended up with an enormous amount of flowers for very little cost. My Mum did a beautiful job with all the bouquets and button holes whilst my Aunt Peet led a team of enthusiastic friends and family to create stunning displays. I chose hydrangeas, blue thistle, agapanthus, eucalyptus, gypsophila cream and pink roses.
Describe any DIY elements?
Everybody arrived a couple of days before the wedding and got involved with the preparations. All the flowers were arranged by us. Signs were painted, candle holders made from silver birch, the stretch tent decorated with greenery and romantic quotes written onto prices of slate. I made the table numbers in the style of piste markers with all our favourite alpine places on- we had a piste map pinned up as our table plan.
Describe the food?
After the church service we all piled back to the hotel garden which was bathed in glorious sunshine for a proper Devon cream tea- we even brought the clotted cream from England! We served fizz and cocktails until dinner. Guest ate a choice of Scallops, Asparagus and poached eggs,Beef Wellington, Duck, Salmon, Meringues, treacle tart and cream brûlée. Our 'cake' was an enormous tower of profiteroles with caramel and berries. At 10pm we served a Greek mezze feast, we spend a lot of time in Greece and love the food there. Espresso martinis and jaeger bombs kept everyone in the party mood!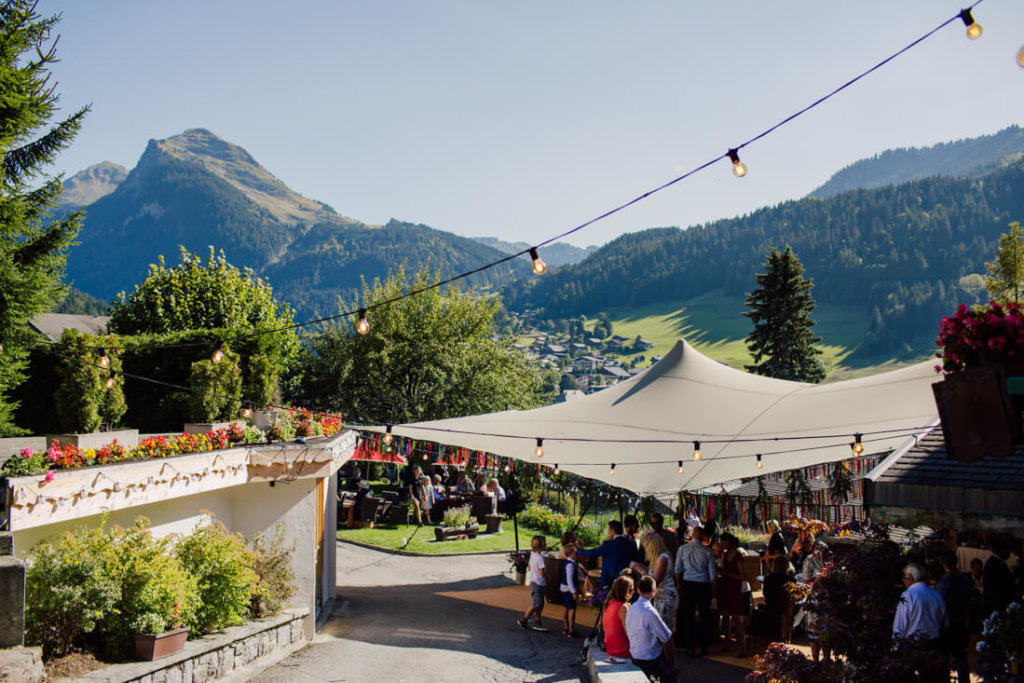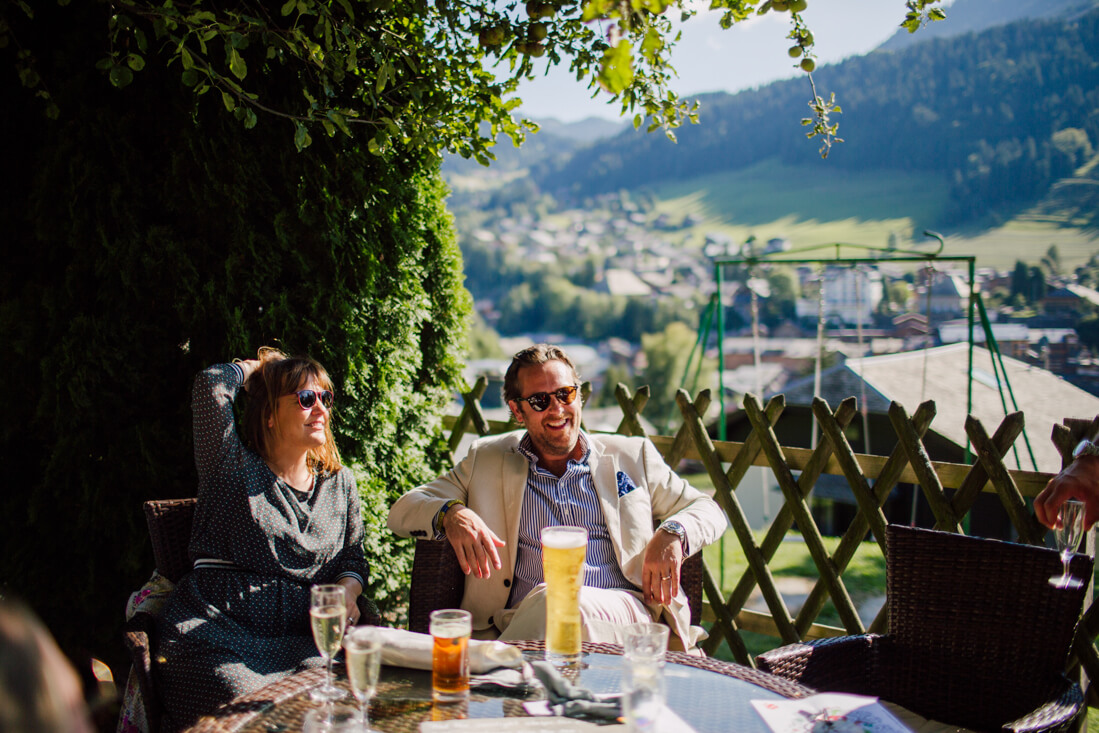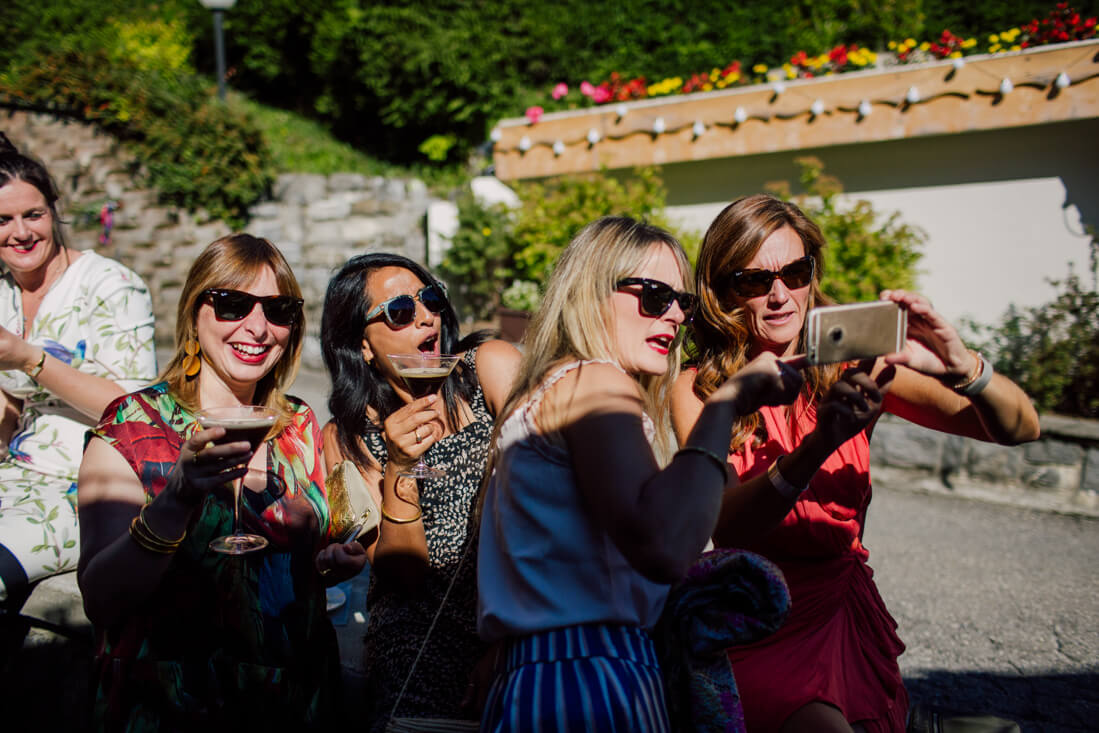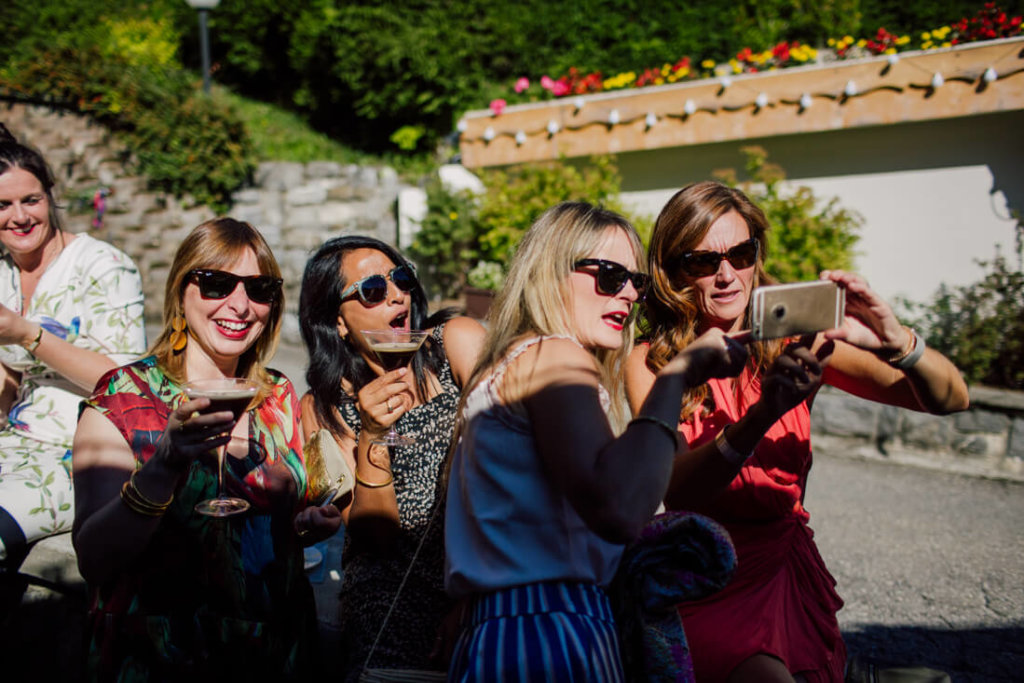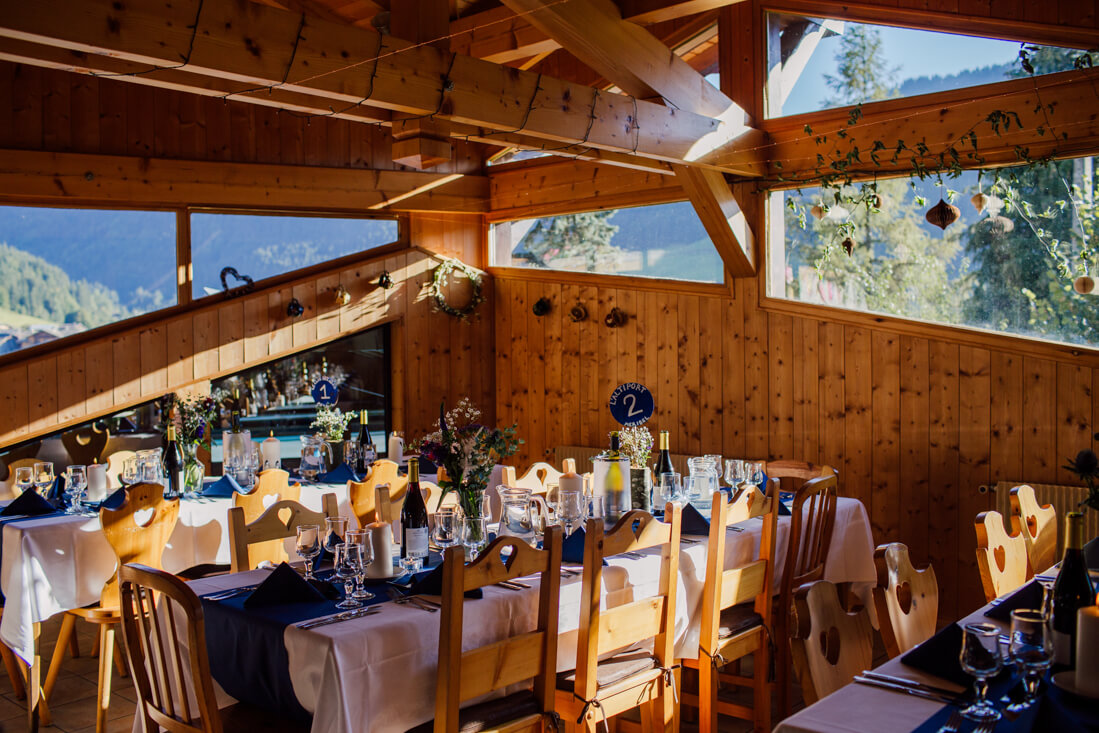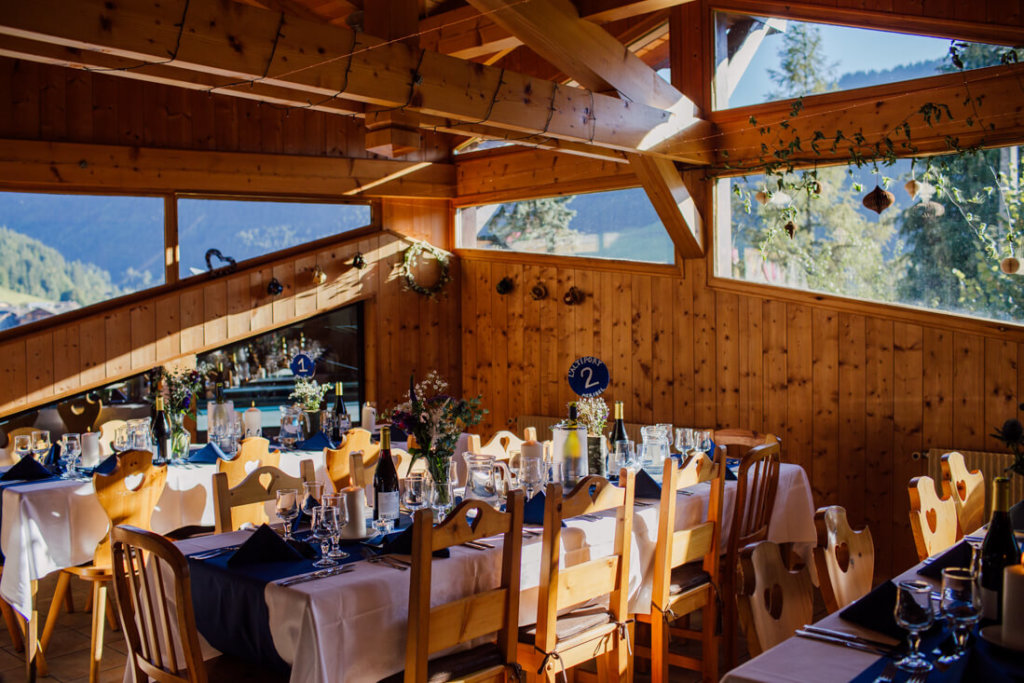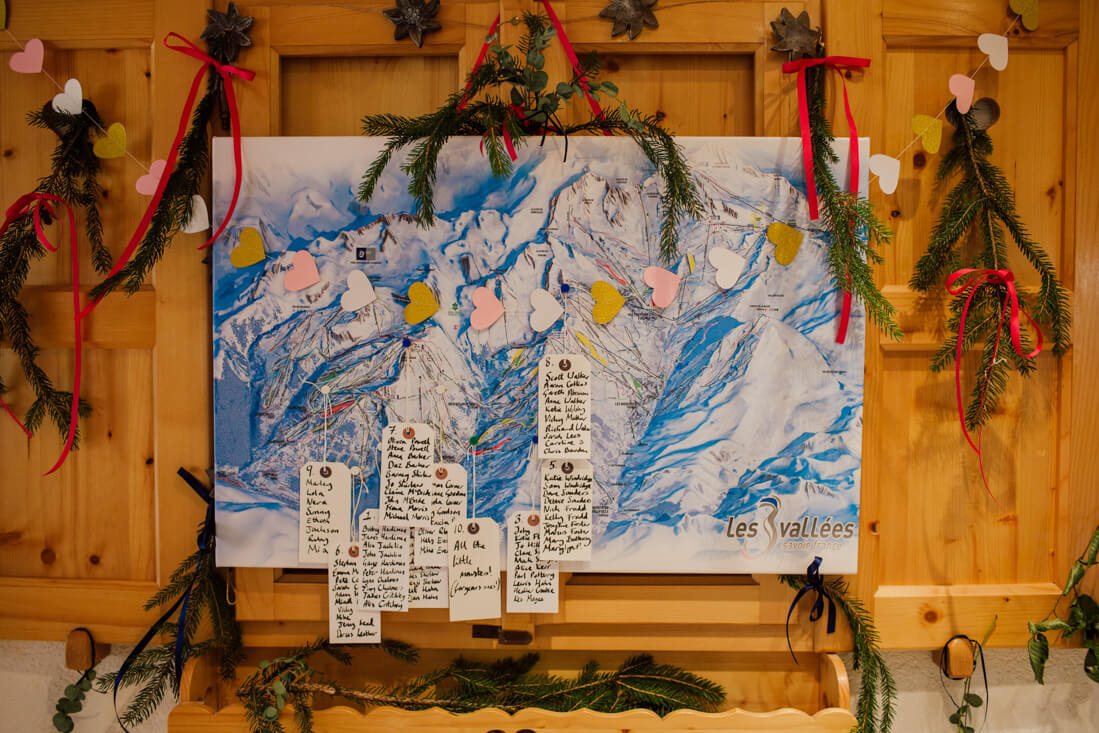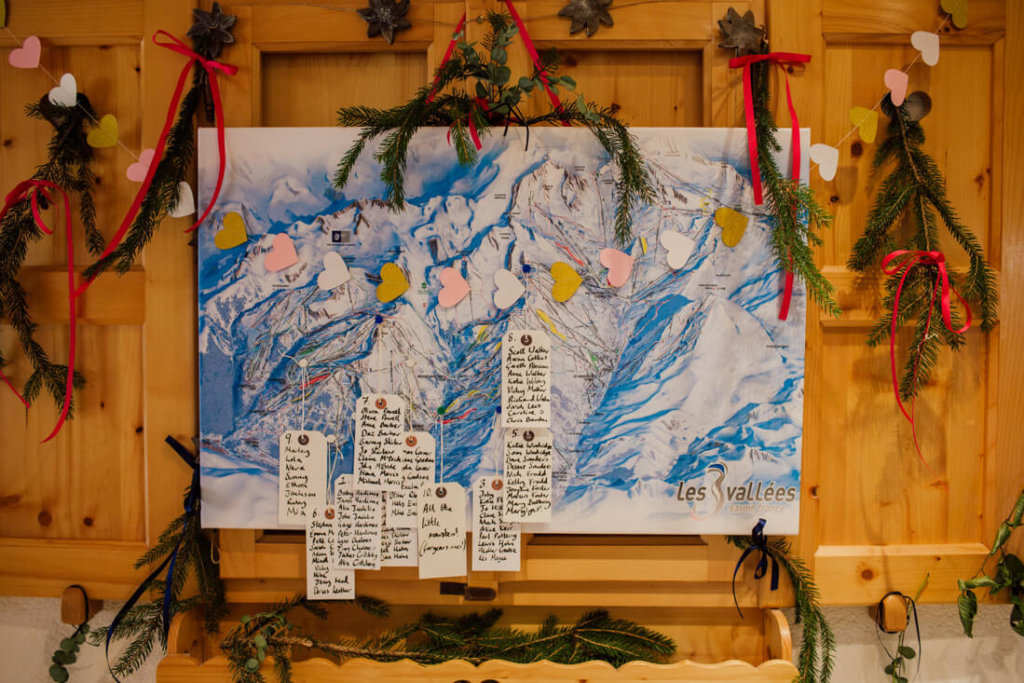 How did friends and family help with the planning?
Yes! They were incredible. Everyone felt they had contributed something, James Mum printed up the order of service, various people strung up festoon lighting, seating plans were written, teas and coffee made continuously, they were all brilliant!
What music and entertainment did you choose and why?
We had the incredible Juke box Joel and our good friend Paul Potbury playing live music between 3-5 when we returned from church. After dinner we had a local DJ play our playlist as we had a lot of favourite songs and also felt it would be easier to regulate the level of noise after midnight – we danced until 3am!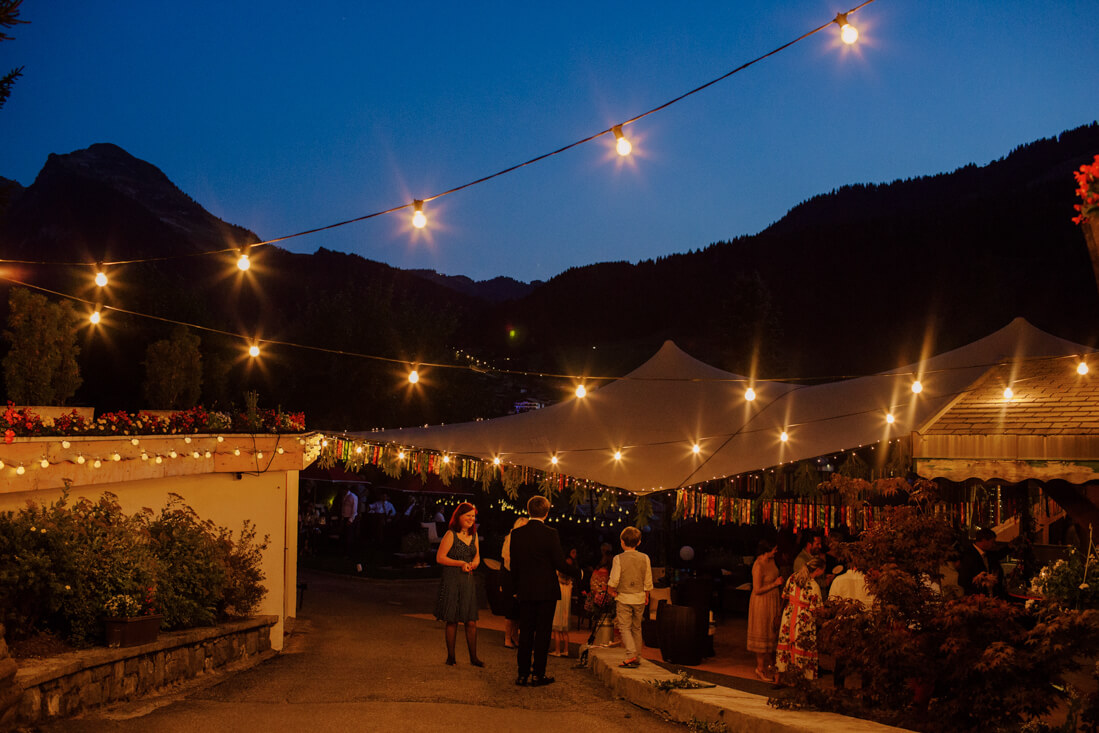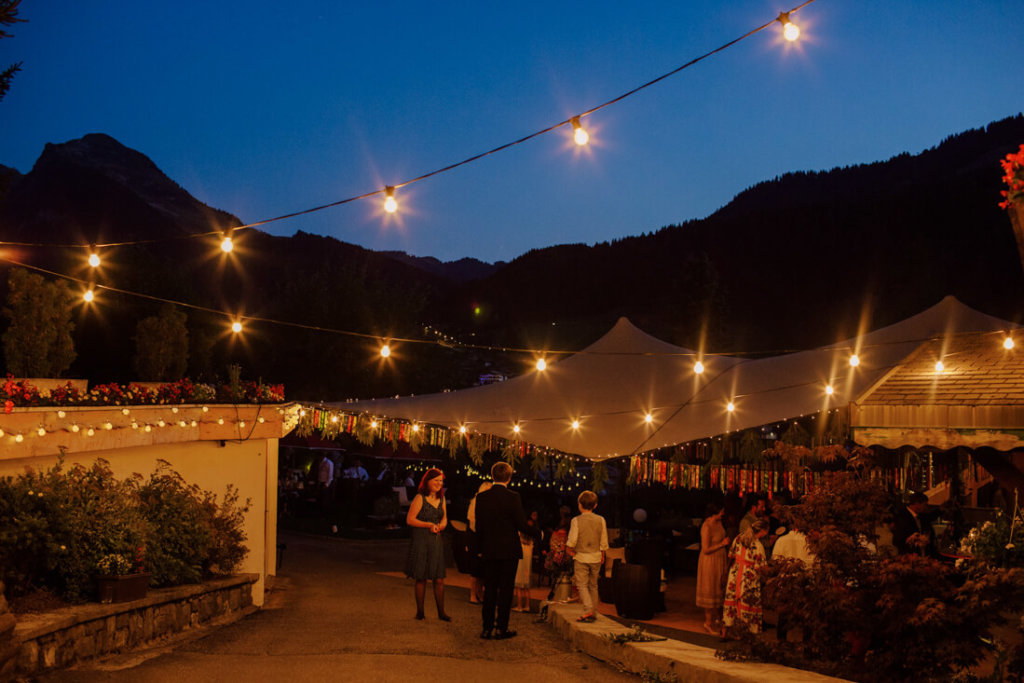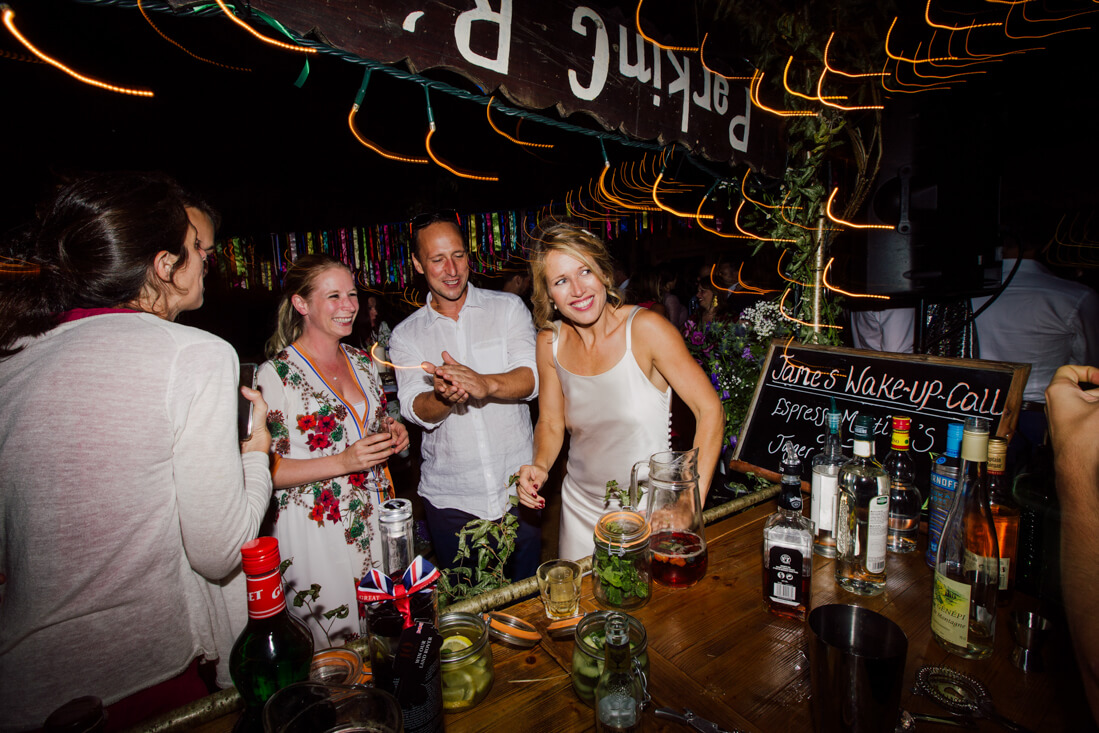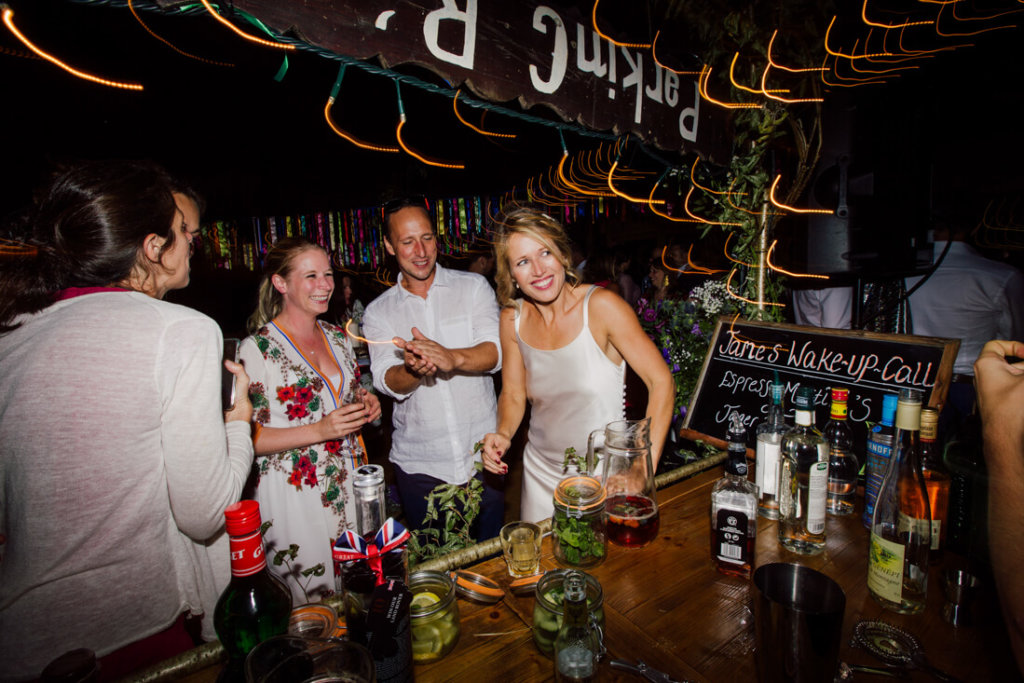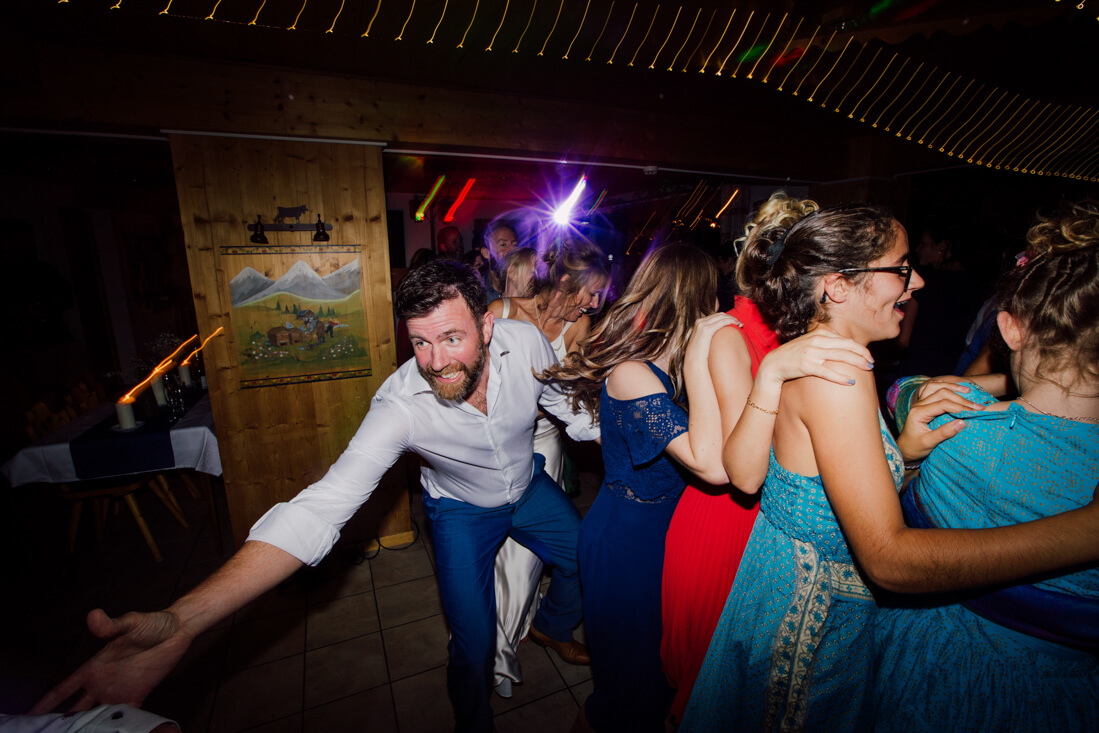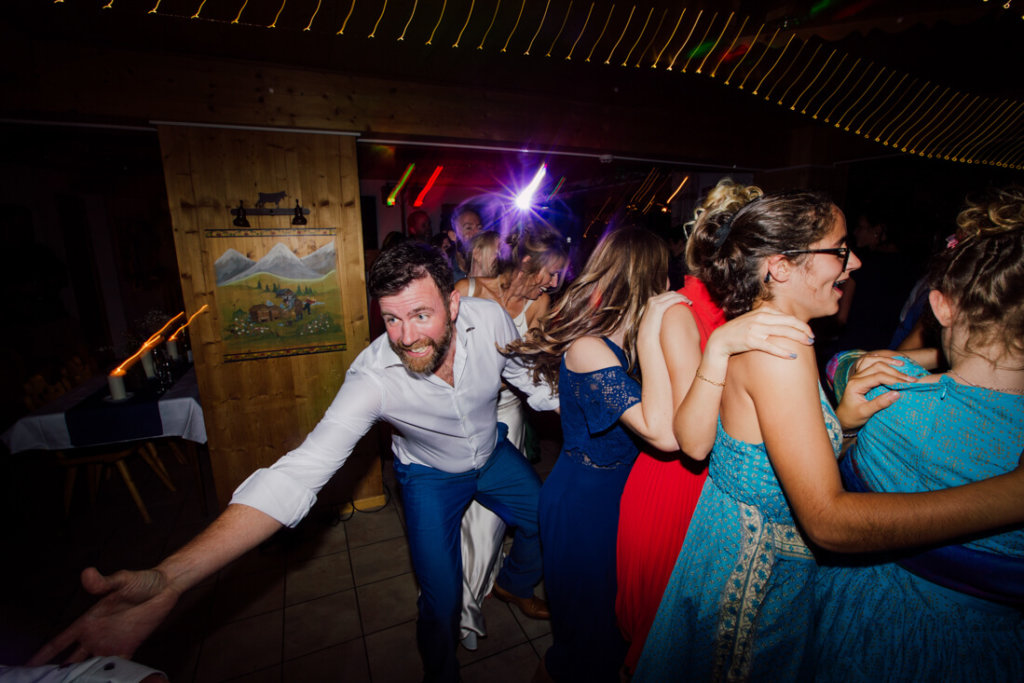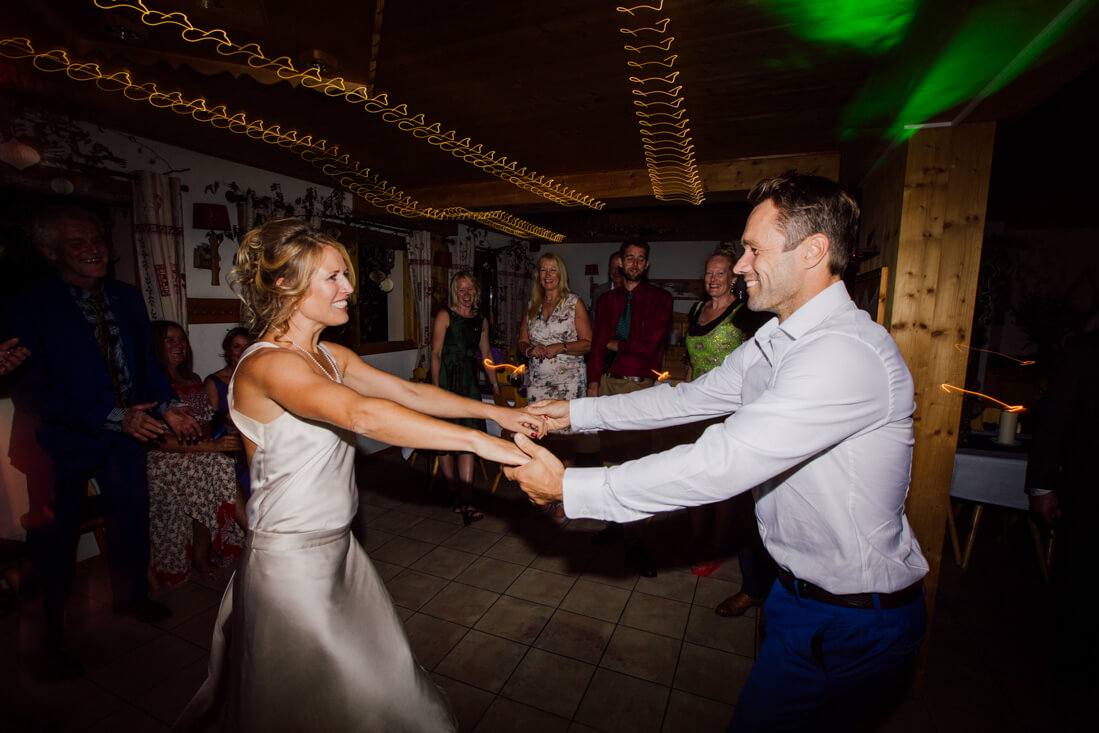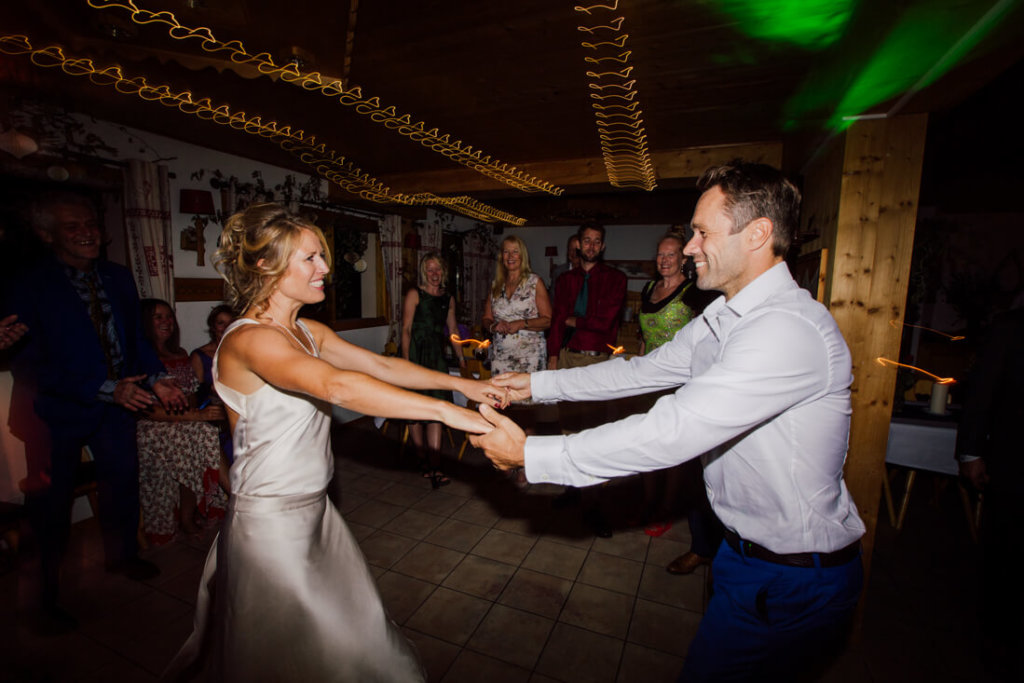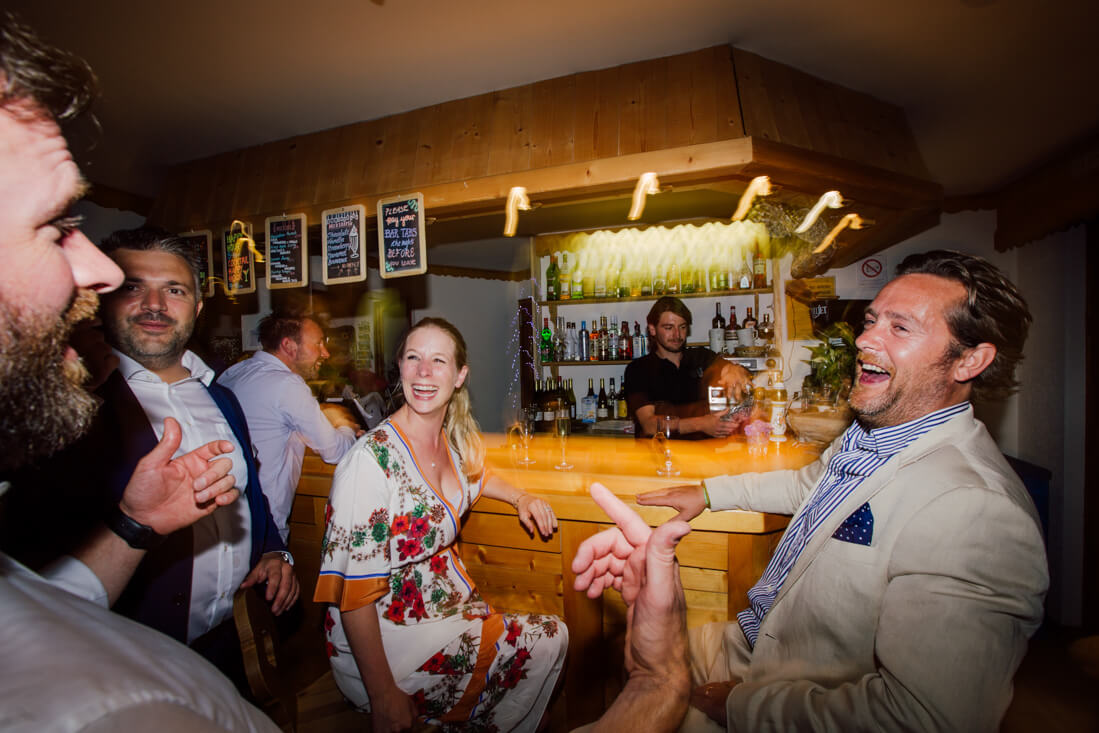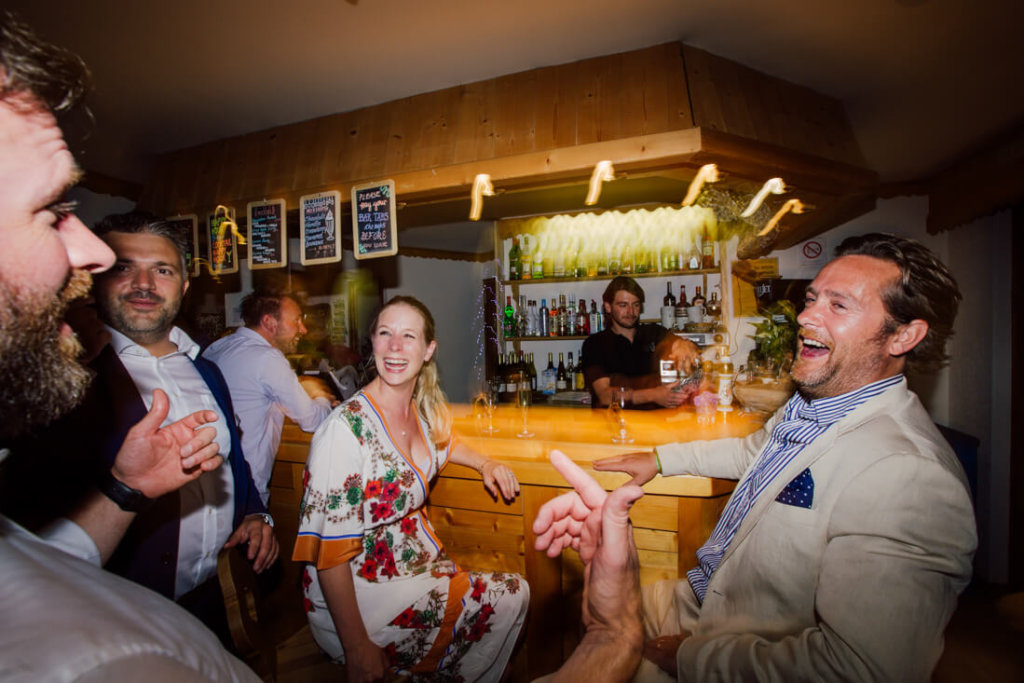 What events and moments made your day special?
The music got totally muddled in the church which ended up being pretty funny, Ben reading the owl and the pussy cat was just lovely, having some time after the church before the the reception for photos with only James was very special. My brother gave me away as my father died when I was little, his speech was brilliant. A very funny moment was a mad dash around Morzine with one of my best friends to find some bridal knickers as had totally forgotten to bring some that I could wear with the dress! I loved getting ready with my daughters at our chalet down at Nyon, the rally drivers had set up there and they all cheered as we left! I will never forget coming into the church and seeing all our closest friends and family smiling and clapping. It was just a beautiful happy day with sunshine and a lot of a laughter.
Why did you choose Eight Bells Wedding Photography?
I looked at quite a lot of wedding blogs from couples who married in Morzine and Eight Bells Wedding photography really stood out as being very unobtrusive, natural and colourful. We loved how Rueben captured hilarious moments that were completely unstaged. I love flicking back through our album and seeing so much joy shining out.
Do you have any advice to other brides on planning their day?
Don't worry about the inevitable parts that will go wrong – these will be the bits you will laugh about afterwards. Delegate, people love to help and you can't do it all. Set up a Pinterest board, it's great for showing helpers or suppliers what you're aiming for.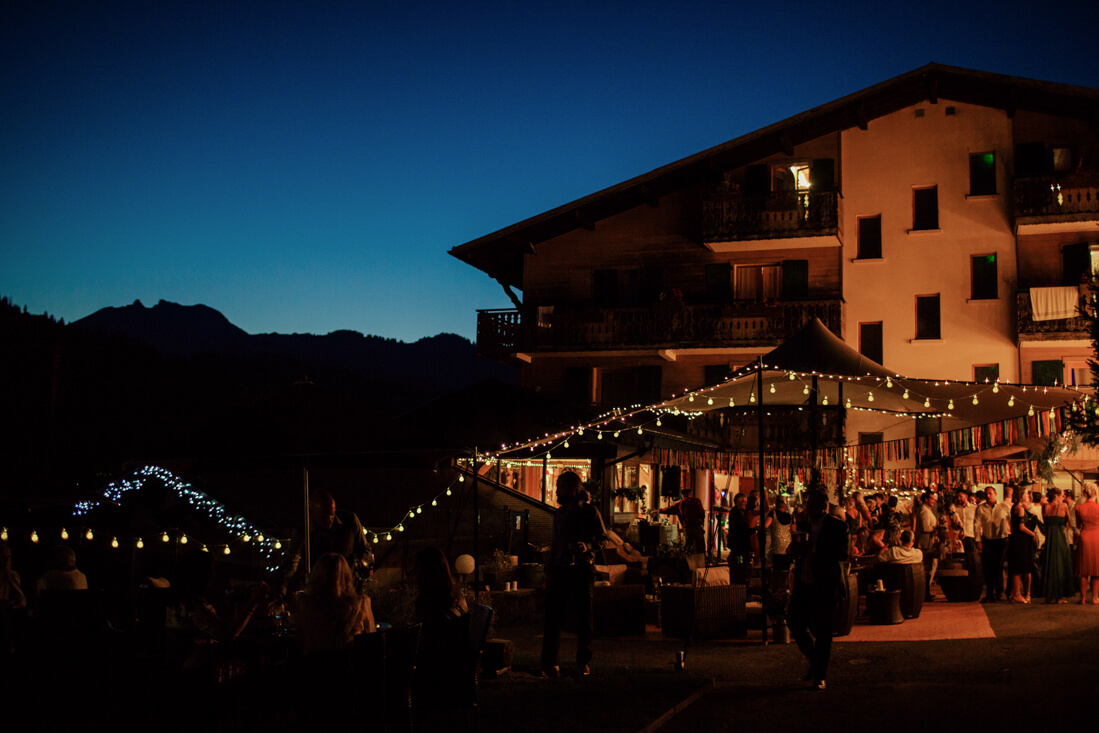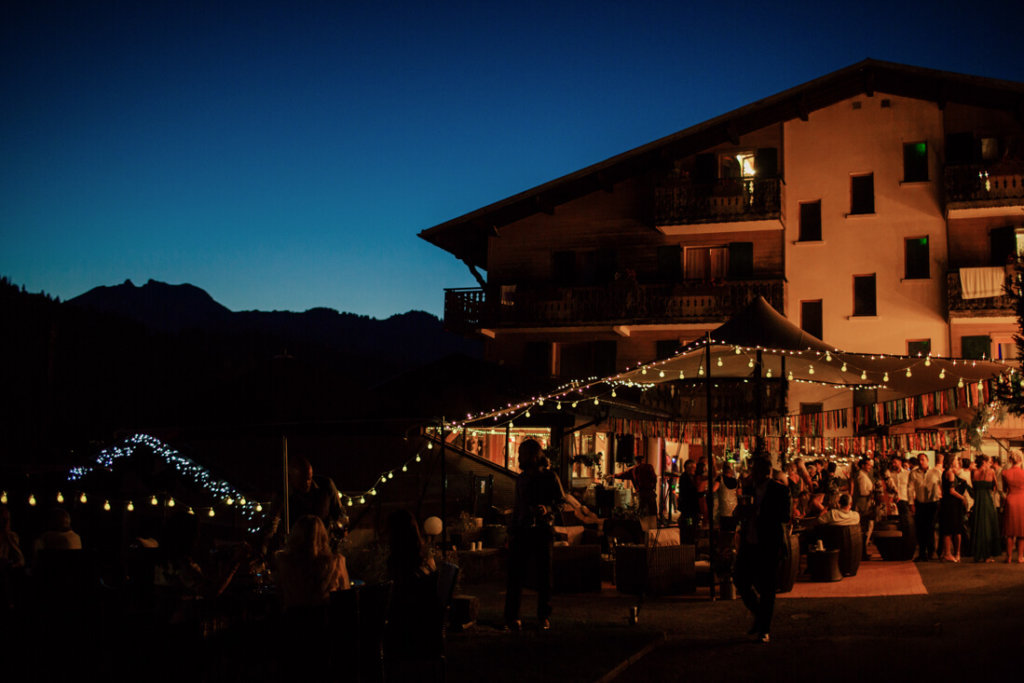 FEATURED SUPPLIERS