Boho Summer Wedding in Morzine, French Alps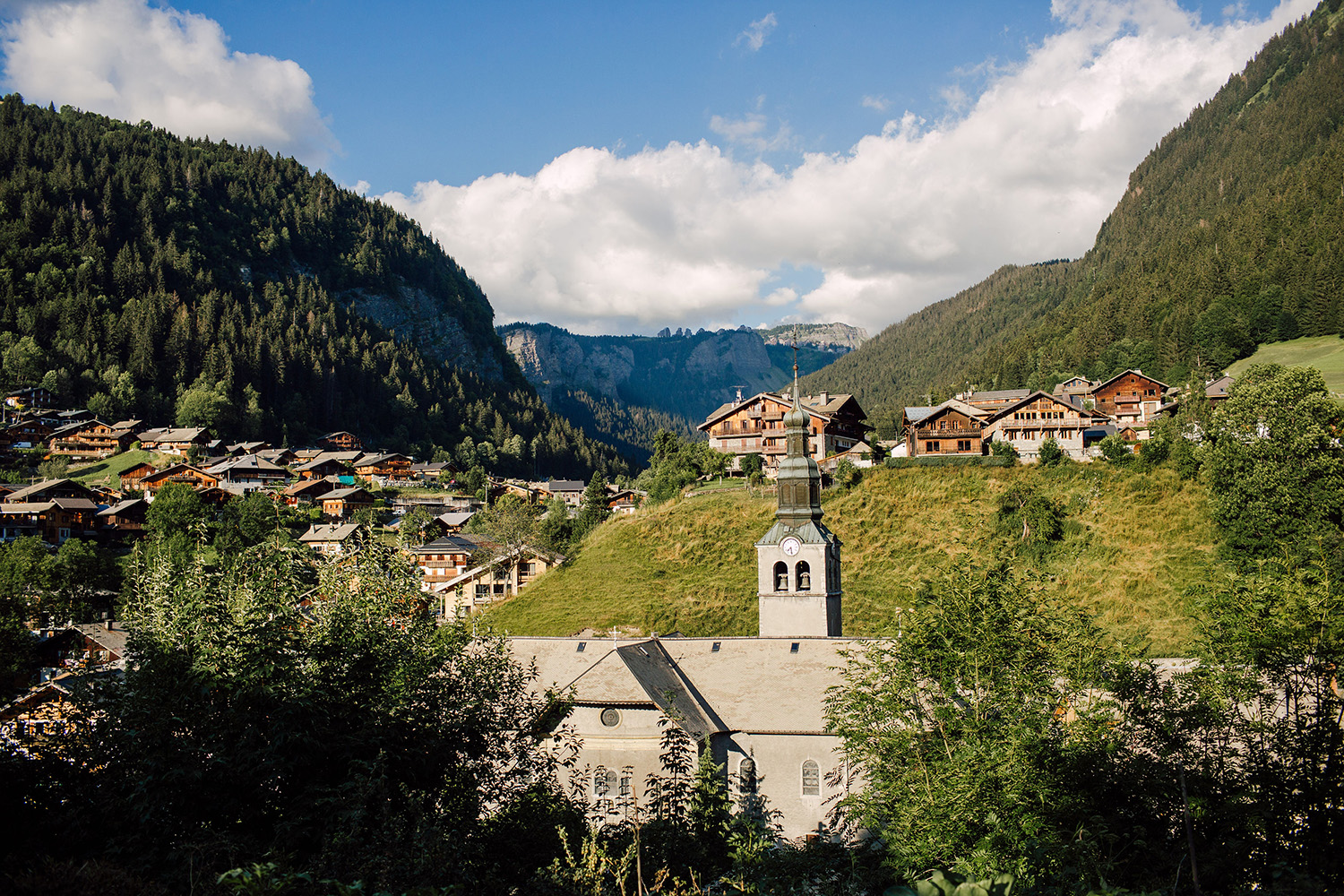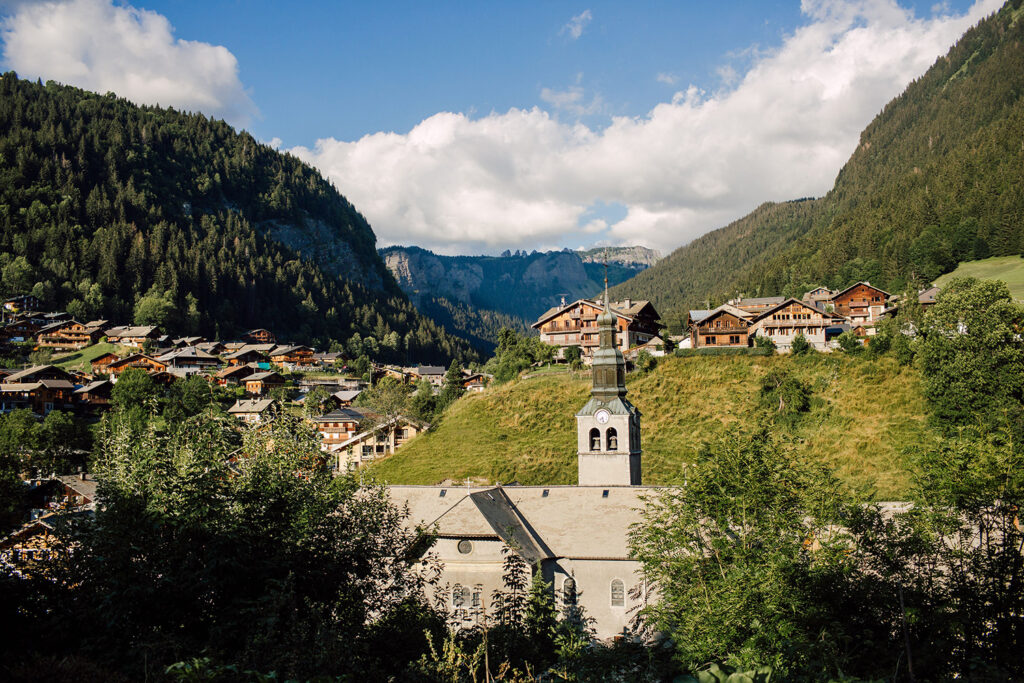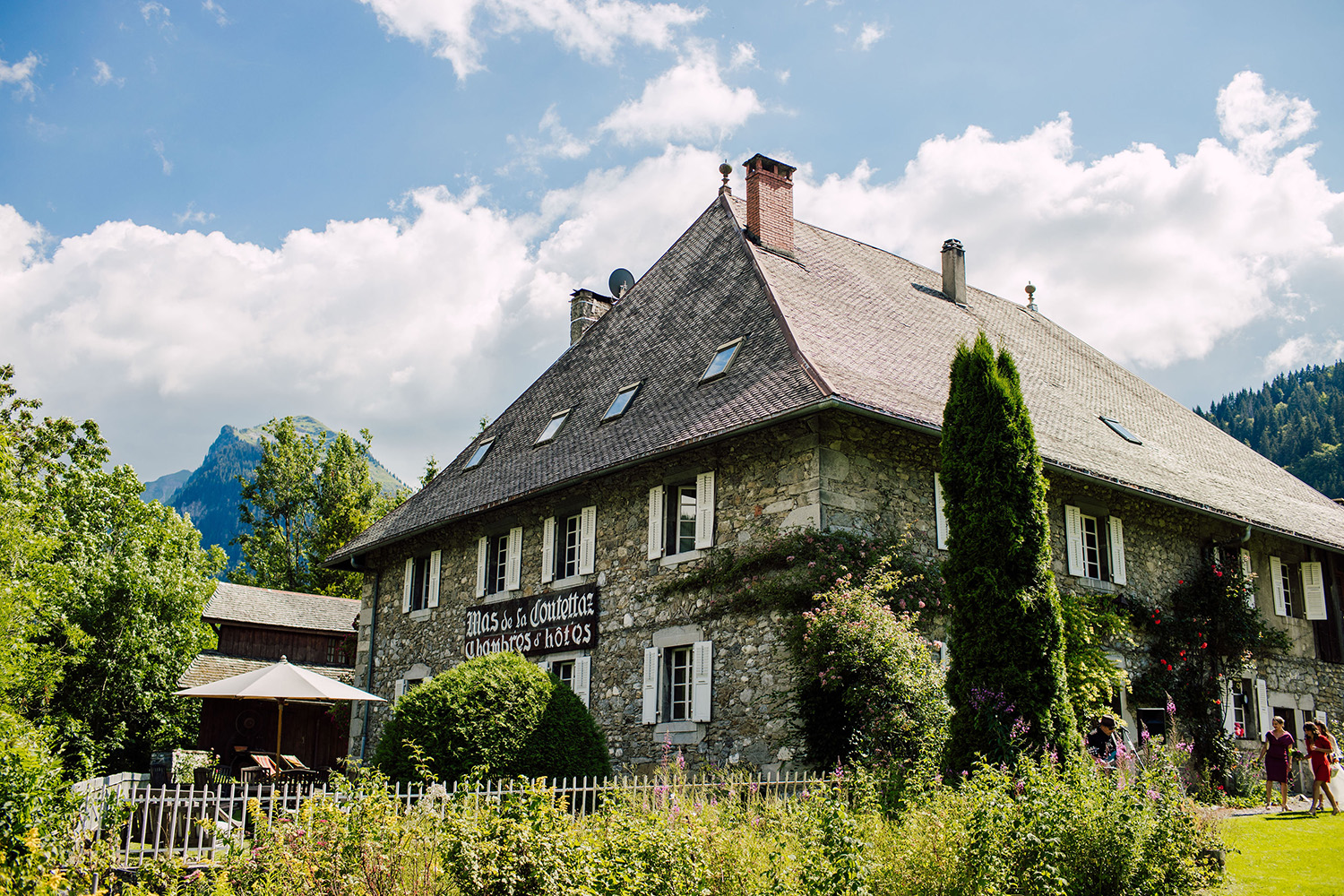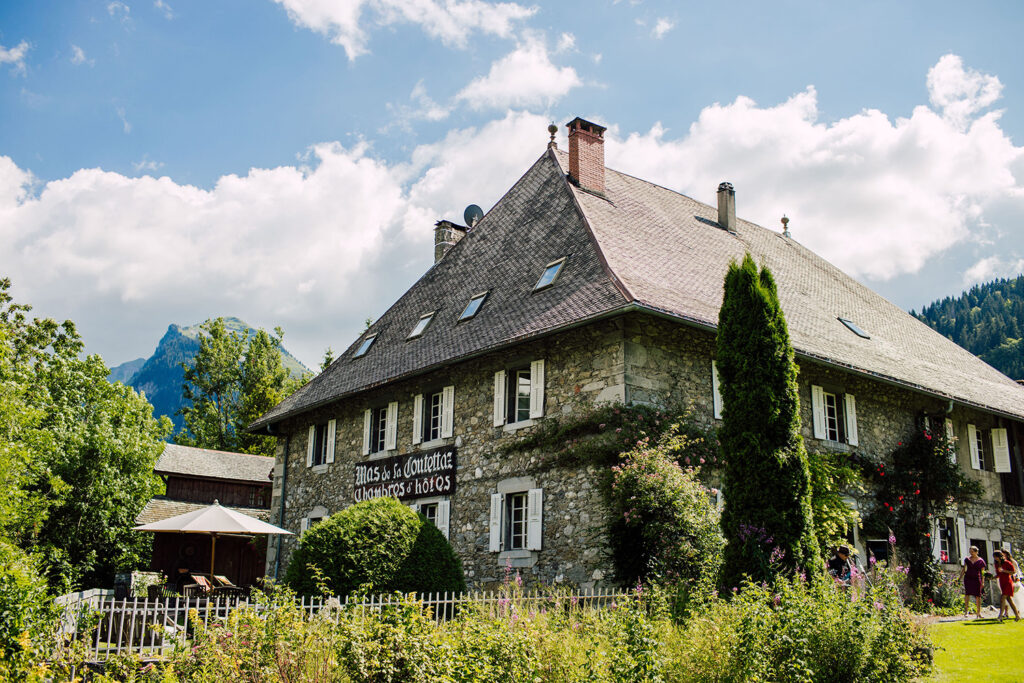 Why did you decide to get married in this region?
When we first came to Morzine in 2017 for our summer holidays, it was a real crush for this pretty village, the people and especially for its beautiful landscapes. We kept coming back regularly every summer and the idea of getting married in the heart of the mountains in Morzine became obvious. We fell so much at home each time when we are back here.
How did you find the venue and why did you choose it?
Very good question! When we decided to get married in Morzine, we wanted to start our research in order to find an atypical place. We came across a wonderful photograph of a garden with stunning views. Turned out it was a magnificent historical farmhouse cottage with a large garden in the heart of Morzine, in a quiet corner and close to everything, a real haven of peace.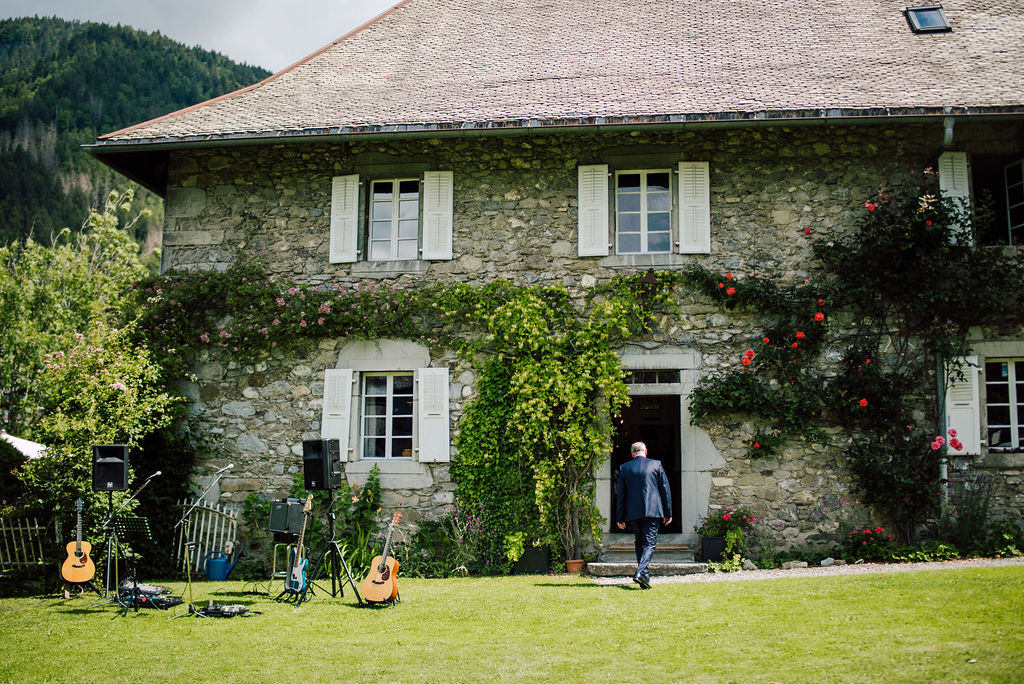 Please tell us about your wedding dress and accessories, including what influenced you in choosing the design?
I tried many different wedding dresses and when I put on my actual one, the emotion overwhelmed me! I found myself beautiful and didn't want to get out of it 🙂 Regarding my hairstyle, I wanted something simple, loose and curly hair. I chose a beautiful designer's hand made headpiece to put in my hair, made of pearls to complete the look.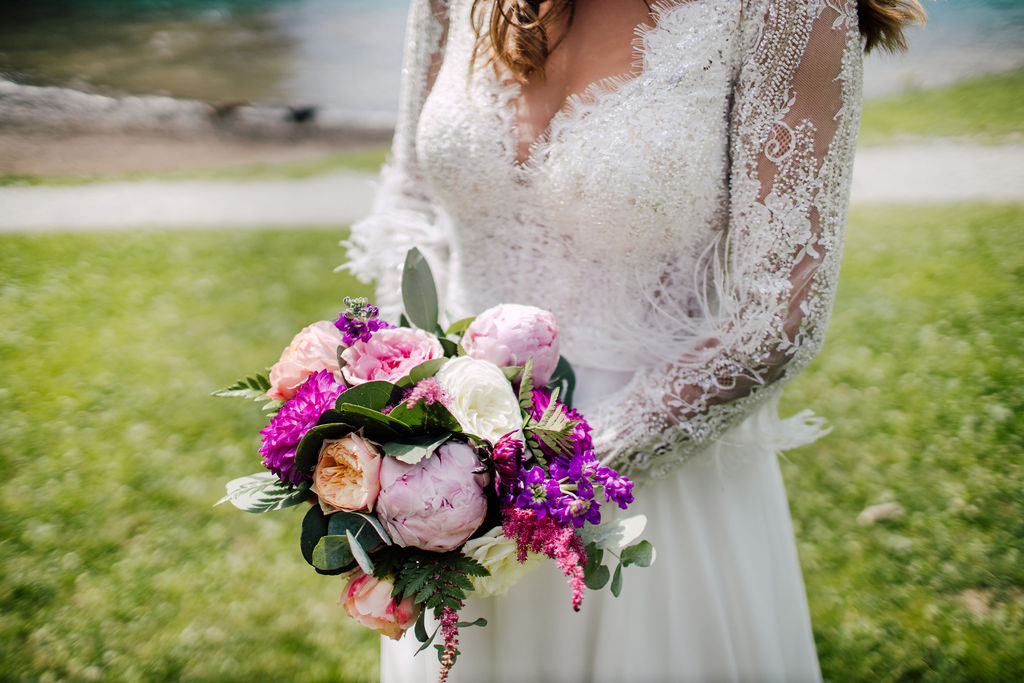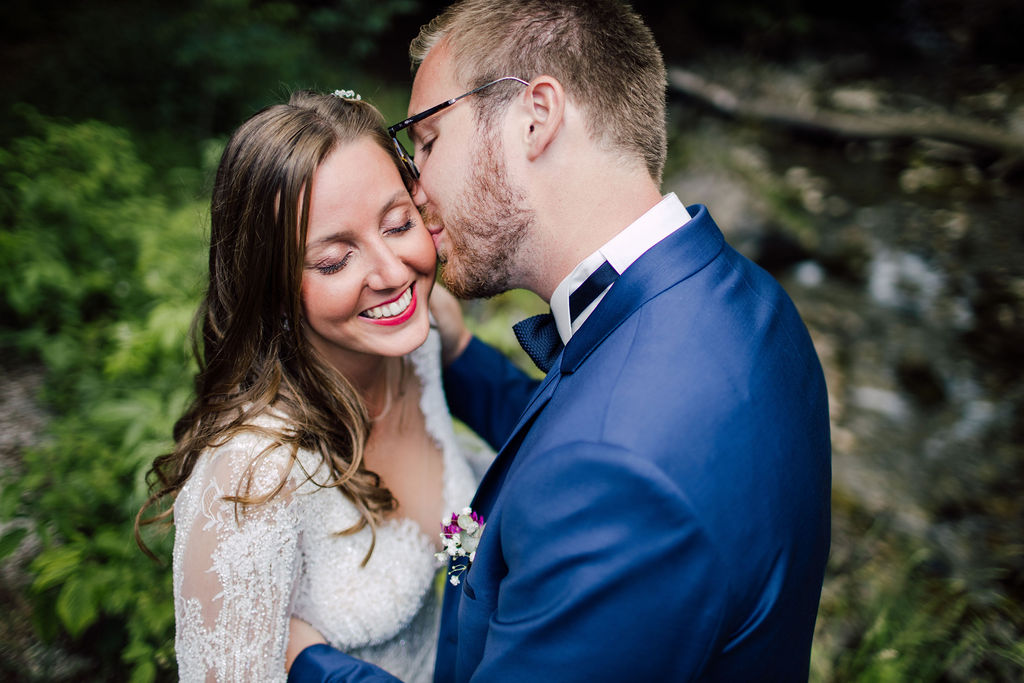 What inspired the choice of fashion and accessories for the groom?
Damien has chosen a blue classy suit, which is his favorite color and recalls the color of his eyes 🙂 For the details, he had a simple blue bow tie and a buttonhole (boutonnière) made of fresh flowers, matching my wedding bouquet.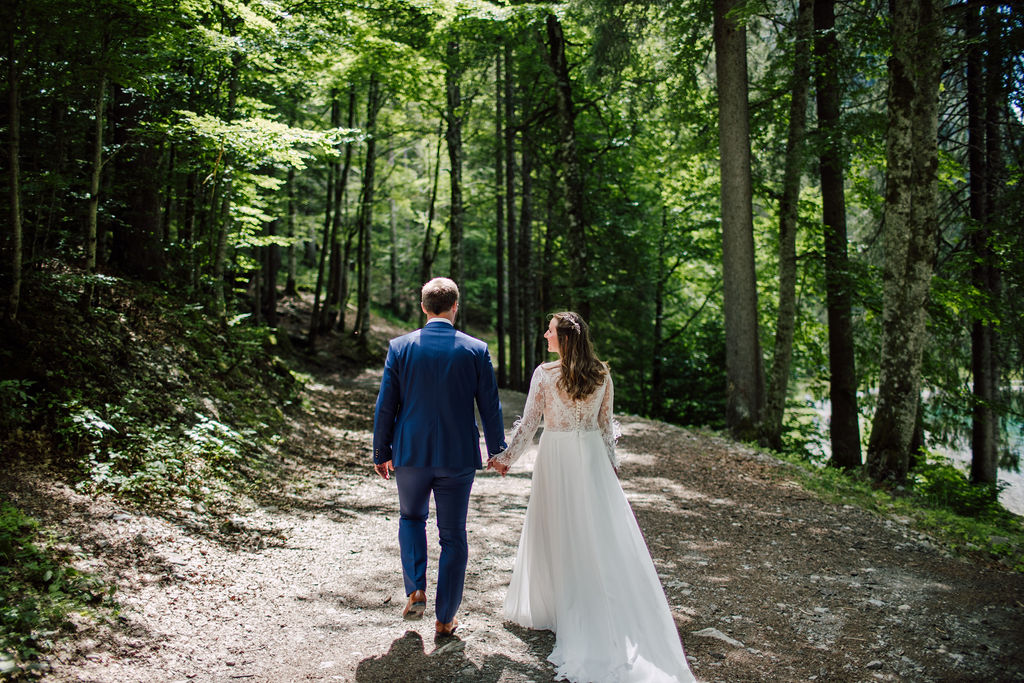 Was there a theme for the wedding party fashion and what inspired the outfits for the bridesmaids, page boys, bridal party, groomsmen etc?
It turned out being boho rustic style wedding, but being honest, we have not defined any particular theme, allowing the beautiful mountain background to do the main job. Plus, our wedding was tiny, because of the Covid-19 limitations and I didn't have many bridesmaids. The only thing we did choose was my (Marion's, the bride's) witnesses dress color, to match the the bride's bouquet color palette.
What were your thoughts behind the flowers – bouquet, button holes, centrepieces etc?
We were looking for cheerful and fresh colors and we LOVED our wedding decor and details. The flowers were stunning and the Farmhouse in Morzine was so beautiful, that it was already a decorative element by itself.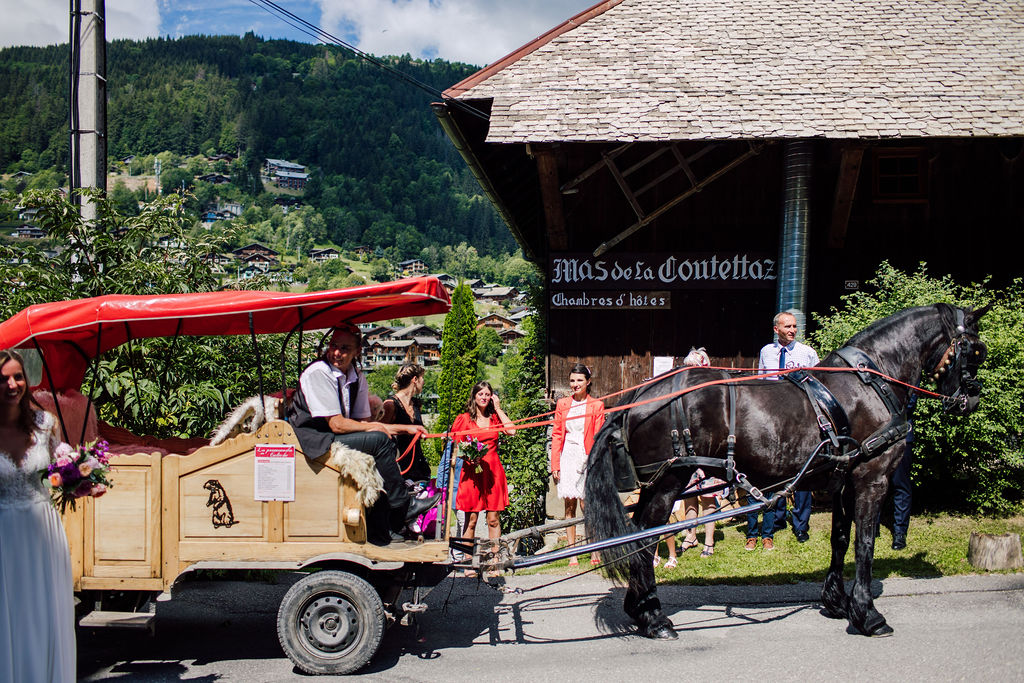 What type of ceremony did you have and what were the special features of the service?
We had the official civil part of our wedding few months beforehand in the town hall of our village in Bourgogne. We wanted a beautiful secular ceremony in the garden of The Farmhouse, surrounded by our closest family and friends in summer. A friend was our celebrant and thanks to her and our guests we experienced a magnificent ceremony filled with surprises and emotional moments.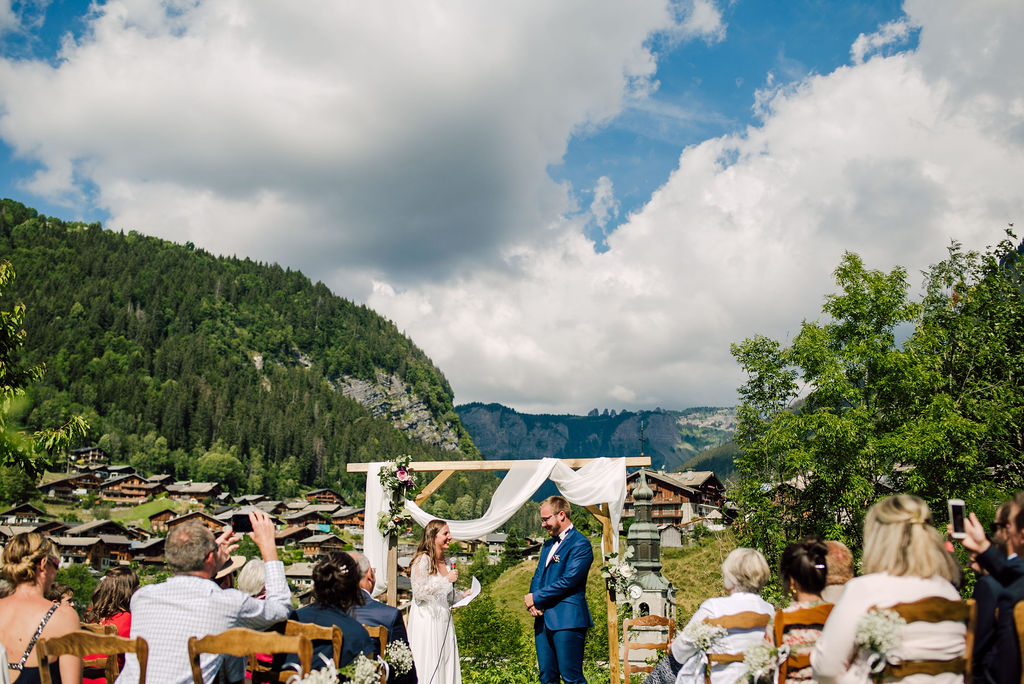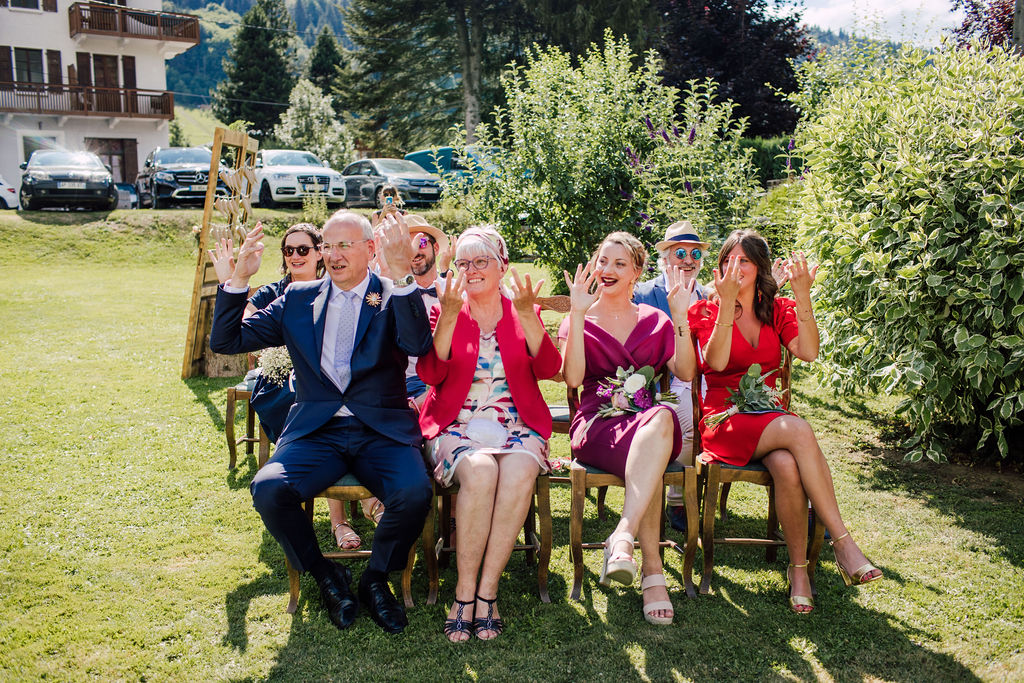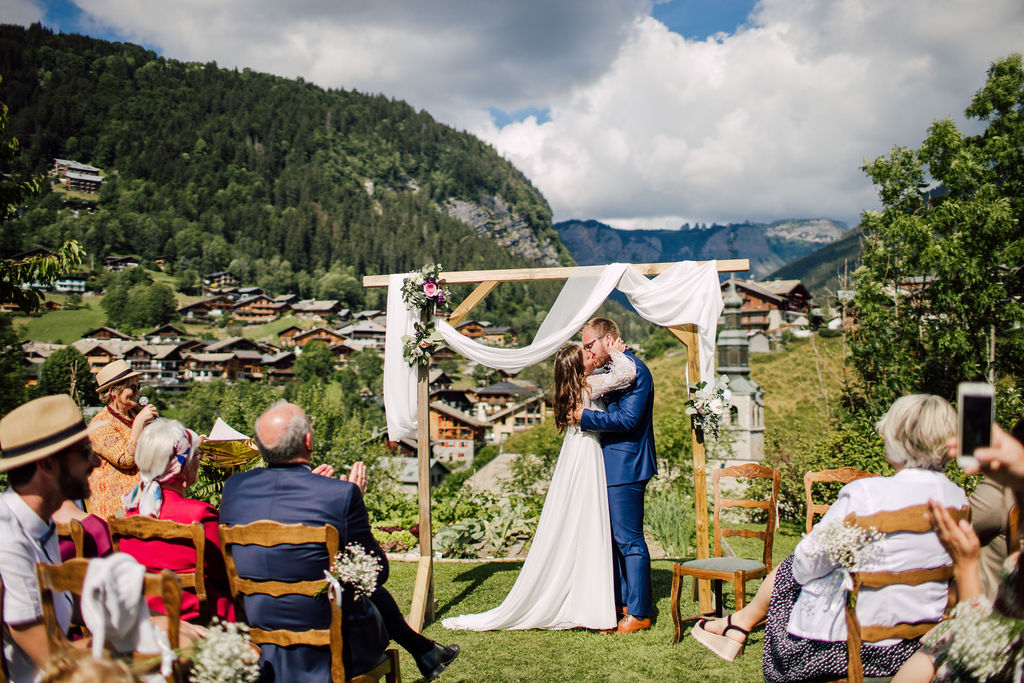 What music and entertainment did you choose and why?
Our ceremony and our cocktail hour was accompanied by a live music band. Our guests enjoyed this music very much and even danced in the garden. We highly recommend choosing a music band rather than playing a playlist, it's makes the whole atmosphere much more vivid and festive!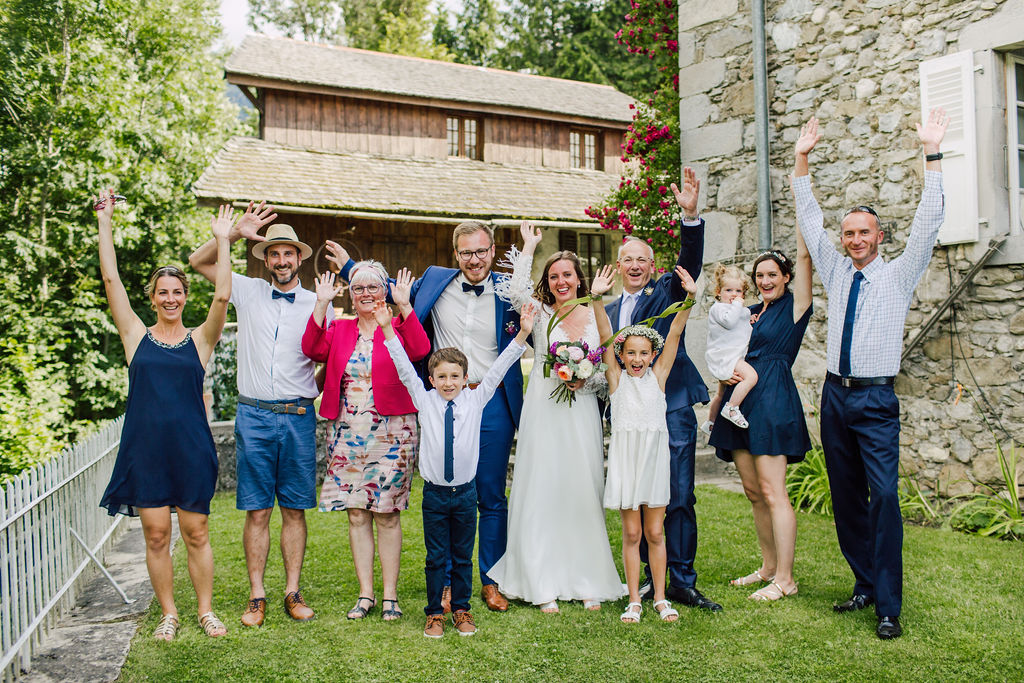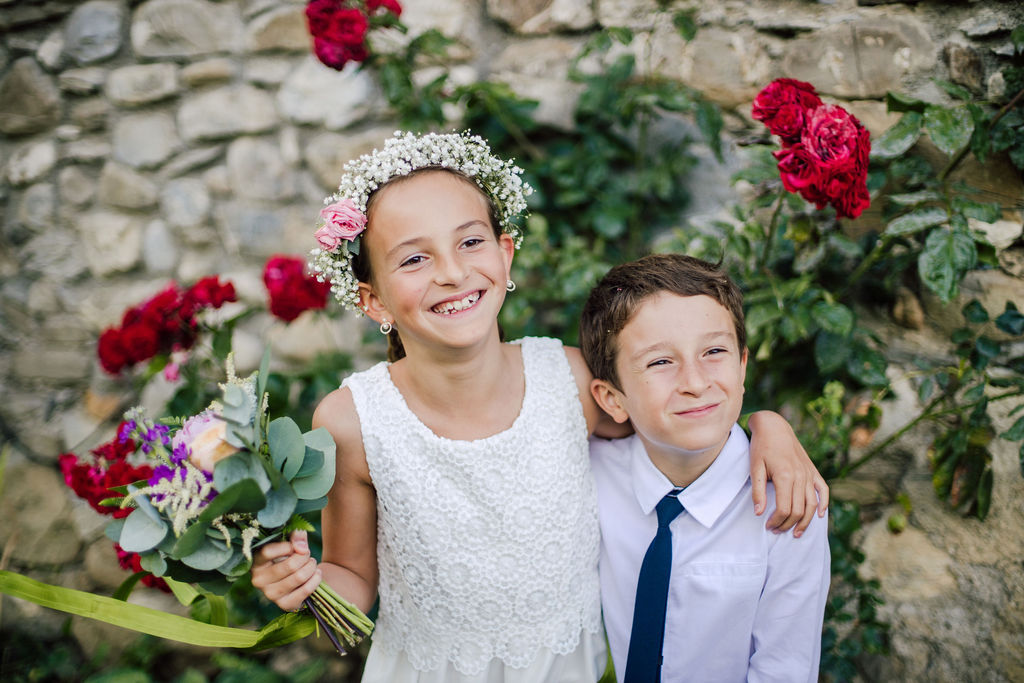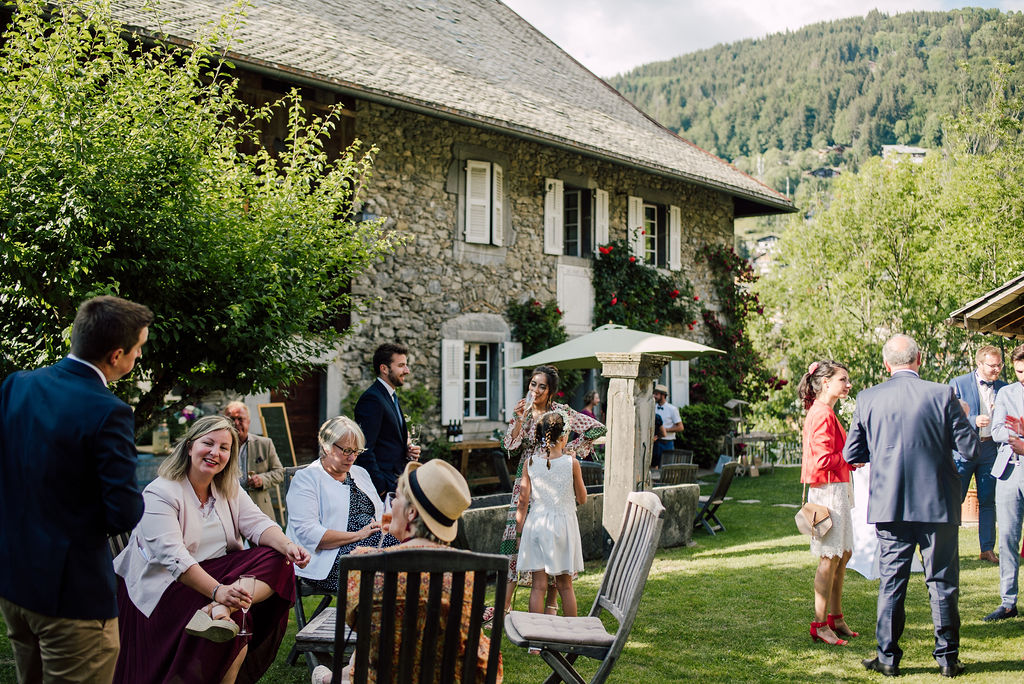 Describe the food (canapés, cake, main menu etc)
The Farmhouse in Morzine definitely took care of our personal and cultural taste preferences. The canapés during the cocktail hour was delicious, and the presentation was so colorful and original! The menu for our wedding dinner was just perfect. Some of our guests had a food intolerance and some dishes have been adapted for them too. We really appreciated these details which allowed us to feast.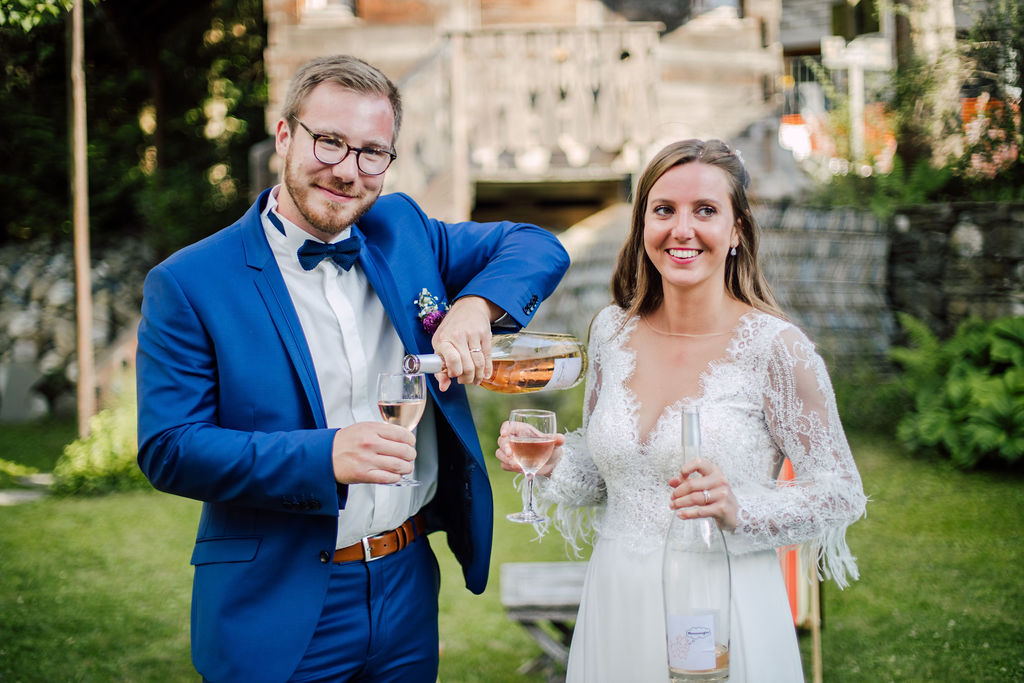 Describe the decor, stationery and any DIY elements
I hunted pretty vases at flea markets that we put on the wedding table. Wood and greenery were important elements of the decoration. In addition, we wanted a soft atmosphere with lots of lights.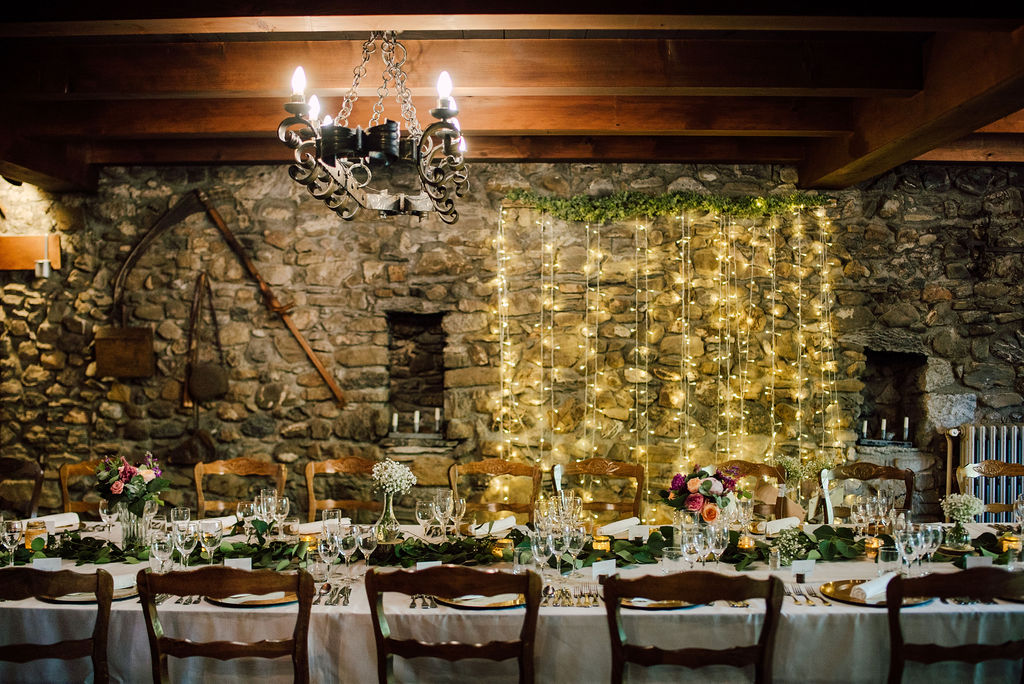 How did friends and family help with the planning/ execution of the day?
We had asked our friends and family in advance who would like to help us on the big day. Thus, each one of the helpers who were involved- knew exactly what their duties are to allow the wedding day to go smoothly and take all the useless stress away. We are lucky to have such caring friends and family.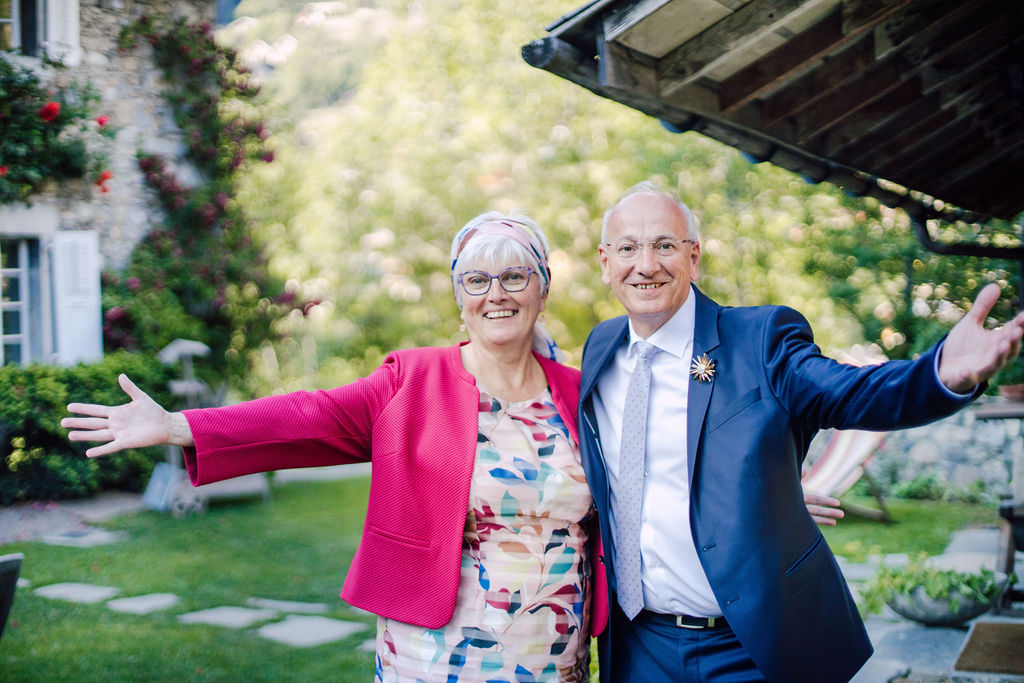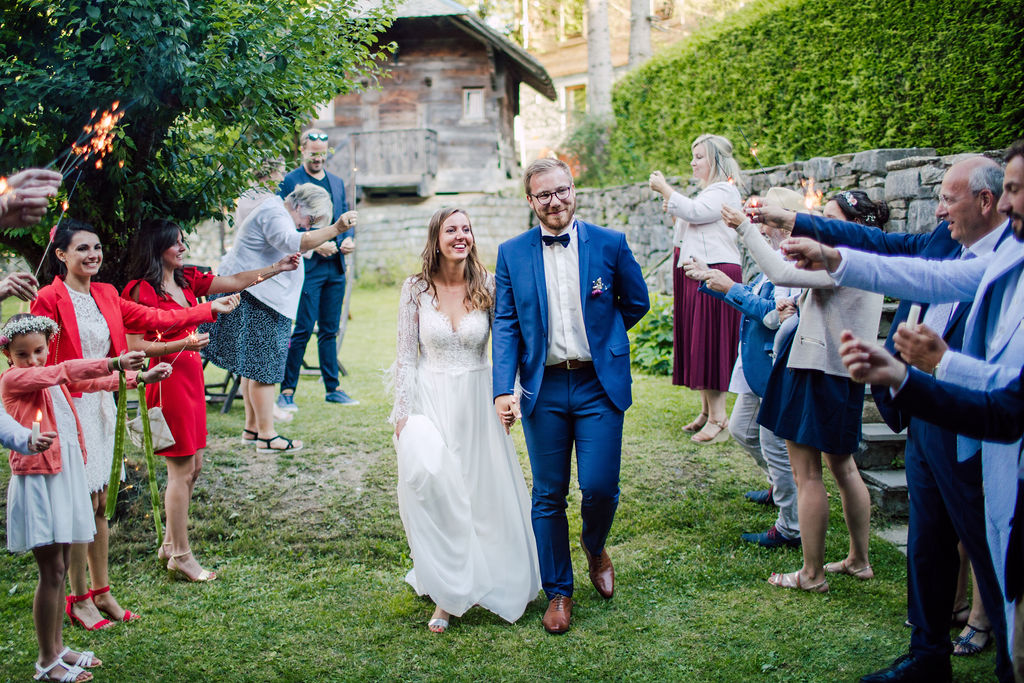 What events and moments made your day special?
Bridal preparations with bridesmaids was one of the magical moments of the day. We also really enjoyed the first look at Lac de Montriond, this moment was very emotional. The ceremony was really special too as we realised at that moment that our dream of getting married in Morzine was finally coming true.
Do you have any advice to other brides on planning their day?
We recommend every future bride and groom to celebrate their wedding in a way that truly reflects themselves. Don't be afraid of judgment from the outside, even if your wedding project is out of the ordinary. We really wanted to get married surrounded by an intimate group of closest people over a weekend (Friday to Sunday), which allowed us to take advantage of getting to chat to everyone and have a great time! We were really able to enjoy all our guests and feel as if we all are on a vacation!
Why did you choose Eight Bells Wedding Photography and what comments can you make about the images?
The Farmhouse manager told us about Eight Bells Wedding Photography, so we went online to see their work and loved their photography. We fell in love with the atmosphere that emerges from their photographs. For us, they perfectly knew how to bring out the emotion of the moment and its authenticity.
FEATURED SUPPLIERS