Abbaye de Talloires Destination Wedding at Lake Annecy
Real Wedding
|
13th September 2020
|
photographer - Eight bells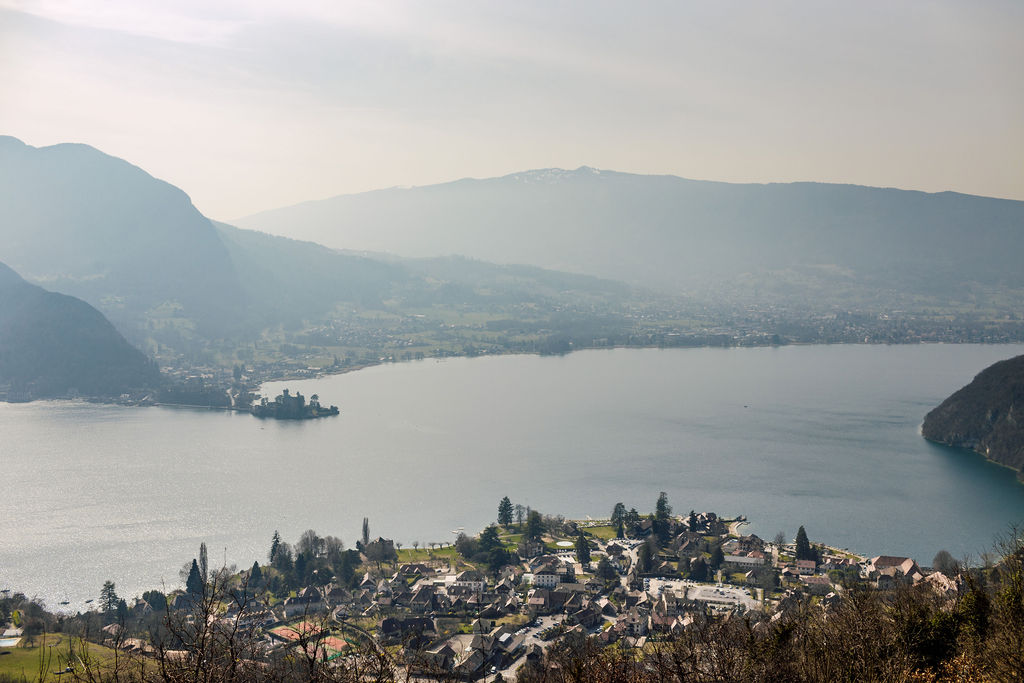 Why did you decide to get married in this region?
"Olivier (the groom) is from Lyon so we were looking for a venue not too far from there. Given that we were getting married in March, we thought the mountains/lake would be prettier than the Beaujolais at that time of year. We'd first visited Annecy together in March 2021 and loved it, so we ended up choosing this picturesque region for our wedding."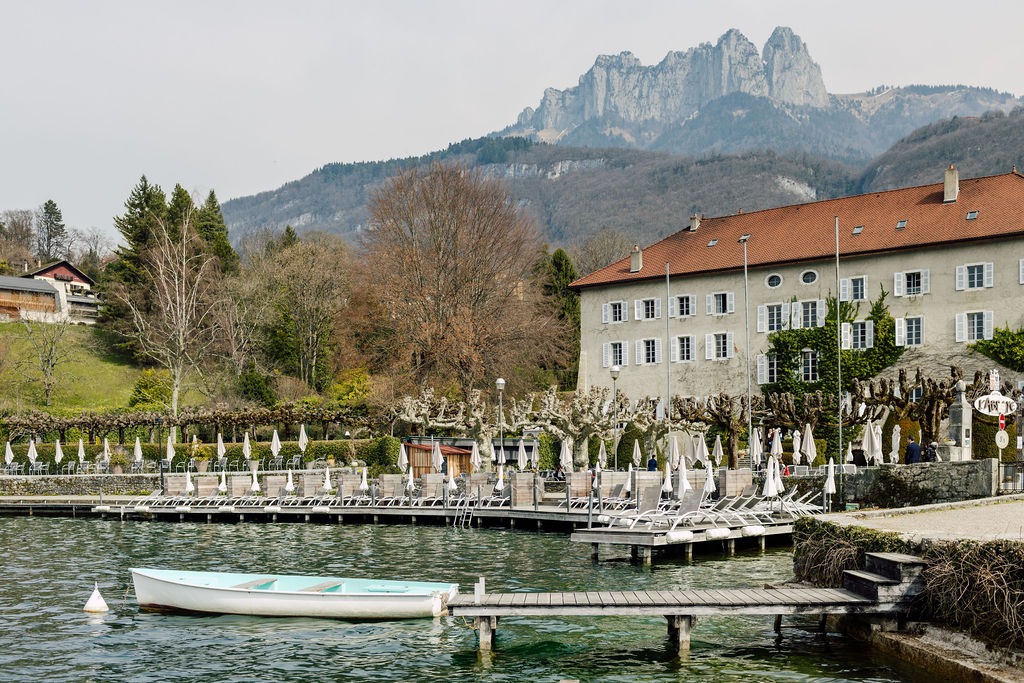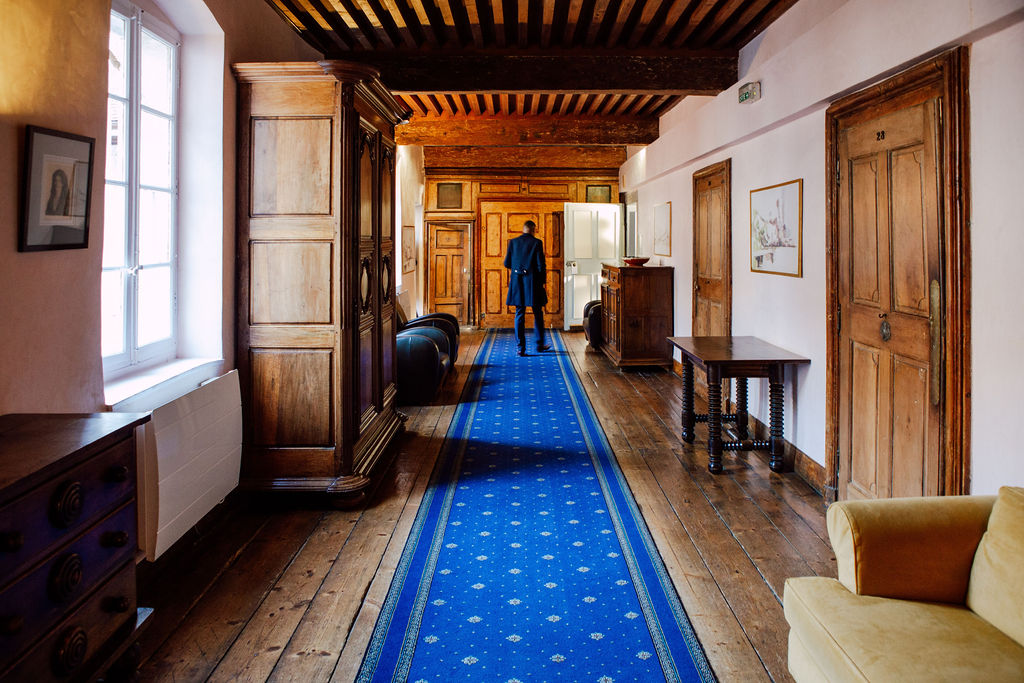 How did you find the venue and why did you choose it?
"We fell in love at first sight with Abbaye de Talloires. It was the first of several venues we visited, and its historic charm, professional staff, and magnificent location won us over. We also loved that we could privatise the whole venue and provide accommodation and a true destination wedding experience for our guests, many of whom would be travelling from overseas."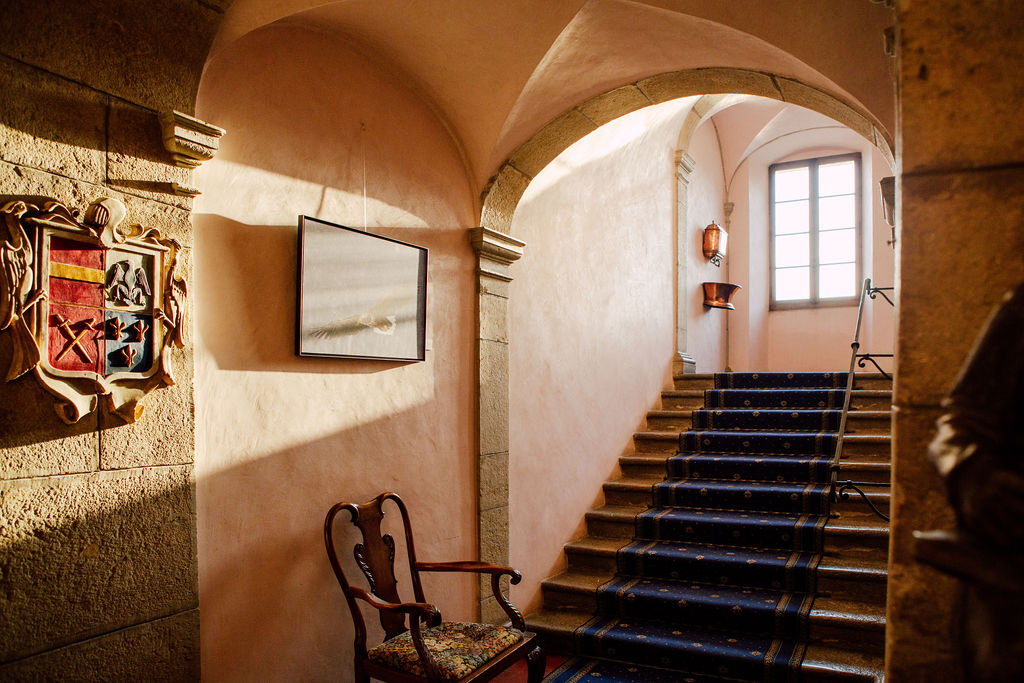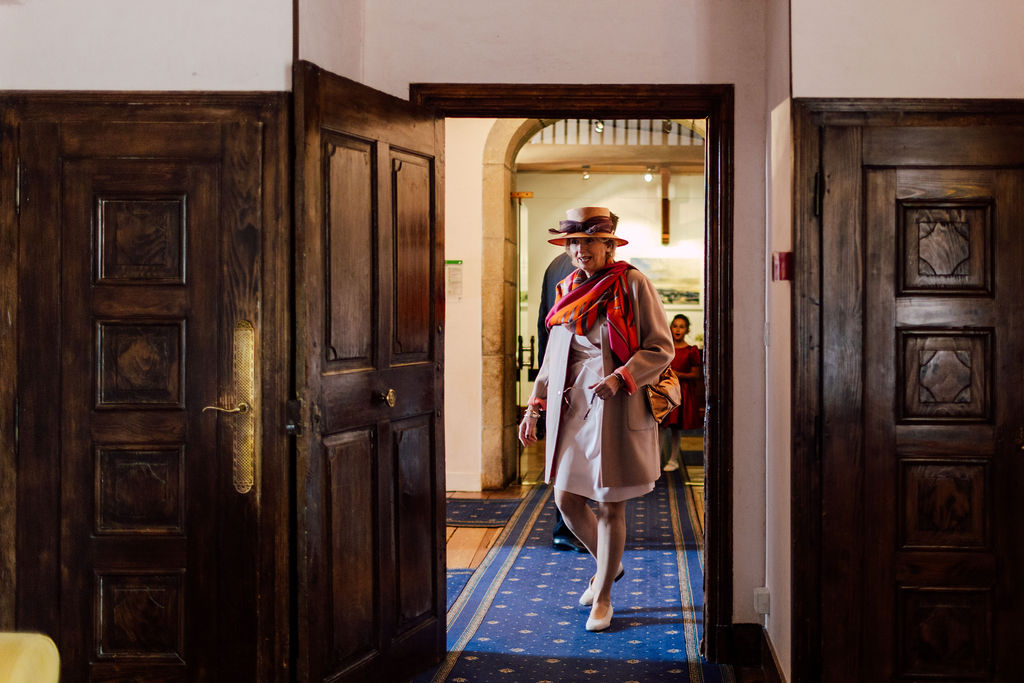 Please tell us about your wedding dress and accessories, including what influenced you in choosing the design?
"I found my wedding dress at Couture Nuptiale, a small boutique in Paris. I was inspired by two dresses in choosing the design: my mum's wedding dress, and Grace Kelly's. I chose a lace wedding dress with long sleeves which was exactly what I had wanted. I bought the tiara and shoes online, and wore Swarovski jewellery."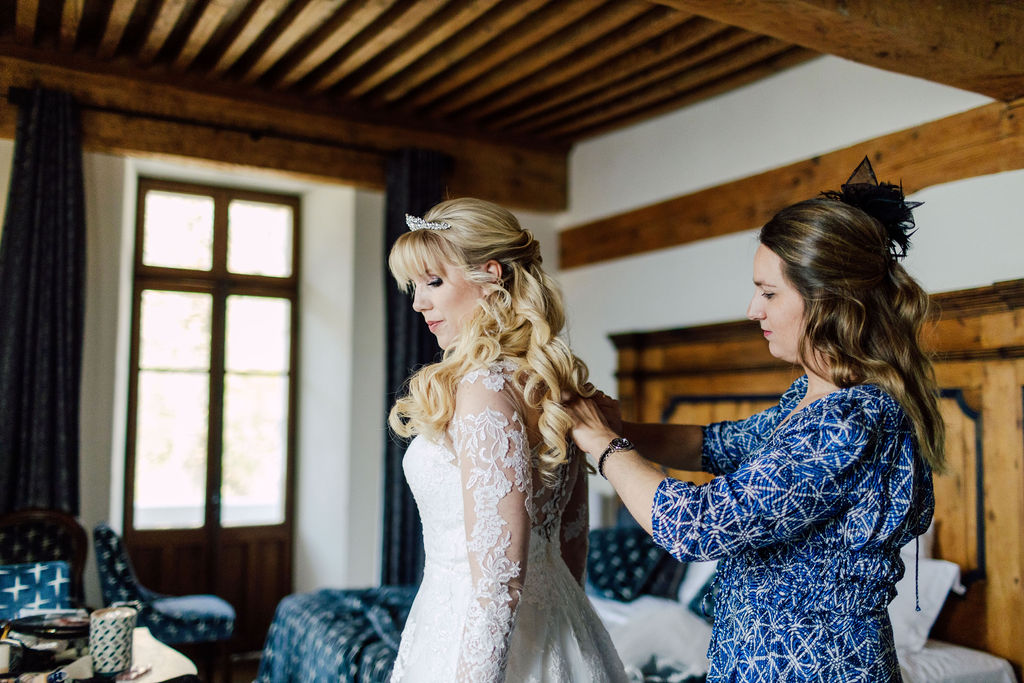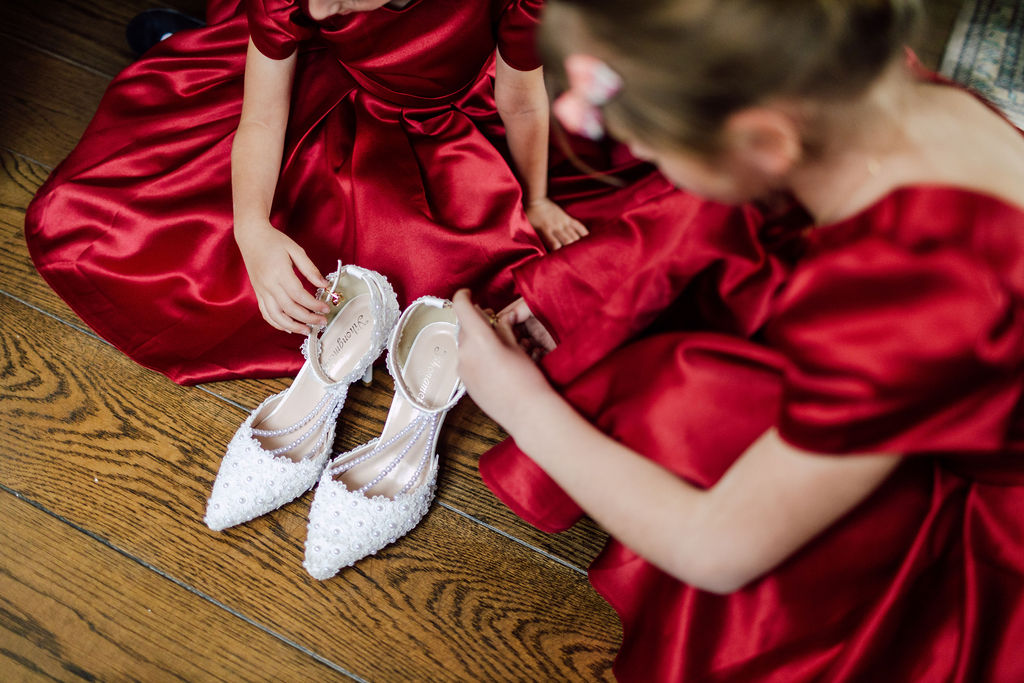 What inspired the choice of fashion and accessories for the groom?
"I love the look of a black tuxedo ('smoking') and Olivier and I decided that he would wear this instead of a Grey morning-suit style 'costume' that French grooms usually wear."
Was there a theme for the wedding party fashion?
"I chose red dresses for the flower girls based on my mum's wedding (where her bridesmaids wore red)."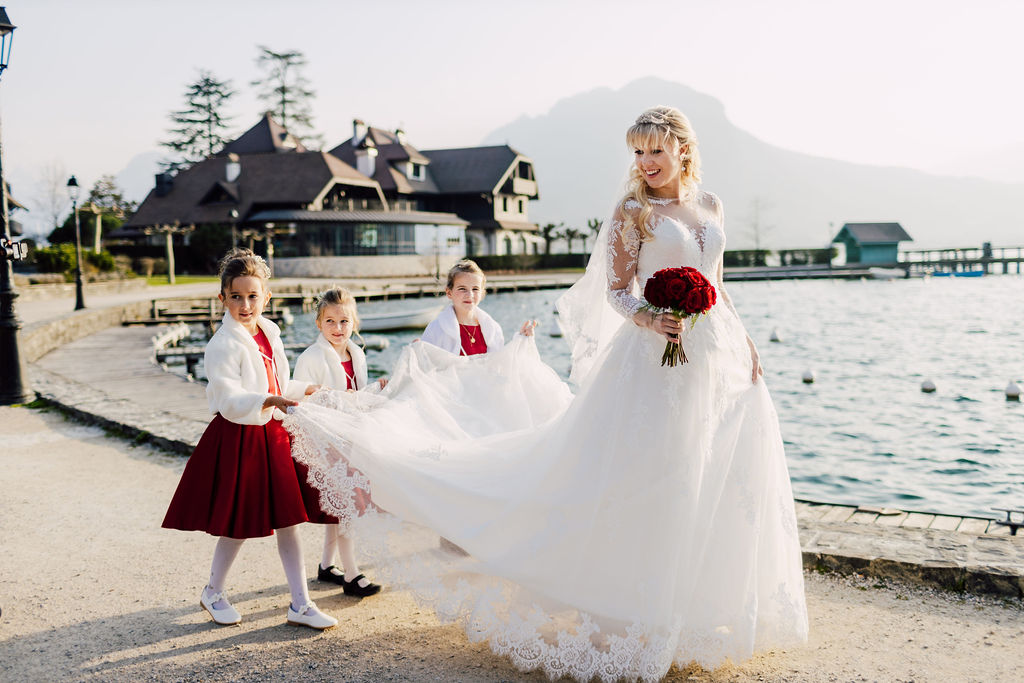 What were your thoughts behind the flowers – bouquet, button holes, centrepieces etc?
"I wanted a simple bouquet of red roses and we used red and white roses throughout the wedding: for the boutonnieres, flower girl bouquets, centrepieces, church decor and wedding cake. Baby's breath was also used for the flower girls' hair and bouquets. I wanted to add something Australian to the table settings, so our florist placed mini bouquets of eucalyptus and baby's breath at each table place. We were going for a classic, romantic look and added to this with candles and rose petals for the church aisle and table decor."
What type of ceremony did you have and what were the special features of the service?
"We had a Catholic church ceremony at a small church on the top of a cliff in Talloires. The service included bible readings by our siblings and nieces, as well as a Shakespearean sonnet and classical music. A special touch was Olivier's mum's sketch of the church, which we used for the cover of our livret de messe."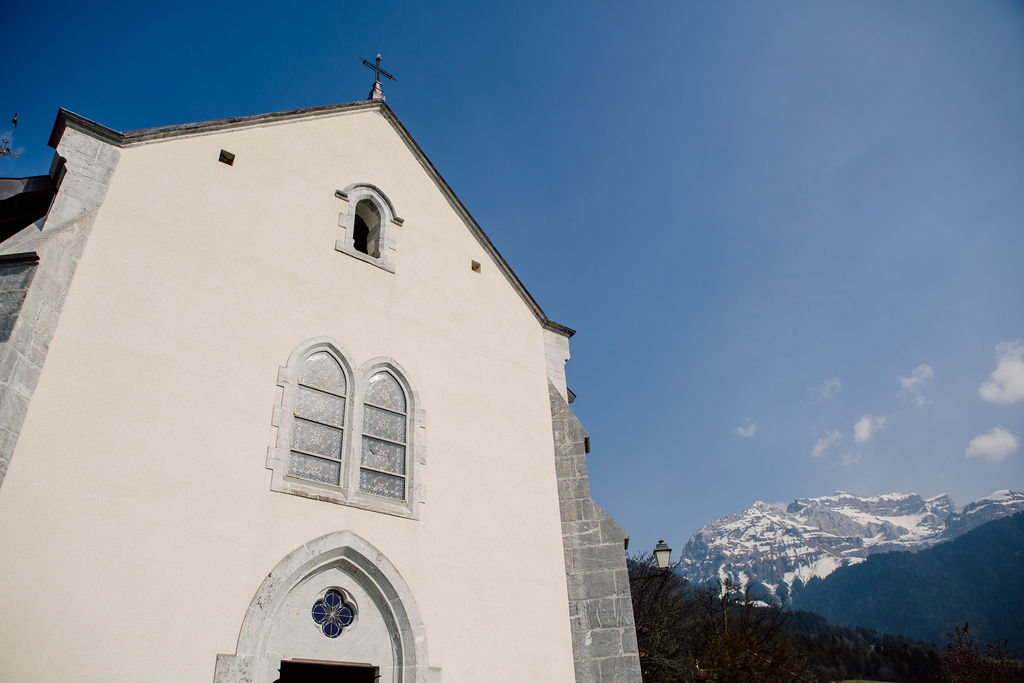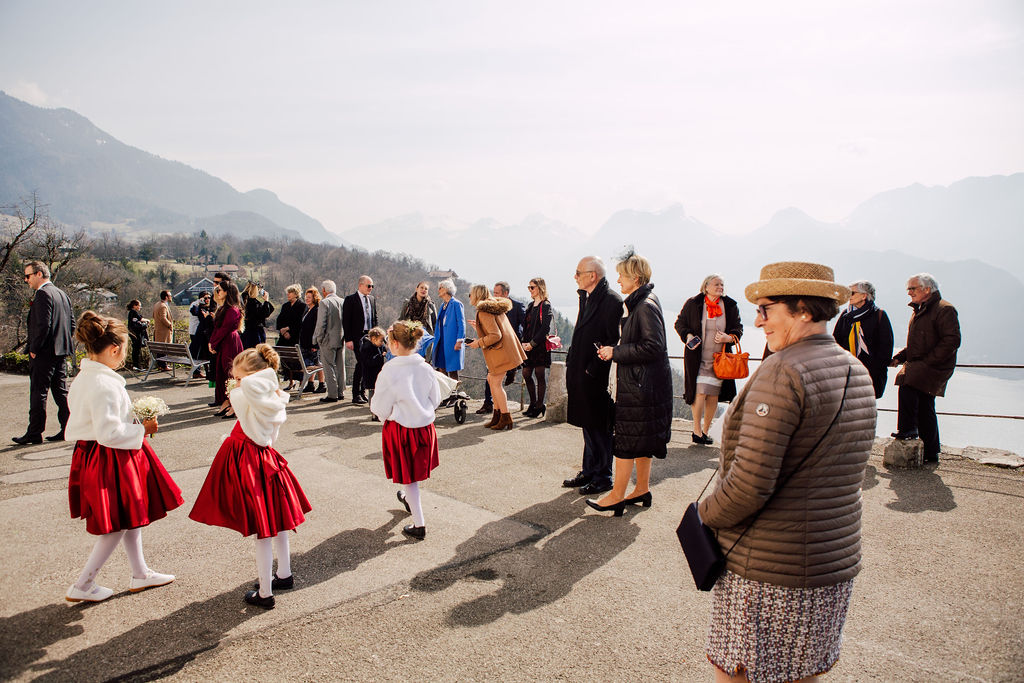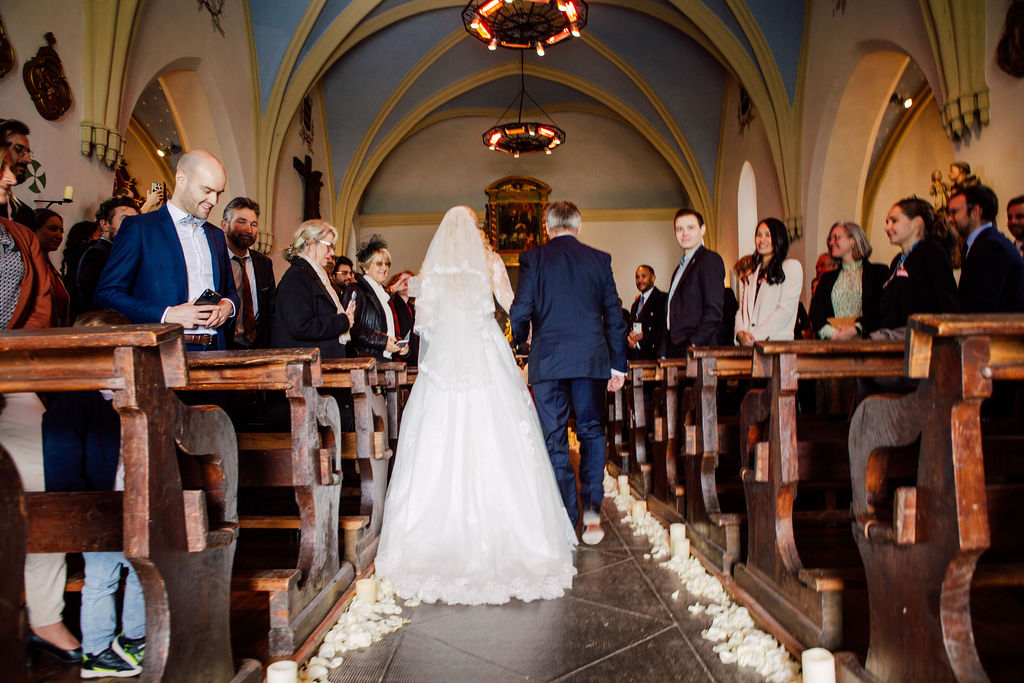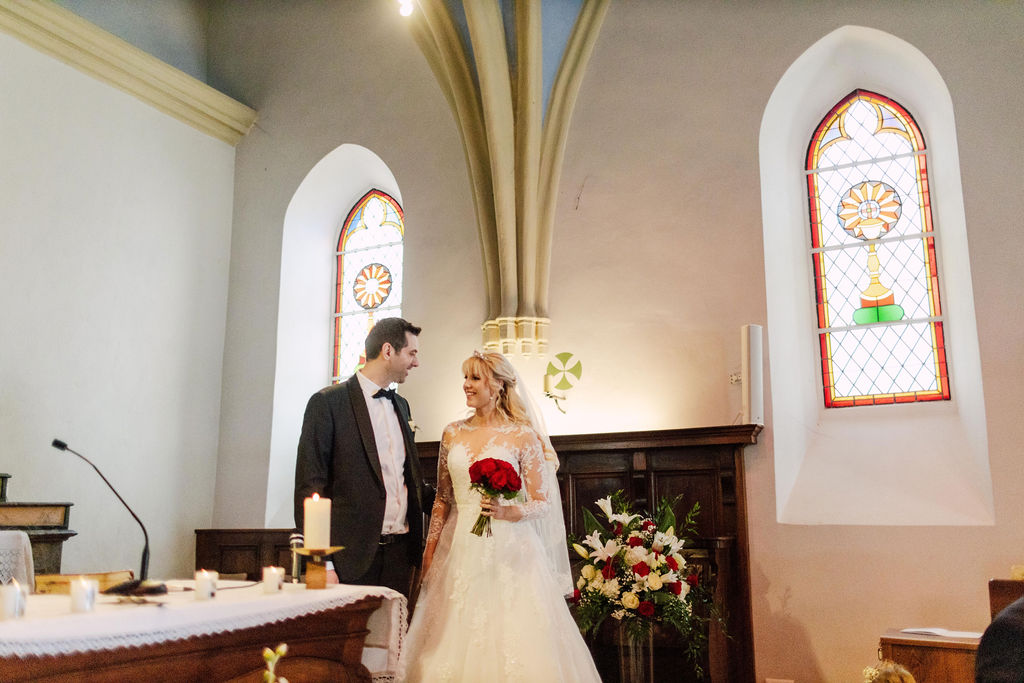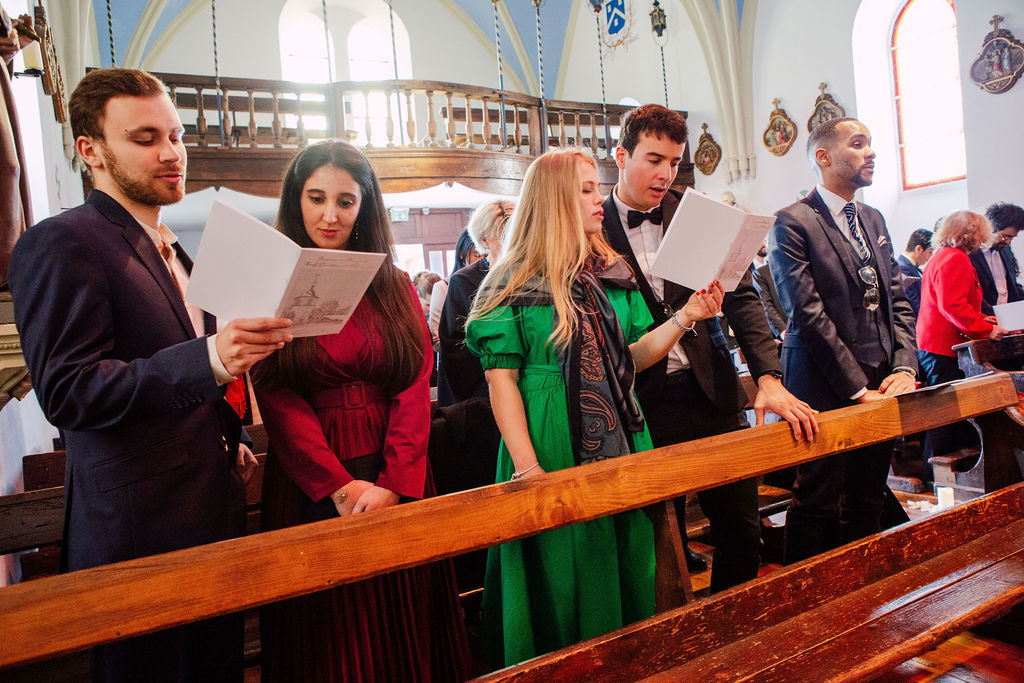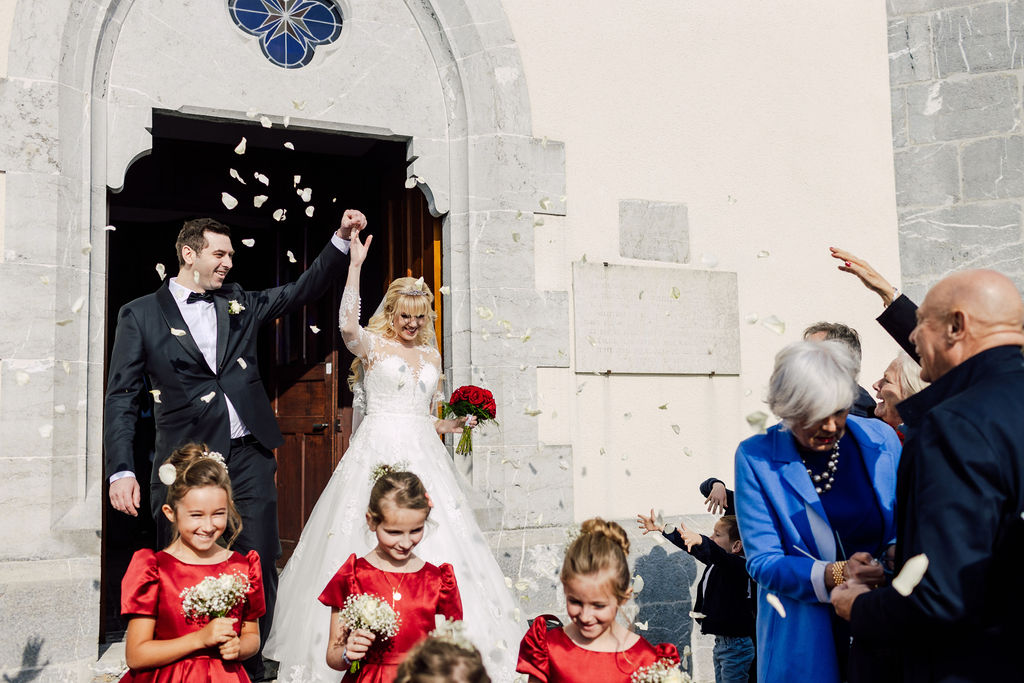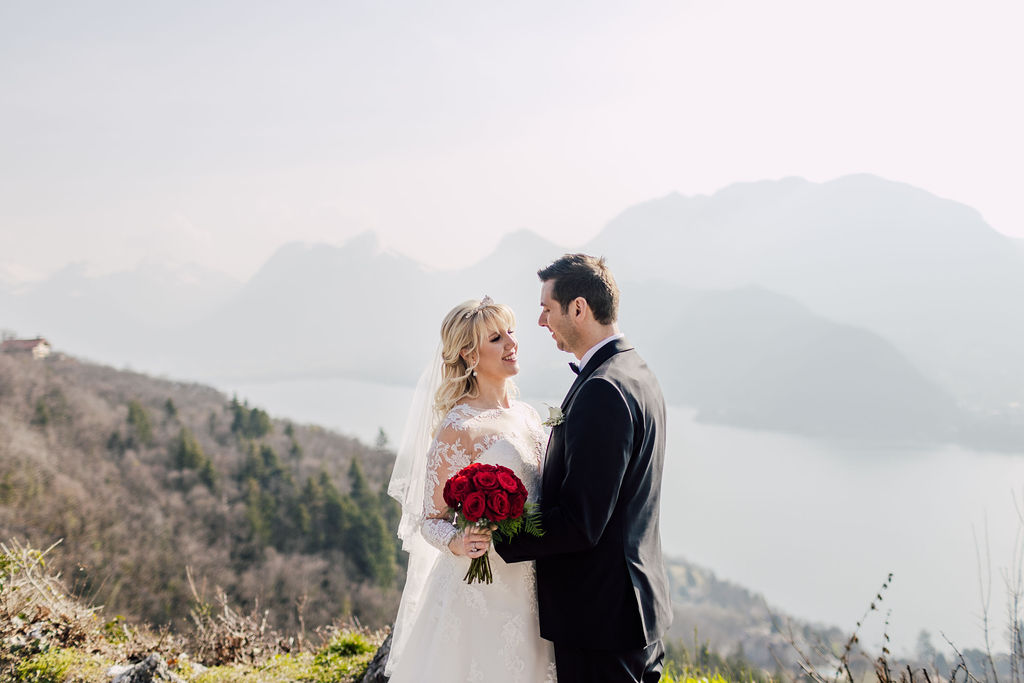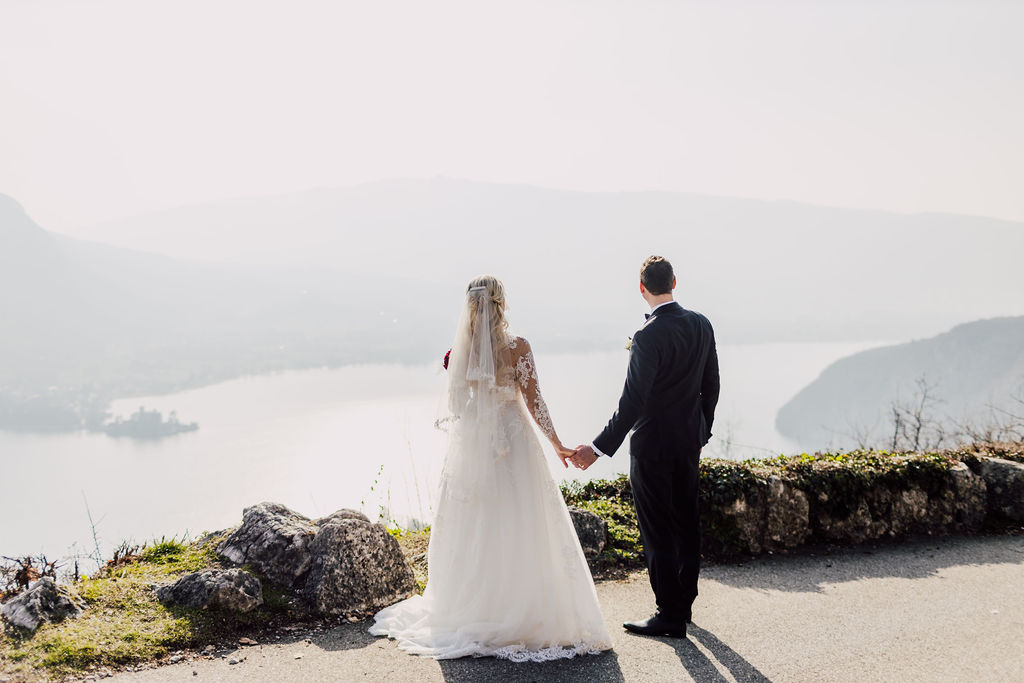 How did friends and family help with the planning / execution of the day?
"Our parents made the day possible and family played a big part in the day. Our nieces were the flower girls and Olivier's siblings wrote a funny song about our relationship that they performed at the reception."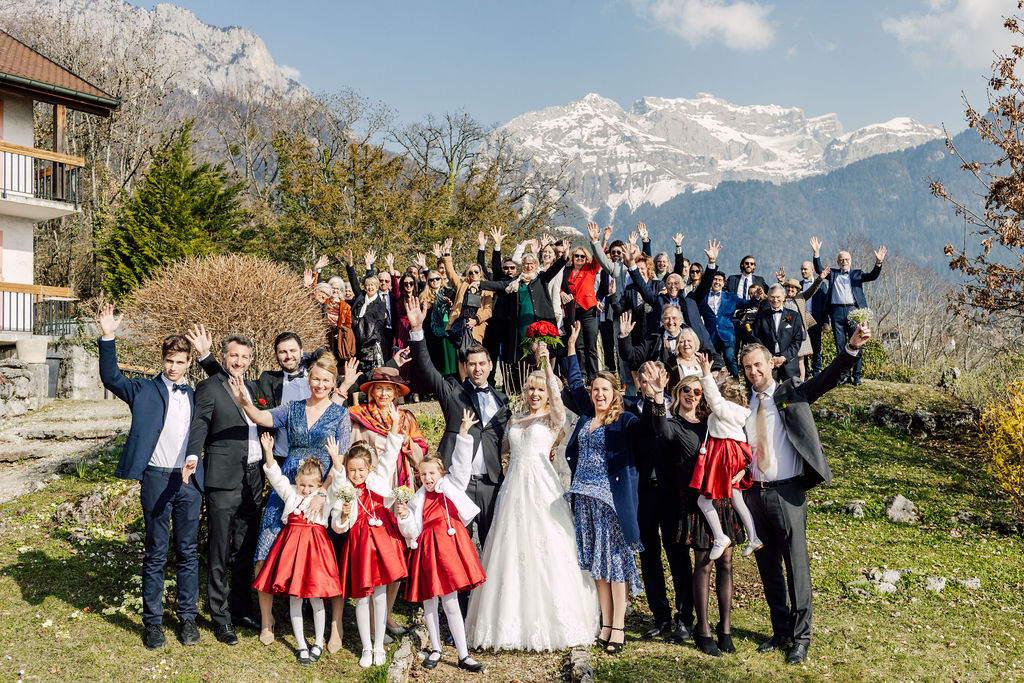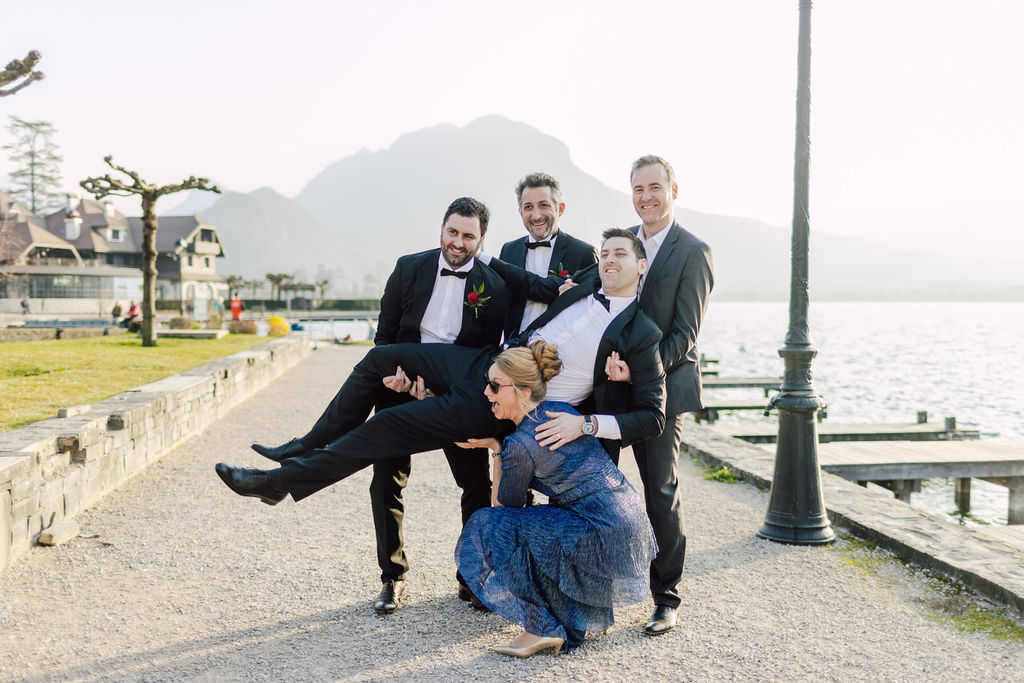 What events and moments made your day special?
"We tried to make the day a fusion of traditions. We incorporated French traditions like the throwing of petals outside the church and the champagne tower, as well as Australian touches, and even a late-night charcuterie buffet (a Croatian wedding tradition), as my dad is Croatian. We loved our first dance which was choreographed by the lovely teachers at Arthur Murray Dance School in Paris. The whole day just felt magical."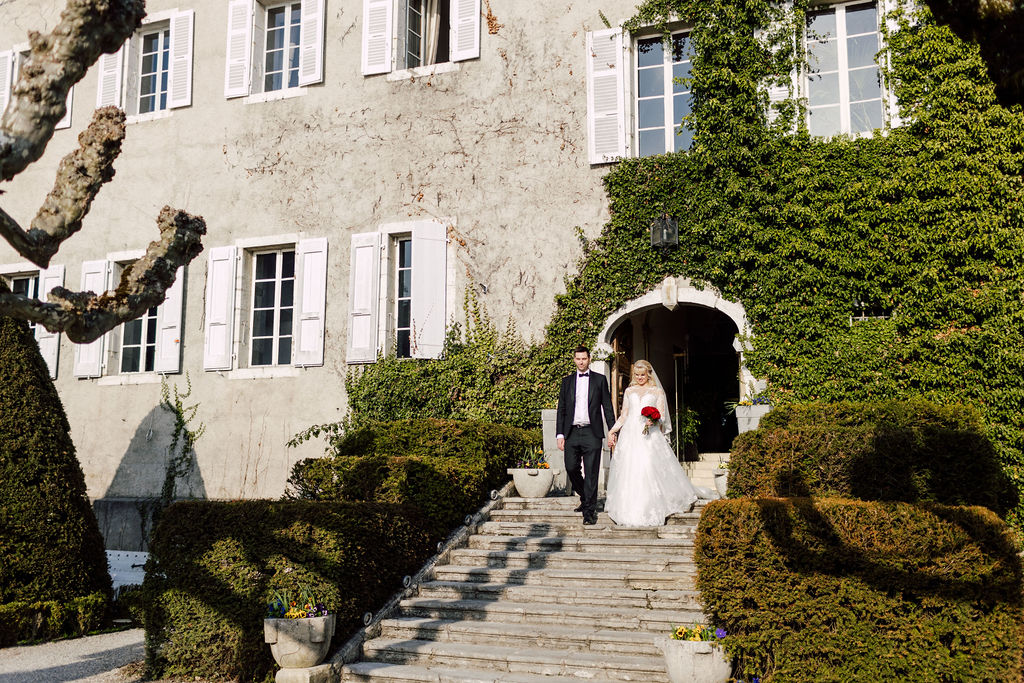 Do you have any advice to other brides on planning their day?
"Planning is stressful but 100% worth it. All of the little touches that you've thought about for months will make the day even more meaningful."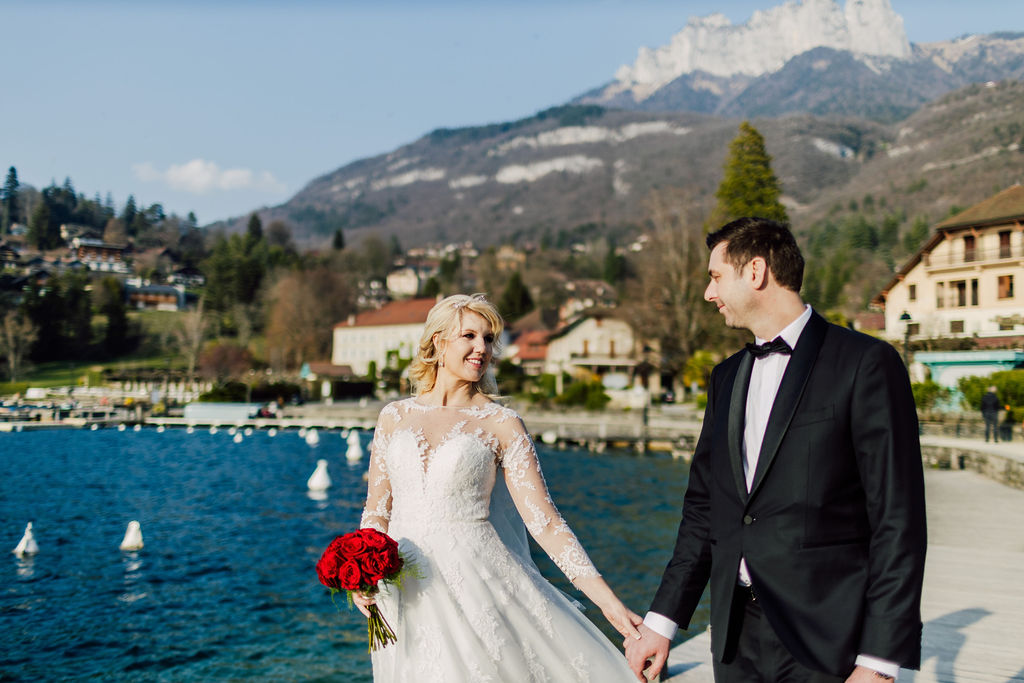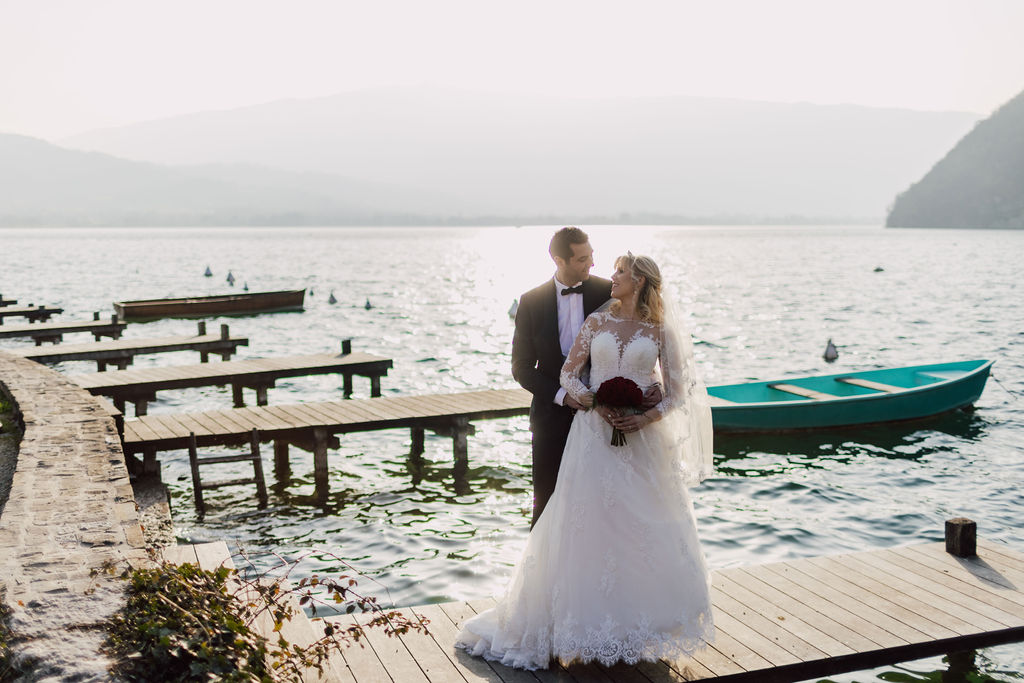 Describe the decor, stationery and any DIY elements
"As an international couple (Australian and French) we decided on the theme of 'travel' for our reception. We named our tables after the cities around the world where we have lived, or had special moments (eg. getting engaged at Dune du Pyla, or spending our first New Year's Eve together in Sydney). We had a photobooth with Australian-themed props, and asked our guests to leave their photos in a Polaroid guest book instead of the usual livre d'or."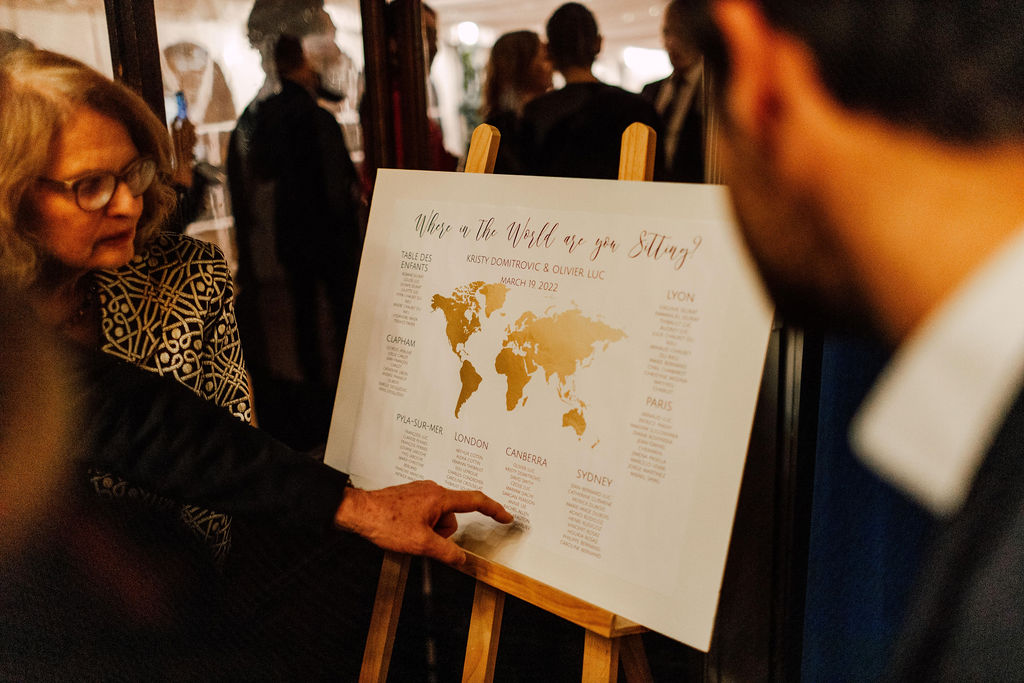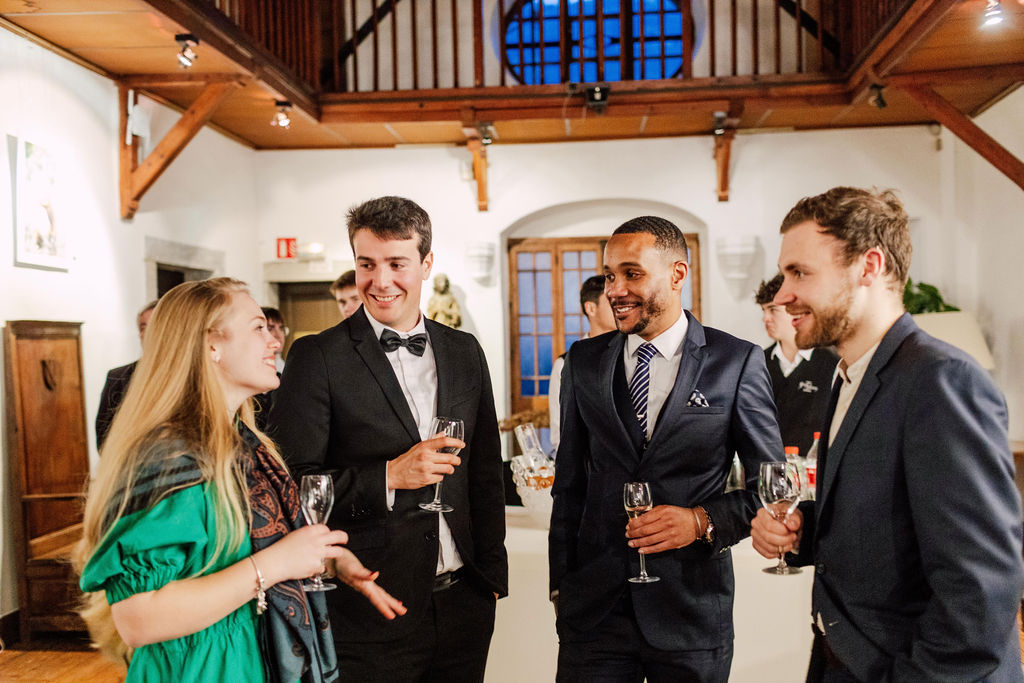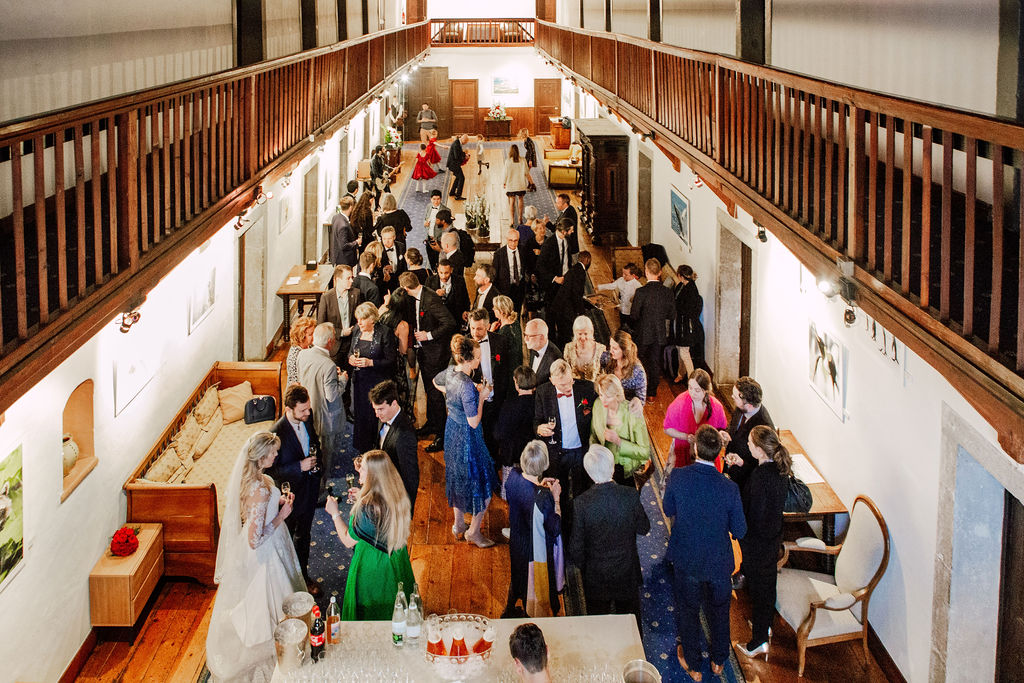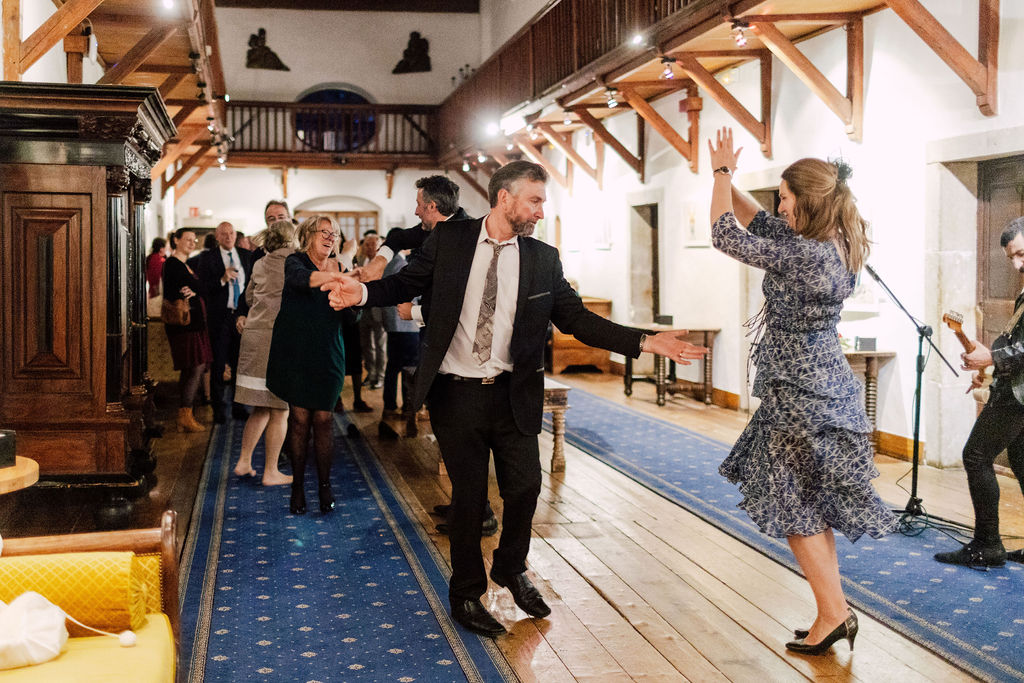 Describe the food (canapés, cake, main menu etc)
"The food was all supplied by the wonderful kitchen of Abbaye de Talloires. Canapes were served at the vin d'honneur, followed by a 4 course meal (including a fromage course with local Sayordarde cheeses). The wedding cake was a 5 tier exotic fruits cake. I had asked for an 'Australian' style wedding cake rather than a piece montee which is typical for French weddings, and the Abbaye's pastry chef did a great job. The day after, we all enjoyed an extravagant brunch at the Abbaye with seafood, charcuterie, salad and pastry/dessert stations."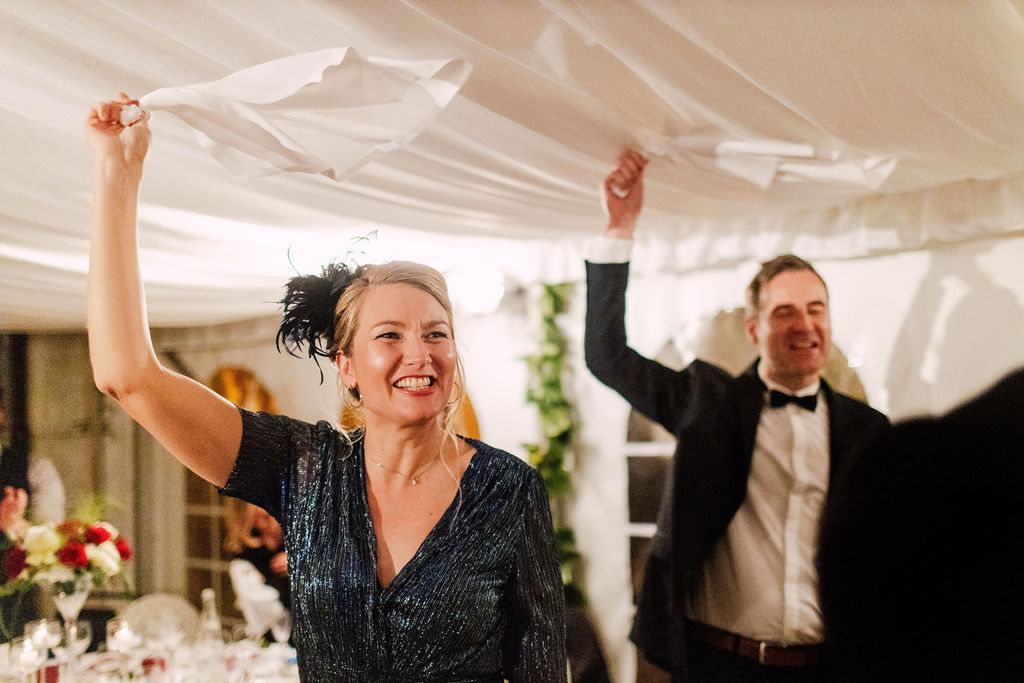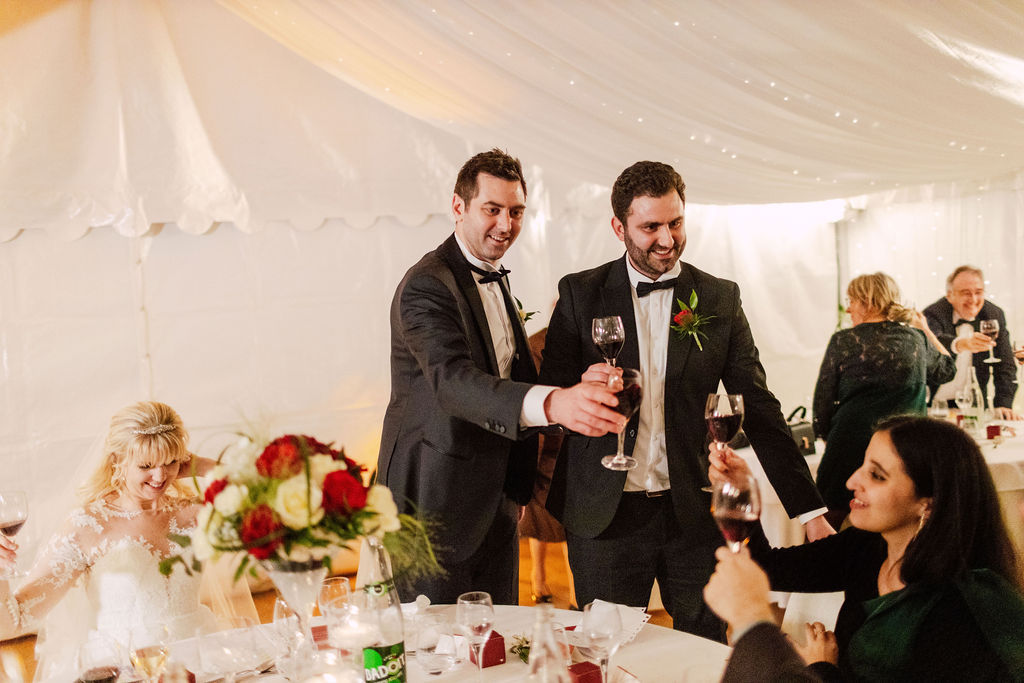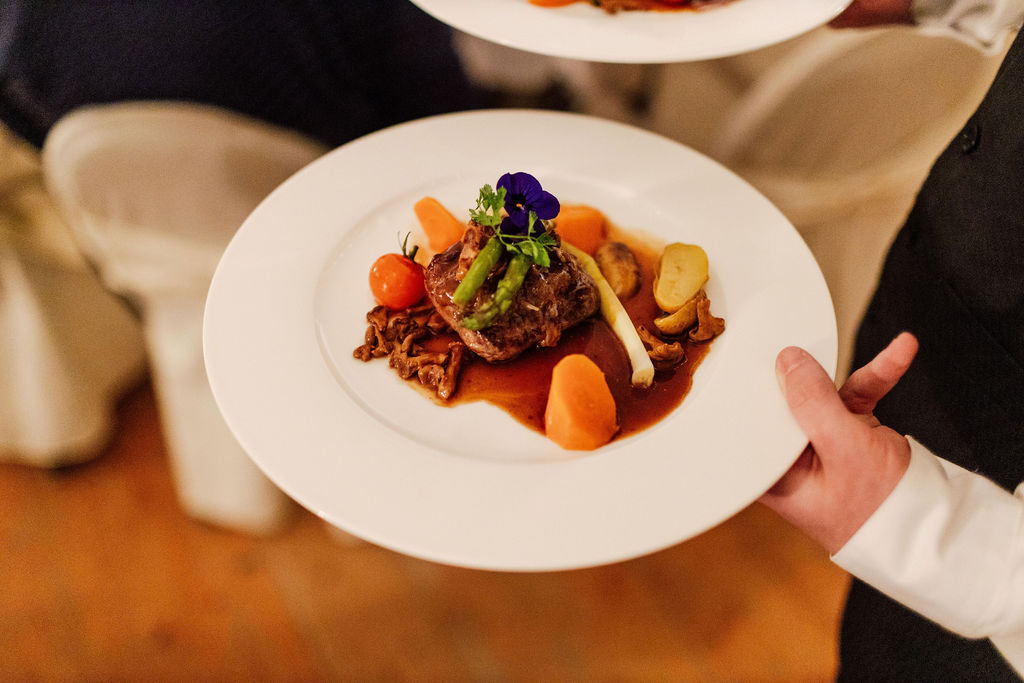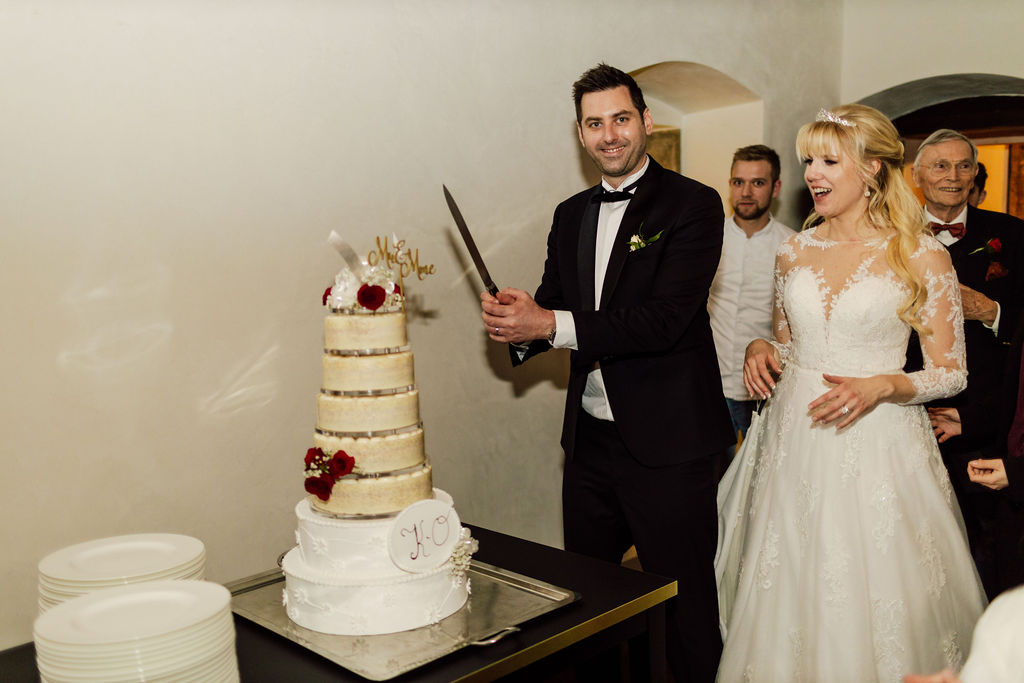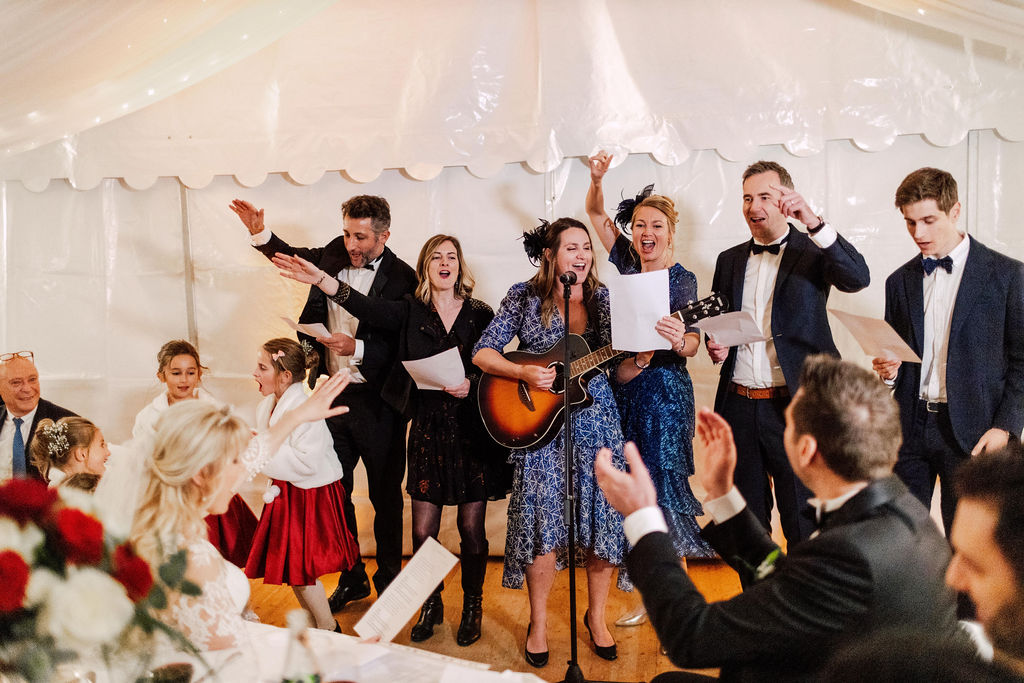 What music and entertainment did you choose and why?
"We had a guitarist (Teo Aboukrat) and a DJ (Lucas Cozy). They played so well together and created an amazing atmosphere at the wedding. We first found Teo on a night out in Paris where we loved his set – we asked him to play at our wedding and, happily, he obliged! Teo referred us to Lucas as the two had worked together in the past."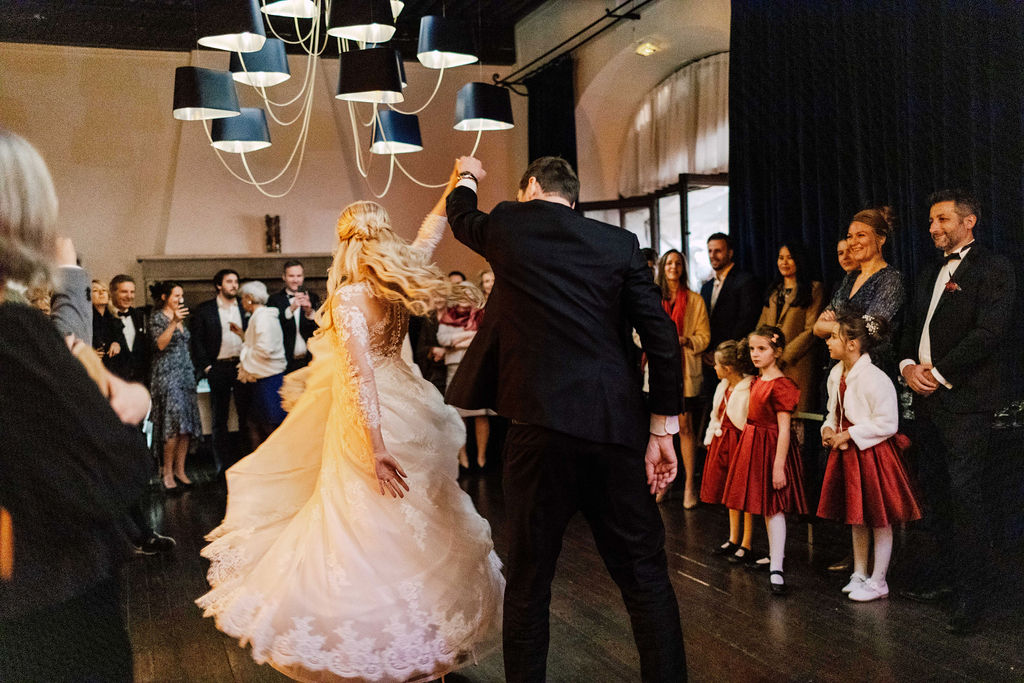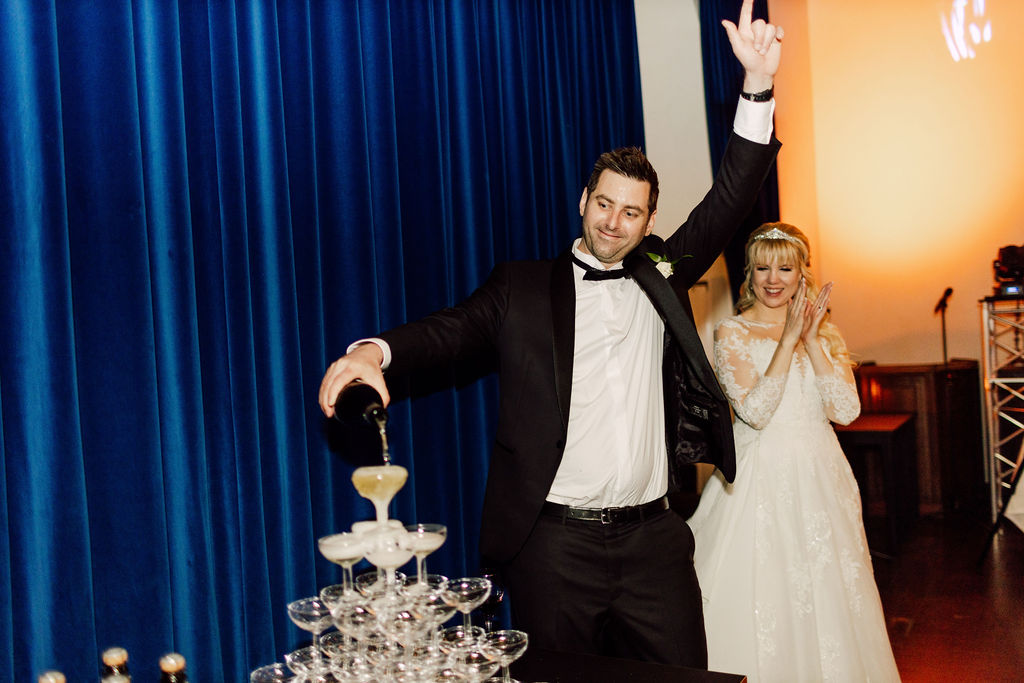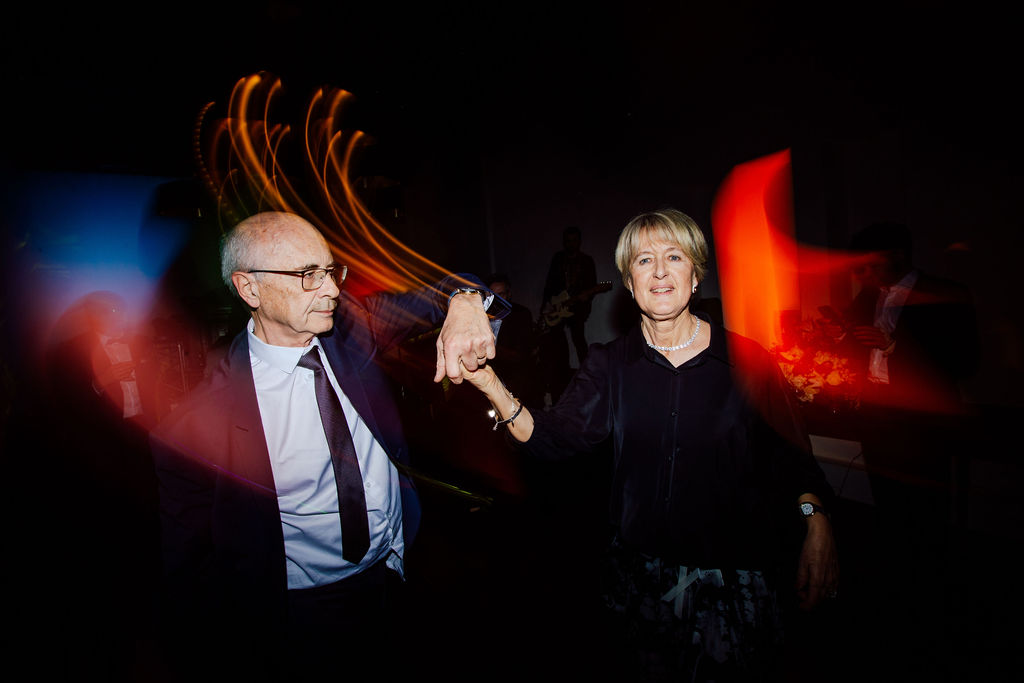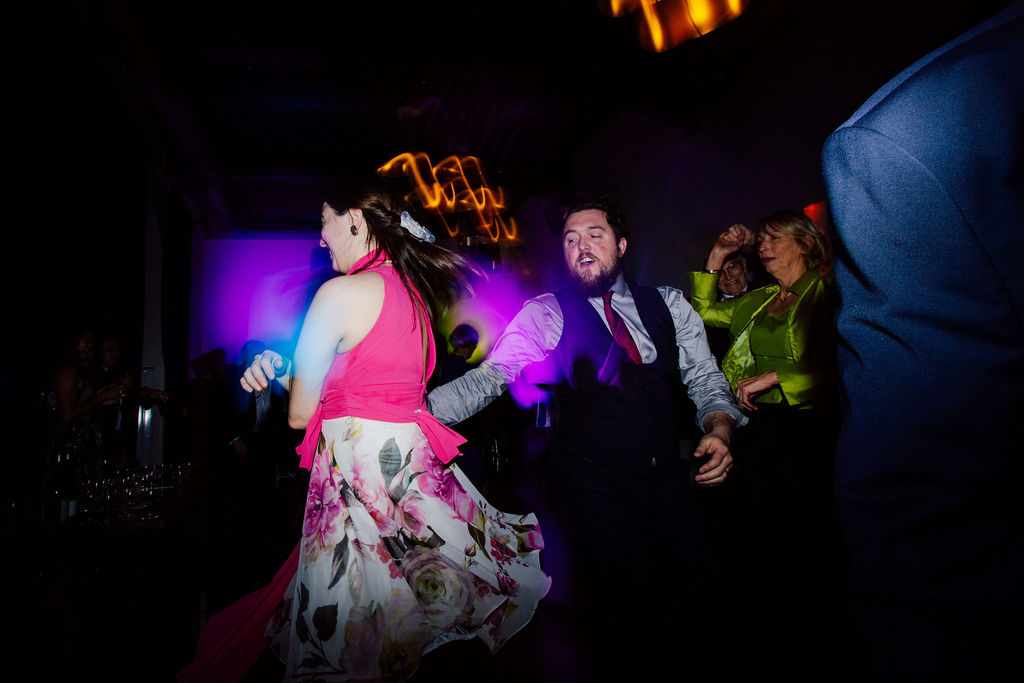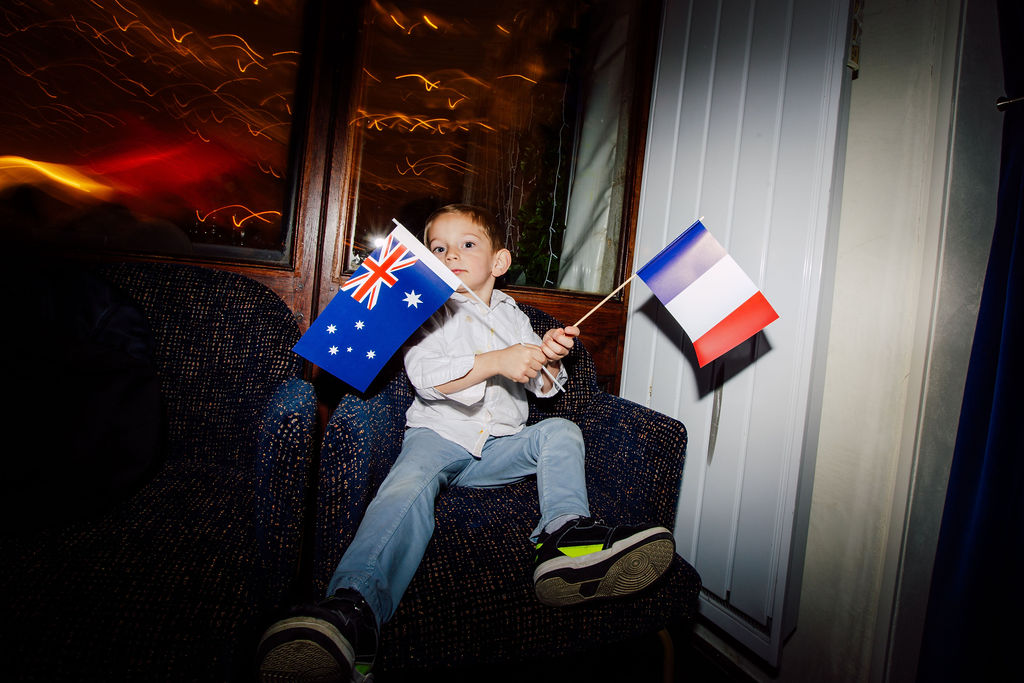 Why did you choose Eight Bells Wedding Photography and what comments can you make about the images?
"We found Reuben online from photos he'd taken of another wedding at Abbaye de Talloires Hotel. We loved how beautifully he captured mountain landscapes in his wedding photos. When we first spoke to Reuben we were both in Morzine, in the French Alps where he's based, and it seemed a like a sign that we should book him! We are thrilled with Reuben's photos of our wedding. He quietly managed to capture all of the elements of the day, and got great photos of all of our guests too!"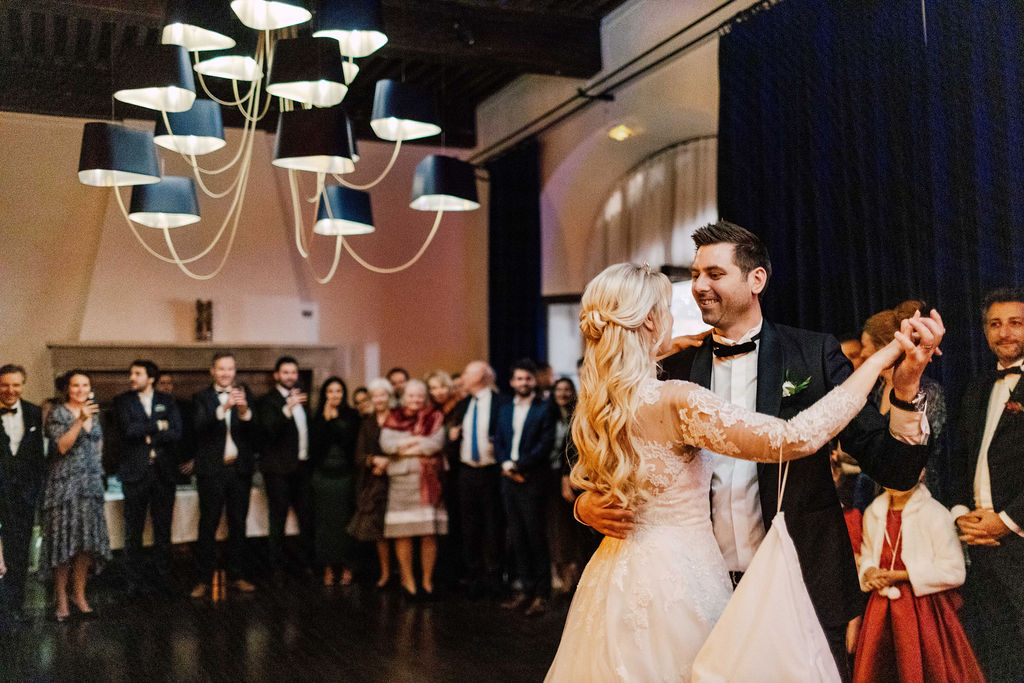 FEATURED SUPPLIERS